Are you in a need of a white dishwasher that will perfectly fit into the design of your kitchen?
Then you are in the right place!
I found and reviewed 15 dishwashers that fit into versatile categories. Keep reading to find out which model provides fully automatic performance, which is suitable for smaller kitchens, which might be the most budget-friendly option, etc.
The Rundown
How White Is White?
White is the lightest color and is achromatic. However, it does come with a couple of different shades so you don't need to have a completely white appliance that fully reflects and scatters all the visible wavelengths of light as that color isn't that suitable or pleasant for every eye.
White Color Palette Of Dishwashers
There are a couple of different shades that are considered to be shades of white. That includes cream, eggshell, ivory, Navajo white, and vanilla. These are also known as off-white colors. They can also be referred to as dirty white shades.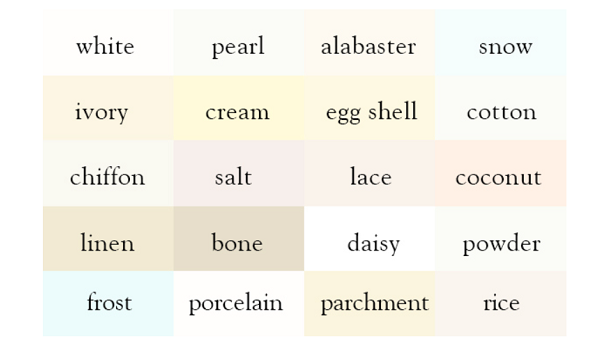 Can You Incorporate White Appliance Into Your Kitchen?
Yes. White is a great fit with the rest of the white cabinetry or as a statement piece if you combine lighter and darker nuances of colors. It is an ideal choice for almost any type of kitchen design, from rustical and industrial to modern ones. It all depends on the dishwasher's design itself.
What Is The Most Popular Color To Use In Kitchen?
Stainless steel, without a doubt. Black, light gray, and white appliances are coming right after the steel touch. White coloring has been a popular choice for several decades as it offers a more traditional look and it brightens up the space. However, stainless steel is the leading coloring for the last couple of years.
What Makes A White Dishwasher A Good Buying Choice?
As with any other model, this colored dishwasher also has some good advantages which make it a desirable kitchen appliance. Here are the pros and cons.
Pros:
Enhance the kitchen space. The white coloring is a great choice for giving your kitchen a special touch. White can be elegant but it can also give your space more of a traditional note, depending on the design of a dishwasher and your kitchen.

Unsplash

Different models for different needs. As your only condition for this kitchen appliance is white color, you can choose any model you want. Choose according to your needs and preferences, you really have a nice palette of different dishwasher types.
You're on a budget? No problems. As you can choose any model you want, you can also choose the right price range for your wallet. Manual models are priced between $20 and $60, while electric dishwashers can be found for between $150 and $1,500. Some are priced even higher.
Easier to spot a "spot".Light appliances do get dirty easier, however, that can be an advantage as well since it will be easier to see spots and dirty pieces.
Cons:
Easier to get dirty. Despite the fact that such a dishwasher allows you to spot a spot, it can also be quite annoying to spot too many spots too often.
Cleaning on a daily basis. If you love to leave your kitchen spotless, with a white-colored dishwasher you'll have to wipe it regularly, sometimes even more time a day.
Might be too casual for a modern kitchen. Today, modern designs aren't focused on white appliances so your new white-colored details won't be such a good fit.
Specifications To Consider Before Getting White Dishwasher
Color is important, however, a dishwasher is designed to enhance the cleaning performance. Here are the details on functions and features which you can count on in the terms of efficiency.
Electric Dishwashers
These are the most usual models you can find. There are 4 possible types of electric dishwashers so here are the details.
Manual Dishwashers
These models can actually be semi-manual or full-manual dishwashers. There are 4 types of manual appliances for you to choose from.
Bucket with two compartments is a full-manual model. One compartment has a hard brush for cleaning the dishes, while the other compartment is for rinsing the dishes.
The dishwasher tank is a semi-manual dishwasher. Basically, you place the dishes inside the tank, and then by turning the knob, you sprinkle the dishes and clean them.
The handheld dishwasher is designed for cleaning one dish at a time. It is automatic, but it does require your effort to place the dish in the tool before pressing the start button.
The ultrasonic model is also considered to be semi-manual. Such a dishwasher cleans the dishes, however, you need manually sanitize and rinse the dishes afterward.
White In Color, Steel In Construction
Stainless steel may be the color of choice for the exterior, but in the white electric model, it is ideal for the interior too. Stainless steel tub is the strongest and most durable construction you will ever need.
What Are Manual Models Made Of?
Unlike electric dishwashers, these models are mostly made from plastic. Some may contain a few aluminum pieces.
Machine's Size
Classic dishwashers, which include built-in, freestanding, and portable models, come in 2 standard sizes – 18 inches and 24 inches. Countertop dishwashers usually vary between 14 and 18 inches, while manual models can be as smallest as 2 inches and as biggest as 12 inches.
Defined Capacity
Countertop dishwashers, as they are smaller in size, can hold between 4 and 8 place settings. Manual dishwashers, depending on the type, can hold perhaps 2 place settings or are suitable for cleaning one dish at a time. Every other type of dishwasher can hold between 10 and 16 place settings.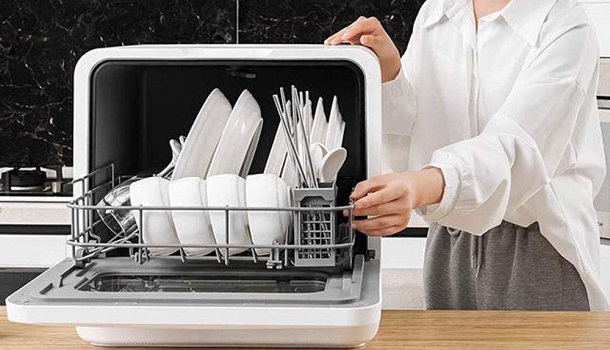 Loading Options Of Electric Models: Adjustable Racks
This is a great feature as it allows you to customize the dishwasher's interior according to your needs and cookware. Most electric models have this option.
Washing Cycles: Optimal Number
Electric dishwashers are often the first choice for cleaning the dishes as they are automated and provide multiple cleaning cycles. We're talking about between 4 and 15 cleaning cycles and options. Some of the washers that range includes are normal, heavy, light, quick, and rinse only.
Water Softener Is A Great Additional Feature
If you're living in a home that has hard water, make sure you go with a model that has a built-in water softener. Thanks to that feature, you're dishes and glassware won't have water stains once the cleaning cycle is over.
What Type Of Drying Options Are There?
You can choose between 2 drying options in an electric dishwasher. Here are the details.
The heated drying function uses a heating element or a fan to quickly dry the dishes. To dry, the small elements push the steam through exhaust vents. However, as this is such an energy-consuming process, many brands have been phasing out the feature.
The air-drying function uses small pumps. They push room-temperature air through the machine and dries the dishes. This is an eco-friendly option as it uses a lot less energy than heated drying.
Noise Level: From Quiet To Loud
As you're only limited by the white coloring, you can easily find a dishwasher with a suitable noise level. The noise range goes from 40 to 65 dB. Mid-range is often the best.
Energy Star Certificate Is A Plus
By having an energy-efficient dishwasher, you'll save water, energy, and money. Energy Star certificated electric models use less than 4 gallons of water and only 0.87 kWh of energy per load. Non-certificated models use up to 15 gallons of water and 1.59 kWh of energy per load.
Best 15 White Dishwashers
Farberware FCD06ABBWHA Dishwasher
Due to the 7 different washing programs this white colored dishwasher provides, you can count on perfect cleaning results with every use. The best thing is that it even offers a self-cleaning cycle that will take care of the tub's interior and ensure the machine's lasting performance.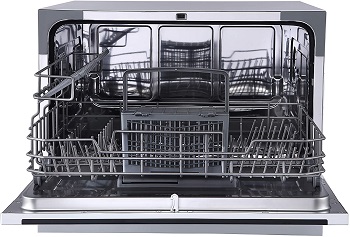 Amongst its cleaning programs, this white Farberware professional portable dishwasher also offers a "baby care" program. It is specially designed dot help you sanitize bottles, pacifiers, and even some toys your child often uses.
DDW621WDB Danby Dishwasher
This is another white colored dishwasher with stainless steel tub you can find on this list. However, this is a smaller countertop model. It features a 6 place setting capacity and a silverware basket for your cutlery. It offers 6 different wash cycles and a delay start feature you can easily program according to your needs.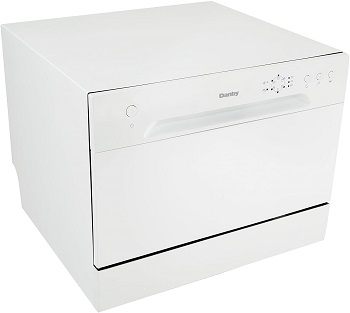 Most importantly, this Danby portable dishwasher doesn't require any permanent plumbings or installation. You can easily attach it to your kitchen faucet and have it conveniently placed on your countertops.
KAPAS Countertop Dishwasher
This black and white model is also made for cleaning versatile items from dishes and glassware to fruits and vegetables. Its convenient size makes it a perfect fit for somewhat smaller homes and even RVs and campers. The front transparent glass side allows you to track the cleaning process that the dishwasher provides.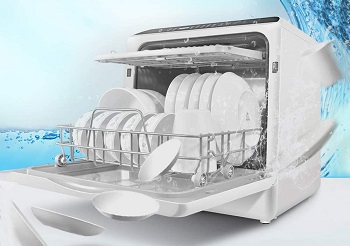 Since it uses a very high temperature during the cleaning process you can be sure that all your dishware will be thoroughly clean and sanitized. There is no need to pre-rinse the dishes you're going to wash inside the dishwasher.
NOVETE Compact Dishwasher
As it is implied, this white quiet dishwasher produces very low operating noise. Thanks to this feature you will be able to use it carelessly any time you want without worrying that its operating noise might bother someone. It creates about 50 DBs during a wash cycle.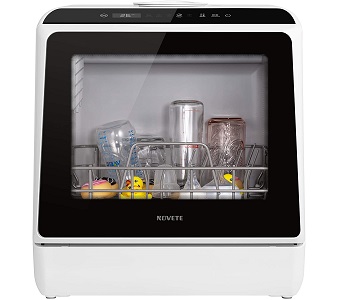 You can choose whether you want to attach this dishwasher to a faucet or use its water tank. What's even better is that it also has a drying program, meaning, you can store your dishes straight from the dishwasher into a cabinet.
BLACK+DECKER BCD6W Dishwasher
Although this white home dishwasher features a countertop design, it provides you with an impressive washing capacity. Its control panel is located at the top of the door and has backlit programs that are much easier to set up and readjust when required.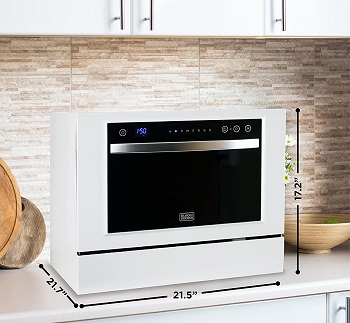 The feature that makes this white unit an exceptional choice for home use is its child-proof locking mechanism. This means that once you lock its control panel, your kids won't be able to accidentally run a washing cycle.
SD-9263W Portable Dishwasher
This white 18-inch dishwasher is a bit more space-saving model, meaning, it is a great fit for somewhat smaller kitchens. It provides you with a medium capacity of up to 8 place settings. The 6 different cleaning programs it offers are specially designed to ensure that you can remove even the heaviest stains.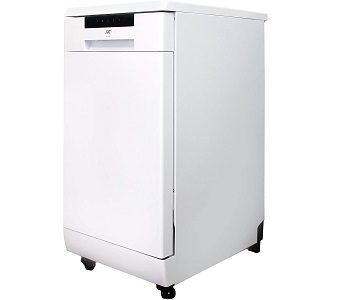 Although it comes in a clean white color, Its interior tub is made out of high-quality stainless steel material. It uses approximately 237 kWh per year and comes with an energy star certificate.
Ensue Compact Dishwasher
The best thing about this model is its stainless steel construction. Apart from your dishware, you can use it to clean versatile jewelry pieces, toothbrushes and makeup brushes, sunglasses, and even fruit and veggies. Its high-frequency vibrations will remove all the dirt from the items you decide to clean.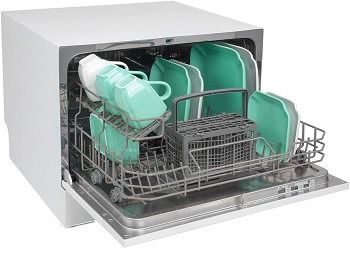 What makes this white portable dishwasher such an amazing choice is its small size and touch control panel with multiple settings. You'll be able to carry it around from room to room.
BeHeSo Ultrasonic Cleaner
This white cheap dishwasher is another ultrasonic cleaner/washer. Just like the rest of them, it can also be used to clean versatile items including dishes, glassware, baby bottles and toys, food, etc. Its small size makes it a very convenient choice if you are in a need of an on-the-road washer.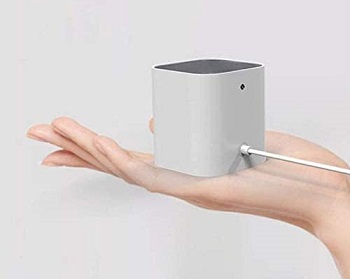 The only downside of this dishwasher might be that it can't clean as a large amount of dishware as the larger models can. However, it ensures thorough cleaning results with minimal input.
Bosch SHV863WD3N Dishwasher
This white-colored dishwasher with 3rd rack is very spacious, meaning, it can accommodate and clean more dishware pieces at once. It features a fully integrated design thanks to which it will easily fit in with other kitchen appliances you have inside your home.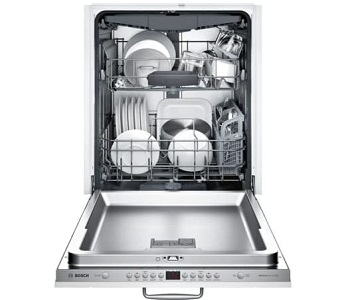 Its RackMatic feature provides you with 3 different height levels. Thanks to this feature you will be able to adjust the included racks in about 9 different height positions.
Bosch SHEM63W52N Dishwasher
As opposed to the previously reviewed model, this 24-inch model offers a very spacious interior. Its 3 separate racks are specially designed to accommodate up to 16 place settings. Additionally, its tall tub design ensures that you can clean larger dishware pieces inside the dishwasher too.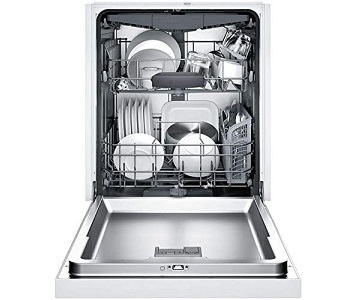 The 5 different wash cycles and 4 wash options are designed to provide you with perfect cleaning performance. You will be able to wash both greasy pans and delicate glassware inside this Bosch dishwasher.
GE GDF570SGJWW Dishwasher
As its category says, this GE dishwasher features a built-in design. This means that you need to be sure that you have enough room (floorspace) inside your kitchen to accommodate its size. The clean design of this white built-in dishwasher makes it a more elegant and attractive choice for versatile kitchen designs.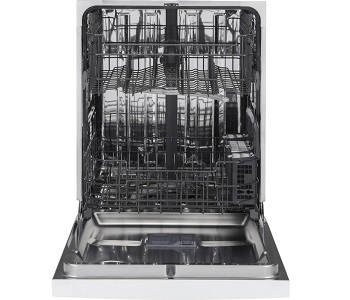 Its auto-sense cleaning cycle is what makes this model such an amazing choice. It can detect the soil level inside the tub and adjust the cleaning performance accordingly.
Handiy Mini Dishwasher
The most important thing about this white small dishwasher is that it provides you with a full 360-degree washing coverage. This means that all the dishes you place inside the tub will get powerful and thoroughly clean. The included dishwasher rack is designed to accommodate dishes of versatile shapes and sizes.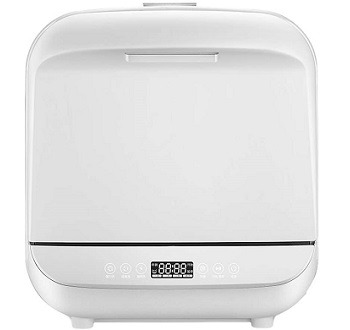 Because of its built-in display, this dishwasher is very easy to use. Additionally, all control keys and the small-time display are backlit to ensure that you can make precise adjustments very quickly.
Z Line Kitchen and Bath Dishwasher
This is another model that features a panel-ready design. This means that it does not come with a white door panel, but you can add any color panel to it you like. This is a very convenient feature, especially for custom-designed kitchens.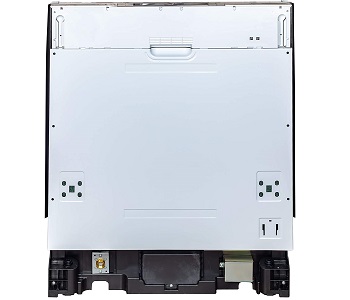 As mentioned, all controls of this white top control dishwasher are located atop its doors. Thanks to this feature the dishwasher has a much cleaner design and is much more elegant.
Red Tide Mini Desktop Dishwasher
Because of its automatic cleaning performance, this dishwasher requires minimal human input. Everything you need to do is make sure that its detergent and rinsing aid dispensers are full at all times. Once you choose the desired cleaning program, the machine will take care of the rest for you.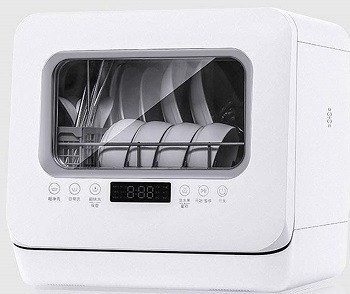 Note that this white automatic dishwasher both cleans and sanitizes the dishes inside the tub. Thanks to this feature you will get perfectly clean dishes that are ready for the next use the minute the dishwasher completes its cycles.
Blomberg DW51600FBI Dishwasher
Since this dishwasher is specially designed for homes that have hard water, it's very important to mention that it comes with a water softener. Due to this feature, you don't have to worry that your dishes and glassware might have that water stains once the cleaning process is over.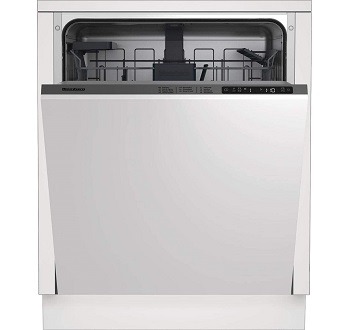 Another thing worth mentioning is that this white design dishwasher is also Energy Star rated. This means that it uses a minimal amount of electrical power and water to provide you with ultimate results.
Maintaining The White Colored Dishwasher
When it comes to the cleaning of a dishwasher, especially the one that has specific coloring, you need to take care of the interior and exterior of the dishwasher.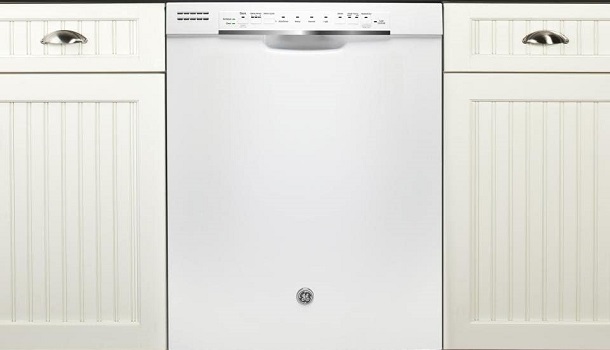 Cleaning Interior
Remove and clean the filter under the running water with a toothbrush and a mild detergent. To clean the entire interior, place back the filter, and run one cycle with white vinegar, and another one with baking soda. Repeat that cleaning process once a week. Also, check the drain every 7 days. And that's it.
Cleaning Exterior
If you see a spot or spillage on the door of your dishwasher, you can simply use lukewarm water, mild detergent, and a soft sponge to clean it. Even if you don't see any spots, do clean the door every 7 days.