Are you looking for the best 24-inch dishwasher?
Then you are in the right place!
In the next few segments, you can find out all about the 15 best models that provide exceptional performance and offer amazing beneficial features. Check them out and find out which model is the right fit for you.
The Rundown
What Does "24-Inch Dishwasher" Mean?
This is the standard size measurement of built-in and freestanding dishwashers. The 24-inch size from the title refers to the width of the dishwasher. The standard dishwasher size is 24 inches wide, 24 inches deep, and 35 inches high.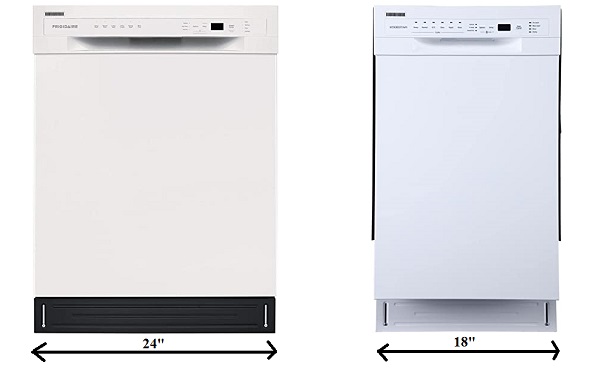 Are All 24-Inch Models The Same Size?
Yes. They feature the already mentioned dimensions of 24 inches in width, 24 inches in depth, and 35 inches in height. These are the standard dimensions for all 24-inch dishwashing models.
Is This The Biggest Size?
No. There are oversized dishwashers that are about 30 to 42 inches wide, 24 inches deep, and 35 inches high.
What Are Other Available Sizes?
In the terms of built-in and freestanding models, you can choose between 2 main sizes, 24 and 18-inch big units. There are also a couple of models that have 22-inch big units. Countertop dishwashers usually feature a unit that is big between 14 and 22 inches, while manual models can be anywhere between 2 and 8 inches big.
Can This Model Feature Wheels?
Absolutely. Any freestanding dishwasher with a 24-inch unit can come with rollers or you can hire a professional to place them at the bottom.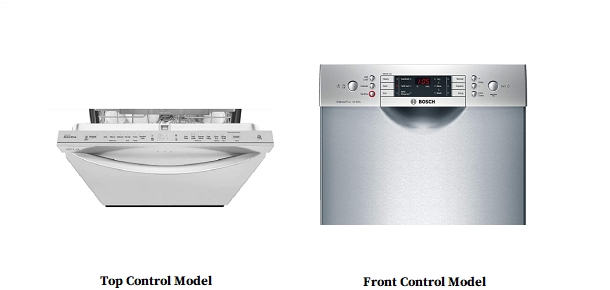 Price Range
Most 24-inch models are priced between $400 and $1,600. However, the high-quality dishwashers actually have mid-range prices between $500 and $900.
What Makes A 24-Inch Dishwasher Desirable?
Models that feature a classic 24-inch unit have some great components which make them stand out. Here are the details.
Suitable For Every Kitchen Space
As this is a standard size in the world of dishwashers, 24-inch models are suitable for building in every kitchen cabinetry.
Spacious Interior
These dishwashers come with the biggest interior capacity. They can hold between 12 and 16 place settings. Great for larger families and big households.
Smart Features
Some of these models can offer versatile smart features. For example, with WiFi connectivity, you can control a dishwasher using your smartphone, while with AutoSense sensors you can detect the soil level inside the tub. Interior LED lights are a nice high-end feature, while a third rack will give you additional space.
Eco-Friendly Models
Dishwashers are more energy-efficient than hand washing. While hand washing the dishes, you use 27 gallons of water. By using a dishwasher, that number decreases to 15 gallons of water and 1.59 kWh of energy per load. However, if you get an Energy Star Dishwasher, you'll use only 3 gallons of water and 0.87 kWh of energy per load.
How To Pick The Best Dishwasher With 24-Inch Big Unit?
With your focus on the size, you may neglect other components of the dishwasher such as functions and overall performance. So here is everything you should know about this dishwasher type before you decide to buy it.
High-Quality Design
Most models with a 24-inch unit are made from stainless steel, which is the best material of the making. Stainless steel is strong and durable, as well as resistant to high temperatures and corrosion. The other option you have is getting a hybrid dishwasher. Such a model is constructed from a combination of plastic and stainless steel, and it also provides rather good strength and longevity.
Adjustable Racks For More Space
What is great about these models is the fact that most of them come with adjustable racks. Such a feature allows you to completely customize the dishwasher's interior by using racks, baskets, and compartments. Thanks to that, you can clean your awkwardly-shaped cookware which requires more space than usual dishes.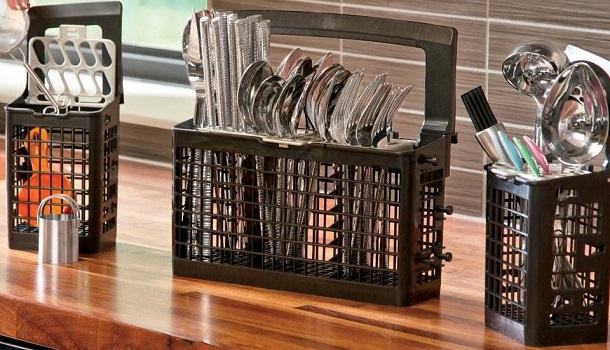 Different Control Panel Options
If you want to get yourself a built-in dishwasher, you can get 2 model types.
The top control dishwasher has a control panel placed at the top of the door. It is visible only when the dishwasher is open. Otherwise and during the cleaning cycles, the control panel is hidden so you can't accidentally disturb the cycle.
The front control dishwasher has a control panel placed at the front of the door. It is visible all the time.
Cleaning Cycles: Which Are A Must?
This depends on the model and your needs. However, most dishwashers usually have 4 standard washes, normal, heavy, light, and quick. The other wash cycles vary from one model to the other but they can include rinse only, delicate, ECO mode, glasses only, top rack only, and more.
What Drying Options Do I Have?
Older dishwasher models have a heated drying function. This is a good option if you need to dry your dishes fast and efficiently. However, this drying type uses a lot of energy so newer models come with an air-drying function instead. This option uses a lot less energy and is considered an eco and budget-friendly choice.
Can These Dishwashers Be Quiet?
Of course. You can choose a dishwasher that comes with a noise level from anywhere between 40 and 65 dB. The lower the decibel level, the quieter your dishwasher will perform.
Certificates & Labels
Buying a certified dishwasher is a great choice if you want to be sure that the 24-inch kitchen dishwasher you like fits all requirements. You can find models that are ADA compliant, NSF, and Energy Star certified. Here are a few additional details about these certificates.
ADA compliant refers to the height of the product. Such a dishwasher is approximately 32 inches tall which is opposed to the 33-35 inch height that is a standard on most of these dishwashers.
NSF certificate is given to the dishwashers that reduce bacteria on dishes by 99.9999% and use water that reaches a temperature of 150 Fahrenheit degrees.
Energy Star is defined by the already mentioned energy efficiency. To put it short, such a dishwasher uses advanced technology to get dishes clean while using less water and energy.
15 Best 24-inch Dishwashers
Frigidaire FFCD2418U Dishwasher
Simple Design
This 24-inch black dishwasher features a very simple design. Its control panel is located in the top right corner to ensure that you can easily access it and adjust all its parameters. You can even adjust the cleaning temperature according to your likings.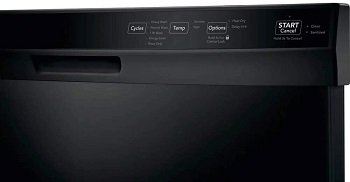 Heated Dry
Another amazing feature of this dishwasher with black-colored unit is its drying cycle that uses high temperature. This means that you can forget about drying your dishes manually. They will be ready for storing or the next use straight from the machine.
Thorkitchen HDW2401SS Dishwasher
Stainless Steel Door
This fitted dishwasher features a sleek stainless steel door with a convenient handle you can use as a towel bar. Its control panel is fully integrated atop the machine and it provides versatile cleaning cycles and options including a delay start program.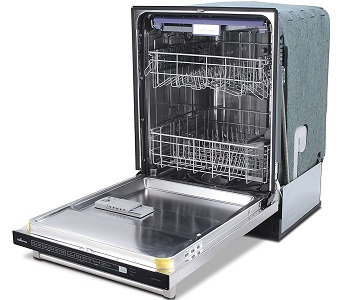 Energy Efficient Performance
Note that this built-in dishwasher provides an energy-efficient performance. It consumes about 249KWh per year and up to 13.31L (3.1gal) of water, meaning, your bills won't get too high due to the use of the dishwasher.
SD-6513SS SPT Dishwasher
Place Setting Capacity
Even though this rolling dishwasher also comes in full 24-inch size, it can accommodate up to 10 standard place settings at once. It offers an adjustable time delay program, error alarm, and warning light indicators that are specially designed to inform you if something is wrong with the machine.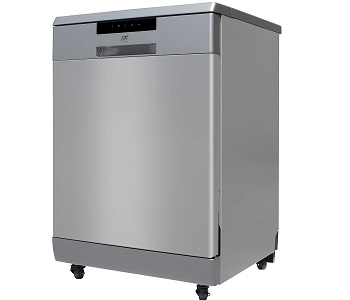 Rolling Wheels
Another amazing thing about this portable dishwasher is that it comes on rolling wheels. They are precisely placed in the four corners of the machine to ensure that you can easily move the machine around when needed.
Bosch SGX68U55UC Dishwasher
Large Capacity
Due to its place setting capacity, this dishwasher is a great fit for a large family. It offers 3 separate dish racks and a convenient RackMatic system thanks to which you can adjust these racks in 9 different height positions.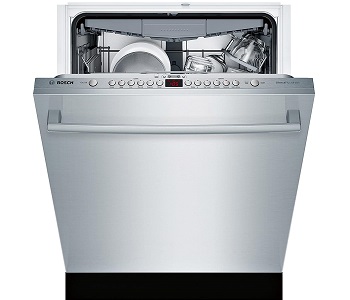 Leak Protection
This 24-inch wide dishwashing machine also provides very powerful leak protection. It comes with specially designed sensors that can detect a leak inside the tub. Once a leak is detected, they automatically stop the water flow and ensure that the machine doesn't overflow.
Frigidaire FGIP2468UF Dishwasher
Cycles And Options
Just like all listed models, this dishwashing machine also comes with multiple cleaning cycles and options. Amongst the many it provides, you will also find a "My Favorite" setting. It allows you to choose and save your favorite cleaning opinions in one place.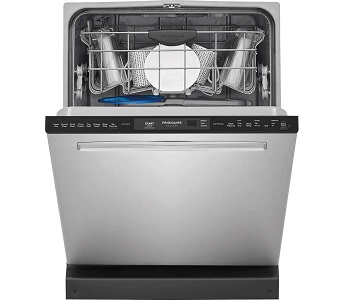 Dual OrbitClean Wash System
A feature that distinguishes this model is its specially designed smart Dual OrbitClean washing system. It will take care of all the hard-baked stains and remove them from your dishware.
LG LDT7797ST Dishwasher
High-Quality Design
This is another kitchen dishwasher that features a high-quality stainless steel design. It features 3 separate dish racks and can accommodate up to 15 standard place settings at once. Its top dish rack is even height adjustable to ensure that you can fit larger pots and pans inside the tub.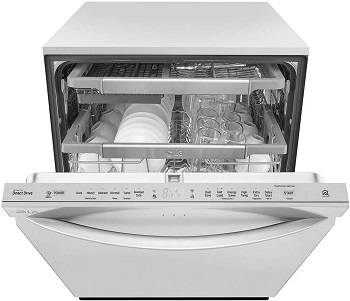 Smart Features
The best thing about this stainless steel constructed dishwasher is that it offers some smart features. Firstly, it is WiFi enabled, meaning, you will be able to control its performance using your smartphone. It even allows you to download the cleaning cycle you want to use.
Blomberg DW51600FBI Dishwasher
Panel-Ready Design
This dishwasher features a convenient, panel-ready design. This feature allows you to completely customize the machine's design according to your likings. It comes with a water softener and a powerful anti-leak system that keeps your home safe from water damages.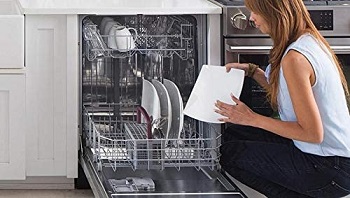 Low Operating Noise
The best thing about this 24-inch panel-ready dishwasher is that it provides a much quieter performance. It features an advanced Brushless DC motor technology and additional three layers of noise-suppressing insulation. They minimize its operating noise to ensure that you can run the machine any time you want.
GE GDF650SSJSS Dishwasher
Hard Food Disposer
The feature that separates this model from the rest of the listed ones is its Pirhana hard food disposer. It is specially designed to capture and dispose of all debris that usually flies around inside the tub during the cleaning cycle.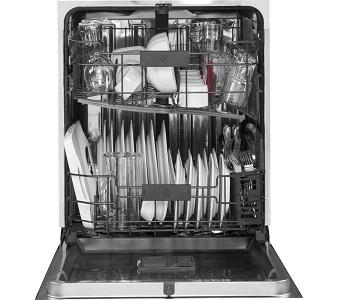 Bottle Jets
Another amazing thing about this GE dishwashing machine is that it comes with very powerful bottle jets. They are specially designed to spray high-pressure jets of water and give the bottle's interior a thorough clean. Additionally, this home kitchen machine is also Energy Star certified.
C.V.S. Sanitizing Dishwasher
Commercial-Grade Design
This is the only 24-inch kitchen dishwasher, I reviewed in this post, that is specially designed for commercial use. Its stainless steel construction provides it with exceptional quality and durability. Apart from that, it also offers exceptional washing capacity. It can clean up to 20 or 30 dish racks per hour, depending on the cycle you decide to run.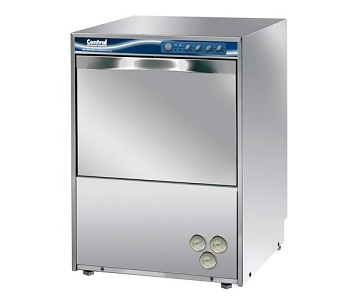 Filtering System
You never have to worry that this dishwasher for undercounter placement might get clogged up. It comes with a powerful triple filtration system that captures all soil and debris from the dishwasher's tub.
Summit DW2435SSADA Dishwasher
Sound Absorption Technology
Due to its specially designed sound absorption technology, this dishwasher will create much lower noise levels. Combines with its powerful performance, this feature makes it a much more desirable model.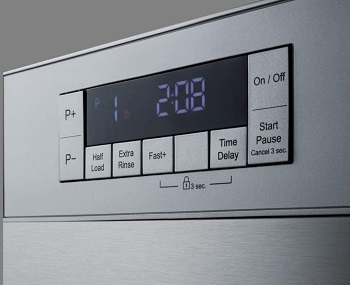 ADA Compliant Design
Note that this kitchen dishwashing machine is ADA compliant. This means that all its electrical components and technology are accessible to those with disabilities. It is also Energy Star certified, meaning, it consumes somewhat lower power and water levels per cleaning cycle.
STU8647 Smeg Dishwasher
Full-Size Tub
This dishwasher features a full-size tub. It also comes with a "hidden" electronic panel and a self-balancing door with self-balancing hinges. Its control panel provides you with 5 different wash cycles and additional 5 quick programs. It even allows you to run a half load.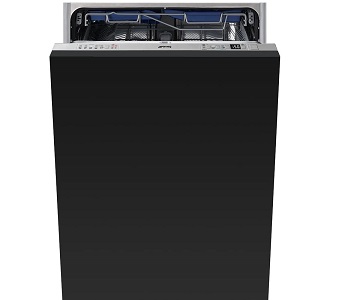 Water Softener
What makes this dishwasher such an amazing choice for households with hard water is its specially designed water softener. It removes all hard water stains from your glassware and ensures impeccable results.
Bosch SHX3AR72UC Dishwasher
Powerful Sanitizing Performance
The great thing about this white-colored dishwasher is that it provides you with a powerful sanitizing performance. All its cleaning cycles are specially designed to provide amazing performance both for heavily soiled pots and pans and delicate glassware.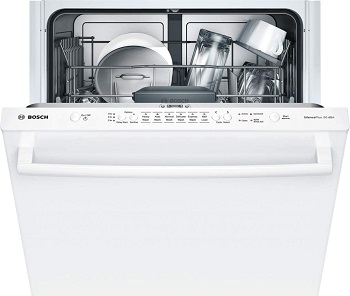 Programmable Delay
This is another machine that offers an adjustable delay start program that allows you to set it up for 9 hours in advance. For instance, you can program it to ensure that it completes the cleaning cycle the moment you come home from work.
Kucht K6502D Dishwasher
Professional Design
This Bosch 800 series stainless steel dishwasher features a professional-grade design. It comes with a fully integrated control panel that provides multiple cleaning cycles and options. It also offers an adjustable delay start program you can adjust several hours in advance.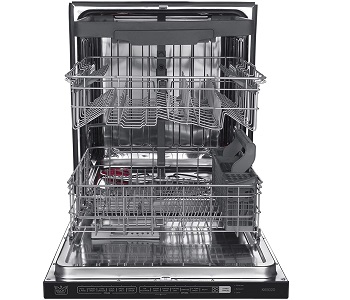 Noise Rating
Note that this 24 dishwasher with economical design and functions produces only about 46 DBs during its cleaning cycles. Thanks to this feature you never have to worry that its noise might bother other household members.
GE GDT695SMJES Dishwasher
Steam Pre-Wash
Because of its powerful steam pre-wash cycle, this dishwasher with black steel unit completely eliminates the need for pre-rinsing dishes. It will loosen all the hard-baked stains from your dishware and ensure amazing cleaning performance.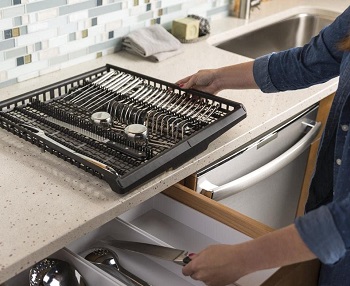 Autosense Cycle
This black stainless steel dishwasher comes with a specially designed AutoSense technology. It uses sensors that detect the exact soil level inside the tub and adjusts the machine's performance accordingly. Its spacious design makes it a great choice for larger households.
Samsung DW80R5060US Dishwasher
Stainless Steel Construction
Both the exterior and interior of this Samsung built-in dishwasher are made out of high-quality stainless steel material. It gives the machine exceptional quality, durability, and high resistance against versatile wear damages, both interior and exterior ones, that often occur due to long-term use.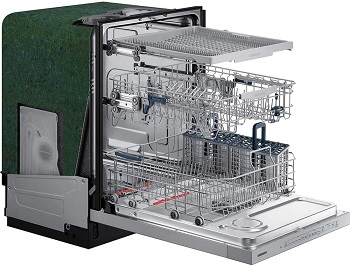 StormWash Technology
This dishwasher features top rack and comes with very powerful StromWash cleaning technology. Its main purpose is to ensure that you can clean the hard-baked stains from your dishware without the need for pre-rinsing.
24-Inch Units With Standard Safety Features
All the dishwasher models come with classic components that ensure safe operation and handling. Here are the features you can count on.
Safety Lock
This feature locks the control panel so you or your kids can't accidentally disturb the cleaning cycle.
Light Indicators
Dishwashers that come with this feature will let you know the exact stage of the washing cycle.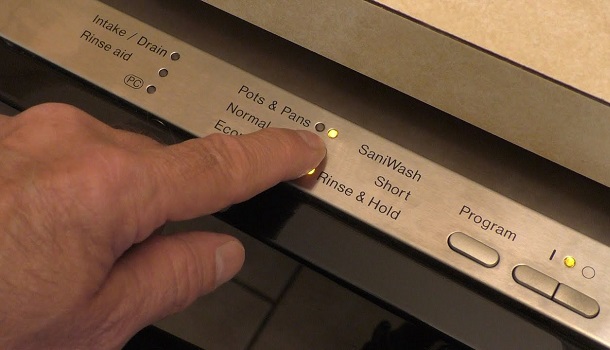 Leakage Protection
With this component, the dishwasher will automatically shut off the water in case it detects some damage or leakage.
Alarm Buzzer
This feature will let you know when the washing cycle is done by using a sound alarm.
Cleaning As A Part Of Safety
Regular cleaning and maintenance are also considered to be a part of safe handling and usage. Once a week clean the filter and deep clean the dishwasher in order to ensure great cleaning and drying results.