Trying to find a 1-lb bread machine that meets your requirements?
Then you've come to the right place!
Check out the reviews of one-pound bread machines, whether you are interested in automatic, Japanese, or other types of such small kitchen appliances. Moreover, in this article, you can also learn about the features and specifications to have in mind when buying a bread machine to get the best value and good quality for your needs.
The Rundown
4 Best 1 lb Bread Makers
Best Of Best 1 lb Bread Machine
Zojirushi 1 lb Bread Maker
Space-Saving Design
This extremely compact model measures 11 by 8 by 12 inches and takes up minimal cooking or storage space. It is equipped with a non-stick kneading blade, as well as a baking bucket to deliver even baking, without the dough or bread sticking to it. It features various programs to choose from to bake 1-pound bread and cakes.
Various Baking Options
As it comes with instructions and recipes, it is very easy to operate and use. Apart from the settings for baking bread and cakes, you can also use this 1 lb bread maker to make cookie and pasta dough, as well as jam out of fresh fruits. The unit also features a quick baking cycle when needed.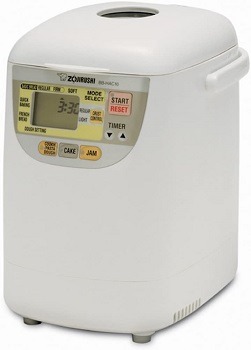 For Small Households
With a 1-pound capacity, this home bread maker is ideal for smaller households, baking enough bread for smaller families, without having to waste any food. The LCD control panel lets you choose between regular, firm, and soft crust settings, as well as French bread and basic bread options.
15-Hour Delay Option
The lid comes with a round viewing window so that you can check in on the baking progress at any time without having to interrupt the cycle. To delay the baking process, you can set up a timer for up to 15 hours in advance. The sturdy handle is ideal for carrying the unit and storing it away.
Short Description:
8.5 inches wide, 11.25 inches long, 12.25 inches high
programmable settings for 1-pound bread and cake
can also make jam and different types of dough
non-stick kneading paddle and bread bucket
includes instructions and foolproof recipes
Best Automatic 1 lb Bread Machine
SKG 1-Pound Loaf Bread Machine
Two Loaf Sizes
This automatic bread maker comes with 19 pre-programmed settings to choose from, to make bread, but also jam, yogurt, and much more. It offers 2 loaf sizes around 1 pound, 0.7 to 0.9-pound loaf and 1 to 1.3-pound loaf. By baking such small loaves, you can make sure that your small family enjoys fresh and warm bread whenever you want it, without having to waste any of the bread.
Comes With Recipes
This 1 lb bread machine is easy to operate, as it comes with foolproof recipes that you can follow. All you will have to do is add the measured ingredients and press a few buttons on the control panel to start the baking process. The inner baking pan comes with a handle and features a non-stick coating so that you can easily remove it for cleaning.
Versatile Baking & Kneading
This model features 19 programs and can be used to bake basic, cornbread, rice bread, French and sweet bread. Likewise, it can also bake, make jam, yogurt, and even different dough types. After you choose the baking cycle, you can also select between two loaf sizes and three different shades of the crust – light, medium, or dark.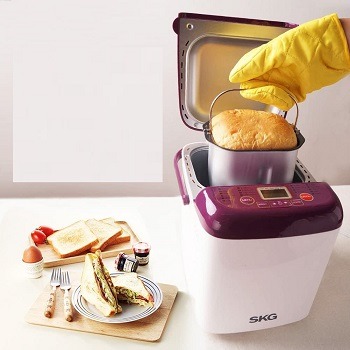 Convenient & Compact Design
Thanks to its easy operation, even beginners in bread machine baking can use this model. It comes in a compact size and features a carrying handle which makes it easy to transport and store away. The timer can be set up 15 hours in advance to delay baking when necessary. The warming function lasts an hour and starts automatically after baking is done.
Short Description:
19 pre-programmed settings to choose from
0.7-0.9-pound and 1-1.3-pound loaf sizes
non-stick inner bread pan with a handle
used for bread, jam, yogurt, or dough
basic, cornbread, French, sweet, rice bread
comes with easy-to-follow recipes
Best Japanese 1 lb Bread Machine
Panasonic 1 lb Bread Maker
34 Versatile Programs
This Japanese bread machine for 1-pound loaves of bread comes with functions on the control panel in the Japanese language. It comes in brown color and is constructed from aluminum material. It features 34 programs in total, letting you bake French, whole wheat bread, but also pizza dough, udon, and different types of cake. It can also be used to make types of chocolate and compote.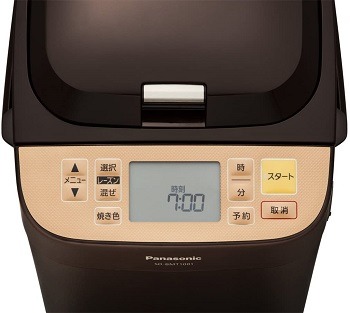 Dual Kneading Blades
Ideal for baking bread for small families, it bakes 1-pound bread loaves in a vertical bread pan. Besides the baking pan, this model also comes with dual blades for kneading, to thoroughly mix all the ingredients into a consistent dough. As it comes with Japanese instructions, there is the language barrier, but it can be easily solved by translating them.
Yeast, Fruit & Nut Dispensers
If you want to delay the baking process, you can do so by setting up the timer for up to 13 hours in advance. It features a yeast dispenser, as well as a dispenser for fruits and nuts, that are automatically dispensed at the right time. In case you know Japanese, the included recipe booklet will be of great help as well.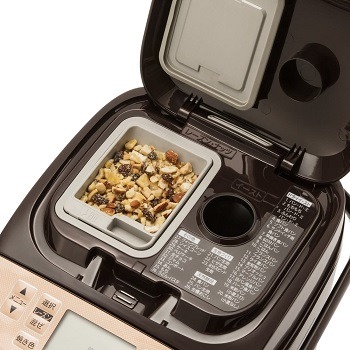 Three Chocolate Types
This 1 lb bread machine is ideal if you need small bread, but are also looking to create other types of dough, even jam, chocolate, and mochi, or udon noodles. It can make white, milk, or dark chocolate, thanks to its many versatile preprogrammed settings.
Short Description:
features a control panel in Japanese
34 programs for various bread types, etc
can also be used for cakes, noodles, compote
versatile programs include chocolate options
vertical bread pan for 1-pound loaves
automatic dispensers for yeast, fruits, and nuts
dual kneading blades and 13-hour delay timer
Best Gluten-Free 1 lb Bread Machine
Möbelmaster 1-Pound Bread Machine
Customize The Bread
This 1 lb bread machine features a smart control panel with an LCD screen. It displays 13 baking and kneading programs and also lets you select between two bread loaf sizes and three crust settings. To wake up to fresh bread, or have warm bread waiting for you when you get home from work, you can delay baking for up to 15 hours by setting up a timer.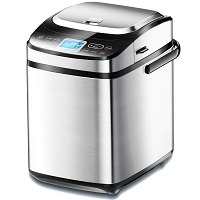 Gluten-Free Recipes
With the purchase of this product, you will also get recipes that you can follow step by step to bake gluten-free, basic, French, sandwich bread. Besides bread, you can also use this bread maker for cake, jam, or yogurt. Apart from 1-pound loaves, it can also create 1.5-pound loaves and get evenly-baked bread thanks to the dual heating tubes.
Two Loaf Sizes
With two loaf sizes, it is ideal for smaller households. Small families can enjoy different types of bread, or make dessert, yogurt, and prepare different types of dough for baking in the conventional oven. Depending on your preference, you can get 1-pound or 1.5-pound loaves with light, medium, or dark crust shades.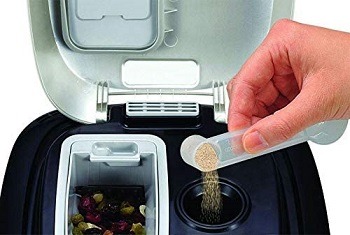 Convenient Automatic Dispensers
Automatic dispensers for yeast, as well as for nuts and fruit, are also very convenient. You can add the yeast or dried fruits and nuts while setting up the baking cycle, and the automatic dispenser will release them at the right time during the mixing or kneading.
Short Description:
smart control panel with an LCD screen
features 13 programs for baking and kneading
automatic dispenser for yeast, fruits, and nuts
used for bread, dough, jam, or even yogurt
it offers 1-pound and 1.5-pound loaves
What To Consider In 1 lb Bread Maker Machines?
If you need a 1 lb bread machine, there are a few things to keep in mind so that you can enjoy small bread loaves ideal for smaller households. Firstly, consider the menu settings these kitchen appliances offer. Also, look for the size of these products, and keep in mind some of the below-mentioned features that make operation easier.
Baking Settings – The market offers 1-pound loaf bread machines with many different bread baking options. Apart from baking bread, they can also be used for preparing jams, cakes, types of dough. Some models go even further and can be used for making chocolate, competes, etc. When choosing between all these options, opt for the one that offers settings you want to try out.
Size – The size of the unit is usually small enough to fit into any kitchen space, as it can produce bread loaves not much bigger than 1 pound. These compact bread machines come in smaller sizes, usually featuring a vertical bread pan to save space in the kitchen, as well as the pantry.
Easy To Operate – Bread machines with complicated settings are not the ones. As you want this kind of machine to help you in your everyday life, always look for models that you understand and that are easy to use. Otherwise, they might take a long time to get used to it. To save you both time and help you with making bread, look for 1 lb bread maker models that are user-friendly.
Loaf Customization – As 1-pound loaves are great for smaller households, bread machines with 1-pound capacity provide them with enough bread, without having to waste any. Most of the above-reviewed models can bake 1-pound loaves, with some offering up to 1.5-pound loaves. When setting up the baking cycle, the bread machine will offer you to select between light, medium, or dark crust shades, depending on your preference.
Other Features – Automatic dispensers for yeast, as well as nuts and fruits, are especially convenient. They allow you to add those ingredients while setting up the baking cycle, and then the machine dispenses them at the optimum time during the cycle. Non-stick bread pans and kneading paddles are also useful for easy maintenance.
To Wrap It Up
Finally, we pick the Zojirushi 1 lb bread maker as our top choice. This 1 lb bread machine can bake 1-pound bread and cake, or even prepare cookie and pasta dough. It comes in small size and features different programs for creating basic and French bread, including a quick baking option. If this article got you interested in mini bread makers, check out this in-depth post about small bread machines. In case you are only thinking to start baking in a bread machine and need a beginner-friendly option, take a look at this list of the best bread machines for beginners.