Not sure which Japanese hot plate is the one for you?
Do not worry!
Here you can check out the reviews of different Japanese hot plate cooking models available on the market. Whether you are looking for a large or smaller size, an electric or a gas model, here you can learn about their technical specifications to enjoy Japanese style food even at home.
The Rundown
Best 6 Japanese Hot Plates
Best Of Best Japanese Hotplate
Zojirushi Electric Plate
Triple Non-Stick Layer
A non-sticking surface for cooking measures 14.125 inches in length and 13.125 inches in width. To ensure the food doesn't stick to the hot plate the surface features a triple layer of titanium and ceramic non-stick coating. The cooking surface has a diamond pattern that protects that coating and also prevents food from sticking to the surface.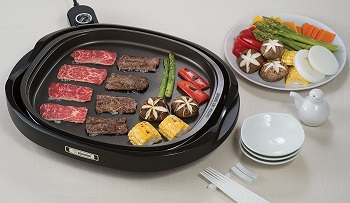 Low & High-Temperature Options
The Japanese hot plate needs to be plugged into a power outlet to be able to work. It comes with a temperature dial that lets you adjust the heat between 176 and 400 degrees Fahrenheit. You can use the hot plate to keep food warm at lower temperatures, or for cooking and grilling at higher temperature options.
Includes A Lid
The large hot plate comes with a lid that is great for steaming and faster cooking, while also preventing the oil from splattering around the kitchen or other area where you might use this unit. The hot plate is inserted into a body-guard to prevent scalding injuries and damage. Both the plate and the body can be immersed in water for cleaning.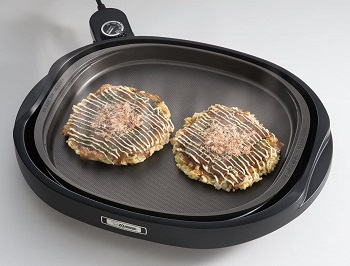 Extended Power Cord
Along with this product, you can also buy an extra Takoyaki plate to make up to 26 large takoyaki balls at once. This model comes with a 6.6-foot long power cord that lets you conveniently cook food at the table. With this unit, you can enjoy your favorite Japanese style food at home.
Short Description:
14.125 inches long and 13.125 inches wide
triple layer coating for a non-sticking surface
temperature dial from 176 to 400 Fahrenheit
a lid for steaming and faster cooking
body-guard and plate are fully immersible
Best Takoyaki Japanese Hotplate
Bruno Hot Plate Japan
Includes A Takoyaki Plate
This type of Japanese hotplate is available in white, navy, pink, and red color. It includes a lid, a compact hot plate, a wooden spatula, and a Takoyaki plate. Its overall measures are 37.5 centimeters in width, 14 centimeters in height, and 23.5 centimeters in length. It weighs around 2.2 kilograms.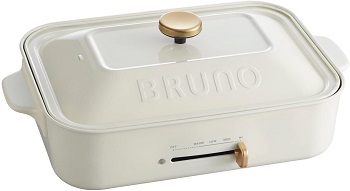 Durable Construction
It is made of steel, phenol resin, and aluminum die-cast for durability and has a 1200-Watt power supply. The 180-centimeter long durable power cord is convenient which in turn lets you cook at a distance away from the power outlets. That way you can even make food Japanese style at a dining table.
Front-Facing Temp Selector 
The body features a lever that lets you regulate the temperature from warm, low, and medium to high settings. Likewise, the side handles help you easily transport and store this unit when it is not in use. If you are a fan of Takoyaki balls with octopus, tempura, ginger, and onion, you can make them by using the Takoyaki plate.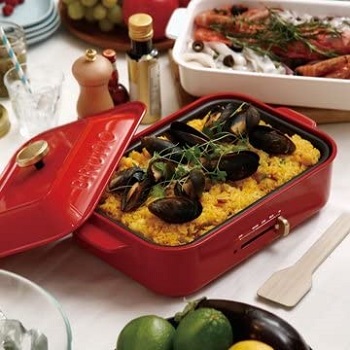 Wooden Spatula
You can even keep food warm after it is cooked by choosing the warm option on the temperature selector. The included wooden spatula is convenient to use not to cause damage to the hot plate.
Short Description:
steel, aluminum die-cast, and phenol resin construction
warm, low, medium, and high-temperature options
features a lid, a hot plate, a spatula
comes with a Takoyaki plate for cooking
convenient 180-centimeter long power cord
37.5 centimeters wide and 23.5 centimeters long
Best Electric Japanese Hotplate
Lotus Analin Japanese Plate Hot Cooking
Large Cooking Surface
This 2000-Watt Japanese hot plate has a cooking surface that measures 35 inches in width and 9 inches in length. You can place it on any tabletop and countertop to prepare food and grill it the Japanese way. It comes with a power cord that is 35 inches long for convenience. The grill surface is 0.09 inches thick.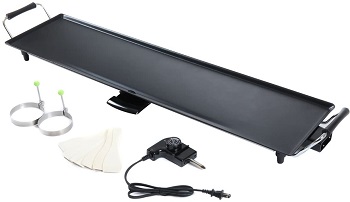 Five Temperature Levels
As it comes in such a large size, you can use it to prepare a variety of meats, fish, and vegetables at the same time. After plugging it in, you can regulate the temperature by turning the thermostat knob. You can choose between 5 heat settings for cooking different foods.
Portable With Handles
The handles on the sides of the countertop hot plate are ideal for easy portability of the unit and slight adjustments to location even whilst cooking food. As it comes in black color, it can fit into any kind of kitchen style. You can even use it outside the kitchen in other spaces, for example when camping, as long as you have access to a power outlet.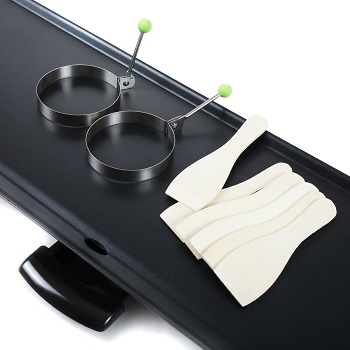 Included Accessories
Along with the purchase of this hot plate, you will also get a wooden spatula and two molds for various cooking needs. You can flip food with the spatula without doing any damage to the surface. No matter where you are, you can enjoy Japanese food by preparing it on this Japanese electric hot plate.
Short Description:
35 inches wide and 9 inches long
for preparing various dishes at once
choose between 5 temperature settings
the black color with convenient side handles
portable for use in spaces with electricity
convenient 35-inch long power cord
comes with a wooden spatula and two molds
Best Grill Japanese Hotplate
SEAAN Teppanyaki Hot Plate
Comes With A Hot Pot
With the capacity to cook anywhere from two to twelve people, this hot plate can be used in any indoor space to grill food and make Japanese shabu-shabu in the included hot pot. The grill hot plate lets you cook a variety of fish, meats, and vegetables. The included hot pot comes with a divider so that you can cook two tastes at once.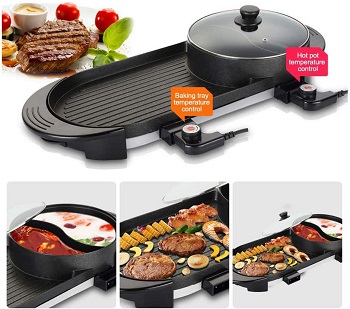 Double Temperature Dials
The commercial hot plate and the hot pot come with separate temperature dials for convenient individual adjustments of the heat. Each dial lets you choose between 5 temperature options for cooking. The unit comes in a cast aluminum body and features a non-stick coating for delicious food and ease of maintenance.
Drains Excess Grease
The waste tray located under the hot plate is connected by a drain channel so that all the excess grease and oil can be drained from the food. The Japanese hot plate has a wave pattern that also helps with grease drainage. This way it is also easier to keep the whole unit clean.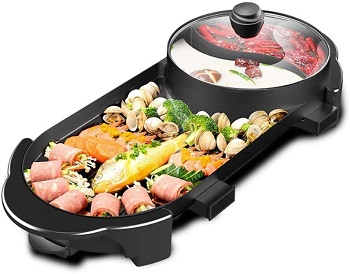 For Indoor Use
The hot pot can cook food for up to eight people and has a 7-centimeter depth. This type of Japanese hot plate is ideal to use for family and friends gatherings in any indoor space. Grill food and prepare a hot pot so that everyone can enjoy their favorite food while spending time together.
Short Description:
includes a hot plate and a hot pot
hot pot has a divider for two meals
separate dials with 5 temperature levels
cast-aluminum body and non-stick coating
waste tray with a grease channel for drainage
Best Griddle Japanese Hotplate
Presto Hot Plate
Durable & Stick-Free
This safe hot plate features an electric griddle with a non-stick coating and removable handles. The included dial control allows adjustments to the temperature settings so that you can choose the right setting depending on the food you want to cook. The base is constructed from heavy-cast aluminum for durability.

Compact For Storage
The 231 square inch cooking area is big enough to prepare food for the whole family. After the handles are removed, the unit is easy to store into a kitchen cupboard or any other storage area without taking up too much space. They can be removed without the use of tools for easier cleaning, as well.
Waste Tray Collects Grease
When you remove the temperature dial, you can immerse the griddle into the water for easier cleaning after cooking. The drip tray that collects excess oils is also easy to slide out to help you with maintenance. Since you can cook free of food sticking to the hot plate, this also makes the unit easier to keep clean.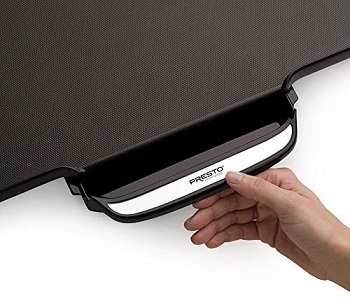 Large Cooking Surface
The 1500-Watt Japanese hot plate is ideal for use in the house so that you can enjoy your meats, vegetables, and fish dishes any time you want. You won't have to go to restaurants all the time to be able to eat Japanese style food. The 22-inch cooking surface is enough to feed the whole family.
Short Description:
heavy-cast aluminum and non-stick coating
tool-free removable handles for storage
fully immersible with the removed temperature dial
slide-out waste tray collects grease and oils
231 square inch cooking area
1500-Watt unit cooks for the whole family
Best Gas Japanese Hotplate
Blackstone Portable Griddle
Requires A 1-Pound Propane Tank
This gas hot plate is suitable to use on any tabletop and countertop surface and features a 17-inch griddle for cooking. By connecting it to a 1-pound propane tank, the gas hot plate will let you cook food on different temperature settings. The electric ignition and the control knob let you start the burner easily for cooking in any outdoor space.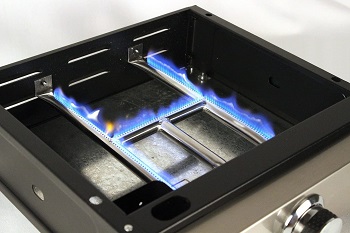 H-Style Burner
The 260 square inches cooking area is enough to prepare food for several people at once. The griddle measures 17 inches in width and 15.25 inches in length. The H-style burner is convenient and helps to heat the whole cooking surface for more even heat distribution. It comes with a grease tray that is easily removable and makes cleanup a breeze.
Portable Design
The 17-inch Japanese hot plate comes compact enough so that you don't have problems bringing it with you when you are camping, barbecuing in nature, or enjoying your time with family and friends in the backyard. The stainless steel burner and the durable griddle make cooking fun and are also easy to keep clean and compact for storage.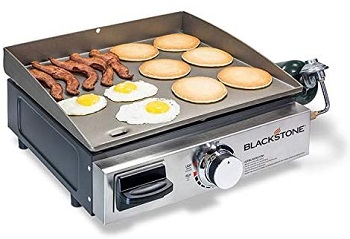 For Outdoor Use
Whether you are camping, attending a tailgating party with your friends, or want to cook in places without electricity, this gas hot plate lets you do that as long as you have a supply of 1-pound propane tanks. It cleans up quickly and easily so that you can spend more time doing the things you enjoy and less worrying about maintenance.
Short Description:
260 square inches of cooking surface
requires a 1-pound propane tank
ideal for outdoor use when camping, etc
H-style burner for more even heat distribution
durable burner and griddle cooking surface
compact size for portability and storage
easy to clean up with a grease drip tray
What To Consider In Japanese Hot Plates?
For fans of Japanese foods, the market has come up with a solution to preparing Teppanyaki and Takoyaki foods without having to go to restaurants. If you want to purchase such a hot plate, you should keep a few things in mind. Firstly, Japanese hot plates can be powered by gas or electricity, depending on your preference and where you want to use them. Secondly, they should be constructed from durable materials with non-stick coatings for quality food preparation and easy maintenance. They can also come with different accessories, including Takoyaki special plates.
Electric Plates – As you can use them anywhere with access to a power outlet, they are usually the most convenient for indoor use. They come with power cords of different lengths which also dictates which surfaces they can be used on. They come in different sizes and designs for portability, including handles and removable control dials for storage and ease of maintenance.
Gas Plates – Unlike electric hot plate models, gas models are usually run by propane and butane gas. They are ideal to use as outdoor hot plates so you can take them with you when camping and spending time outdoors. You can even use it for tailgating parties as they don't require plugging-in to work.
Durability – To make sure the model you end up buying lasts you for a long time, look for heavy-duty materials with non-stick coatings. That way you will be able to maintain the hot plate clean and enjoy delicious food without it sticking to the plate while cooking.
Included Accessories – To prepare food the Japanese style, some models come with wooden spatulas for easy flipping without scratching. Likewise, some models come with Takoyaki plates so that you can cook your octopus balls at home. Other accessories include molds for other cooking needs, such as frying eggs, etc.
Temperature Settings – Since cooking different foods requires different temperature levels, each hot plate comes with a control knob that lets you adjust the temperature from low and medium to high settings. This is usually done by turning a knob. On some electric models, the dial is removable for cleaning the plate by immersing it in water. Gas models can come with electric ignitions so that you don't have to use lighters or matches to start the flame.
To Wrap It Up
To conclude this in-depth article, I would like to recommend the model of Japanese hot plates that I think is the best. The Zojirushi electric plate features a triple non-stick layer and a lid for quicker cooking, steaming, and preventing the oil splash. It lets you adjust the temperature between 176 and 400 Fahrenheit degrees for versatile cooking. Apart from Japanese cuisine, hot plates can be used for Korean cooking style, so if you are interested, take a look at Korean hot plates. For cooking any type of food on a griddle, check out my selection of the best griddle hot plates.