Looking for a large convection oven countertop model that can prepare versatile meals for the whole family?
Great, because we have reviewed 6 different models for you!
Keep reading this article to find out whether a rotisserie, air fryer, combo, pizza, or French door countertop toaster oven with convection and a large capacity works the best for you. Apart from that, here you can also read about technical specifications that make the best models available on the market. This buying guide could help you focus on the important features when picking a model to purchase.
The Rundown
Best 6 Extra Large Countertop Convection Ovens
Best Of Best: Oster Convection Oven Digital Toaster
18-Slice Capacity
This extra-large countertop convection oven is made from stainless steel, featuring a large glass door with a handle and a digital control panel. The panel consists of a screen display and one-touch cooking settings, as well as temperature and timer controls. The inside of the oven is large enough to toast up to 18 slices of bread at once.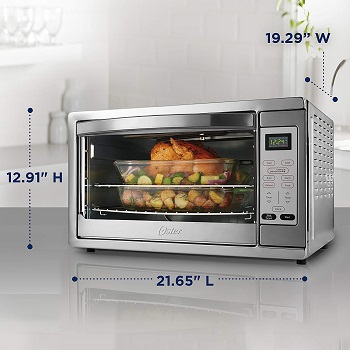 7 Cooking Settings
As it uses convection technology, the food is cooked faster and more evenly. The digital convection toaster oven offers 7 settings, including turbo convection. The other presets are used for toasting, baking, warming, defrosting, broiling, and pizza. The oven is also large enough to hold two 16-inch pizzas inside at once.
Included Accessories
Included with the toaster oven, you will also get an integrated broiling rack, two oven racks, and a baking pan. When cooking, you can adjust the oven temperature and set the timer for up to 90 minutes. The auto shut off feature will prevent overheating and burning once the time is up.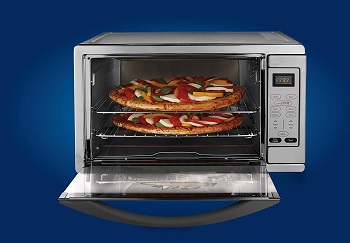 Multilevel Cooking
The available oven temperature settings range from 200 to 450 degrees Fahrenheit so that you can prepare casseroles, and fit in roasting and baking pans for delicious dinners. The dual shelf system allows you to prepare various things at once.
Short Description:
fits two 16-inch pizzas, 18 bread slices
features 7 one-touch digital settings
toast, bake, broil, warm, defrost, pizza
turbo convection circulates hot air
90-minute timer with auto shut off
temperature range from 200 to 450°F
Best Rotisserie: Hamilton Beach XL Convection Oven
3 Turn-Style Knobs
This countertop oven with convection and rotisserie comes in a stainless steel body and features a large glass window on the door and three turn-style knobs on the control panel. The clear window lets you check in on the cooking process at any time without having to open the oven door.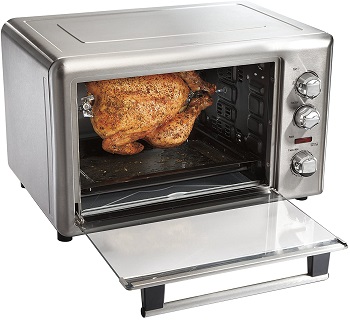 Generous Capacity
The extra-large capacity can fit two 12-inch pizza inside the oven at once on two racks. It can also fit two casseroles measuring 9 by 13 inches, or two cake pans. When using the rotisserie set, you can rotate and roast up to a 5-pound chicken inside this extra-large countertop convection oven.
Bakes Evenly
By using convection, compared to traditional ovens, this Hamilton Beach XL convection oven with rotisserie model bakes more evenly while reducing cooking time. The oven temperature can be adjusted up to 450 Fahrenheit degrees by turning a knob. Use the function knob to choose among the available cooking options, including a rotisserie, bake, convection, broiling, and toasting.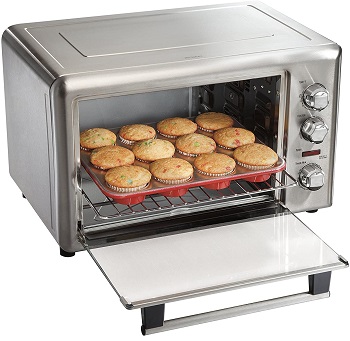 2-Hour Timer
When baking and broiling, you can set up the timer for up to two hours or even choose the stay on functions. Once the time is up, the rotisserie convection toaster oven will automatically shut off. A removable crumb tray comes includes, as well as a rotisserie set, two racks, two baking pans, and a broiler rack.
Short Description:
stainless steel body, clear glass door
fits two 12-inch pizzas, a 5-pound chicken
offers rotisserie and convection settings
temperature adjustable up to 450°F
rotisserie set and 2 baking pans included
2-hour timer with auto shut off function
Best Air Fryer: Ignited Large Toaster Oven Convection
Sensor Touch Settings
This extra-large countertop convection oven comes in silver color with black details, featuring a sensor touch control panel above the oven door. The door has a clear glass window that allows you to see inside the oven without having to open the door. The 26.4-quart capacity allows you to prepare various dishes at once.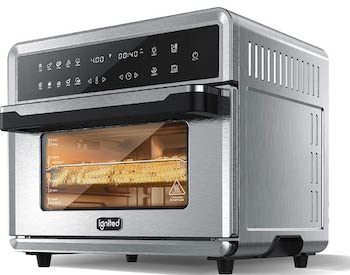 Dishwasher Safe Parts
Inside the package, along with the toaster oven, you will also get a recipe book and accessories needed to use the oven easily. The included baking pan and air frying basket are both dishwasher-safe for easy cleaning. The cavity is also easy to clean after each use.
Multitude Of Uses
The control panel offers one-touch cooking settings, including toasting, broiling, baking, and roasting. You can also air fry to get crunchy food with presets such as wings and fries. You can also dehydrate, prepare pizza, steak, and vegetables. Moreover, the control panel is also used to set the temperature and the timer.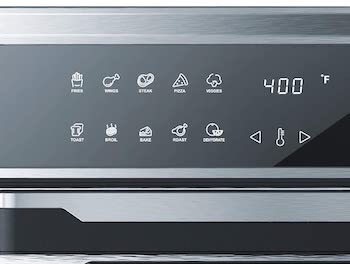 Wide Temp Range
This toaster oven air fryer dehydrator also offers you to choose between low and high convection fan speeds, and can even be used for defrosting. The temperatures range from 80 to 450 Fahrenheit degrees to easily customize your cooking.
Short Description:
features a touch sensor digital control panel
26.4-quart capacity for various dishes at once
a recipe book, frying basket, baking pan included
easy-clean cavity, dishwasher safe accessories
toast, air fry, bake, broil, roast, defrost, etc
two convection fan speeds available
adjustable temperature from 80 to 450°F
Best Combo: KitchenAid Toaster Oven Convection
12 Presets For Cooking
If you are a lover of matte black, this model might be the one for you. It is ideal for countertop use, offering 12 presets to choose from. With a wide range of uses, it will be able to replace many other cooking appliances on the kitchen worktops. Its cavity can hold up to two 3.6-pound chickens at the same time.
Temperature Probe
You can roast, bake, fry, prepare a toast for breakfast, and enjoy cookies and other desserts from this unit. This toaster oven broiler can be used for convection baking, proofing, reheating, warming, pizza, bagels, and more. When cooking meats, you can control their inner temperature with the help of the temperature probe.
Non-Stick Oven
This large convection oven countertop model can cook chicken 20% faster with the help of dual convection baking settings. The interior of the oven is non-stick coated for easy cleanup. Included in the package, you will also get a baking pan, a removable rack, as well as a metal crumb tray.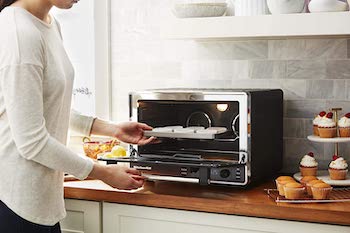 User-Friendly Settings
The screen display is easy to read and is used for choosing the oven temperature, timer, and cooking function. It works with the help of a turn-style knob and pushbuttons. The interior light is also featured for taking a peek inside the oven during the cooking process.
Short Description:
easy-to-read screen display, matte black
fits two 3.6-pound chickens at once
roast, bake, broil, fry, proof, reheat, warm, etc
features a built-in temperature probe
a baking pan and a wire rack included
Best Pizza: Elite Gourmet Convection Toaster Oven
45-Liter Cavity
If you want to prepare a lot of pizza in a toaster oven at once, this might be the appliance for you. With two oven racks, you can prepare two 12-14-inch pizzas inside at once. The 45-liter oven can fit 9 slices of toast on each of the racks, making a total of 18 pieces of toast simultaneously.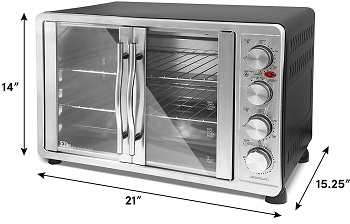 Separate Temperature Controls
The extra-large countertop convection oven also offers four rack positions to make it easy to prepare many different types of food. As it is equipped with top and bottom heating elements, you can separately control their temperature so that you can even cook different foods at once. For both heating elements, you can adjust the temperature between 150 and 450°F.
Double Door System
You can also set up a cooking timer for up to 60 minutes and it will produce a bell signal before shutting off automatically. Besides toasting, you can also set up the oven to convection bake, rotisserie, or to do a combination of both. Another interesting feature is the French door system that allows you to open only one or both doors at the same time.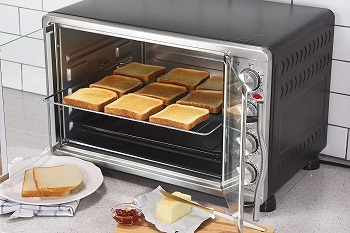 Flaky & Crunchy Foods
By circulating hot air inside the oven thanks to convection technology, you will get flaky crusts on meats and prepare crunchy food in less time. The rotisserie setting will rotate the meat on a spit while making sure it cooks uniformly while roasting the outer layers.
Short Description:
fits two 12-14-inch pizzas, 18 toast slices
features two racks and four positions
top and bottom heating elements
separate temperature control up to 450°F
60-minute timer, bell signal, auto-shutoff
toast, convection, rotisserie, etc
Best French Door: Oster Biggest Countertop Convection Oven
Double Door System
This Oster XL digital convection oven with French doors opens both doors with just one pull. It is constructed from stainless steel material and allows you to take a peek inside the oven through the clear glass windows on both doors. It is flexible for different cooking needs thanks to two oven racks.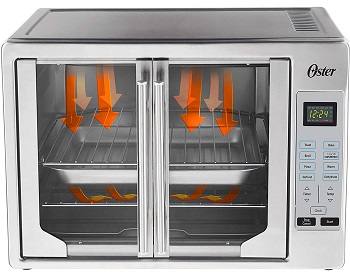 Precise Setting Adjustments
With the digital control panel, you will be able to precisely control and set up both the oven temperature and the timer. When preheating the oven, it will also alert you when the set temperature is achieved to take the guesswork out of cooking. The timer can be set up for a maximum of 90 minutes and turns off after the time is up.
14-Slice Capacity
The oven cavity can hold 14 slices of bread, or bake two 16-inch frozen pizzas. The digital control panel offers a pizza setting, as well. The other one-touch settings include toast, bake, broil, pizza, warm, defrost, dehydrate, and turbo convection. Its baking technology works to cook more evenly and faster at the same time.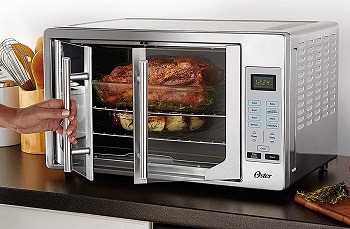 For Family Meals
This double door toaster oven can be used to prepare family-sized casseroles and roasted dinners. The large convection oven countertop has a built-in light that lets you take a glance at the food during the cooking process, as well.
Short Description:
stainless steel body, double door system
features two oven racks for flexibility
features 8 digital one-touch presets
allows precise temperature and timer control
toast, bake, broil, pizza, warm, defrost
turbo convection and dehydrate settings
fits 14 toast slices, two 16-inch pizzas
What To Consider In Large Convection Oven Countertop Models?
While searching the market for a toaster oven with convection and a large capacity, here are some of the things to keep in mind. Firstly, the size of the model to get the best capacity for your needs. Secondly, make sure the unit is user-friendly and easy to operate. Moreover, you should also keep in mind the cooking programs you want to use, and learn more about the inner-workings of convection technology.
The Capacity – The biggest countertop convection oven will be able to hold around 18 pieces of bread at once. Along with the large capacity, this means it will also have bigger dimensions than some compact models. However, they will still be suitable for countertop use, just make sure you have enough countertop space available for the extra-large convection countertop ovens.
User-Friendly Features – For a toaster oven to be easy to use, it should have a control panel that is intuitive to use so that you can quickly find any settings. Moreover, the large convection oven countertop models should also have clearly labeled functions and controls, as well as a digital display that is easy to read.
What Can It Cook? – Besides toasting and convection baking, the largest capacity countertop convection ovens can usually also broil, roast, and sometimes even offer settings for pizza, bagels, cookies, rotisserie, air frying, and more. The best model of multifunction toaster ovens for you will be the one with the cooking functions you plan to be using.
Convection Technology – A toaster oven equipped with a convection fan can circulate heated air within the oven cavity. By doing so, it reduces cooking time as food is cooked more quickly and more evenly. It gives a dehydrating effect to the outer layers of food to prepare crispy and crunchy meals; ideal for air frying, roasting, baking, and more.
The Advantages – If you want to get certain foods cooked quickly, using a toaster oven with convection will be faster than a conventional oven. They preheat faster, while also using less energy and producing less heat in the kitchen than big ovens. At the same time, they can also be a great alternative to big models in confined spaces, such as kitchenettes in studio apartments.
To Wrap It Up
The Oster digital countertop oven with convection is our top choice for a large convection oven countertop model. It can fit 18 slices of bread on two racks inside the oven, or even bake two frozen 16-inch pizzas. For fast cooking, the turbo convection setting is easily activated with a press of a button. It can also toast, bake, defrost, warm, and more. If you are interested in 8-slice models, check out our reviews of 8-slice toaster ovens. For models that can air fry among other settings, consider our selection of air fryer convection toaster ovens.