Considering a compact toaster oven air fryer model to add to your kitchen space?
If yes, make sure to read this article until the end!
In the first part of this article, you can find reviews of 6 different small toaster ovens with air fryer functions. Whether you are interested in a 4-slice, combo, countertop, stainless steel, or cheap models, we have included something for everyone's needs. In the second part of the article, you can read our buying guide to help you figure out which features are important to have in mind when buying a model to fit all your requirements.
The Rundown
6 Best Compact & Small Air Fryer Toaster Ovens
Best Of Best Compact Air Fryer Toaster Oven
Cuisinart Air Fryer Toaster Oven Compact
Air Fries 2.5 Pounds 
This Cuisinart compact air fryer toaster oven comes in silver color and is constructed from stainless steel. Its cavity has a capacity of holding 4 toast slices at once, baking a 3-pound chicken, or air frying up to 2.5 pounds of foods. The control panel is located at the top of the front side and features four turning knobs for operation.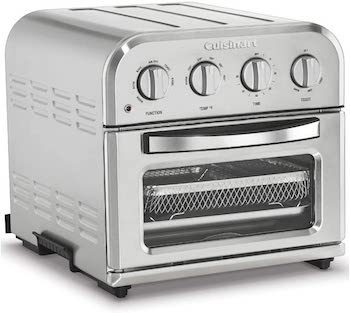 6 Cooking Functions
The first of the four control knobs can be used to choose between 6 cooking functions, including toasting, air frying, convection broiling, convection baking, warming, and bagel options. The temperature of the oven can be adjusted from 250 to 450 Fahrenheit degrees and the oven timer can be set for up to 60 minutes.
Accessories Included
This small air fryer toaster oven also lets you select a light, medium, or dark toast shade when toasting bread. The unit operates quietly and allows you to take a peek inside the oven through the glass window on the door at any time. To be able to air fry and bake, you will also get a basket for frying and a baking pan that fits the unit perfectly.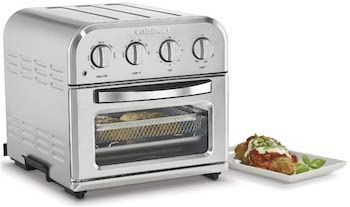 Uniform Heating
With convection, this unit circulates heated air inside the unit which allows the food to fry without using a lot of oils. Besides that, it also delivers uniform heating so that the food is cooked more evenly and faster, as well.
Short Description:
silver color, stainless steel construction
fits 4 toast slices, a 3-pound chicken, etc
6 cooking functions to choose from
toast, air fry, convection bake/broil, warm
60-minute timer, toast shade selector
Best 4-Slice Small Air Fryer Toaster Oven
Oster Compact Air Fryer Oven
4-In-1 Functionality
This compact air fryer toaster oven features a glass window on the door and three control knobs on the right side of the door. It offers the functionality of four appliances in just one unit, including an air fryer, a toaster oven, a broiler, and a convection oven. It is compact for countertops while allowing you to prepare many different meals.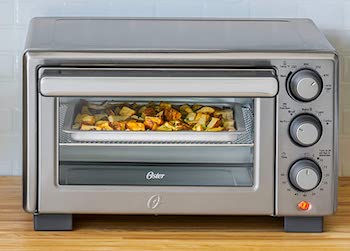 Fries With Air
Compared to deep fryers, it can deliver crunchy foods while using 99.5% less oil, such as French fries, wings, nuggets, and crunchy vegetables. Inside the oven, you can fit 4 slices of toast or a 9-inch pizza. The turbo convection feature is used for even and faster-cooking thanks to the circulation of heated air within the oven.
5 Settings Available
The toaster oven broiler can be used for toasting bread, broiling, air frying, baking, and warming foods. To choose among those 5 settings, you simply have to turn the function control button. If you wish to set up the temperature, you can do so by turning the dedicated knob between 250 and 450 Fahrenheit degrees.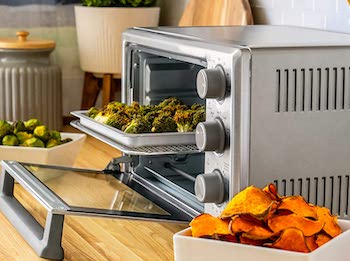 Shade Selector & Timer
While cooking, you can also set up a timer between 1 and 60 minutes. When toasting, the timer is also used to prepare lighter, medium, or darker shaded toast. The oven cavity offers three rack positions for versatile and flexible cooking.
Short Description:
functions of 4 appliances in 1 unit
air fryer, toaster, convection oven, broiler
uses 99.5% less oil for frying
fits 4 toast slices or a 9-inch pizza
adjustable oven temperature and timer
turbo convection, three rack positions
Best Combo Compact Air Fryer Toaster Oven
Geek Chef Compact Airfryer Toaster Oven
Offers 16 Settings
This compact toaster oven air fryer comes in black color and features 16 digital cooking settings in one unit. The digital control panel is located above the oven door that features a clear window for monitoring the cooking process without having to open the door. Its compact size makes it ideal for countertops and is also easy to store away when not in use.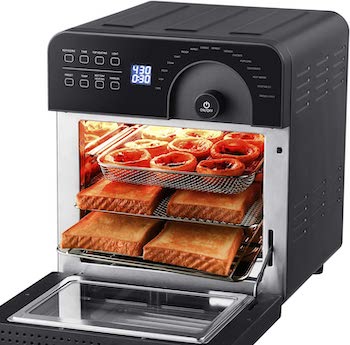 Cooks For 12 People
The oven cavity has a 15-quart capacity and offers three rack levels so that it is easy to cook for up to 12 people at once. A baking pan is included and can even collect fats and drips inside the oven during air frying. When air frying, the unit will need 85% fewer fats to achieve crispiness of the outer layer of food.
Digital Presets
Crisp and delicious food is possible thanks to the cyclone hot air circulation. The digital panel is used to easily set up a cooking program by turning the control knob. You can choose between 16 cooking presets, including toasting, air frying, dehydrating, keeping warm, as well as options for cookies, popcorn, vegetables, French fries, pizza, chicken, cake, wings, and much more.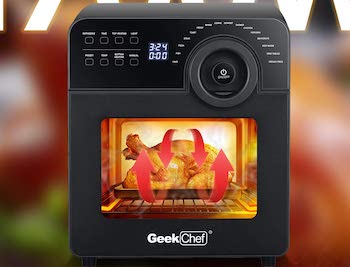 Declutters Space
The rotisserie convection toaster oven comes with a skewer rack, a mesh basket, a mesh tray, an oven rack, as well as a drip tray that catches food drips and bread crumbs inside the unit. This small unit can replace many appliances in the kitchen to declutter the worktops without taking up too much space itself.
Short Description:
features 16 digital cooking presets
compact size for countertop use
15-quart oven can cook for 12 people
uses 85% fewer fats for air frying
toast, air fry, dehydrate, keep warm, etc
popcorn, cookies, pizza, wings, chicken, etc
a mesh basket, a baking pan, a skewer rack, etc
Best Countertop Compact Toaster Oven Air Fryer
CalmDo Smallest Toaster Oven Air Fryer
12.7-Quart Capacity 
This countertop toaster oven can hold an 8-inch pizza inside, or air fry between 300 and 500 grams of fries, and roast a 4-pound full-size turkey. The 12.7-quart oven offers two racks with three positions so that you can even prepare different foods at the same time. The 360-degree air circulation makes it easy to prepare uniformly cooked and crispy foods.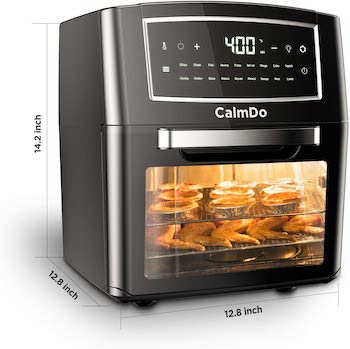 Touch Screen Panel
The compact toaster oven air fryer comes in black color and features a touch screen display so that all of the functions are just one touch away. It offers 18 cooking functions, including bake, rotisserie, dehydrating, and settings for pizza, chips, fish, steak defrosting, cake, wings, and much more.
No Smell Or Mess
When air frying, you will get to enjoy crunchy foods without the smell of oil, and without the mess of oil splatter inside the oven. The oven door features a glass window for taking a peek inside the oven and is also detachable for easy cleaning. When checking in on the cooking process, the interior light is also helpful.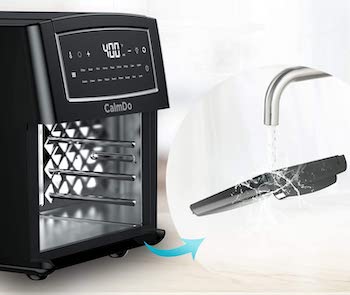 Recipes Included
To be able to air fry, bake, and use the rotisserie option, you will also get the accessories needed for it. A baking pan, as well as two cooking racks, a basket, and a rotisserie set, are included in the package. To get your creativity going, you will also get many recipes included with the appliance.
Short Description:
12.7-quart capacity fits an 8-inch pizza
two oven racks and three positions
360-degree circulation for crispiness
18 one-touch digital cooking presets
bake, rotisserie, dehydrating, pizza, wings, etc
Best Cheap Small Toaster Oven Air Fryer
Hamilton Beach Sure Crisp Toaster Oven
6-Slice Capacity
This small toaster oven air fryer has the capacity to hold 6 slices of bread at once. It is also large enough to bake a 12-inch pizza. It features a large glass door with a handle on top and a crumb tray easily accessible under the door. On the right side of the door, the control panel consists of three turn-style control knobs for easy setup.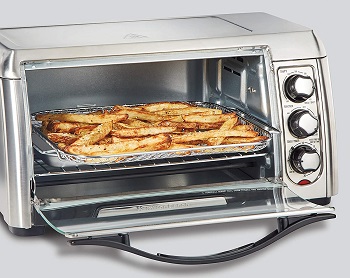 4 Cooking Functions
Included in the package, you will get a baking pan, a broiling rack, as well as a basket for air frying. You can adjust the oven temperature between 150 and 450 Fahrenheit degrees and choose between 4 available programs for cooking. You can toast, bake, broil, and air fry.
Adjustable Timer Settings
The oven timer can be set up between 10 and 30 minutes and it also offers settings for lighter and darker toast shades. Once the timer turns off, the oven produces a bell signal and then turns off automatically to prevent overheating. For longer cooking needs, you can also choose the stay-on function on the timer.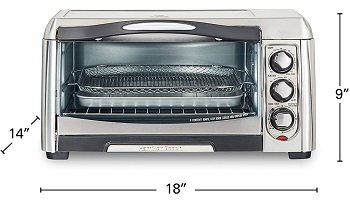 Affordable Price
You can purchase this model for under 100 dollars on Amazon, which makes it one of the best toaster ovens under $100 with an air frying function. To air-fry foods, the powerful fan circulates air around the food inside the oven to cook it evenly while needing little to no oil.
Short Description:
holds 6 toast slices or a 12-inch pizza
a control panel with 3 turning knobs
temperatures adjustable between 150 and 450°F
it offers 4 cooking programs to choose from
bake, broil, toast, and air fry
60-minute timer with automatic shut-off
Best Stainless Steel Steel Small Air Fryer Toaster Oven
Ikich Air Fryer Oven
Sensor Touch Presets
This stainless steel toaster oven comes in a combination of silver and black colors, featuring a stainless steel door frame with a large glass window and a digital control panel located above it. The control panel features sensor touch presets and a screen display for choosing the temperature and cooking time precisely.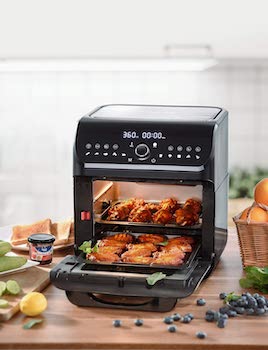 Vertical Small Footprint
The capacity of 12 quarts can be used for cooking a 2-pound chicken, 20 chicken wings, and two 8-inch pizzas. At the same time, this small toaster oven air fryer has a compact design and a small footprint thanks to its vertical shape. Included in the package, you will also get two mesh racks, a skewer rack, 8 skewers, a drip tray, and a cookbook.
Many Cooking Options
Besides toasting, air frying, dehydrating, roasting, rotisserie, broiling, and baking, you can also use the pizza grill option, or prepare steaks, fish, pizza, bacon, chicken, wings, vegetables, bread, and more. The temperature can be adjusted between 100 and 400 degrees Fahrenheit for versatile cooking.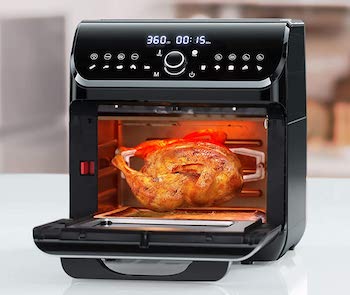 Easy Maintenance
The oven door is removable for cleaning and retains more heat inside the unit as it is double glazed. It will prepare fried foods without making your home smell of oil. It will also be easy to clean as the inside of the cavity is non-stick coated. All the accessories can also be removed and washed in the dishwasher.
Short Description:
stainless steel with silver and black colors
a double glazed glass door to retain heat inside
12-quart oven fits 20 chicken wings
compact size does not take up a lot of space
mesh racks, skewers, a drip tray included
toast, air fry, dehydrate, rotisserie, broil, bake, etc
temperature between 100 and 400°F
What To Consider In Best Small Air Fryer Toaster Ovens?
For limited space in the kitchen, it is important to look out for the compact size of appliances while also making sure their capacity suits your needs.  Moreover, when shopping for a toaster oven, you should also make sure it is easy to operate and that it offers cooking programs you plan to use. Other than that, you should also learn more about convection and air frying and read about the benefits of having such an appliance in your cooking space.
The Sizing – A small toaster oven with air fryer option can usually hold between 4 and 6 slices of toast, ideal for smaller households and confined spaces. To save space on the countertop, the market offers models with a compact design, making some appliances more vertical than others. A vertical toaster oven is ideal for saving precious countertop space, especially in small kitchens.
Ease Of Use – To save not just space, but also time, the best small models should have some of the following features to make them easy to use. Firstly, look for models with control panels that are intuitive to use. Secondly, make sure that the functions and controls are clearly labeled to find them easily. For models with a screen display, look for the ones that are easy to read.
Cooking Options – Besides toasting, and air frying, these models can usually also bake and broil. Some models go a step further, offering the possibility of a rotisserie, dehydrating, roasting, preparing bagels, cookies, pizza, and more. The best model for you will be the one with functions you plan to use.
Convection Technology – To be able to fry with air instead of oil, the best small toaster oven needs to be equipped with a convection fan. This fan circulates the hot air within the cavity to cook food more evenly and faster. Besides reducing cooking time and providing uniform results,  the small convection toaster oven will also give a dehydrating effect to the outer layers of food for cripsiness, ideal for air frying, roasting, and baking.
Benefits – When frying with air instead of frying in deep oils, food will have fewer calories so that you can enjoy healthier versions of your favorite fried snacks. Besides using less oil and fat to cook, a toaster oven will also use less energy and produce less heat in the kitchen when in use than a conventional oven. It is also easier to clean and it preheats faster, ideal for small spaces thanks to the compact size.
To Wrap It Up
The best compact air fryer toaster oven in our opinion is the compact Cuisinart air fryer toaster oven with its 4-slice capacity. It is popular as it offers 6 cooking programs, a. 60-minute timer, and a toast shade selector. It can toast, air fry, but also convection bake, convection broil, warm food, and prepare bagels. If you are into digital models of kitchen appliances, also consider our selection of digital air fryer toaster ovens. For compact models with convection, read our reviews of 6-slice convection toaster ovens.