Looking for an 8-slice toaster oven that can prepare a generous amount of snacks at any time?
Great, because we reviewed 4 models you could be interested in!
If you keep reading this article, you will find reviews of best of best, air fryer, combo, and French door models that can hold up to 8 toast slices at once. When shopping for such a toaster oven, you should also check out our buying guide that will help you concentrate on the important features to have in mind to get the product that best suits your requirements.
The Rundown
4 Best 8-Slice Toaster Ovens
Best Of Best 8-Slice Toaster Oven
Black & Decker TO3250XSB Toaster Oven
Extra-Wide Door
This Black and Decker extra wide toaster oven can fit not just 8 slices of toast inside the oven, but also a 12-inch pizza, and most pans with handles measuring 9 by 13 inches. The extra-wide model also features a wide glass door that lets you take a peek inside at any time. The package comes with a baking pan that fits perfectly inside the oven.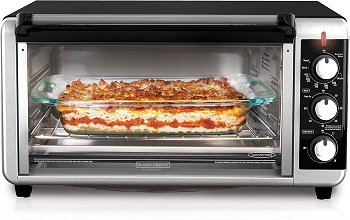 4 Cooking Settings
The control panel consists of three turning knobs that make it easy to set up a cooking program. The first knob is used to control the oven temperature from 150 to 450 Fahrenheit degrees, offering settings for convection baking, broiling, toasting, and warming foods.
Circulates Heated Air
To cook fast and evenly, there is a convection fan built into the Black and Decker 8-slice toaster oven that circulates heated air throughout the oven cavity. To toast bread evenly, there is a toasting rack inside the oven. To get perfectly toasted bread every time, there is a timer for adjusting the toast shade from light to dark.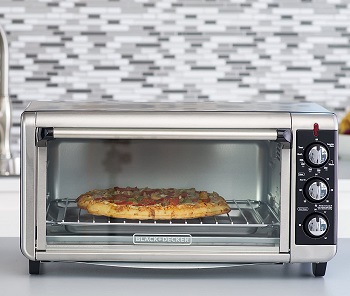 Flexible Settings
When broiling or baking, you can set up the timer for up to 60 minutes or choose the stay-on function for longer cooking cycles. For flexible cooking, the Black and Decker to3250xsb model offers three rack positions. That way, you can also prepare different snacks, desserts, and other meals every day.
Short Description:
fits 8 toast slices or a 12-inch pizza
an extra-wide cavity with a glass door
temperatures from 150 to 450°F
a convection fan circulates hot air
toast, convection bake, broil, warm
Best Air Fryer 8-Slice Toaster Oven
Black & Decker Digital Toaster Oven
Large Digital Display
This 8-slice toaster oven comes in silver color and is constructed from stainless steel material. It features a control panel consisting of a large digital display and three turning knobs that make it easy to control the cooking settings. Besides fitting in 8 slices of toast at once, the cavity is also big enough to hold a 12-inch pizza.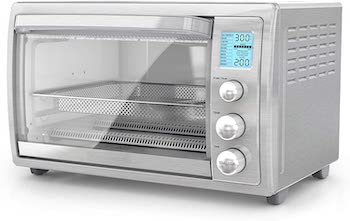 Cooks Fast Without Cold Spots
With the digital control panel, cooking precisely won't be a problem as the oven is calibrated to cook any food to perfection, based on the cooking preset you select. Both meals and snacks can be prepared faster thanks to convection cooking that circulates hot air and reduces the chance of cold spots.
Fries Without Oil
When roasting or baking, you can set up a timer for up to 2 hours. If you enjoy fried snacks, the air frying technology will allow you to enjoy them without using a lot of oil to deliver crispy results. That is possible as the food is surrounded by hot air to uniformly brown and bake in the air fryer convection toaster oven.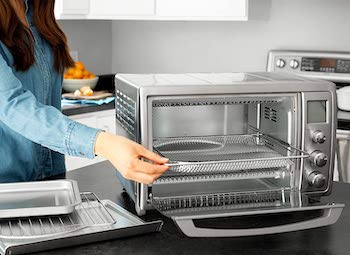 10 Available Presets
The digital control panel allows you to choose between 10 cooking presets, including not just air frying and toasting, but also baking, broiling, roasting, reheating, and settings for pizza, bagels, and no preheating. You can thus prepare breakfast for the whole family by toasting bread, air fry for crunchy snacks, and more.
Short Description:
stainless steel material, silver color
a control panel with a digital display
fits in 8 slices of toast, a 12-inch pizza
circulates hot air for uniform cooking
2-hour timer, 10 digital cooking presets
air fry, bake, broil, roast, reheat, pizza, etc
Best Combo 8-Slice Toaster Oven
SBLIN Multi Toaster Oven
48-Liter Capacity
If you want just one unit to do a wide variety of cooking programs without taking up a lot of space, this 8-slice toaster oven might be the one. It comes in red color and has a 48-liter capacity to fit in 8 slices of cheese toast or a 10-inch pizza. Its compact size also makes it suitable for dorm rooms, holiday homes, RVs, and more.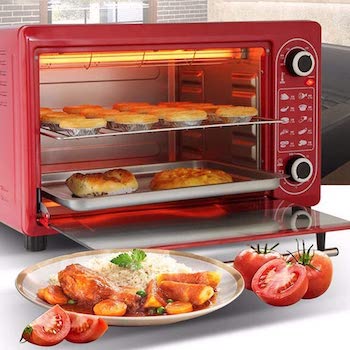 Durable Build
The case of the unit is made from stainless steel for durability and will look good on any kitchen counter. The oven door is made from glass for viewing the baking process and also features a handle for easy opening. The control panel features two turning knobs so that you can choose the temperature and the timer while cooking.
Simple Use
The oven temperature is adjustable up to 230 Celsius degrees so that you can cook a wide variety of foods inside. You can bake bread, toast bread, bake pizza, prepare fish, chicken, and much more. It is very easy to use as it suggests the timer and temperature needed to cook certain foods.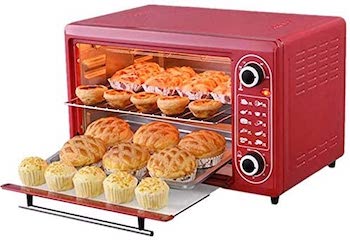 Cooker & Warmer
With a power supply of 2000 Watts, it will be easy to prepare a wide variety of snacks and meals inside this multifunction toaster oven. Besides cooking, it can also quickly warm up foods so that you can enjoy warm meals at any time.
Short Description:
48-liter capacity, compact size
fits 8 toast slices or a 10-inch pizza
suitable for dorm rooms, RVs, etc
temperature adjustable up to 230°F
bakes bread, pizza, toasts, chicken, fish, etc
large glass door, two turning knobs
besides cooking, great for warming foods
Best French Door 8-Slice Toaster Oven
Aaobosi Countertop Toaster Oven
Single-Pull Double Door
This 8-slice toaster oven differs from the other reviewed models as it features a French double door system. Both doors can open with a single pull for convenience and they are equipped with viewing windows, allowing you to check on the cooking process at any time without opening the door.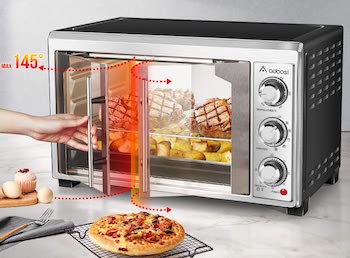 Flexible Settings
The control panel is equipped with three turning knobs so that you can set up the oven temperature and timer, and choose between the available cooking functions easily. The oven temperature can be set between 200 and 450 degrees Fahrenheit and there are 4 rack positions inside the cavity for flexible cooking.
5 Cooking Functions
There are 5 cooking functions to choose from, including a rotisserie, convection, and upper and down heating element combinations. The oven timer can be set up for a maximum of 60 minutes, ideal for baking, roasting, and rotisserie. Besides fitting in 8 slices of bread, it can also fit a 12-inch pizza, 24 muffin cups, and 35 to 40 chicken wings.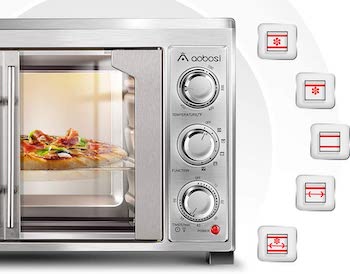 Circulates Hot Air
The double door toaster oven frees up the countertop space in front of the unit when the doors are open, making it convenient for placing food inside and out, as well as for cleaning. The convection feature cooks food evenly and more quickly as to circulates air inside the oven. If you set up the timer, the bell signal will alert you when cooking is done and shut off automatically.
Short Description:
single pull French door system
60-minute timer with auto shut off
oven temperature from 200 to 450°F
4 rack positions for flexible cooking
convection hot air circulation for baking
fits 8 toast slices, a 12-inch pizza, 24 muffins
What To Consider In 8-Slice Toaster Ovens?
Along with making sure that the oven capacity is big enough to hold 8 slices of toast, there are also some other features to keep in mind to find the model tailored to your needs. To start, also make sure that the unit is easy to use and that it can be offer cooking settings you plan to use. On top of that, you should also consider the advantages and accessories that come with such a kitchen appliance.
The Capacity – Models of toaster ovens that can hold 8 slices of toast simultaneously are a great option for family kitchens. They will be able to prepare enough toast for breakfast in a short time, but can also be used for many other snack preparations. Besides holding 8 slices of toast, they are usually large enough to even fit a 12-inch pizza inside the oven cavity. Compact air fryer toaster ovens will be great for limited countertop space.
Ease Of Use – To save you time, a toaster oven should be easy to use, without complicated settings. That is why you should look out for models featuring intuitive control panels with functional and controls that are clearly labeled so you don't spend long trying to find the desired settings. For digital convection toaster oven models, also make sure the screen display is easy to read.
Cooking Settings – The best 8-slice toaster ovens should be used for more than just toasting bread. That is why most models also let you bake, broil, prepare pizza, bagels, cookies, and more. Some are even used as a food warmer, defroster, and rotisserie. When choosing a model for yourself, look for the one that offers cooking programs you want to use.
Accessories – Included with the toaster oven, you will always get a crumb tray. It collects all the food drips inside the oven and should be easy to remove for cleaning. Besides that, an oven rack and a baking pan are usually also included. Depending on what the toaster oven can do, you can also get a frying basket or a rotisserie set, and more.
Advantages – A toaster oven is a great alternative to conventional ovens in confined spaces, but can also be used in busy kitchens as extra help. It preheats faster than conventional ovens while using less energy, producing less heat in the kitchen, and is also easier to keep clean.
To Wrap It Up
The Black & Decker TO3250XSB model is our top choice for an 8-slice toaster oven. It features a wide oven cavity so that it can also fit most baking pans measuring 9 by 13 inches inside. It circulates hot air for fast and even cooking and can be used for toasting, broiling, warming, and convection baking, allowing you to prepare many meals and snacks. If you have a busy lifestyle and need something for quick snacks and meals, consider our choices of fast toaster ovens. For slightly smaller models with convection, read our reviews of 6-slice convection toaster ovens.