Looking for the best espresso latte machine that is currently available for sale?
Then you are in the right place!
The models I reviewed below are specially designed to provide you with a very powerful brewing performance. Check them out and find out which one fits your needs the best.
The Rundown
6 Best Coffee Espresso Latte Machines Your Household Needs
Best Of Best Coffee Espresso Latte Machine
Breville Barista Pro Espresso Machine
Commercial-Grade Design
Compared to the rest of the models, I reviewed below, this brewer features the most professional, commercial-grade design. It is entirely made out of high-quality stainless steel material that provides it with exceptional durability and ensures its lasting use.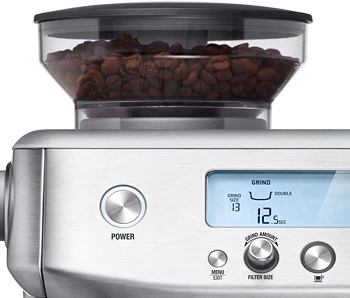 Built-In Grinder
Another thing worth mentioning is that this coffee espresso latte machine comes with a built-in coffee grinder. Thanks to this feature you will be able to brew a perfect latte using your favorite coffee beans.
Intuitive Display
You won't have any trouble adjusting the performance of this coffee machine with grinder and frother to meet your specific needs and likings. It comes with an intuitive backlit touch display that informs you about the progress of the brewing cycle.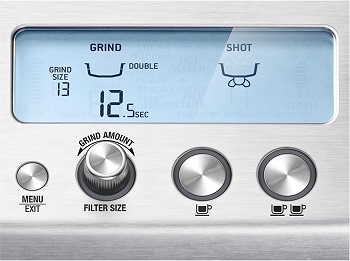 Optimal Water Pressure
Note that this espresso machine with a built-in grinder uses optimal water pressure to brew every cup of coffee. It starts by slowly saturating the coffee grounds inside the portafilter. Due to this feature, all delicious flavors will get extracted from the coffee grounds leaving you with a delicious cup of your favorite beverage.
Short Description:
features a commercial-grade design
high-quality stainless steel construction
user-friendly intuitive backlit display
built-in powerful coffee grinder
dose control grinding process
optimal water pressure extraction
time-efficient heating process
Best Fully Automatic Espresso Latte Machine
Gaggia Cadorna Espresso Machine
Fully Automatic Performance
The best thing about this brewer is that it provides a fully automatic brewing performance. This means that everything you need to do is set and adjust the brewing program you like and let the machine do the rest of the job for you.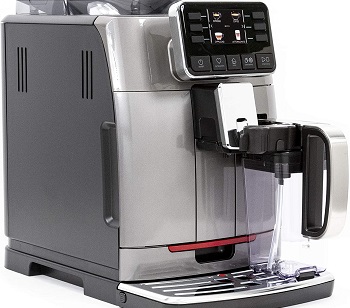 Pre-Programmed Beverages
Note that this espresso and latte machine offers about 14 different pre-programmed coffee-based beverages. Thanks to this feature you will be able to enjoy its versatility with a simple push of a button.
4 Different User Profiles
Additionally, this automatic latte machine even comes with 4 programmable user profiles. This means that you can adjust all brewing parameters according to your likings and save them to one profile. The machine will memorize the settings and provide you with a completely personalized brew.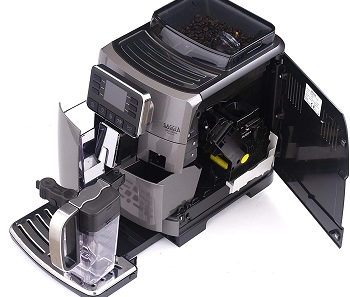 Complete Package
This fully automatic coffee machine comes with versatile accessories. Apart from the coffee machine, the package also includes a milk carafe, grinder adjustment key/scoop, group lubricant, a specially designed water filter, and a water hardness test strip that will let you know about the quality of the brewing water.
Short Description:
fully automatic brewing performance
a user-friendly full-color TFT display
14 different pre-programmed beverages
comes with 4 additional user profiles
offers an integrated milk carafe
includes versatile accessories
Best Single Cup Coffee Espresso Latte Machine
Mr. Coffee One-Touch Brewer
Single Cup Capacity
This Mr Coffee espresso cappuccino and latte maker is designed to brew one cup of coffee at a time. This makes it a highly convenient choice for everyone who lives alone or simply doesn't go through that much coffee throughout the day.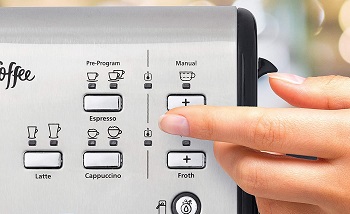 Powerful Heating System
Another thing worth mentioning is that this programmable single-serve coffee maker comes with a very powerful heating system. Thanks to this feature you will get a piping hot beverage with every single use.
Automatic Frother
Just like the previously reviewed model, this compact single serve coffee maker also comes with a fully automatic frothing mechanism. Everything you need to do is make sure that the milk reservoir is full. The machine will automatically froth the milk to its perfect consistency and dispose of it straight into your cup.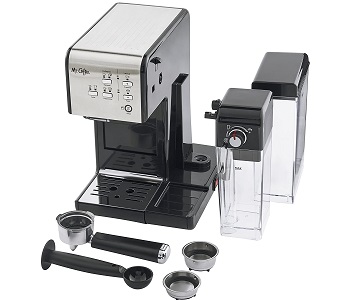 Removable Reservoirs
Note that both the water and the milk reservoirs are fully removable from the unit. This means that you won't have any trouble refilling them or disposing of the remaining liquid. Additionally, this feature also makes this espresso latte machine much easier to clean.
Short Description:
a powerful 19 bar Italian pump
single or double shot espresso
thermocouple heating system
automatic milk frothing mechanism
a height-adjustable bottom drip tray
Best Cold Brew Espresso And Latte Machine
NESCAFÉ Dolce Gusto Coffee Machine
Pod Brewer
Unlike the rest of these brewers, this small pod coffee maker is specially designed for use with coffee pods. Note that it is compatible only with Nescafe Dolce Gusto pods. Due to the versatility of the flavors they offer, I wouldn't say that this is a downside.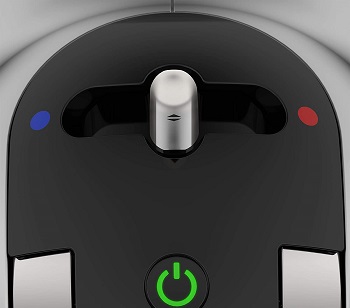 Pressure-Based System
This coffee espresso latte machine uses a pressure-based brewing system. Thanks to this feature you can be sure that it will extract all the delicious flavors from the coffee pods you use. Most importantly, it will do so in a very short time.
Cold Brew Option
The best thing about this iced coffee espresso machine is that it provides you with both hot and cold brewing options. To switch between the two, simply push the small toggle stick that is located atop the brewer in the desired direction.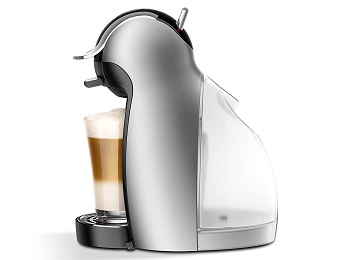 Transparent Reservoir
Its water reservoir is conveniently placed in the back of the unit and it features a completely transparent design. Because of this feature, you will be able to check how much water you have left inside the reservoir before every brewing cycle.
Short Description:
specially designed for use with coffee pods
15 bar pressure-based extraction system
provides both hot and cold brewing options
completely customizable brewing performance
a fully transparent water reservoir
compatible with Nescafe Dolce Gusto capsules
Best With Frother Espresso Latte Machine
KRUPS Espresso Cappuccino Coffee Maker
Simple Design
Out of all models I reviewed in this post, I would say that this coffee machine with milk frother features the most simple design. It comes in simple black color with silver accents. It offers a few basic settings to ensure that you can have some control over the brewing results it provides.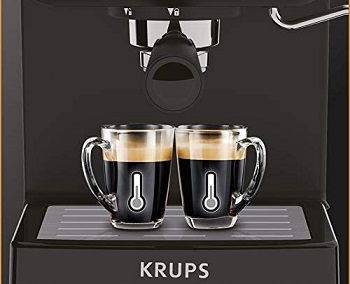 15 Bar Pump
This espresso machine with a milk frother also uses a powerful 15 bar extraction pressure. Thanks to this feature you can be sure that it will provide you with professional-grade performance. You can have a cup of coffee that matches the one from your favorite coffee shop in a matter of minutes.
Steam Nozzle
Due to its manual steam nozzle, you will be able to control the steaming, or frothing, performance that this brewer provides. For example, you can choose whether you want a thick and dense froth for a cappuccino or a bit silkier foam for a latte.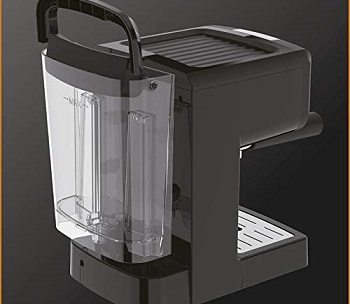 Cup Warmer
Another highly practical feature that this espresso and latte machine has to offer is its top cup warming tray. This means that you can have your coffee cups warm and ready for the next brew you make. When warmed up, they will even help to maintain the temperature of your brew.
Short Description:
features a very simple design
powerful 15 bar pressure pump
steam nozzle for a delicious froth
offers a highly practical cup warmer
Best Cappuccino Coffee Espresso Latte Machine
Capresso Espresso Cappuccino Machine
Small Footprint
When compared to the previously reviewed models, this espresso cappuccino latte machine features a bit smaller, space-saving footprint. This makes it a perfect choice for everyone who has a somewhat smaller kitchen and can't afford to buy a larger appliance.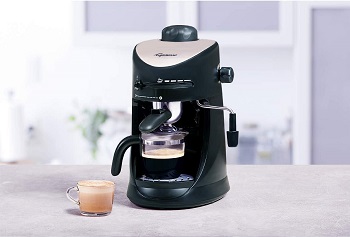 Glass Carafe
Even though this espresso latte machine is the smallest model, it is the only one that allows you to brew up to 4 cups of coffee at once. It comes with a glass carafe that can help you brew between 0 to 4 cups of coffee in no time.
Safety Boiler Cap
You don't have to worry that you might accidentally suffer a heat burn while using this cheap single-serve coffee maker. Its manual frother comes with a specially designed safety boiler cap that prevents hot steam from escaping.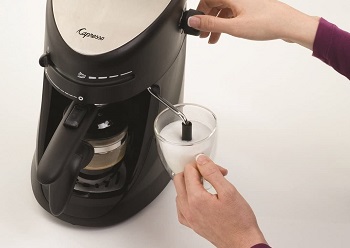 Affordable Price
This 4 cup coffee maker comes at the most affordable price. It costs around 60 dollars. This makes it the perfect choice for everyone who is looking for a more budget-friendly brewer that still provides great performance.
Short Description:
comes in a somewhat smaller size
features a safety boiler cap
1-4 cup glass carafe with a cool-touch handle
ABS plastic body with stainless steel accents
comes at the most affordable price
What To Consider About The Best Espresso Latte Machines?
All listed coffee espresso latte machines will provide you with exceptional performance and great brewing results. Here are some things you might want to keep in mind to ensure that you make the right choice.
User-Friendly Features – There are versatile user-friendly features you can look for when purchasing an electric coffee maker. Some of these models come with a built-in grinder that lets you grind your favorite coffee beans before every use, offer versatile brewing options, have an additional cup warmer, etc.
Brewing Capacity – Another thing you should think about is the brewing capacity you want your brewer to provide. Models I reviewed above are designed to provide a single cup capacity, single or a double shot, or have a small carafe that can make up to 4 servings at once.
Hot & Cold Options – A hot and cold coffee maker is the perfect choice for everyone who is looking for a model for anyone who wants a model that provides some brewing versatility. They can easily make both hot brewers for the mornings and a delicious iced brew for the hot evenings.
Extraction Pressure – Since these models are espresso brewers, you need to think about the extraction pressure they use. The higher the pressure is, the more flavors the brewer will be able to extract from the grounds and dispose of into your brew.
Price Range – If you can't afford to spend too much money on an espresso latte machine, there are many inexpensive coffee makers that might fit your budget perfectly. They still offer great performance. The only difference is that they might have fewer beneficial features to offer.