Did you know there are 3 types of hot plates and each of them has specific features and types of heating elements?
In our article, you can find out are differences, which are the pros, and cons of each type of hot plate so you know how to pick a model for your needs.
Different Types Of Hot Plates
The main difference between hot plates is the type of heating, so we can separate them into 3 categories. Here is the list of hot plate options and a short explanation of its main feature.

Electric Hot Plate
Wattage: 900 – 1200 W
Temperature: 220 – 800 °F
Safety: Good
Electric models are powered, as their name said, by electricity. They have a cord for an outlet that needs to be plugged in so the device can work properly. They have an exposed coil or integrated coil burner. Most of the electric models have 1 or 2 burners.
Induction Hot Plate
Wattage: 1200 – 1800 W
Temperature: 250°F – 932 °F
Safety: Excellent
Induction models use an electromagnetic file to get heat. They have a glass surface while infrared models are made of ceramic. They have a flat surface that quickly heats the burners.
They are one of the most popular types of hot plates for indoor use.
Gas Hot Plate
Wattage: 1000 – 1200 W
Temperature: 200°F – 800 °F
Safety: Good
Models which are powered with a gas, mostly butane or propane, and some other gases can be used indoors and outdoor. They are used both in private houses as well as in restaurants.
Pros And Cons Of Each Type
Each type of appliance has pros and cons and we listed the most important ones which might help you buy a model for your needs.
Induction Model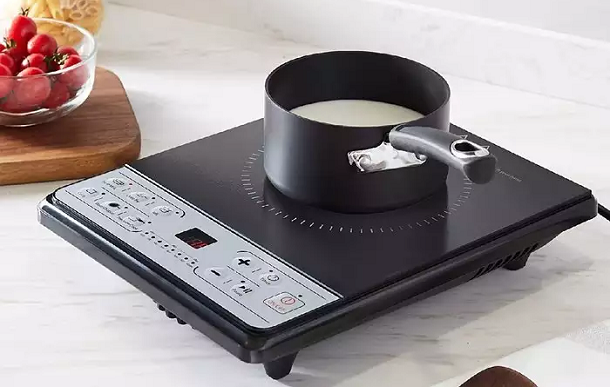 PROS
Compact and lightweight
Stable cooking surface
Fast cooking
Energy-efficient model
Child safety lock
Automatic shut off when cookware is not on the top
Modern appeal
CONS
Can easily get damaged or break
Cost more than other models
Require cookware that works only with induction heating
Electric Model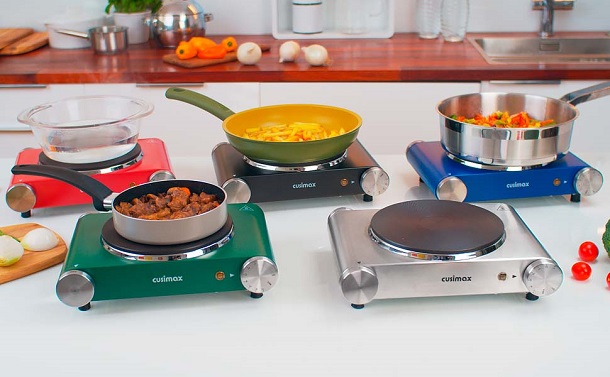 PROS
Sturdy and durable model
Stainless steel construction
Not taking much space
Affordable type of hot plate
CONS
take a lot more time to heat up
take time to cool down
You can easily burn on the top surface
Gas Model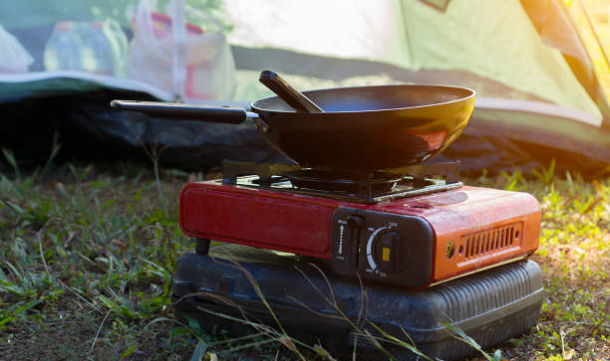 PROS
Ideal for camping where is no electricity access
Cooking meals more evenly than electric models
Easy temperature change
CONS
Gas bottles need to be replaced when it's empty
Need to be used only in well-ventilated spaces
Risk of burning on a flame
Hard to clean
Types Of Hot Plates By Number Of Burners
We can separate hot plates by type of heating but also by the number of burners.
Single Burner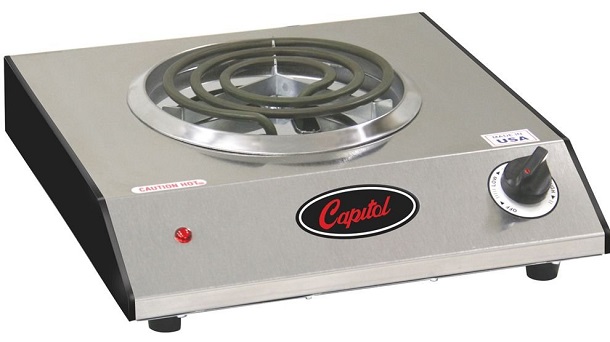 The hot plate which has only one burner is the ideal choice if you need a portable model for occasional use, for preparing a simple meal, reheating leftovers, or boiling water for coffee or tea. You can buy an electric or induction model with a single burner.
Double Burner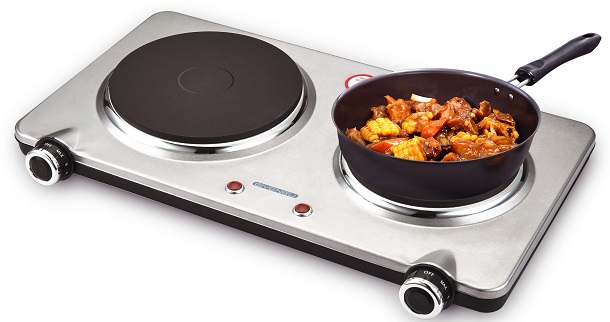 This is one of the most popular types of hot plate, a model with 2 burners. Almost every induction and electric model comes with a double burner. The main advantage is that you can prepare 2 meals at once, which will save you time for cooking. This is an ideal choice if you usually prepare a sauce with pasta, or rice, so you can cook both at the same time.
3 Burners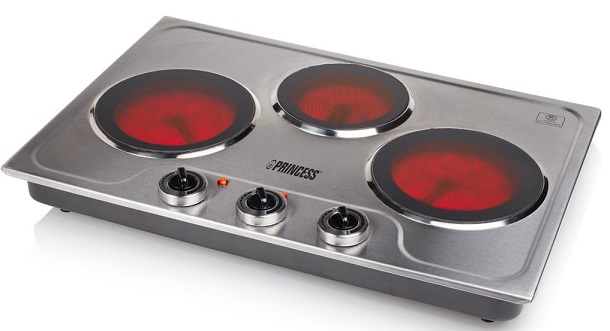 On the market, you can also find models with 3 burners, which are mostly electric and induction hot plates but also gas ones. This type of hot plate is mostly used for houses and apartments, it is a little bit bigger than a single or double model but very practical for use. You can cook 3 meals at once which makes it ideal for preparing it for more than 2 people.
4 Burners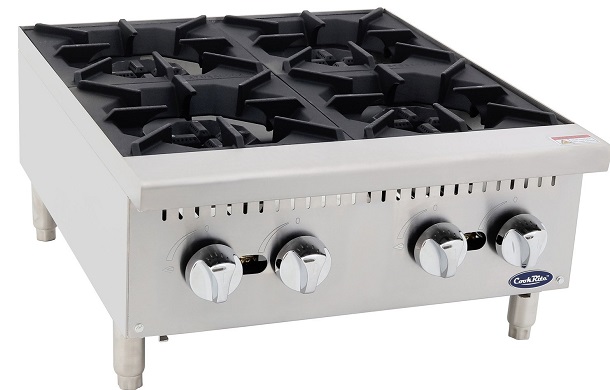 Models which has 4 burners are mostly gas models, but can also be induction or electric type of hot plates. Those types of burners are usually used for indoor use, especially for preparing meals for more people. They take more space than small models but also allow you to prepare anything you want in a short time.
Hot Plate Types By Material
Most of the hot plate models are made of iron steel, glass, or ceramic. Also, they can be combined with 2 or more types of materials. Iron steel models are electric and gas ones, while glass or ceramic are induction types of hot plates.
Which Type Of Hot Plate Is Best Quality?
Summarizing all the advantages and disadvantages of every type of hot plate, we can say that the best value for money is the glass or ceramic induction type of hot plate. The induction model quickly heats up the surface which means that the meal will be prepared much quicker and water will need only a few minutes to start boiling.
It has many safety features including a safety lock, automatic turn-off, etc. comparing it to other types of models. Also, cleaning the induction after cooking will take only a minute, you only need to wipe out the flat surface.
To Wrap It Up
There are 3 different types of hot plates electric, gas, and induction model. Each model has advantages and disadvantage depending on where you're planning to use it, how often, for which meals, and other reasons. Gas models are the ideal choice for camping and other outdoor activities, electric model is a great portable model while the induction hot plate is the perfect choice for quick cooking. Which model will be suitable for your use depends on the number of burners, watts, and the highest temperature burner can reach. We recommend picking a model with at least 1000 watts for easy and quick cooking.