Rookie, beginner cook, or a professional chef, it doesn't matter – we all know how important it is to use herbs and spices while preparing rich-in-flavors dishes! These additional ingredients don't only bring the best of the final flavors, but they also add color and scent, while cutting back on fat, sugar, and salt.
Now, each region has its own palette of herbs and flavors, however, by using such ingredients, Mediterranean cuisine has a unique regional expression. That means that with specific herbs and spices, you can make your dish Turkish, Italian, or Greek. Depending on the herbs you use!
With that in mind, let's get deeper into the topic of the Mediterranean, what is the importance of the herbs in the Mediterranean diet, what flavors, spices, and aromas are awaiting you there, and more.
Prepare for a trip through the Mediterranean region!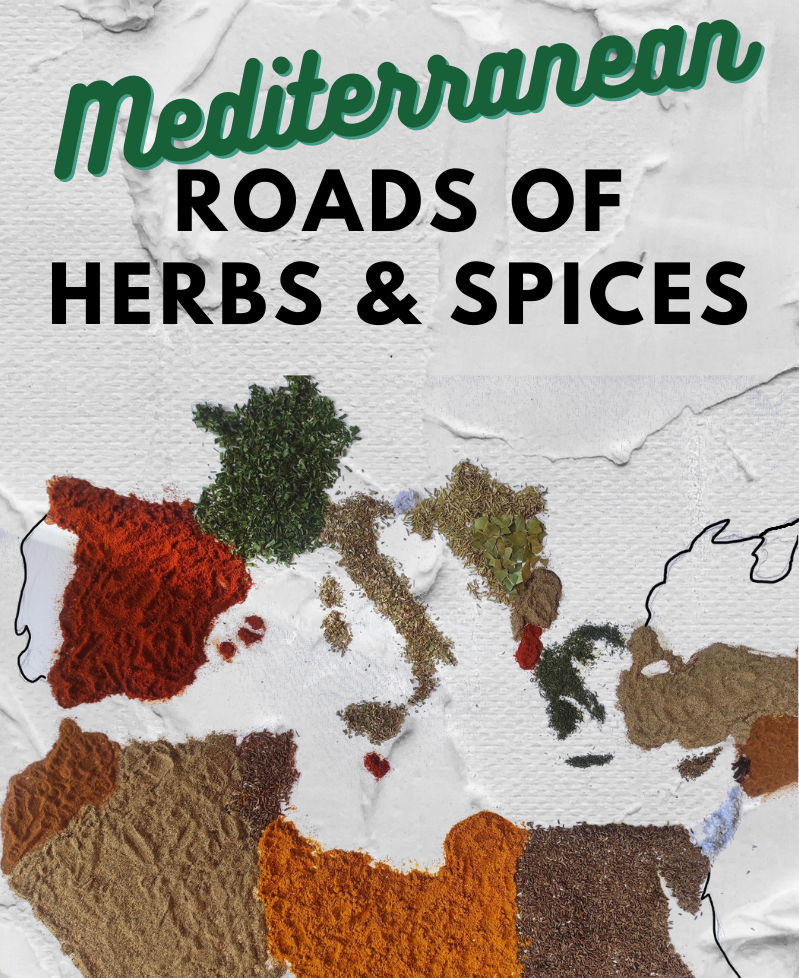 Why Are Herbs SO Important In The Mediterranean Diet?
It implies that every cuisine has its own culinary traditions, so the big question follows – what makes Mediterranean cuisine different than others? Of course, that is in the terms of the herbs and spices.
Well, unlike many other diets which put their focus on providing flavors by adding salt or salt-based sauces, in the Mediterranean diet, herbs and spices are used as the key ingredients to add rich aromas and flavors. So they actually replace the need for added salt.
But besides their importance in bringing flavors and aromas to another level, herbs and spices have many health benefits too. Based on the type of the ingredient, most of them are loaded with healthy omega-3 fatty acids, fiber, iron, calcium, vitamin C, and vitamin A, they can have anti-inflammatory effects, and are good for better control of the blood sugars, or rich in antioxidants.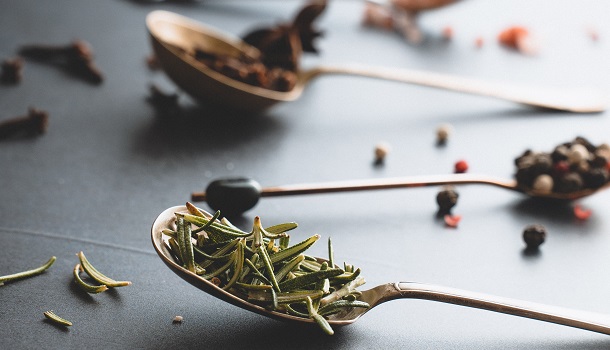 This doesn't come as a surprise as the Mediterranean diet is based on using simple, fresh, and healthy ingredients.
This type of diet is considered to be one of the healthiest diets in the world. The quality of it comes from the importance of using – herbs and spices. Key factors that define the Mediterranean diet are abundant in legumes, vegetables, and fruits, low in meat and saturated fats, largely plant-based, and high in omega-3 fats. Thanks to their enchanting aromas, flavors, and freshness, herbs are considered to be that unifying ingredient that amazingly contributes to the flavors while bringing all the ingredients together into an incredible (and healthy!) dish.
Plus, herbs are the leaves of the plant and spices come from the seeds, bark, and roots. Did we say that such a diet is largely plant-based? We hear healthy and delicious! Oh, and those ingredients are largely used for meat, fish, and seafood dishes too, so nothing to worry about.
Herbs & Spices Of The Mediterranean
The most common herbs that are spread throughout the Mediterranean region are basil, oregano, parsley, lavender, saffron, savory, and rosemary. Besides containing a lot of health benefits such as antioxidants, they also add layers of flavor to any dish. In a healthy way, of course, so you don't have to rely on salt.
Now, let's see what herbs and spices are the classic ingredients of Mediterranean cuisine and diet. In the terms of a region, they are being used in some or all the countries that are situated next to the Mediterranean Sea. That includes Albania, Algeria, Bosnia and Herzegovina, Croatia, Cyprus, Egypt, France, Greece, Israel, Italy, Lebanon, Libya, Malta, Monaco, Montenegro, Morocco, Slovenia, Spain, Syria, Tunisia, and Turkey.
Let's discuss the herbs and spices. Later on, we'll define the Mediterranean countries according to their traditional usage of those ingredients. Onto the herbs now!
Basil. This green culinary herb was imported to the Mediterranean region during the spice trades in the 15th century. It combines hints of mint, anise, and pepper while balancing between sweet and savory.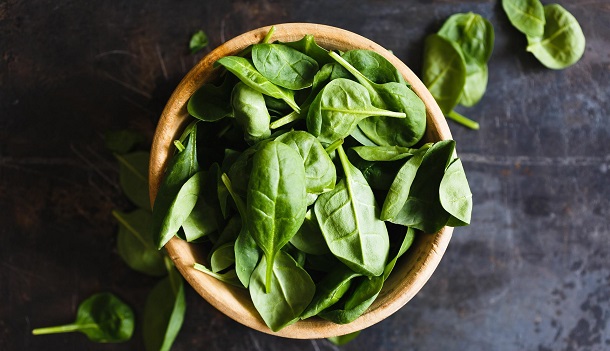 Cumin. It is originally cultivated in Iran and the Mediterranean. Cumin is closely related to parsley, caraway, and dill, and it adds nutty warmth, smokiness, and pepperiness to the dishes.
Bay Leaf. It comes from Asia, but the plant was spread throughout the Mediterranean where it is called a laurel tree. Bay leaf has a bit of minty flavor with subtle hints of black pepper and pine tree.
Black Pepper. This spice came to the Mediterranean around the 6th century B.C. and Greek cooks immediately made it one of the key ingredients of their cuisine.
Cloves. The ingredient came through the Egyptian port of Alexandria by the Arab traders. Cloves have intense flavor and aroma. They combine sweetness and bitterness and are similar to cinnamon and nutmeg.
Mint. The herb originates from Northern Africa and the Mediterranean. There are actually over 600 varieties of mint in the world and each of them has different flavors with a focus on freshness.
Sumac. This spice is mostly grown in the Mediterranean. It has a specific red color while its flavors are reminiscent of fresh lemon juice. It is great for marinades and spice mixes.
Coriander. With a native origin in the Mediterranean region, this green herb has floral and citrusy flavors and it is known as a very fresh-tasting spice.
Oregano. This herb is native to the Mediterranean too. It is one of the essential ingredients of such a cuisine while its bitter, grassy flavors are combined with a hint of mint. It is most often used dried, not fresh.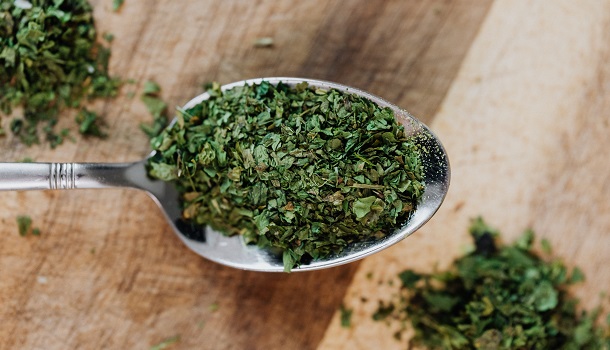 Rosemary. As a native herb cultivated at the coastline, rosemary has a very strong and aromatic scent. There is no flavor quite like rosemary either. It combines piney, peppery, lemony, and woodsy nuances.
Dill. This herb belongs to the same family as parsley and celery. It is native to the eastern Mediterranean and has a fresh, citrus-like taste with a touch of grassy undertone.
Lavender. The native herb is known for its beauty thanks to its purple flower. It has a sweet floral scent and aromatic aroma, while its flavors combine subtle notes of earthiness and mint.
Marjoram. The green herb is known for its fresh, woody, and floral twist. Marjoram has a milder flavor than oregano and a sweeter and stronger scent than thyme.
Parsley. This native Mediterranean herb has been cultivated for more than 2,000 years. It has mild bitter flavors and can be combined with many dishes, meat, fish, and vegetables.
Savory. This member of the mint family is green in color and is known for its aromatic nuances. There are winter and summer savories. Both of them are bitter with an earthy taste.
Turmeric. The spice is made from the root of Curcuma longa. It is mildly aromatic, while its scent combines orange and ginger. Turmeric has a bitter flavor.
Saffron. This is one of the most expensive herbs. It has sweet, floral flavors with a hint of earthy nuances. Saffron is a very unique spice known to be used in Spain.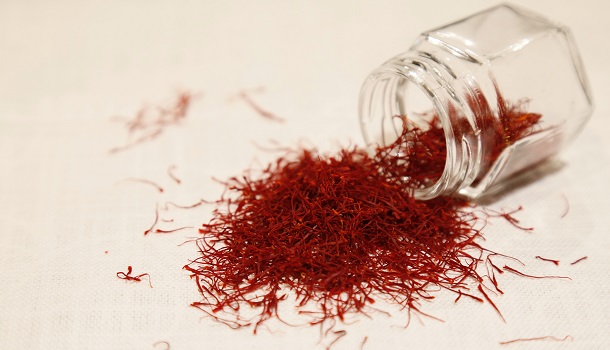 Sage. The native herb is olive-green in color and it has slightly peppery nuances with hints of lemon, eucalyptus, and mint.
Thyme. With a sharp, almost minty flavor, thyme is a common culinary herb of the Mediterranean. It is used in herbal medicine too.
Tarragon. This green herb has a bittersweet, herbal flavor that goes great in the combination with other herbs and spices such as mint, black and white pepper, nuts, and more.
Usage: Fresh Or Dried
All these herbs can be used in different ways. Some of them can be used fresh, others are better dried. Now, everything depends on the type of herb you have.
Today, many herbs have concentrated flavor in their dried state. Because of that, they are often categorized as seasonings. However, many herbs have actually quite mild flavors and can be eaten in large amounts, just as leafy green vegetables for example.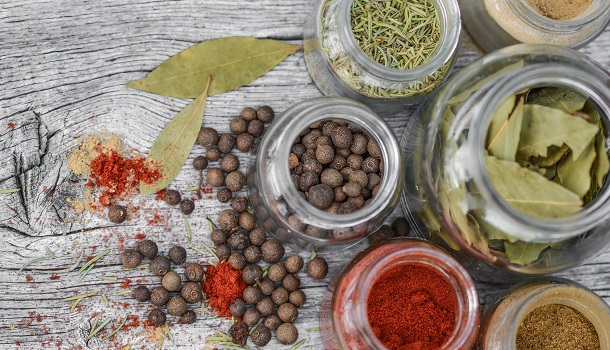 But how to use fresh and/or dried herbs? Here are a couple of tips.
If you're preparing a raw dish such as salad or some type of dressing, use fresh herbs.
Leafy herbs such as chives, tarragon, and parsley are best used when fresh.
Dried herbs add a nice flavor to stews, sauces, and soups.
Herbs that are the best once they are dried are oregano, rosemary, bay leaf, thyme, and marjoram.
Fresh herbs are best added at the end of cooking or after cooking.
Dried herbs can benefit from cooking so add them in the earlier stages of cooking.
Popular Mediterranean Blends Of Herbs & Spices
In the preparation of some of the dishes, sometimes you need more flavors and aromas, and that calls for blends! There are many different mixes you can do by yourself and you can most definitely be creative and mix your own blends. However, you do need to practice a bit before you can prepare a delicious dish with your signature herb blend. That way, you won't use too many aromatic herbs combined with too many spices.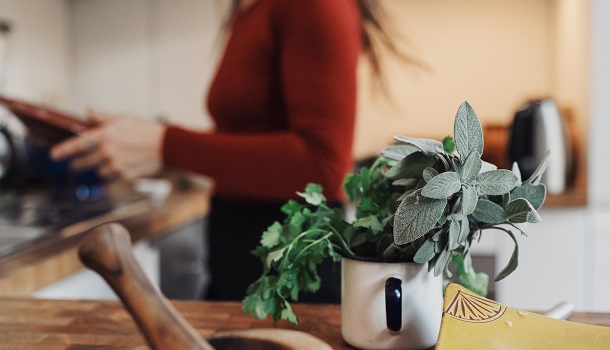 Before any herb experiment, let's start with classic Mediterranean blends! These are pretty traditional and basic blends, but they are full of aromas and flavors!
Fines Herbes
This is a classic French herb seasoning blend. It is referred to as a staple in Mediterranean cuisine. Fines herbes is a blend of parsley, chives, chervil, and tarragon. It is great in the combination with lighter dishes such as eggs, vegetables, fish, or salad. The blend is mild and subtle.
Italian Seasoning Blend
This is a blend of dried herbs and spices and is used for marinades, soups, and sauces. The blend is made from oregano, rosemary, thyme, basil, garlic, and red pepper. Italian seasoning blend is perfect for pasta, pizza, vegetables, meat, and bread.
Herbs de Provence
This blend can actually be made from various herbs and spices, but there is only one basic recipe. That one includes parsley, fennel, marjoram, tarragon, thyme, and rosemary. Other recipes may include basil, savory, lavender, oregano, mint, and others. Herbs de Provence is great in the combination with grilled fish, meat, and vegetables.
Greek Seasoning
This blend combines various dried herbs and spices that are commonly used in the Mediterranean. It is made with marjoram, pepper, garlic, parsley, dill, basil, onion flakes, oregano, salt, nutmeg, cinnamon, and thyme. Greek seasoning is a multi-purpose blend that brings warm, earthy, minty, and sweet flavoring to many dishes – including chicken, fish, salad, and vegetables.
Za'atar Seasoning
The traditional blend is a combination of dried oregano, thyme and/or marjoram, sumac, and toasted sesame seeds. This is a traditional spice blend that can be found throughout the Middle East. It is most commonly found in the kitchens of Israel. Za'atar is an aromatic, zesty, tangy, and nutty herb and spice blend, and it goes well with salads, meat, eggs, fruit, cream cheese, and more. Traditionally, the spice is mixed with olive oil and spread on flatbread which is then baked in the oven.
Baharat
This is a typical blend of Eastern Mediterranean cooking. Even though each region has its own recipe for this blend, some of the basic ingredients you can find in such a mix are black pepper, cloves, coriander, cumin, cinnamon, cardamom, and paprika. Baharat is a warming spice blend that combines savory, slightly sweet, and subtle spicy aromas.
Quatre épices
A French blend is made with 4 spices – ginger, nutmeg, cloves, and black or white pepper. The blend is used for soups, stews, grilled chicken, and vegetables. Besides France, a similar mix is used in some Middle Eastern kitchens too.
From Bland To Hot: Which Country Is The Spiciest?
Now, ready to go in-details about specific Mediterranean countries and their usage of herbs and spices? Even though every country uses pretty much the same ingredients, some of them are prone to use subtle flavors while others use herbs and spices that add more heat to the final dish.
In the Mediterranean, people don't use too many herbs and spices (at least not all at once!), especially in the terms of hot nuances, however, you can see a slight gradation in the usage of different flavors and aromas. So, here is the verdict on the intensity!
Well-Seasoned, But Light & Mild Flavors
The Mediterranean has a great palette of herbs and spices, and even though most of the dishes are really well-seasoned, the final flavors are still light and mild. But very tasty!
In Croatia, the emphasis is on the freshness of the ingredients. People use as little herbs and spices as possible in order to let the main ingredient tells the story. Herbs and spices are used only to contribute to those main nuances, not to take over the entire story of the dish. Especially if we're talking about fish dishes. Some of the herbs that are used are rosemary, parsley, and garlic.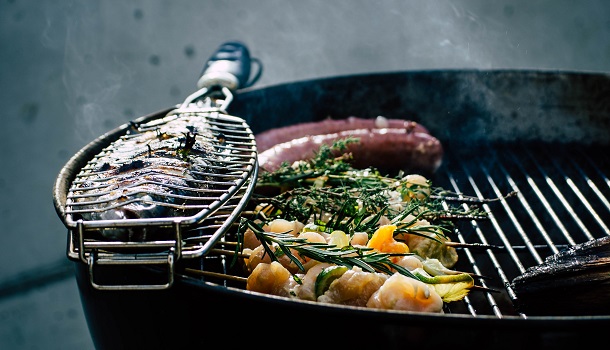 Italy isn't known for too spicy or too seasoned food either, but their versatile usage of herbs and spices brings just the right amount of seasonings. There, you can expect to taste oregano the most. In French cuisine, well, at least in those parts of the country that are located on the coast of the Mediterranean Sea, the usage of herbs is more delicate with an emphasis on the subtle but delicious flavors. You will most likely enjoy dishes with basil there!
Egypt, Lebanon, Syria, and Morocco bring unique flavors and dishes with hints of a couple of different cuisines, subtle nuances, and light aromas. Pretty outstanding and tasty dishes. My background is half Turkish and half Egyptian, said Mahy, a food blogger from Two Purple Figs blog, so my memories and love of the Mediterranean come from my grandma's kitchen or from the food I ate in Europe when we lived there. My absolute favorite Mediterranean herbs are Oregano (fresh or dried), Basil (fresh or used as pesto), Rosemary (fresh or dried), Dill (fresh), and Tarragon (fresh or dried). 
In Cyprus, you can expect pretty original and unique cuisine. Well-seasoned dishes are comforting and delicious, with just the right amount of richness in flavors, herbs, and spices. Locals use most coriander and basil.
Higher Gradation Of Herbs & Aromas
Most Mediterranean countries have a bit higher usage of herbs and spices. You can feel a lot of different flavors and aromas on your taste buds, while the richness of the taste brings you the most amazing palette of unique nuances.
Slovenia, Bosnia and Herzegovina, and Montenegro, bring a mixture of different cuisines, which includes Mediterranean cuisine too. All three countries do like to use many spices but in moderate quantities. In the end, we're talking about quite rich and tasty final flavors! In these countries, you can respect to taste sea salt, bay leaf, and red pepper.
In Albania, most dishes come with spicy components such as chili pepper, that beautifully complement other more mild-flavored ingredients.  Greek cuisine is generally savory rather than spicy, but the food there is very rich in flavors and nuances, mostly due to the usage of herbs. Greeks don't use many spices in cooking, but plenty of herbs. My favorite – and one I gather and use all the time – is wild oregano, said Heidi, a travel blogger from Heidi Fuller Love Travel blog.
Algerian food presents the historic influences of French, Turkish, Arab, and Berber cuisines, while the palette of herbs and spices such as black pepper and cloves, goes from mild to very hot. Maltese cuisine is often described as rustic and it is based on the seasons. However, it is not very spicy nor too seasoned, despite the usage of red chili pepper. The dishes have just the right amount of herbs and spices to give credit to the flavors of the main ingredients. In Monaco, you can taste the mix of French and Italian influences with a touch of basil, so the dishes are pretty light and simple, but not too light so you can taste the palette of herbs and spices.
Spanish food is not overly spicy, even though you can find pretty well-seasoned dishes. The food is milder in taste, while added spices and herbs give nice flavors and aromas to other ingredients. Spanish cuisine relies more on excellent raw materials than heavy seasoning, with many chefs arguing that sauces and powerfully flavourful spices are a cheap trick used to cover up poor produce, said Isabelle Kliger, a freelance travel and food writer living in Barcelona whose work has been published in Forbes, Condé Nast Traveler, Eater and The Times.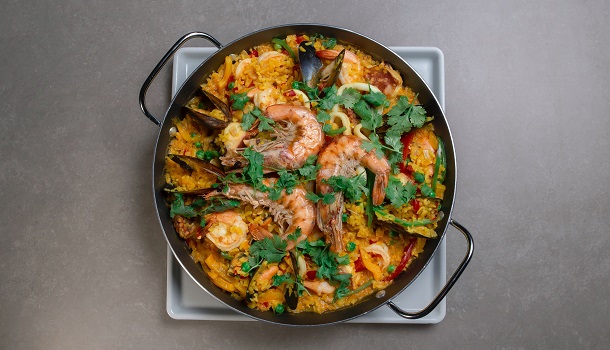 Turkish food is a melding of spices and herbs which create outstanding and delicious flavors. The food isn't spicy nor hot, but the rich usage of additional herbs and spices beautifully contributes to the final nuances. The locals love to use mint and black pepper.
Rich In Herbs, Spicy In Flavors
Even though the Mediterranean is known for the usage of fresh ingredients and milder flavors with an emphasis on the perfect amount of herbs and spices, there are a couple of countries that do love to use a full-blown palette of aromas.
In Israel, locals love to add spices to their dishes which are known to be piquant. People there use many different spices and herbs, however, even though they love to use individual spices, spice blends are actually essential in Israeli cooking. One of the most popular ingredients in this country is dead sea salt.
On the other hand, in Libyan cuisine, most dishes are well-seasoned and that includes spicy nuances too. Locals love to use rich combinations of spices such as turmeric, salt, cinnamon, and hot pepper blend, as well as herbs like parsley, mint, basil, and more. And we're talking about rich mixes of both herbs and spices in one dish!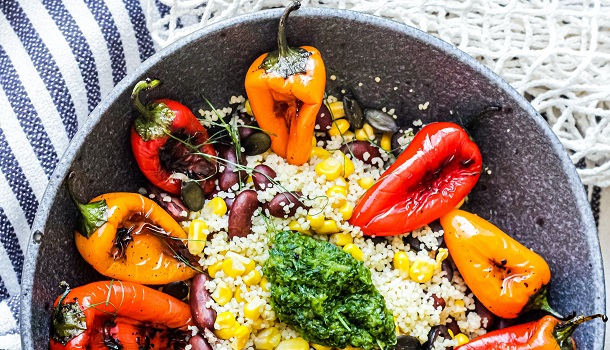 Tunisian food is pretty spiced up! And that's in every possible delicious way! The most popular blend of herbs and spices is called Harissa and is made of ground chili peppers, garlic, and paste (a unique mix of a couple of more spices). This household staple enhances the flavors of many dishes! In the terms of individual herbs and spices, the locals love to use caraway, fennel, ginger, and cloves.
To Wrap It Up
Herbs and spices are really important in Mediterranean cuisine. They are used in many dishes in order to complement main ingredients such as meat and fish, as well as vegetables. Even though every country has its own staple herbs, the entire Mediterranean region enjoys in tasting perfectly-seasoned dishes. Of course, you can easily find just the right nuances for your taste buds – from mild and subtle aromas to those that are richer in flavors. The Mediterranean has something for everyone!