Are you looking for a thin meat slicer that will help you make deli thin slices?
Then you are in the right place!
In the next few segments, you can find out all about the versatile designs and features that the 6 best models offer. Check them out and find the one that works the best for you.
The Rundown
Best 6 Thin Meat Slicers
Best Of Best Thin Meat Slicer
Anescra Deli Food Slicer
Powerful Motor
This electric meat cutter comes with a very powerful 200 Watt motor that creates very high yield slicing power. It spins the blade very fast and ensures perfect cuts with every single use. Most importantly, you can choose whether you want extra thin or thicker slices. Either way, the machine will provide even results.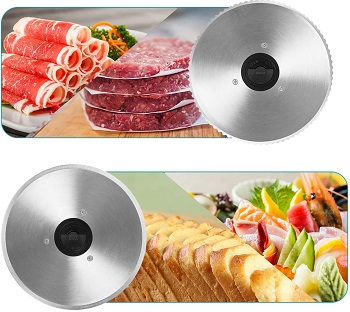 Slicing Blades
Opposed to the rest of the listed models, this thin meat slicer comes with two different slicing blades. The serrated one is perfect for slicing raw food, while the non-serrated one is a much better choice for cooked food. Both are extremely durable and ensure the lasting performance of the unit.
Precise Adjustments
Because of its simple thickness control knob, this kitchen meat slicer will allow you to easily make precise adjustments that fit both your needs and likings. Everything you need to do is turn the knob in the required direction.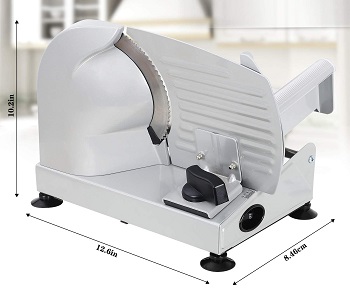 Recessed Switch
You can be sure that this machine is perfectly safe to use. Its blade guard and the food pusher are designed to keep your fingers away from the blade. Additionally, the recessed on/off power switch ensures that your kids can't accidentally turn on the machine.
Short Description:
a powerful 200 Watt motor
creates high yield slicing power
serrated and non-serrated slicing blade
precise thinness/thickness adjustments
features versatile safety features
comes with a recessed on/off power switch
anti-slip rubber feet for additional stability
Best Commercial Thin Meat Slicer
Beswood Deli Meat Cheese Slicer
Commercial-Grade Design
Because of its durable commercial-grade design, this 10-inch meat slicer is the perfect choice both for professional and home use. It features a high-quality aluminum housing and a premium chromium-plated carbon steel blade with a non-serrated edge.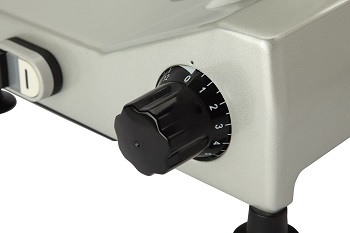 Sharp Blade
Even though the blade has a non-serrated edge, it will easily slice through versatile ingredients. You can use it to slide meat, vegetables, cheese, ham, and even fruit. Most importantly, the blade is fully protected against corrosion to ensure that it provides you with lasting performance.
Premium V-Belt
The amazing thing about this thin meat slicer is that it produces very low noise levels. It comes with a premium V-belt that reduces the vibration that the machine produces while you use it. As a result, you'll be able to enjoy a much quieter performance of the machine.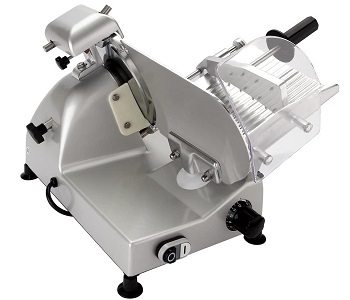 ETL & NSF Approved
Note that this commercial meat slicer for home use is approved to meet both ETL and NSF standards. This means that all electrical components have been tested and approved to meet specific safety standards. It also ensures that the manufacturer used only FDA-approved raw materials to produce the machine.
Short Description:
high-quality commercial-grade design
sharp 10-inch non-serrated slicing blade
top-mounted blade sharpener included
premium V-belt reduces machine's vibrations
features a double illuminated ON/OFF switch
comes with both ETL and NSF certificate
Best Professional Thin Meat Slicer
Waring Pro Food Slicer
Countertop Design
Just like the rest of these models, this slicer also features a simple countertop design. Thanks to this feature you won't have any trouble finding the perfect place for it inside your kitchen. You can place it on your countertops or a kitchen table and move it around whenever needed.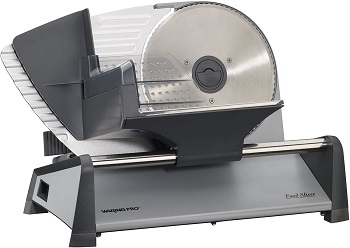 Professional Quality
Due to its durable construction, this stainless steel meat slicer will provide you with professional-grade quality. Its blade is extremely durable and has serrated edges that easily cut through all kinds of ingredients. You will easily get evenly cut slices with each use.
Removable Blade
The blade I mentioned previously, is completely removable from the machine. This feature makes the machine much easier to clean. Make sure that you clean this meat slicer after every single use to ensure that it is completely safe to use with versatile food.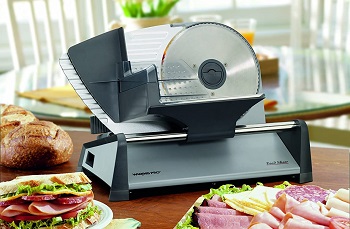 Non-Slip Feet
This professional meat slicer even has bottom non-slip feet that immobilize the machine on the workspace you place it on. They provide the unit with a much higher level of sturdiness and ensure that the machine does not move while you push/pull the food carriage.
Short Description:
features a professional-grade design
a high-quality die-cast aluminum housing
completely removable 7.5-inch blade
non-slip bottom fee for additional stability
Best For Home Thin Meat Slicer
Cusimax Meat Slicer
Easy To Use
This home deli slicer is very easy to use. Firstly, you need to do is place the food you want to slice on the platform and adjust the food pusher unit your food is secure. Secondly, you need to adjust the slicing thickness you want to achieve. After that, you can turn the machine on and use it safely.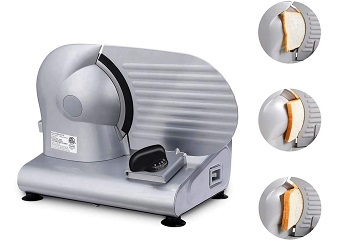 Versatile Performance
The amazing thing about this thin meat slicer is that it is made for use with versatile ingredients. For example, you can use it to slice raw meat, vegetables, bread, fruit, etc. Keep in mind that this blade is not made to cut bone-in meat because it could get seriously damaged.
Safety Features
Due to the versatile safety features this thin deli slicer provides, you can be sure that it is completely safe to use. Its blade has a safety guard that ensures that you can't get your hands in harm's way. On the other hand, the bottom of the unit has strong suction feet that provide high stability to the machine.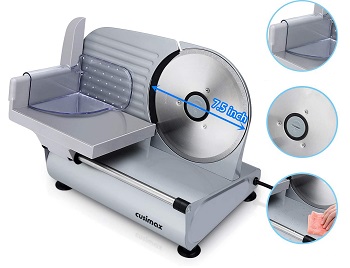 Simple Maintenance
This electric meat slicer for home use is very easy to clean and maintain. Everything you need to do is remove its non-serrated blade from the rest of the unit and give all parts of the machine a thorough clean. The blade is fully immersible, meaning that you'll easily clean all the residue from it.
Short Description:
very easy to use and clean
made to use with versatile ingredients
removable 7.5-inch stainless steel blade
provides different safety features
Best Small Thin Meat Slicer
SuperHandy Collapsible Slicer
Space-Saving Size
This machine comes in a somewhat smaller space-saving size. This is why it is the perfect fit for smaller apartments and tight spaces. It will leave enough room on your countertops for other kitchen appliances that you might have.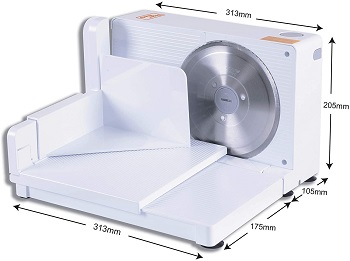 Collapsible Design
What makes this small meat slicer such a great choice is its completely collapsible design. Once you fold it up, it will easily fit into your kitchen cabinets and even drawers. Most importantly, it is so lightweight that you can easily carry it around in your hands.
Safety Lock Mechanism
To turn this thin meat slicer on, you need to press both the safety lock button and the power button simultaneously. This feature makes the machine much safer to use because your kids won't be able to turn the machine on.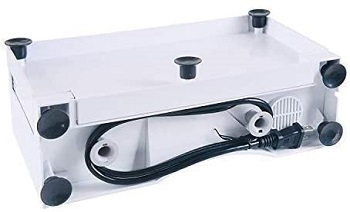 Cord Storage
The bottom of this portable meat slicer has enough room to safely store its electrical cord. This is a great feature because it means that the cord won't take any additional storage space inside your cabinets.
Short Description:
stainless steel serrated blade
somewhat smaller space-saving size
features a completely collapsible design
a highly practical child-safe locking mechanism
a simple bottom cord storage system
Best Manual Thin Meat Slicer
Baoshishan Frozen Meat Slicer
Manual Use
Compared to the previous models, I reviewed in this post, this machine is made for manual use. This means that it will need a bit more manual labor than the electrical slicers. However, its sharp blade will easily cut through the versatile ingredients you need to slice.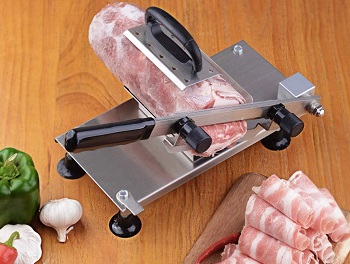 Simple Adjustments
To set the thickness of each slice this frozen meat slicer makes, you need to adjust both inner and outer control knobs at the same time. You can adjust it between 0.5 and 25 millimeters to ensure that you achieve the best results.
Additional Accessories
Alongside this thin meat slicer, you will get all the additional accessories you may need to enjoy the slier's best performance. The package includes a safety meat press cover, an additional replacement blade, a knife sharpener, and additional meat freezer bags.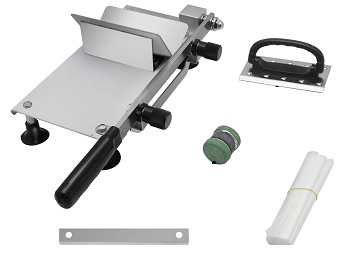 Budget-Friendly Option
This cheap meat slicer is the perfect choice for everyone who is looking for a more affordable machine. It costs less than fifty dollars, but it still provides versatile features that make it a great choice.
Short Description:
designed for simple manual use
provides quick thickness adjustments
includes all additional accessories you need
come at the most affordable price
What To Consider About The Best Thin Meat Slicers?
Thin meat slicers are designed to help you make deli thin meat slices with every single use. All models have very simple adjustments and are very easy to use. Here are some things you should consider before you decide which one you want to buy.
Thickness Range – The first thing you need to think about when deciding which food slicer you should buy is the thickness range it provides. The models I reviewed in this post will allow you to adjust their slicing thickness up to 25 millimeters ensuring you can make paper-thin slices.
Simple Adjustments – All slicers in this post provide very simple thickness adjustments. Everything you need to do is rotate the thickness control knob in the desired direction unit you get the thickness you want. Once you do, the machine will be ready to use.
Electric Vs. Manual – Another choice you need to make is between electric and manual slicers. Although electric ones require less manual labor they aren't made to cut through frozen goods. On the other hand, manual slicers can slice through frozen ingredients but they also require additional manual labor.
Sharp Blade – No matter which lunch meat slicer you choose, electric or manual, make sure that the machine has a sharp blade. That way you will be able to use it to slice versatile ingredients. Keep in mind that you can easily re-sharpen the blade if it gets blunt due to long-term use.
User-Friendly Features – The more features that the thin meat slicer of your choice provides, the more control you will be able to have over its performance. As a result, you'll be able to control the results that it provides too.
To Wrap It Up
The best thin meat slicer is the Anescra Deli Food Slicer. It comes with a powerful 200 Watt motor and ensures precise thickness adjustments. It also comes with both serrated and a non-serrated slicing blade which makes it great for versatile application. Read my reviews about the best restaurant meat slicers on the market and find out more about the benefits of having a heavy-duty meat slicer inside your kitchen.