Are you interested in buying a steak slicer you can use both professionally and at home?
Then keep reading my post!
I found and reviewed four of the best models that are currently available on the market for you to buy. Check them out, find out more about the versatile features they offer, and choose the best one.
The Rundown
Best 4 Steak Slicers Every Household & Business Needs
Best Of Best Steak Slicer
Wanlecy Steak Cutting Machine
High-Quality Design
Similar to the rest of these models, this frozen meat cutter also features a high-quality design. Its body is made out of aluminum alloy material. On the other hand, its blade and all parts that come in contact with your food are made out of food-grade stainless steel material.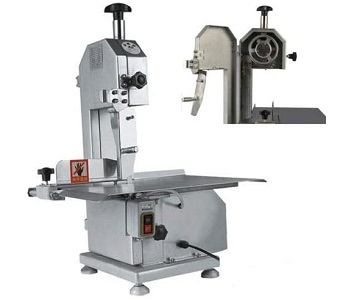 Fixed Baffle
Another amazing feature this steak slicer offers is a fixed baffle. Because of it, you will easily achieve perfectly even cuts with every single use. Additionally, its adjustable scales are designed to meet different cutting needs you might have.
Intended Use
Keep in mind that this industrial meat slicer is made to cut through all kinds of bones, frozen goods including meat and fish, and rasorial cutting. It is the perfect choice for versatile processing factories, catering companies, canteens, etc.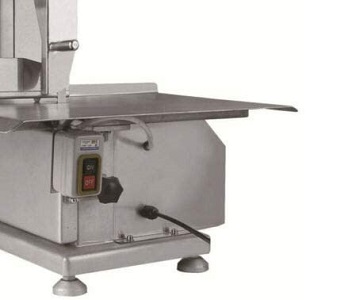 Safety Mechanism
You can be sure that this machine is perfectly safe to use. It comes with a safety mechanism that is designed to automatically shut down the machine once its outer cover is open. Once you place it back again, the machine will continue to work perfectly.
Short Description:
high-quality aluminum alloy body
durable and sharp food-safe stainless steel blade
fixed baffle ensures evenly cut slices with every use
adjustable scales provide versatile thickness options
made to cut bone-in meat and versatile frozen goods
can be used in versatile professional environments
a safety mechanism with an automatic shut-off
Best Commercial Steak Slicer
Intbuying Meat Cutter/Slicer/Grinder
Commercial-Grade Design
This is another meat slicer that provides a commercial-grade design. Compared to the previous model, it is made to be placed on the countertop surface. Its durable construction ensures its lasting performance and requires very little maintenance.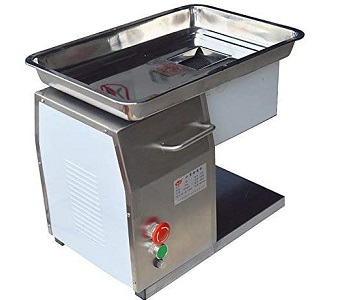 Versatile Appliance
Because of its design, this commercial meat saw is suitable for versatile surroundings. These include small catering industries, different processing companies, kindergartens, schools, etc. It will provide exceptional performance no matter where you decide to use it.
Easy To Use
No need to worry that this steak slicer is too complicated to use. Everything you need to do is add meat to its input and turn the machine on. You will be able to enjoy amazing results in a very short time.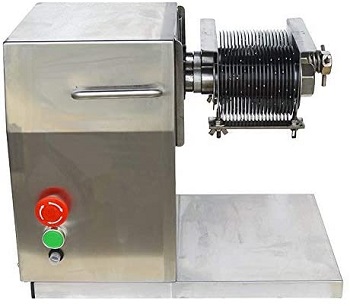 CE Certificate
Most importantly, this meat dicer machine comes with a CE certificate. This means that the machine has been tested by the manufacturer and approved to meet different health, environmental, and safety protection requirements that are set by the European Union.
Short Description:
user-friendly countertop design
high-quality commercial-grade design
made for use in versatile surrounds
provides a very simple performance
comes with a CE certificate
Best Beef Steak Slicer
DNYSYSJ Bone Sawing Machine
Food-Safe Material
Note that the working bench, slicing blade, and all the parts that come in contact with your food are made out of food-grade stainless steel material. Thanks to this feature you can be sure that nothing will affect the quality of the food you use on this heavy-duty meat slicer.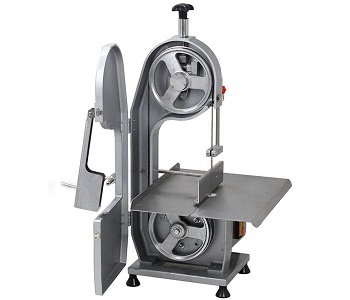 Cutting Thickness
This steak slicer allows you to adjust the thickness of each slice it makes between ten and hundred and fifty millimeters. This is a great thing because it provides you with complete control over the machine's performance.
Waterproof Safety Switch
The included safety switch comes with completely waterproof protection that prevents you from touching the switch directly. This is a great thing because it means that you can easily push it even if your hands aren't clean and dry.
Additional Tips
Even though this electric meat bone cutter is also suitable for versatile use, you need to keep in mind that it is not made to cut fresh non-bone meat slices. It also provides versatile safety features. For instance, its bottom non-slip feet will provide additional stability to the unit.
Short Description:
made for versatile use
provides efficient performance
completely adjustable slice thickness
fully protected waterproof safety switch
Best For Home Steak Slicer
Moongiantgo Meat Slicer
Stainless Steel Design
Compared to the previous models, I reviewed in this post, this hand crank meat slicer is entirely made out of stainless steel material. This provides it with much higher quality and durability. As a result, it will have a much longer lifespan.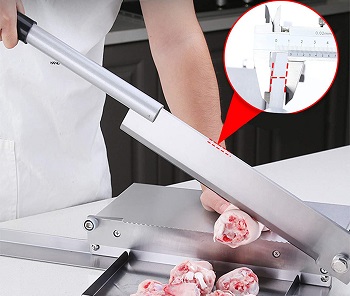 Manual Use
Since this meat cutter machine for home is made for manual use, you will need to press down its blade by hand. Its large workbench surface features an anti-slip serration end that keeps the ingredients from sliding off of the bench.
Thick Slicing Blade
The machine's slicing blade features a thick design. Thanks to this feature you can be sure that it will easily cut through bone-in meat and other versatile ingredients without getting damaged. Note that this slicer isn't made to slice thin deli slices.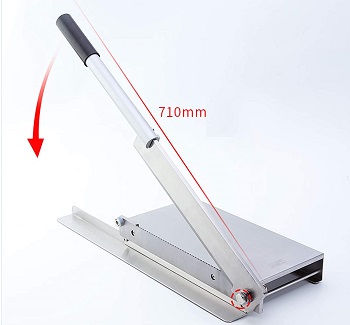 Removable Storage Tray
Included with this steak slicer, you will also get an additional drawer-style storage tray. It is placed precisely beneath the blade to ensure that it collects all the meat you cut. Most importantly, the tray is completely removable so you won't have any trouble cleaning it up once you are done using the slicer.
Short Description:
specially designed for manual use
durable stainless steel construction
large workbench with a serrated edge
extra-thick slicing blade with coated handle
removable drawer-style storage tray
features an anti-loose shaft structure
What To Consider About The Best Steak Slicers?
Steak slicers are specially designed to provide a powerful performance while cutting through bones and even frozen goods. Here are some features you should keep in mind when choosing the model you want to buy.
User-Friendly Design – No matter what kind of slicer machine you decide to buy, a commercial one or a home one, make sure that it features a user-friendly design. That way you will have a much more enjoyable experience using it.
Durable Construction – Since steak slicers need to provide exceptional durability, you need them to feature durable construction. That is why stainless steel meat slicers are the best choice. The models I reviewed in this post either feature stainless steel or an aluminum alloy body.
Multipurpose Use – Similar to the rest of the slicers and cutters on the market, these are also made for multipurpose use. For instance, you can use them to cut frozen meat, bone-in meat, and other versatile ingredients. They can fit great into large restaurant kitchens and in smaller school cafeterias.
Powerful Performance – Another very important thing you need your heavy-duty meat slicer to provide is a powerful performance. To ensure that, make sure that you check how powerful the machine's motor is, the construction and sharpness of its blade, etc.
Adjustable Thickness – Most steak cutting machines on the market provide you with simple thickness control adjustments. This is an amazing feature because it allows you to control the slicing performance that the machine provides. Additionally, you can adjust it to meet your specific needs.