Looking for the best restaurant meat slicer that can withstand the high demands of professional environments?
Then this post might help with your search!
I found and reviewed six of the best models that are currently up for sale. Check them out, compare their features, and find the one that fits your needs perfectly.
The Rundown
Best 6 Restaurant Meat Slicers
Best Of Best Restaurant Meat Slicer
Zinnor Meat Slicer
Convenient Design
As opposed to the rest of the listed models, which feature a countertop design, this meat slicer is made to be placed directly on the floor. It even has rolling wheels that help you move the machine around when needed.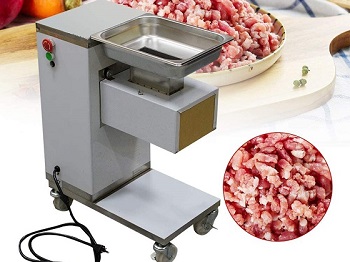 Versatile Use
The thing that makes this machine such a great choice for professional use is its versatility. For instance, you can use it to slice your ingredients, dice them into smaller cubes, or even mince them into a fine paste.
Default Blade
This restaurant meat slicer comes with a default blade that is about three millimeters. The only downside is that you can't adjust the slicing thickness it provides. However, you can replace the blade with a larger or a smaller one.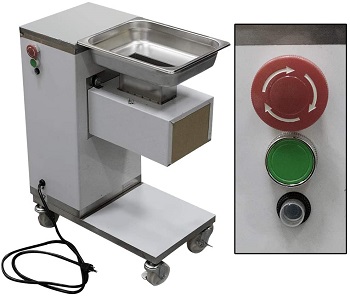 Protection Switch
Because of its simple protection switch, this meat dicer machine is completely safe to use. Once the cutting tool is exposed, the switch will automatically lock the blade in its place and stop the machine. Once you place its shield back in its place, the machine will restart again.
Short Description:
a highly convenient design
durable stainless steel construction
specially made for versatile use
default three-millimeter blade
a safety protection switch
rolling wheels on the bottom
very easy to clean and maintain
Best Deli Restaurant Meat Slicer
Kitma Commercial Meat Slicer
Commercial-Grade Design
This is another commercial food slicer that features a commercial-grade design. It is entirely made out of high-quality stainless steel material that provides the unit with additional durability. It also provides high resistance to rust, corrosion, stains, dents, etc.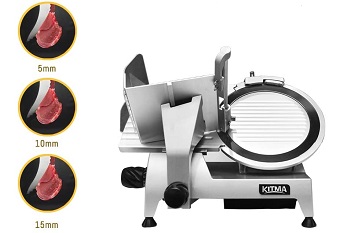 Durable Blade
The included 10-inch blade is also made out of stainless steel material. It is made to maintain its sharp slicing edge for a long time. As a result, you'll be able to enjoy the perfect performance even after long-term use.
Precise Adjustments
Another thing you should keep in mind is that this restaurant meat slicer provides you with complete control over the thickness of each slice it makes. This means that you will be able to adjust its performance according to your likings and demands.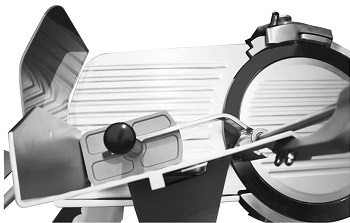 Removable Carriage
The slicer's carriage system features a fixed handle that makes it very easy to control the slicing speed. Most importantly, the carriage is completely removable from this 10-inch meat slicer so you'll be able to easily give the entire machine a thorough clean.
Short Description:
commercial-grade stainless steel design
durable non-serrated stainless steel blade
a practical ten-inch blade diameter
simple and precise thickness controls
completely removable carriage system
Best Electric Restaurant Meat Slicer
WeChef Electric Meat Slicer
High Rotary Speed
You can be sure that this machine will provide highly efficient performance. It comes with a powerful 270 Watt 3/8 HP motor that creates about 440 rounds per only one minute. Thereby, it ensures quick performance in a very short time.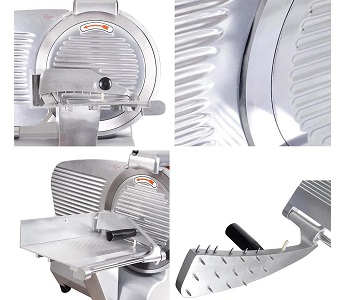 Sharpening Control
The included sharpening control buttons are specially designed to help you control the machine's whetstones. Thanks to this feature you will be able to sharpen the blade safely and easily without getting your fingers in harm's way.
Safe To Use
Because of the versatile safety features this restaurant meat slicer provides, you can be sure that it is perfectly safe to use. These include an on/off switch with a waterproof cover, a blade guard, a food pusher with small teets that keep the food in place, etc.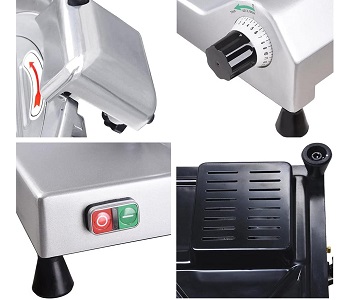 Simple Maintenance
You won't have any trouble cleaning this electric meat cutter once you are done using it. Simply remove all removable parts and give the entire unit a thorough clean. Make sure that you dry up all parts before you set them back in their position.
Short Description:
270 Watt 3/8 HP motor
creates about 440 rounds per a minute
comes with sharpening control buttons
requires very little maintenance
Best Automatic Restaurant Meat Slicer
Hobart 13-Inch Slicer
Automatic Slicer
When it comes to choosing the best model for professional use, automatic meat slicers are a much more practical choice than manual ones. This is because hand-crack meat slicers require much more manual labor while the automatic ones don't tire the user and are much more efficient.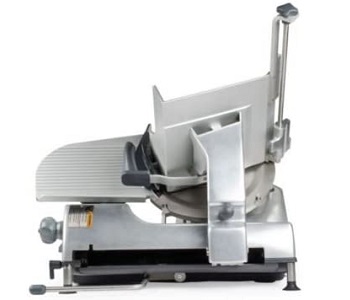 Removable Blade
The machine's slicing blade is completely removable. This is a highly practical feature because it makes re-sharpening a much easier process. It also makes the cleaning process much easier because you can clean the entire blade and give it a thorough clean.
High Price
Another thing you need to consider with this model is the price-to-value ratio. Out of all models I reviewed in this post, this restaurant meat slicer comes at the highest price. More precisely, it costs around nine thousand dollars. However, it does offer some features that other models don't.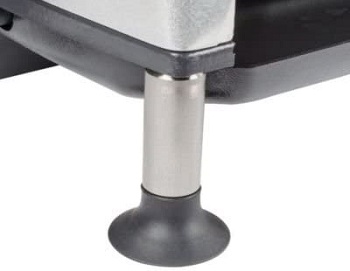 NSF & cETLus Listed
The best thing about this slicer is that it is both NSF and cETLus listed. The NSF certificate ensures that the manufacturer used only FDA-approved raw materials to make the slicer. The cETLus certificate, on the other hand, ensures that all electrical components fit established standards.
Short Description:
automatic slicing performance
completely removable slicing blade
three different stroke lengths
four different stroke speeds
single action top-mounted sharpener
both NSF and cETLus certified
Best For Butchers Restaurant Meat Slicer
KWS 320W Meat Slicer
High-Quality Motor
Similar to the rest of these models, this meat slicer also comes with a high-quality motor. Due to its 320 Watt power, it will provide exceptional performance with every single use end ensure great results in a very short time.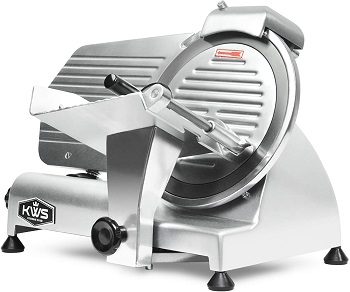 Versatile Use
Note that you can use this slicer to cut versatile ingredients. It works just as well on meat and different deli products as it does on vegetables and fruits. You can use it to make perfect slices of frozen goods too.
Built-In Sharpener
Since this frozen meat slicer comes with a built-in sharpener, you won't have to spend too much time sharpening it manually. This feature ensures that you will always have a sharp blade ready to slice through the ingredients you use.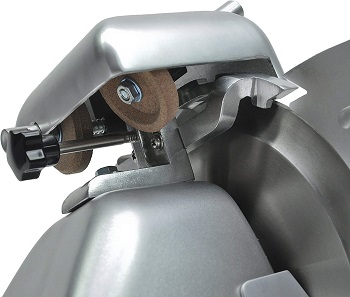 Low Noise
This restaurant meat slicer produces much lower noise levels than some of its competitive products. This is what makes it such a perfect choice for both professional and home use. You can use it anytime you want without worrying that its noise might bother those around you.
Short Description:
high-quality 320 Watt motor
provides exceptional performance
made for use with fresh and frozen goods
comes with a built-in blade sharpener
produces very low noise levels
Best For Food Restaurant Meat Slicer
SSE Deli Food Slicer
Solid Construction
Because of its heavy-duty construction, this kitchen meat slicer will be able to withstand the different demands of versatile professional surroundings. This includes hotels, restaurants, small food bars, etc. You can use it at your home too.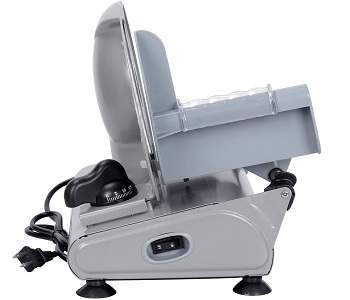 Stainless Steel Blade
This restaurant meat slicer also comes with a durable stainless steel blade. The blade has serrated endings that ensure it can easily slice through versatile ingredients, including both raw and cooked food.
Non-Slip Feet
The bottom non-slip feet provide additional stability to this food slicer. Since they provide a powerful suction grip, the slicer will remain firm on the worktop you place it on. This feature makes the slicer much safer to use because you don't have to worry that you might push it off while slicing.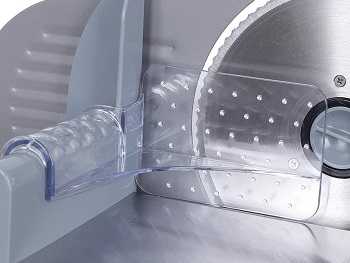 Lower Price
Even though this model isn't cheap, it does come at the most affordable price out of the models I reviewed in this post. It costs less than a hundred and fifty dollars. To clarify, it still provides versatile features like some more expensive models do.
Short Description:
a solid heavy-duty construction
durable stainless steel blade
non-slip feet with powerful suction
comes at the lowest price
What To Consider About The Best Restaurant Meat Slicers?
All restaurant meat slicers I reviewed in this post will provide you with exceptional performance. No matter which you choose you can be sure that it will provide lasting performance. Here are few things you should consider to ensure that you easily find your match.
Intended Use – Even though all listed models are made for universal use, they are not made to cut through bones. Bone cutting machines come with a much more durable blade that doesn't get damaged easily. This is not to say that these slicers aren't durable. They can easily slice both fresh and frozen ingredients.
Rotary Speed – Another thing you need to pay attention to is the rotary speed that the slicer's motor provides. The higher the speed is, the more efficient performance the slicer will have. This means that you will get great results in a very short time.
Sharp Blade – It is very important that you find a model that comes with a sharp slicing blade. Some models even come with built-in sharpeners that constantly maintain the sharpness of the blade ensuring great performance with every single use.
Noise Levels – Since professional environments, such as hotels and restaurants, are often very hectic, the noise level that the restaurant meat slicer produces isn't big deal. However, this is a very important feature if you want a restaurant slicer you can use inside your home.
Price Comparison – You can easily find both expensive and cheap meat slicers that fit into the "restaurant slicer" category. The expensive models usually have more powerful motors and thereby create a higher amount of RPMs. Other than that, both options have pretty similar features.
To Wrap It Up
The best restaurant meat slicer is the Zinnor Meat Slicer. It features durable stainless steel construction, a highly convenient design with rolling wheels, and versatile features that make it completely safe to use. Check out our homepage to learn more about the difference between the best commercial deli slicers and the best home deli slicers and find out which option suits your needs better.