Are you interested in buying a kitchen meat slicer?
Then my post might help you with your search!
I found, reviewed, and compared six of the best models that are currently up for sale. Find out more about the features they have to offer and choose a model you like the most.
The Rundown
Best 6 Kitchen Meat Slicers
Best Of Best Kitchen Meat Slicer
Aicok Meat Slicer
Versatile Use
This cheese and meat slicer is specially designed for versatile use. Its fast cutting blade will easily go through all hard-to-cut foods including meat, roast beef, cheese, bread, and versatile fruits and veggies. Because of its 150Watt motor, it will cut versatile ingredients in just a few seconds.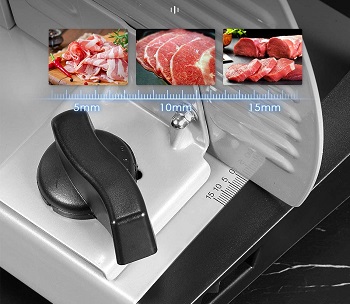 Sharp Blade
The slicer's blade is entirely made out of a chromium-plated carbon steel material that provides amazing durability. This is an amazing feature because it ensures that the blade will provide professional performance and have a much longer lifespan.
Thickness Control
Because of its built-in thickness control knob, you'll be able to adjust the thickness of your food according to your likings. Thanks to this feature you'll be able to cut extra thin slices of cheese and a thick piece of meat for lunch.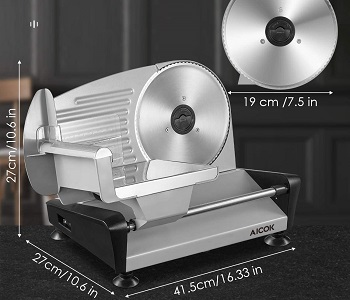 Eas To Dissasemble
To disassemble this kitchen meat slicer everything you need to do is switch the safety button and remove the blade. Once you do that, pull the safety handle and rotate to the right. To install it back again, simply rotate it back to the left. Make sure that the blade is stable in its position before you use the slicer.
Short Description:
compact and lightweight design
made for use with versatile ingredients
chromium-plated carbon steel blade
built-in thickness control knob
very easy to disassemble and install
blade safety guard and food pusher
safety suction foot for additional durability
Best Commercial Kitchen Meat Slicer
KWS Premium Meat Slicer
Commercial Design
This meat slicer is the perfect choice if you are looking for a commercial model. It is constructed out of stainless steel and aluminum materials, both highly durable. Thanks to this feature the machine will be able to withstand the high demands of professional environments.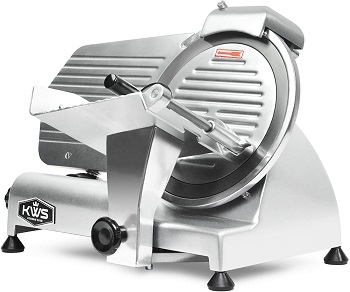 Powerful Motor
Another amazing thing about this commercial deli slicer is that it comes with a very powerful 0.4 hp motor and power transformer. It will deliver the powerful performance you need to tackle the need for constant slicing. The transformer provides additional protection against electric leakages and short circuits.
Built-In Sharpener
You'll never have to sharpen this kitchen meat slicer manually. It comes with a built-in sharpener that always keeps the blade of the slicer perfectly sharp. This means that it will easily go through all ingredients you need to slice up.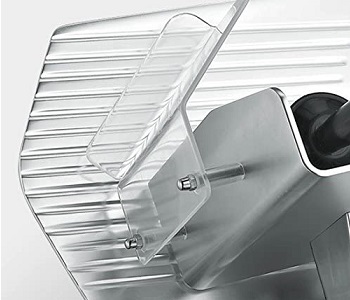 Safety Features
Because of its safety features, you can be sure that this slicer is perfectly safe to use. For example, its skid-proof rubber feet ensure that the unit stands firm on the countertop surface. Additionally, the on/off switch is completely waterproof to ensure that you can safely touch it with wet fingers.
Short Description:
stainless steel and aluminum construction
0.4 hp motor and power transformer
comes with a built-in sharpener
rubber bottom feet for additional stability
completely waterproof on/of switch
Best Stainless Steel Kitchen Meat Slicer
Anescra 200W Food Slicer
Stainless Steel Design
Due to its stainless steel construction, you can be sure that this meat slicer will have a very long lifespan. It is highly resistant to exterior damages such as rust, corrosion, spill stains, scratches, etc. This makes it a great choice both for professional and domestic use.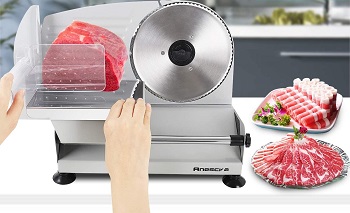 Powerful Performance
This kitchen meat slicer features a powerful 200Watt motor that provides very high slicing power. Thanks to this feature you will be able to use it to cut through almost anything from bread, cheese, meat, veggies, etc.
Two Blades
Included with this heavy-duty meat slicer come two stainless steel cutting blades. A serrated blade is designed to cut through versitile raw food, while the non-serrated blade is perfect for cutting through cooked food. Both are very easy to remove and clean when needed.

Adjustable Thickness
This is another model that provides you with precise thickness control. To adjust the thickness according to your likings simply turn the rotating knob in the desired direction. The machine is also very easy to clean. Make sure that you place all parts of the machine back into their place before you use it the next time.
Short Description:
powerful 200Watt motor
two stainless steel slicing blades
adjustable cutting thickness
requires very little maintenance
Best Electric Kitchen Meat Slicer
Cusimax Meat Slicer
Advanced Design
This meat slicer features a highly functional design that consists of an advanced bearing and belt drive structure. When compared to gear drives, this design is much more durable and easier both to operate and maintain.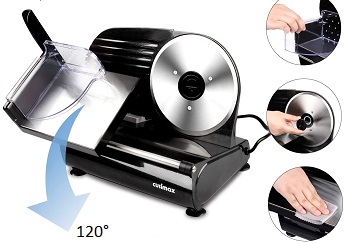 Simple Cleanup
To clean this electric meat slicer for home use properly simply detach the slicing blade from the unit. Once you do that, you'll be able to easily clean the blade and dry it up. Make sure that you place it back into the machine properly before the next use to ensure that it is perfectly safe to use.
Safe To Use
You can be sure that this kitchen meat slicer is perfectly safe to use. It comes with an on/off button you need to press down to activate. It also has a blade guard and a food pusher that prevents your fingers from getting in touch with the blade.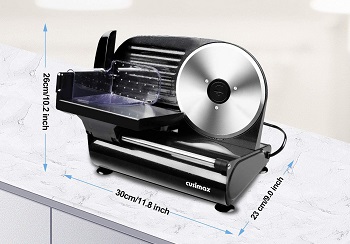 Additional Tips
Note that you should never use this machine to slice meat with bones and frozen foods. Always use the food pusher to ensure that you don't get your fingers into harm's way. Also, don't operate the slicer for longer than ten minutes at a time.
Short Description:
simple electric performance
a highly functional advanced design
requires very little maintenance
completely safe to use
Best Food Kitchen Meat Slicer
Cuisinart Kitchen Pro Food Slicer
Home Slicer
As opposed to the previous models, which can be used both in commercial and domestic environments, this slicer is made for domestic use only. However, it still provides versatile features that make it a great choice for everyone who is looking for a meat slicer for their home.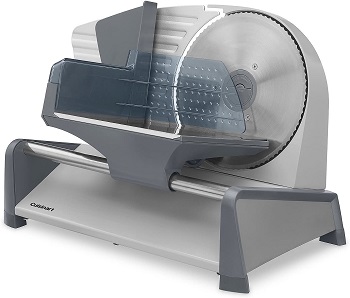 130Watt Motor
This kitchen meat slicer comes with a 130Watt heavy-duty motor that spins the blade at a very high speed. Thanks to this feature you will be able to slice all your food and have it ready for consumption in no time.
Slice Control Knob
The included slice control knob is added to the Cuisinart food slicer to ensure that you can control and adjust the thickness of each slice that it makes. You can set it from 1/32″ to 1/2″ and enjoy a perfect slice of roasted meat, fine cheese, or bread.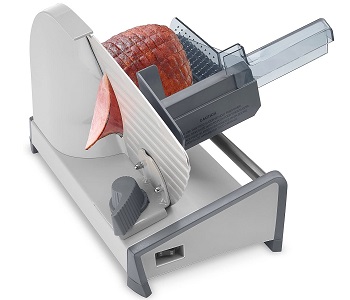 Non-Slip Feet
This home deli slicer will stand firm on your countertops. It comes with non-slip feet that provide additional stability to the unit. Also, the included meat pusher will help you slice the smaller ingredients without getting your fingers near the blade.
Short Description:
specially made for home use
a powerful 130Watt motor
adjustable slice control knob
comes with a safety meat pusher
features non-slip bottom feet
Best Cheap Kitchen Meat Slicer
Chefman Die-Cast Meat Slicer
Space-Saving Design
This model features a bit more space-saving design. This is an amazing feature because it ensures that the slicer will fit even in smaller kitchens. It also means that it is much easier to store away when needed.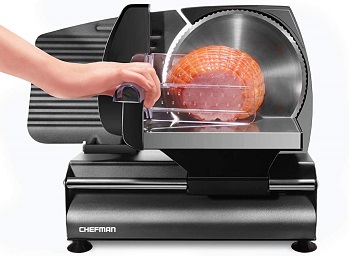 Food Carriage & Pusher
The included food carriage and the transparent pusher will help you make the most perfect cuts with every single use. Additionally, the pusher keeps your fingers safe from the blade so you don't have to worry that you might get hurt while using the appliance.
Low Maintenance
Because of its simple construction, this model is very easy to clean. The best thing is that the whole process may take just a few minutes of your time. Simply pull its quick-release lever and clean all parts of the unit using a damp cloth.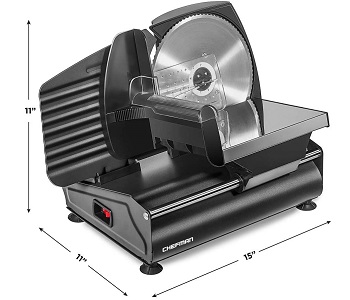 Affordable Price
Out of all models I reviewed in this post, this kitchen meat slicer comes at the most affordable price. It costs around seventy dollars which makes it the perfect option for everyone who is looking for a bit cheaper meat slicer.
Short Description:
features a space-saving design
food carriage and a pusher
simple clean up using a damp cloth
comes at the most affordable price
What To Consider About The Best Kitchen Meat Slicers?
All kitchen meat slicers I reviewed in this post are designed to ensure that you don't have to waste your time slicing meat, cheese, or deli manually. Here is a short guide to the important features you should keep in mind when choosing the best one.
Commercial Vs. Domestic – The main difference between commercial and domestic models is in their construction. Commercial models are much more durable, made to last, and come at a higher cost. Domestic models may not be as durable, but they often provide the same features as commercial ones do.
User-Friendly Features – Always make sure that the cold-cut meat slicer you decide to buy provides versatile user-friendly features that will make your experience much more enjoyable. For example, a lot of slicers provide you with thickness control to ensure that you can choose whether you want a thin deli slice or a thick slice of meat.
Versitile Blades – Although most models come with a serrated blade or non-serrated blade, you can also find ones that come with both blades included in the package. The serrated blade is great for slicing raw ingredients, while the non-serrated one is great for cooked food.
Maintenance Level – Most meat slicers don't require too much maintenance and are very easy to clean with a damp cloth. The only thing you need to be careful about is that you always place all parts of the unit back into their position before the next use to avoid unintentional safety hazards.
Price Range – The last thing you need to keep in mind when buying a home kitchen meat slicer is how much money can you afford to spend on it. Models I reviewed above range between seventy and four hundred dollars to ensure that you can easily find the one that fits your set budget perfectly.