Are you looking for the best mini meat slicer that will perfectly fit into your kitchen?
Then this post might help you with your search!
In the next few segments, you can find my reviews of the 6 best slicers that are specially designed to fit even in the smallest spaces. Check them out and find a model that fits your kitchen perfectly.
The Rundown
Best 6 Mini (Small) Meat Slicers
Best Of Best Mini Meat Slicer
Anescra Deli Food Slicer
Powerful Motor
This stainless steel meat slicer features a powerful 200 Watt motor that can spin the blade at a very high speed. Thanks to this feature the slicer will easily cut through versitile ingredients and make perfectly even slices in a very short time.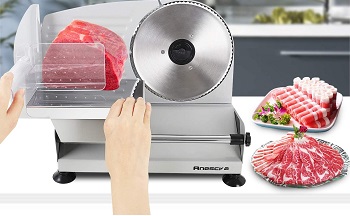 Slicing Blades
Unlike other models in this post, this small meat slicer comes with both serrated and nonserrated 7.5-inch slicing blades. The serrated one can easily cut through raw ingredients, while the nonserrated one works much better on cooked food.
Thickness Control
The amazing thing about this slicer is that it provides you with precise thickness controls. Everything you need to do is turn the thickness control rod to get the desired thickness. By doing so, you will get results that perfectly fit your likings.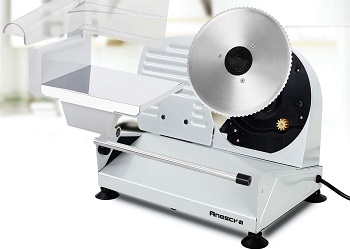 Simple Maintenance
To ensure that you clean this thin meat slicer thoroughly, remove its slicing blade, detach the rob button, and remove the food pusher. Once you do that, simply clean all parts of the unit with clean water and dry them up thoroughly.
Short Description:
durable stainless steel construction
a powerful 200 Watt motor
two stainless steel slicing blades
thickness control between 0 and 15mm
a completely removable food carriage
child safety power on/off button
anti-slip rubber feet for additional stability
Best Electric Small Meat Slicer
Cuisinart Kitchen Pro Food Slicer
Simple Electric Design
Like all listed models, this slicer also features a simple electric design. This means that everything you need to have for it to work properly is a power source you can plug it into. This means that you can use it almost anywhere you are.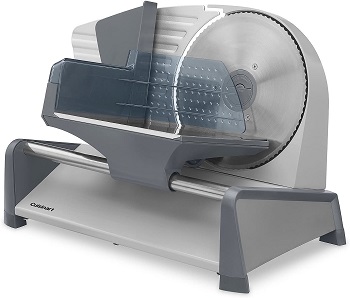 Stainless Steel Blade
The included slicing blade is made out of high-quality stainless steel material that provides it with great durability. Because of its construction, the blade will provide lasting performance and ensure great slicing results with every single use.
Food Pusher
Alongside this mini meat slicer, you will also get a transparent food pusher that will help you hold the ingredients you are slicing in place. It has small spikes on its inner side that prevent food from sliding out f the unit. However, its main purpose is to keep your fingers safe from the blade.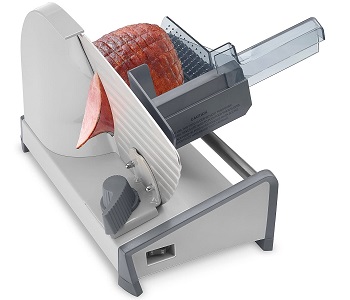 Non-Slip Feet
This electric meat slicer for home use comes with non-slip feet on the bottom of the unit. They provide the machine with additional stability on the countertop surface making it much safer for you to use.
Short Description:
simple electric plug-in design
stainless steel slicing blade
a transparent food pusher
non-slip bottom feet
Best Deli Mini Meat Slicer
Elite Gourmet Deli Meat Slicer
Sturdy Design
This mini deli slicer features a sturdy design. Its housing is made out of high-quality die-cast aluminum material that provides it with additional durability. Its construction makes it much easier to maintain and it even prolongs the lifespan of the appliance.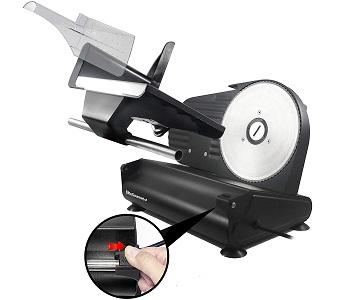 Versitile Use
Due to its powerful performance, this cold cut slicer will be able to cut through versitile ingredients. You can use it to slice versatile deli meat, hard cheeses, vegetables, and even fruit. Either way, you'll be able to enjoy precisely cut slices with every single use.
Sharp Blade
Another feature that makes this ham slicer machine such a great choice is its sharp slicing blade. Note that it features a serrated design meaning that it will easily cut through raw food. The best thing is that it is completely removable from the machine.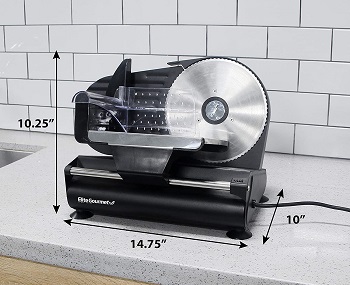 Easy To Clean
You won't have any trouble cleaning this small meat slicer once you are done using it. To remove all leftovers simply combine warm water and mild dish soap. Always make sure that you disconnect the machine from a power source and that you properly detach all its removable parts.
Short Description:
a sturdy die-cast aluminum housing
7.5-inch removable stainless steel blade
a simple quick-release food carriage system
made to cut through versitile ingredients
requires very little maintenance
Best For Home Small Meat Slicer
Yeeper Meat Slicer
Space-Saving Footprint
Just like all of these models, this meat slicer for home use also features a space-saving footprint. This is what makes it the perfect choice for everyone who has a small kitchen.  It will take up only a small amount of counter space and leave you with enough workspace.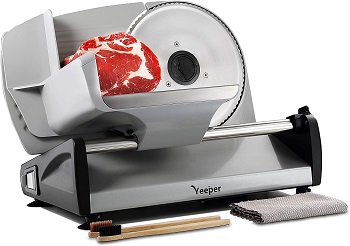 Quick Performance
Because of its powerful motor and a serrated slicing blade, this machine will provide you with a very quick slicing performance. Everything you need to do is adjust the slice thickness according to our likings, turn the machine on, and in no time you'll be able to enjoy perfectly thin deli slices.
Safety Child Lock
You never have to worry that your child might accidentally turn on this mini meat slicer because it comes with a specially designed child lock safety system. To unlock the machine you need to press the switch button and, at the same time, move the lock paddle to the right.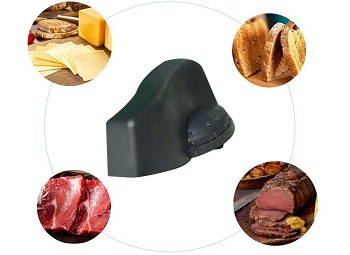 Cleaning Requirements
Here are a few simple steps that will make the cleaning of this slicer a breeze. Firstly, make sure that you always disconnect the outlet and switch off the slicer. Secondly, set the thickness control knob to zero, and remove the blade. Once you do that simply remove the carriage platform and give all parts a thorough clean.
Short Description:
small space-saving footprint
provides quick slicing performance
specially designed child lock safety system
easy to disassemble and clean
Best Collapsible Mini Meat Slicer
SuperHandy Meat Slicer
Collapsible Design
Out of all listed models, this cheese and meat slicer, by far, features the most space-saving design. It is completely foldable meaning that it will take the minimum amount of space inside your kitchen. This feature also makes it much easier to store away when not in use.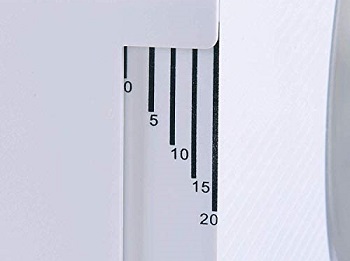 Recommended Use
Since this small meat slicer is also a home model, it's not recommended that you use it for a long time at once. It'll provide the best performance if you use it in 5-30 minute intervals. This means that it can work for five minutes straight without stopping, but then you should let it rest for about half an hour.
Smart Elements
This kitchen meat slicer also offers versitile smart elements. For instance, its food pusher features small teeth that provide you with a greater safety and control level. Additionally, its food carriage has a locking point that makes slicing much safer and efficient.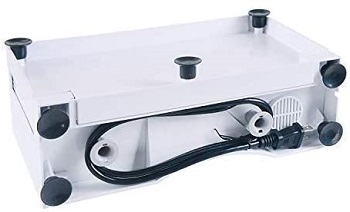 Strong Suction Feet
Due to the multiple strong suction feet, this meat slicer comes with, you can be sure that it will stand completely stable on your worktops. The feet are designed to immobilize the unit and provide the needed support to ensure that you can carelessly use the appliance.
Short Description:
slices through versitile ingredients
features a completely foldable design
very easy to move around and transport
food pusher with small teeth
food carriage with a locking point
multiple strong suction feet
Best Cheap Small Meat Slicer
Chefman Deli & Food Slicer
AC Motor
This is another slicer that comes with a powerful AC motor that will spin the stainless steel blade at a high speed. It can easily cut through versitile ingredients. Most importantly, you can be sure that it will provide precise and even cuts with every single use.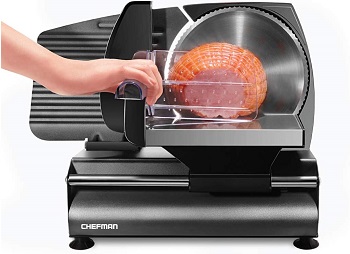 Thickness Control
Because of the simple adjustable thickness control knob, this cheap meat slicer comes with, you'll be able to have a much higher level of control over its slicing performance. As a result, you'll be able to enjoy both deli thin slices and thicker meat slices.
Safety Features
This mini meat slicer also offers versitile features that make it much safer to use. These include a safety blade guard and a food pusher that will prevent your fingers from getting in touch with the blade, non-slip feet that provide additional stability and secure the machine on the table, etc.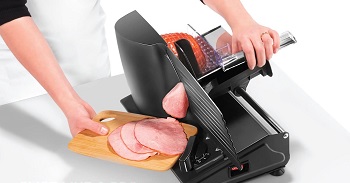 Affordable Price
If you are looking for a more affordable meat slicer, this model might be the best choice. It costs around seventy dollars, meaning that it is the cheapest choice ut of all models I reviewed in this post.
Short Description:
die-cast aluminum housing
powerful 180 Watt AC motor
precise thickness adjustment options
provides versitile safety features
comes at the most affordable price
What To Consider About The Best Mini Meat Slicers?
Small meat slicers are specially designed to fit the needs of people who have smaller kitchens. They still provide amazing features, just like the larger models do, and ensure powerful performance. Here are some things you should think about when deciding which one you want to buy.
Small Footprint – All of the listed models, and the portable meat slicers you can find, have one important feature in common – a small footprint. This is what makes them the perfect choice for everyone who doesn't have enough room for larger kitchen appliances.
Smart Design – Almost all modern slicers on the market have some "smart design" features. For instance, some models have a food carriage system with locking points or food pushers with small teeth that help you keep your ingredients from slipping from the machine.
Durable Blade – When choosing a deli meat slicer for your home you want to buy one that comes with a highly durable blade. Stainless steel blades usually provide a more lasting performance because they have a much higher resistance to exterior factors such as rust, corrosion, etc. Small-sized slicers usually have a 6-7,5 inch blade.
Locking Mechanism –  Amongst the versatile safety features meat slicers have to offer, you can find models that come with a child-safe locking mechanism. This feature can come in very handy as it will prevent your child from unintentionally turning on the slicer.
Easy To Store – Because of their footprint, mini meat slicers are also much easier to store away when not in use. They will perfectly fit into your kitchen cabinets and even leave enough space for other appliances you have.