Have you been looking for a meat slicer you can easily carry around when needed?
Then a portable meat slicer is a must-have in your home!
In the next few segments, you can find out all about the beneficial features that the six best models on the market have to offer. Check them out and find your match!
The Rundown
Best 6 Portable Meat Slicers
Best Of Best Portable Meat Slicer
SuperHandy Meat Slicer
Foldable Design
The best thing about this model is that it features a completely foldable design. This is what makes it such a great choice if you are looking for a slicer you can carry around with you. It is very lightweight which means that you'll be able to carry it inside your hands.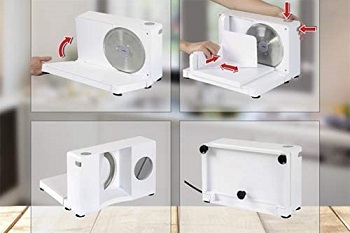 Thickness Control
This portable meat slicer provides you with a very simple thickness control system. It will allow you to adjust the thickness of each slice between deli thin up to 4/5 inches thick. No matter which option you choose you can be sure that you will achieve the best results with every use.
Safety Features
Because of its versatile safety features, this machine is completely safe to use. It has a child-safe locking mechanism that prevents your kids from accidentally turning the machine on. It also has non-slip bottom feet that immobile the unit on the worktop you place it on.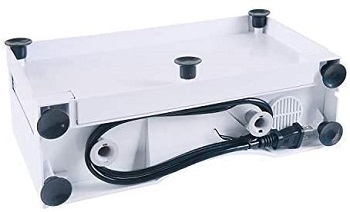 Easy To Store
Finding the perfect storage space will no longer be a problem with this home deli slicer. Once you fold it up, it will have a much slimmer profile thanks to which it'll easily fit into any kitchen cabinet. Its bottom even has enough place for you to store the power cord.
Short Description:
features a completely foldable design
serrated stainless steel slicing blade
made for use with versatile ingredients
simple thickness control system
comes with a child-safe locking mechanism
non-slip bottom feet for additional stability
takes up very little storage space
Best Commercial Portable Meat Slicer
BBBuy Pro Meat Slicer
Commercial Design
This semi-automatic meat slicer features a commercial-grade design. It is entirely made out of a highly durable stainless steel material that provides high resistance to rust, corrosion, dents, spill stains, etc. This is what makes it such a great choice for professional environments.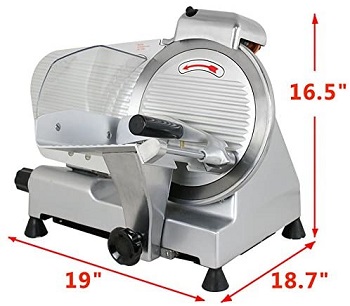 Powerful Performance
Due to its powerful 240 Watt motor, this machine will provide you with a very powerful performance. It spins the blade up to 530 times in only one minute ensuring highly efficient performance and quick results.
Heat-Output Holes
Another thing that makes this portable meat slicer such a great choice for commercial use is its simple heat-dissipation system. The machine has heat-output holes on its bottom to ensure that it doesn't get overheated due to long-term use.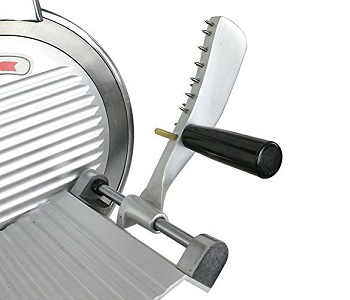 Low Noise Level
There is another reason why this commercial deli slicer is such a great choice. It produces very little noise which means that you can use it without worrying that its sound might bother anyone around you.
Short Description:
highly durable stainless steel design
comes with a 10-inch rotary blade
features a powerful 240 Watt motor
creates rotary speed of up to 530 RPMs
heat-output holes for even heat dissipation
approved to meet specific CE requirements
Best Electric Portable Meat Slicer
Anescra Electric Food Slicer
Simple Plug-In Design
Just like most of these models, this meat slicer also features a simple electric plug-in design. This is a great thing because it means that you'll be able to use it anywhere you are as long as you have a power source you can plug it into.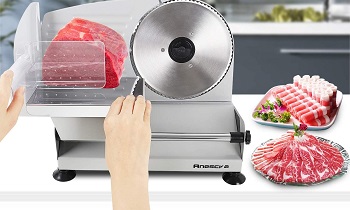 200 Watt Motor
Because of its 200 Watt motor, this portable meat slicer will provide you with a high yield slicing power. Combines with powerful slicing blades it comes with, the machine will be able to cut through almost anything.
Different Blades
As I mentioned, this electric meat cutter comes with two slicing blades, a serrated one and a non-serrated one. The serrated one is perfect for slicing versatile raw food. The non-serrated one, on the other hand,  is the perfect choice when slicing cooked food.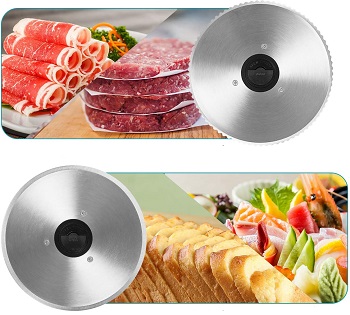 Quick Cleanup
Since the ring-guard cover, food carriage, slicing blade, slide rod extension, and the food pusher are completely removable, cleaning this slicing machine will be a breeze. Make sure that you always dry all parts thoroughly to ensure that the slicer has a long lifespan.
Short Description:
simple electric plug-in design
comes with a powerful 200 Watt motor
serrated and nonserrated slicing blades
precise thickness adjustment controls
requires very little maintenance
Best Bone Portable Meat Slicer
Moongiantgo Bone Cutter
Versatile Use
This bone-cutting machine is made to cut versatile ingredients including ribs and smaller bones. However, keep in mind that it can't cut through large bones. The best thing is that it will easily go through both fresh and frozen ingredients.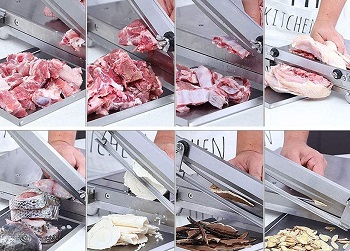 High-Quality Design
You can be sure that this meat and bone cutting machine for home use will provide you with amazing quality and durability. It even comes with a simple pull-out food storage shovel that will collect all the ingredients you slice. Additionally, the storage shovel is completely removable to ensure that you can easily clean it after every use.
Simple Adjustments
There are a few steps you should follow to adjust the slice thickness. Firstly, you need to loosen the small black nut in a counterclockwise direction. Secondly, pull out or push the black nut to adjust the thickness of the slice. Thirdly, fix the black nut in its place in a clockwise motion.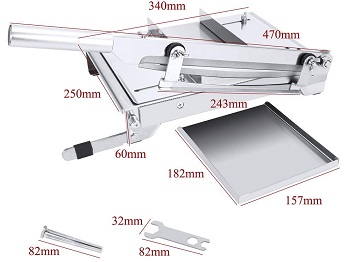 Portable Sharpener
Amongst the versatile accessories that come included with this portable meat slicer, you will also get a portable blade sharpener. Thanks to this feature you will be able to maintain the sharpness of your blade no matter where you are.
Short Description:
designed fr versatile use
can't cut through larger bones
high-quality stainless steel design
simple and quick thickness adjustments
a small portable blade sharpener
Best For Home Portable Meat Slicer
Baoshishan Meat Slicer
Practical Design
This is another slicer that features a completely foldable design. This makes it the perfect choice bot for larger kitchens and the extra small ones. It won't take up too much storage space and is even lightweight. You'll be able to carry it inside your hands.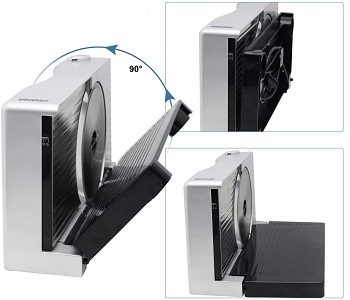 Home Use
Because of its simple construction and design, this portable meat slicer is the perfect choice for home use. It has a 100 Watt motor that creates about one hundred RPMs. It will easily cut through bread, ham, cheese, and other ingredients but it's not made for professional environments.
Safety Lock
To start this home deli slicer you need to deactivate its child-safe lock system. To do that, you need to press both the "safety lock" button and the "power" button simultaneously. After that, the machine will be ready for use.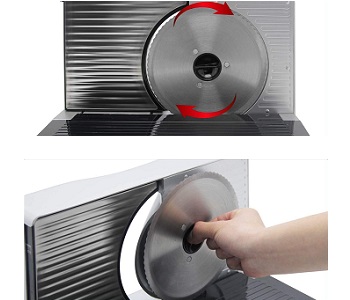 Additional Tips
It is recommended that you use the slicer for no longer than five minutes at once. After that, you should let it rest for about three minutes. By doing so, you can prevent it from overheating and prolong its life span.
Short Description:
a highly practical foldable design
specially made for domestic use
provides a child-safe lock system
features simple thickness controls
Best Manual Portable Meat Slicer
Koowaa Multifunctional Portable Slicer
Manual Use
Similar to the Moongiantgo model, I reviewed above, this hand meat slicer is also made for manual use. The difference is that this is a much smaller model that is much easier to carry around. It will perfectly fit into your bag.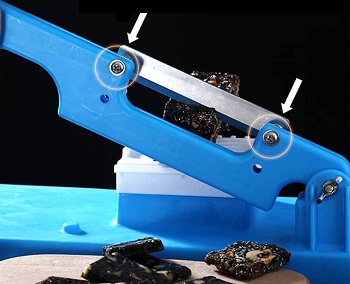 Tabletop Design
This portable meat slicer also features a tabletop design. Since it is a somewhat smaller model, you will easily find the perfect place for it inside your kitchen. Because of its size. it will even be much easier to store away.
Sharp Blade
Even though this model is smaller and more affordable, it still offers a sharp slicing blade that ensures you can easily cut through versatile ingredients. These include different frozen meats, potato, rice cakes, radishes, and others.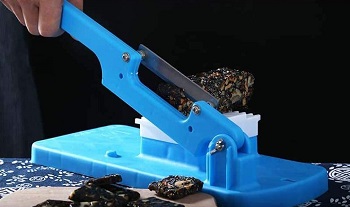 Budget-Friendly Price
Out of all models I reviewed in this post, this one comes at the most affordable price. It costs less than twenty dollars which makes it the perfect option for anyone who is looking for a cheap meat slicer.
Short Description:
made for manual use
features a small tabletop design
comes with a sharp slicing blade
the most affordable price
What To Consider About The Best Portable Meat Slicers?
All models I reviewed in this post are specially designed to ensure that you can move them around and carry them with you when needed. However, there are some things you should keep in mind when choosing the best one.
Size And Dimensions – When buying a portable model, the first thing you need to consider is the desired size of the slicer. For example, you can easily find both larger 12-inch meat slicers and smaller 7-inch ones. No matter which you choose, the machine will provide a powerful performance.
Slicers Weight – Since these models are completely portable, they don't weigh too much. But, you can easily find foldable models that are extremely lightweight. They usually weigh around three kilograms to ensure you can easily transport them inside your hands.
Powerful Motor – Always pay attention to the Wattage rating of the slicer's motor. Motor's power is what determines how much RPMs the machine can create. It also informs you whether the machine provides a quick performance or not.
Power Efficiency – Another thing you need to keep in mind is the power efficiency that the motor provides. Although the more powerful motors require more electrical power, they are also much faster meaning that they won't need to work as long as models with lower wattage rating.
Price Range – The last thing you need to consider about the portable meat slicers is how much money are you willing to spend on a food slicer. Models I reviewed in this post range between twenty and three hundred dollars to ensure that you can easily find the one that fits your set budget perfectly.
To Wrap It Up
The best portable meat slicer is the SuperHandy Meat Slicer. It features a completely foldable design, precise thickness adjustments, and versatile features that ensure your safety while using the machine. Learn more about the difference between the best steak slicers and the best thin meat slicers and find out which one suits your needs better.