Are you interested in purchasing a pork slicer that will help you cut meat, ribs, etc?
Then you are in the right place!
The five models I reviewed in this post will provide amazing performance when slicing versatile ingredients. Check them out, compare their designs, features, and prices, and choose the best one.
The Rundown
Best 5 Pork Slicers To Cut Pig Skin, Ribs, Meat & More
Best Of Best Pork Slicer
Yeeper 200W Meat Slicer
Multipurpose Use
This meat slicer is made for versatile use. It will provide amazing performance while slicing deli meat, cheese, veggies, fruits, etc. You can even use it to slice frozen meats. This makes it a great choice if you no longer want to slice your food manually.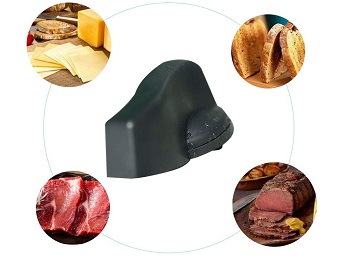 Safety Child Lock
Another amazing thing about this pork slicer is that it features a child-safe lock mechanism. Due to this feature, your kids won't be able to unintentionally turn the slicer on. To start it, you need to push its lock paddle to the right.
Thickness Control
Because of its thickness control knob, this machine will allow you to control the thickness of each slice you make. The best thing is that you will be able to adjust it according to your likings. You can set it between 1-15mm or between 0- 0.6inches.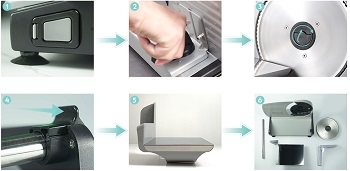 Easy To Disassemble
You won't have any trouble cleaning up this mini meat slicer once you are done using it. Once you completely disassemble the machine, clean it with a damp cloth and dry up all its parts thoroughly. It is just as easy to assemble back again as it is to disassemble.
Short Description:
made for multipurpose use
sharp serrated slicing blade
provides precise thickness control
safety child lock mechanism
completely transparent food pusher
easy to assemble and disassemble
requires very little maintenance
Best Commercial Pork Slicer
Marada Meat Cutter Machine
Commercial-Grade Construction
Opposed to the previous model I reviewed, this meat slicer is entirely made out of commercial-grade stainless steel material. This means that it will be able to withstand the high demands of professional environments, and even better, it won't be damaged by rust, corrosion, or and other environmental factors.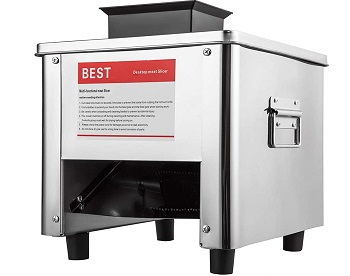 Countertop Design
Just like all of the listed models, this stainless steel meat slicer also features a countertop design. Thanks to this feature you'll easily find the perfect place for it inside your kitchen. It even has bottom non-slip feet that provide it with additional stability.
Powerful Motor
The important thing worth mentioning is that this pork slicer comes with a very powerful 850Watt motor. It creates up to 1400 rounds per only one minute. Its high-speed performance ensures that you get the perfect slicing results in a very short time.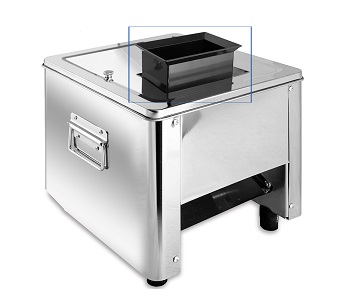 Dual Gear System
This professional meat slicer comes with both a metal gear system and a nylon gear. The first one is stronger, ensures a much higher bite force and a longer lifespan of the appliance. The second one minimizes the noise production while the machine is in use.
Short Description:
stainless steel commercial-grade construction
a highly practical countertop design
enlarged feed port for additional stability
powerful 850 Watt motor creates 1400 RPMs
durable metal and nylon gear system
produces very low noise levels
Best For Home Pork Slicer
Baoshishan Meat Bone Cutter
Durable Blade
This is another meat slicer that comes with a high-quality slicing blade. It is entirely made out of 430-grade stainless steel material at extremely high temperatures. This gives it its sturdiness and ensures much higher durability.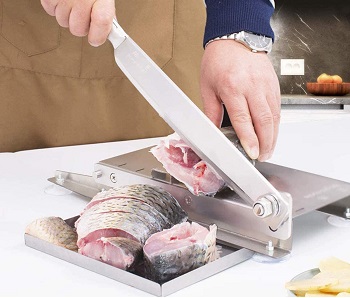 Powerful Performance
Because of its sharp blade, this meat cutter machine for home use will provide very powerful performance with every single use. It can easily cut through versatile frozen ingredients and you can use it to chop up chicken, fish, pork ribs, etc.
Removable Tray
Alongside this pork slicer, you will also get an additional food tray that will collect all food you slice up. The best thing is that it is completely removable. This means that you'll be able to give it a thorough clean once you are done using it.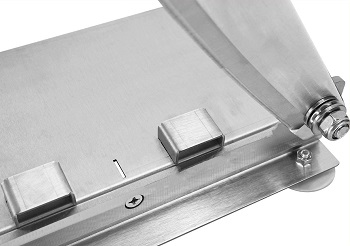 Suction Cups
The bottom of this home deli slicer features suction cups. They are designed to immobilize the slicer on your worktop. Thanks to this feature you can be sure that it will be perfectly safe to use.
Short Description:
430-grade stainless steel blade
cuts through frozen food and bones
completely removable food tray
bottom safety suction cups
Best Manual Pork Slicer
Moongiantgo Manual Meat Slicer
Manual Use
Like the previous model, I reviewed in this post, this bone-cutting machine is also made for manual use. This means that you will need to create that slicing pressure manually, by hand. It is very easy to use and clean, meaning that it will provide you with long-term performance.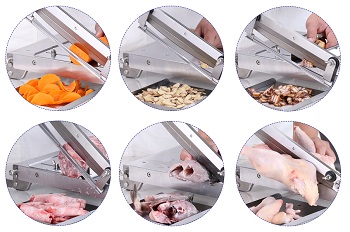 Jagged Structure
The great thing about this pork slicer is that it features a jagged worktop surface. Because of this feature, all ingredients you decide to slice with it will stay perfectly safe on the slicer and they won't move an inch.
Adjustable Thickness
This is another hand meat slicer that will allow you to adjust its slicing thickness according to your likings. You can set its thickness between 0.1mm to 8mm using the short screws and 0.1mm to 57mm using the long screws.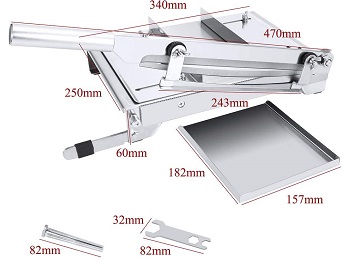 Storage Shovel
The bottom drawer-style storage shovel is specially designed to collect all the food you cut with the slicer. Make sure that you give it a thorough clean after each use to ensure that it's ready for the next time. It is also completely removable.
Short Description:
specially made for manual use
jagged structure fixes the ingredients
sharp and durable 30Cr13 stainless steel blade
0.1mm-8mm and 0.1mm-57mm thickness control
completely removable drawer-style storage shovel
Best Cheap Pork Slicer
PTHHPS Deli Food Slicer
Universal Use
This cheap meat slicer is made for universal use. It can cut through meat, ham, cheese, bread, etc. Its serrated blade will easily cut through versatile ingredients. This makes it a perfect addition to every home.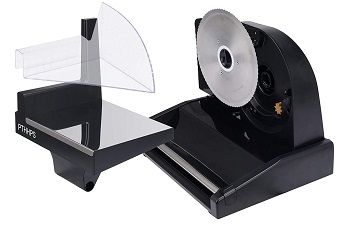 Space-Saving Design
Because of its space-saving design, this machine is a great choice for both small and larger apartments. It has a somewhat smaller footprint which ensures that it will easily fit on your countertops and even leave enough room for other appliances.
Transparent Food Pusher
Included with this meat cutter comes a completely transparent food pusher. It even has small teeth that sink into your food and keep it stable while slicing. Its main purpose is to keep your fingers safe from getting in contact with the blade.
Affordable Price
Compared to the rest of the listed models, this pork slicer comes at the most affordable price. It is the perfect choice if you are looking for a more budget-friendly machine that still provides powerful performance.
Short Description:
specially made for universal use
space-saving countertop design
0-15 mm adjustable thickness
features a powerful 200 Watt motor
completely transparent food pusher
comes at the most affordable price
What To Consider About The Best Pork Slicers?
Since all listed food slicers provide versatile performance and features, there are some things you should consider when deciding which one you want to buy. Here is a shortlist that might help you with your decision.
Intended Use – The first thing you need to know is what you want to use your slicer for. For instance, electric models can cut through versatile ingredients. However, they can not cut through bones. Manual models, on the other hand, can cut through almost anything, however, most models aren't made to cut through fresh meat.
Powerful Motor – If you want to be sure that the electric meat cutter you like will provide a very powerful performance, you need to check its motor. The higher the wattage rating, the more rounds per minute the slicing blade will make and thereby provide much more efficient performance.
Sharp Blade – No matter which slicer you decide to buy, you need it to have both sharp and durable blades. You can also choose between models that have serrated and non-serrated blades. Stainless steel blades will provide the highest durability and provide a much longer lifespan to the appliance.
Additional Accessories – Most meat slicers come with additional accessories that make your experience much more enjoyable. For example, you can easily find models that come with an additional slicing blade, a removable food storage tray, a blade sharpener that helps you maintain the sharpness of the blade, etc.
Safety Features – There are also some safety features you can look for in a pork slicer machine. These may include a food pusher that keeps your fingers safe from the slicing blade, a safety child lock mechanism that ensures that your kids can't unintentionally start the machine, etc.