You're looking for an impressive toaster with an amazing aesthetic and a great toasting process?
Then you're in the right place to find the one!
Beautiful design, great technical components, and impeccable performance are key components of nice toasters. In these reviews, we are talking about those and other specifications in order to ease up your search for the right model. Read this post and find a beautiful toaster!
The Rundown
Best 6 Nice Toasters
Best Of Best Nice Toaster
Black+Decker T2569B Toaster
Dark, Modern & Elegant
This model comes in beautiful black attire. In order to offer a bit more contrast to its dark body, the toaster has some shiny silver details on the control settings, lift lever, and slots. The toaster looks modern and elegant thanks to its coloring and good workmanship.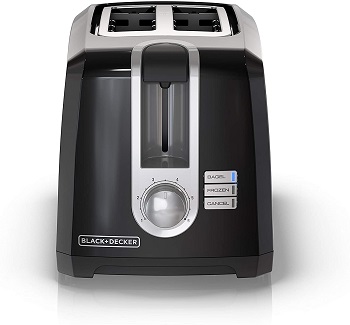 Medium Model With Suitable Power
This nice toaster comes in the dimensions of 12.01 x 7.28 x 8.07 inches, while its weight is 3.35 pounds. This is a medium size model suitable for placing on the kitchen countertop or in a storage room when it is not in use. The toaster comes with a suitable power of 850 W.
High-Quality Plastic & Sturdy Metal
In order to be durable, the toaster is constructed of 2 materials. Its body and control settings are made of high-quality plastic, while the slots, which need to be resistant to heat and high temperatures, are made of sturdy metal. The material combination is good and it surely provides toaster's long life.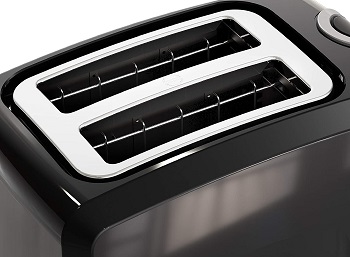 Wide Slots And Standard Functions
The toaster comes with 2 wide slots suitable for thin and thick bread and bagels. You can also toast English muffins and different buns. When it comes to the control settings, this model has 3 quite standard functions, bagel, frozen, and cancel. These functions can be set by 3 simple buttons with a light indicator.
Shade Levels
Thanks to the 6 shade levels, you can easily adjust this black 2 slice toaster to make your desired toast with a specific degree of crispiness. Also, the toaster has self-adjusting guides which ensure even toasting of every slice of the bread. Due to the fact that this model comes with a crumb tray, there won't be any additional mess.
Short Description:
beautiful black attire with silver details for contrast
comes in a medium size with 850 W
plastic body with sturdy metal slots
2 wide slots suitable for toasting different ingredients
basic functions with 6 shade levels
self-adjusting guides for even toasting
Best 2-Slice Nice Toaster
Oster 2097682 Toaster
Silver With Rose Gold Details
This model certainly stands out thanks to its beautiful design and interesting color combination. This is a 2-slice toaster with a body in clear and matt silver. Rose gold details on the control knob and bottom offer a beautiful contrast. The bottom is also in black color.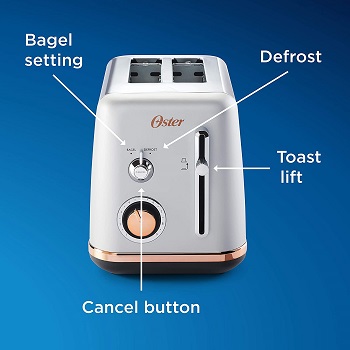 Sturdy Body
The body of this toaster is made of high-quality and sturdy metal. Some parts are brushed, while the other ones are polished. Metal materials of the making are quite suitable for toasters since they are resistant to heat and rust, and they won't let the toaster deform after a long period of time.
Suitable Countertop Model
The dimensions of this nice toaster are 13.2 x 8.5 x 9.3 inches, while its weight is 4.16 pounds. Thanks to its beautiful design, the toaster fits the kitchen countertop quite nicely and it doesn't take a lot of space. This model is powerful and due to that, it provides good toasting performance.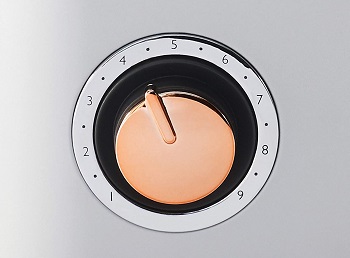 9 Browning Levels
The toaster has some basic functions such as a bagel and defrost modes, and a cancel option, but unlike other models, it has 9 different browning levels for toast customization. All settings (besides the cancel function, it is a button) are controlled by knobs.
Automatic System & Easy Removal Of The Toast
Once you set the customization settings, this silver toaster automatically adjusts the time of toasting. Of course, you can always stop the process with the mentioned cancel option. In order to ease up the removal of the toast, as well as to protect your fingers from burns from the hot slots, the toaster has a high-lift lever.
Short Description:
beautiful design in silver with rose gold details
made of high-quality and sturdy metal
suitable for placing on the kitchen countertop
good toasting performance with 2 modes and 9 browning levels
automatically adjusts the toasting time
comes with a high-lift lever
Best 4-Slice Nice Toaster
AmazonBasics TA5728C-W Toaster
Attractive White Body With Silver Accents
The toaster comes with sleek design lines and rounded edges. Its body is in elegant white color but is has some silver accents on the control settings and slots. The toaster has good and attractive workmanship. This model is also available in black and brushed silver.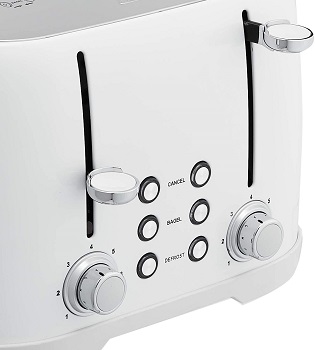 High-Quality Metal Made
The entire toaster is made of metal and stainless steel. Due to that, it is high-quality, sturdy, and durable. When it comes to the metal materials, they ensure that the toaster doesn't rust, deform, or break during a long period of toasting and numerous uses.
Countertop Toaster With 1600 W
This white 4 slice toaster comes with the dimensions of 11.8 x 12 x 7.8 inches, as well as with a weight of 5.3 pounds. Due to its size and attractive design, the toaster looks great placed on the kitchen countertop. Besides its beauty, the toaster also ensures a great toasting process thanks to its 1600 W.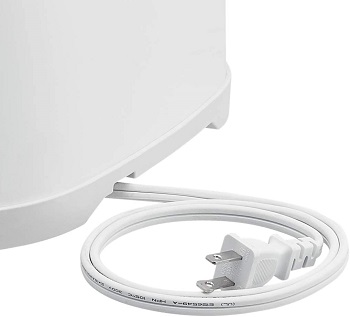 Standard Functions
When it comes to the functions, this toaster is actually quite a standard model. It has bagel, defrost, and cancel functions, as well as 6 browning settings. These components are all you need to make a customize toast. Since this is a 4 slot toaster, it has dual control.
No Mess & Easy To Store
This nice toaster has well-designed slots and they are a perfect fit for different bread, bagels, English muffins, and other ingredients. The crumb tray collects all the crumbs so you won't have an additional mess. To ease up the storing, the toaster has a cord wrap.
Short Description:
sleek design in an elegant white body
entirely made of metal and stainless steel
comes with 1600 W for a great toasting process
standard functions (2 modes, cancel option, 6 levels of browning)
suitable for toasting bagels, English muffins, and more
comes with a cord wrap for easy storing
Best Wide-Slot Nice Toaster
Redmond ST032 Toaster
Aesthetic Red Body & Design
The toaster comes with quite an aesthetic body and design. It looks beautiful and elegant with its shiny red color while silver details offer a nice contrast. The toaster comes with rounded edges which contribute to its beauty and attractiveness. This model is a perfect fit for any kitchen.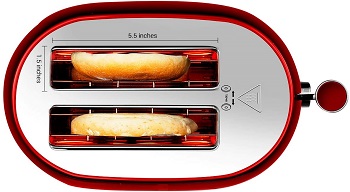 Strong & Durable Body
This nice toaster is constructed of stainless steel. This is a high-quality, strong, and durable material that doesn't rust or deform, and it is suitable for high temperatures since it is resistant to heat. Thanks to that, this toaster is designed to be efficient, as well as to last.
Power Of 800 W For Good Working Hours
The dimensions of this colored toaster are 12.09 x 7.24 x 7.76 inches, while it weighs 3.36 pounds. It needs a bit of space on your countertop, but not much, don't worry. Besides, thanks to its beautiful red design, it'll look great placed there. The toaster has 800 W to provide good working hours.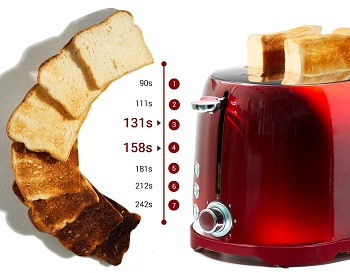 2 Modes & 7 Browning Shades
This is quite a standard model when it comes to its control settings and functions. It has 2 modes, bagel and defrost, and a cancel option for stopping the toasting at any time. The toaster also has 7 browning shades. Due to that, you can adjust the toaster to the desired degree of browning and crispiness.
Wide Slots, Crumb Tray, Cord Storage
To be suitable for different ingredients, both thin and thick, the toaster has two 1.5 inches wide slots. Each of them has self-centering guides that ensure an even toasting process. The toaster has a removable and easy to clean (dishwasher safe) crumb tray. For the cord, there is storage on the toaster's bottom.
Short Description:
aesthetic design in beautiful red color
constructed of strong and durable stainless steel
provides good working hours thanks to its power of 800 W
bagel and defrost modes and 7 shades of browning
1.5 inches wide slots with self-centering guides
removable crumb tray and cord storage on the toaster's bottom
Best Long-Slot Nice Toaster
KitchenAid KMT5115ER Toaster
Empire Red Body
The toaster is attractive and stylish thanks to its impeccable workmanship and beautiful design lines. The empire red body certainly contributes to the toaster's elegant factor. This is a classic 2 slot toaster with simple control settings. Besides in red, the toaster is also available in black color.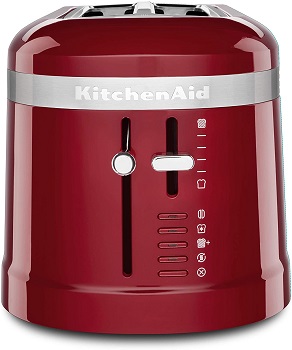 Constructed Of Plastic & Steel
This nice toaster is constructed of 2 different materials. The body is strong and durable thanks to its plastic materials of the making. The slots are made of stainless steel in order to be suitable for high temperatures so it is resistant to heat. Both plastic and steel are high-quality and durable materials.
Big Model With 4 Modes
The toaster's dimensions are 16.5 x 7.5 x 7.9 inches, while its weight is 4.1 pounds. This is a big toaster with a beautiful design and great toasting performance so it'll fit quite nicely to your lifestyle. The toaster has bagel, reheat, defrost, and "little longer" toasting modes.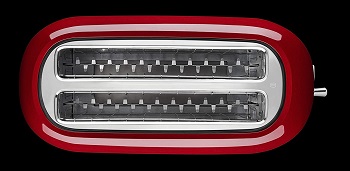 2 Slots With Self-Centering Guides
This is a model with extra-wide and extra-long slots suitable for toasting up to 4 slices of different ingredients such as bread, frozen pastries, bagels, buns, and English muffins. Each of the 2 slots has self-centering elements to ensure even toasting operation. You can easily customize your toast due to the different browning levels.
Well-Designed High-Lift Lever
The high-lift lever is well-designed in order to prevent burning your fingers on the slots which can get really hot. This component lifts up the toast high enough so you don't have to worry about touching the slots while removing the bread. This model comes with a removable crumb tray which requires a hand wash.
Short Description:
beautiful lines and impeccable workmanship
strong plastic body with stainless steel slots
a big 4 slice model with great toasting performance
customization settings (4 modes and different browning levels)
well-designed lift lever prevents burning your fingers
Best Stainless Steel Nice Toaster
HadinEEon 2-Slice Toaster
Impressive Design In Brushed Silver
Thanks to its sleek brushed body and nice design lines, the toaster looks quite impressive. It comes in a great design in classic silver color with black details on its bottom. The toaster has 4 control buttons and one knob. Thanks to its beautiful design, the toaster brightens up the entire interior of any kitchen style.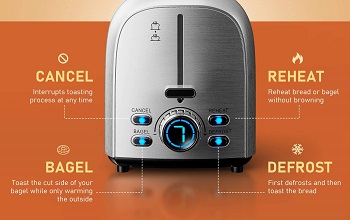 Durable Stainless Steel Model
This entire toaster is made of stainless steel in order to ensure great durability, as well as efficiency that lasts. Brushed stainless steel is a high-quality material that is resistant to rust, heat, and high temperatures. Due to that, the toaster guarantees great durability and long life of toasting.
850 W & 4 Control Buttons
The stainless steel 2 slice toaster comes with a power of 850 W in order to provide impeccable toasting performance. It has 4 control buttons with 3 modes (bagel, reheat, defrost) and a cancel option. All the buttons have a blue LED light indicator. Due to that, this model is quite simple to use.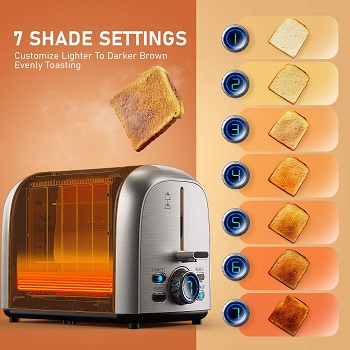 LCD Display With A Timer
Besides the already mentioned settings, this nice toaster also has one control knob for adjusting one of the 7 shade levels. The knob is not only a knob but an LCD display with a digital timer. Thanks to that, you can easily track the toasting process.
1.5 Inches Wide Slots & Cord Storage
The slots of this toaster are 1.5 inches wide. Due to that, they are suitable for both thin and thick slices of bread, muffins, bagels, french toast, toaster pastries, frozen pancakes, and more. To remove the toast safely from the hot slots, use a lift lever. The toaster has a cord storage on its bottom to ensure safe and easy storing.
Short Description:
sleek brushed body in impressive design
entirely made of high-quality stainless steel
comes with 850 W of power
4 buttons (modes and cancel option) with light indicator
7 shade level knob is also an LCD display with a timer
cord storage placed on the toaster's bottom
What To Consider About Nice Toasters
What is there to know about nice toasters? They surely come in beautiful design and with great technical components which ensure impeccable toasting performance but to know what to look for, read these guidelines and ease up the search!
Key Components Of Nice Models – these models are unique thanks to their designs. Nice toasters are the ones that have impressive workmanship, good lines and edges, and all in all, a beautiful design that lifts up the impression of your kitchen style. Due to that, look for interesting shapes, shiny colors, and elegant touch!
Medium To High Power – besides their aesthetic designs, these toasters also need to provide great toasting performance and good working hours. To have such a model, choose a toaster that has at least 800 W. The best power range goes from 800 to 1600 W.
Standard But Efficient Functions – these toasters may come with outstanding beauty, but when it comes to their functions, they just need to offer basic and standard settings. Due to that, pick out a toaster that has bagel, defrost/reheat, and cancel functions, as well as 6 or 7 browning and crispiness levels.
Wide Slots – the toaster needs to have well-designed slots with great dimensions if you want to toast different ingredients from bread and bagels to muffins and french toast. To have such a model, choose the one that has 1.5 inches wide slots. These slots are suitable for both thick and thin slices.
Self-Adjusting Guides Are A Must – if you don't want a toast with a soft middle, crispy top, and too dark bottom, pick out a wide slot toaster that comes with self-adjusting guides. Thanks to these guides, the toaster evenly toast up every slice of your desired ingredients.
To Wrap It Up
The nice toaster that certainly stands up is the Redmond ST032 toaster. This model comes in a beautiful and elegant design in red color. It has a power of 800 W to ensure good toasting performance and standard functions such as bagel and defrost modes, cancel option, and 7 browning shades. The toaster's slots are 1.5 inches wide and they have self-centering guides for even toasting. If you're looking for more elegant models, read this post about cream toasters. If you're interested in models with black attire, check out this post about matte black toasters.