You've been looking for an orange toaster for quite some time now but you still haven't found the perfect one?
Don't worry, you're in the right place to find your match!
It is a bit harder to find a great working toaster in a specific color but it surely isn't impossible! We are bringing you reviews of 4 toasters that are suitable for your favorite color theme. They are beautiful, efficient, durable, and orange, so read this post and find the best one!
The Rundown
Best 4 Orange Toasters
Best Of Best Orange Toaster
Sencor STS3X Toaster
Peach Orange Body
Thanks to its rounded edges and smooth design lines, the toaster looks quite cute and attractive. Its body combines 2 contrast colors, peach orange and white. Of course, the slots are in silver. The toaster also has a cute orange touch on the stop button.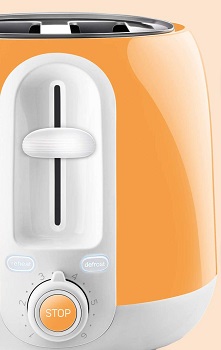 Cool-To-Touch Plastic Body
To provide safe and cool-to-touch construction, the toaster's body is made of high-quality and strong plastic. The slots need to be resistant to heat and rust and due to that, they are made of stainless steel. Both of these materials are sturdy, durable, and food-safe.
Good Dimensions And Toasting Operation
This orange toaster comes in the dimensions of 12.91 x 8.54 x 8.19 inches, while its weight is 3.4 pounds. Due to that, the toaster doesn't require much space in the kitchen or in a storage room. The toaster provides good toasting operation, as well as good working hours.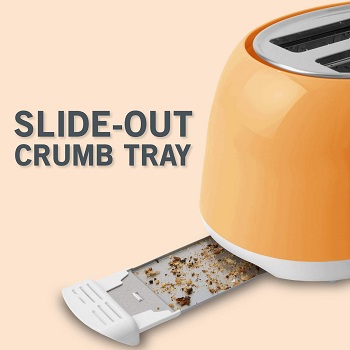 Control Settings
This model comes with 2 control buttons for 2 toasting modes, reheat and defrost. It also has a bigger knob for adjusting the desired browning level (up to 6 different shades). The knob also holds a button for stopping the toasting process if needed.
Safe & Stable Operation
The slots of this colored toaster have an automatic centering system to ensure even toasting of every slice. The toaster is easy, safe, and stable to use. It has a high-lift lever to prevent burning your fingers, a cool-to-touch body during the toasting process, and anti-slip feet to ensure stability.
Short Description:
peach orange body with smooth design lines
strong construction made of plastic and stainless steel
provides good toasting performance
comes with 2 toasting modes and 6 browning settings
stop button for canceling the toasting process at any time
designed to have the cool-to-touch body
Best 2-Slice Orange Toaster
Denghl Automatic Toaster
Combination Of Orange And White
This is a classic orange toaster 2 slice with simple design lines and minimalistic but good workmanship. The toaster's body combines 2 colors. Its bottom, control settings, and lift lever are in orange color, while the rest of the toaster is in white. Thanks to its simplicity with a pop of orange, the toaster fits a minimalistic and classic kitchen interior.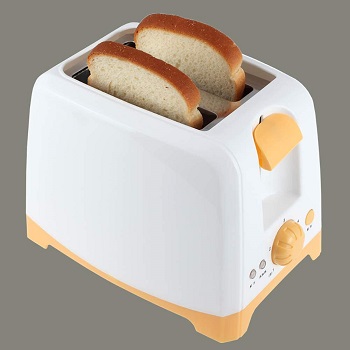 High-Quality And Strong Body
The body of this toaster is entirely made of plastic. This material of the making is high-quality, strong, and durable. Plastic doesn't rust and it surely won't break so this toaster guarantees its long life of efficiency and toasting performances. The slots are, of course, made of sturdy and heat-resistant stainless steel.
Compact Model Suitable For Traveling & Small Spaces
The dimensions of this orange toaster are 9.4 x 6.7 x 5.1 inches, while it weighs around 2.2 pounds. Due to its size and great dimensions, this model is a good compact toaster suitable for traveling, RVs, boats, dorm rooms, apartments, and other places with limited space.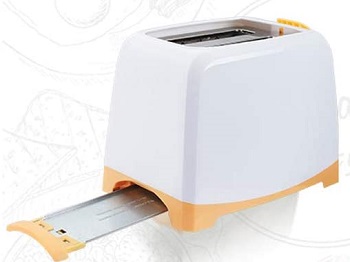 800 W For 5 Browning Settings
When it comes to the settings, this compact toaster has quite good technical components that ensure its efficiency and good toasting process. The toaster comes with 800 W of power and it has one simple start button. This model has 5 browning settings so you can make the toast with a desired degree of crispiness.
Convenient Slots & Crumb Tray
The slots of the toaster are suitable for thick and thin slices of bread and bagels. Thanks to its well-design, the toaster ensures even toasting on both sides of the ingredient. In order to remove the toast once it is done, use a lift lever. Also, you do not need to worry about crumbs, this model comes with a convenient crumb tray.
Short Description:
classic model with minimalistic design lines
body made of plastic, slots made of stainless steel
compact model suitable for small spaces
comes with 800 W of power and 5 browning settings
suitable for toasting thick and thin ingredients
comes with a crumb tray
Best 4-Slice Orange Toaster
Dualit 4-Slice NewGen Toaster
Retro Design & Impressive Workmanship
This retro 4 slice toaster comes with impressive workmanship and beautiful design lines. Its sides are in orange (a bit copper color), while its middle part with top section and slots is in clear silver. It also has black details on the control knobs, lift lever, and bottom feet.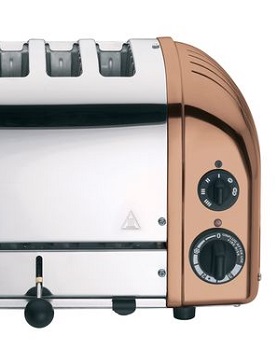 Cast Aluminum & Stainless Steel
The toaster is made of a combination of metal materials. The colored sides are made of cast aluminum, while the rest of the toaster and the slots are made of stainless steel. Metal materials are surely the best option for the toasters since they are sturdy and durable. The 2 knobs are made of strong plastic.
Narrow Model With 1800 W
The orange toaster comes with dimensions of 15 x 8 x 9 inches, as well as with a weight of 10 pounds. It is a bit longer, but it mostly takes up narrow space on your kitchen countertop so you'll have enough space for other appliances. This model is a powerful 1800 W toaster.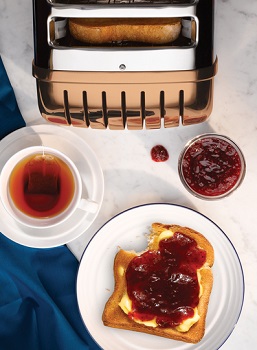 1.10 Inches Wide Slots
The slots of this orange 4 slice toaster are 1.10 inches wide. This width is a bit smaller but it is still suitable for different types of bread, bagels, and buns. Despite the fact that this model doesn't have dual control, it comes with one knob which allows you to turn on 1, 2, 3, or 4 slots at the same time.
Light Indicators And Safe & Stable Toasting
The toaster has a knob for the bagel and defrost settings so you can adjust it according to the desired ingredient. Both mentioned knobs have light indicators. The toaster has a lift lever that helps you remove the toast safely. Thanks to the rubber feet placed on the toaster's bottom, the toasting process is safe and stable.
Short Description:
beautiful design lines in retro attire
made of 2 metals, cast aluminum and stainless steel
a narrow model with 1800 W of power
slots suitable for bread, bagels, and buns
control settings with light indicators
rubber feet for stable toasting process
Best Retro Orange Toaster
Smeg TSF01RGUS Toaster
Orange-Copper Mirrored Body
This Smeg orange toaster comes with smooth design lines and rounded edges which contribute to its impressive workmanship. Its body is in beautiful orange-copper color with a bit of mirror-effect. Its bottom, slots, and lift lever are in clear silver. The toaster is beautiful and it is a perfect fit for any interior style.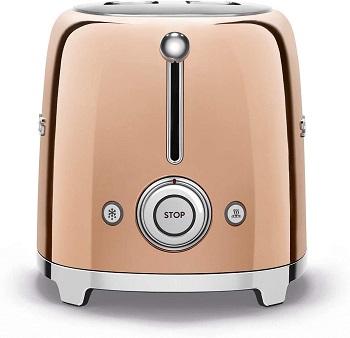 Constructed Of Chrome & Steel
This model is designed to be durable and sturdy. Due to that, it has a body coated with stainless steel, while its base is made of polished chrome. Both of these materials present high-quality and strong metals that are resistant to rust. Good materials of the making ensure great durability of the toaster.
Convenient Medium Size
This beautiful orange 2 slice toaster comes in a convenient medium size (12.74 x 7.6 x 7.72 inches) suitable for both smaller and bigger spaces. Despite the fact that it can fit almost any storage room, the toaster comes with a great design so it looks quite good placed on the kitchen countertop. The toaster has a power of 950 W.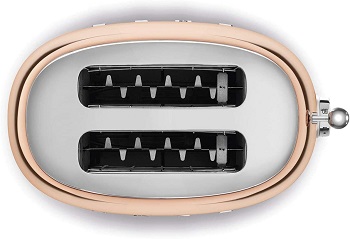 Modes & Browning Levels
In order to adjust the toasting settings to your desired ingredients, this chrome toaster has 2 most basic modes, defrost and reheat. It also has different browning levels for the customization of the toast. All of the mentioned settings are simple and due to that, the toaster is quite easy to use.
Suitable For Thick & Thin Slices
The toaster has 1.4 inches wide slots with self-centering racks. Due to that, this toaster is suitable for thick and thin ingredients, and it ensures even toasting of every slice. The toast automatically pops up once it is done but you can always help yourself with a well-designed and high-lift lever.
Short Description:
beautiful mirrored design in orange-copper
made of chrome and stainless steel
comes in medium size and with a power of 950 W
basic modes and browning levels for toast customization
slots are 1.4 inches wide and they have self-centering racks
What To Consider About Orange Toasters
Theese toasters come in a beautiful palette of shades and nuances, as well as with good components of efficiency. Read these guidelines which will help you find the best model suitable for your needs, lifestyle, and desires!
Suitable Shades Of Orange – there are a lot of different shades of orange which are suitable for your desired color theme. You can choose between bright orange and beautiful copper shades that present burnt and a bit darker color. All in all, orange color comes in many shades, be free to play with them.
Model Convenient For Needs – do you want to prepare toast just for you or you're looking for a big toaster suitable for your family's needs? Choose a 2-slice toaster if you want to toast for you and your partner or roommate. If you need a model that is suitable for your entire family and household, go with a 4-slice model.
Good Power For Good Performance – if you want to have an orange toaster with impeccable toasting performance and good working hours, you need to have in mind its power. Choose a model that comes with 800 to 1800 W of power.
Basic Settings – since you want a really specific toaster, don't bother yourself with complicated settings and all kinds of additional parts. You need a classic toaster with great basic settings such as bagel and defrost/reheat modes, cancel function, and different browning settings. That's all you need for a good toasting experience.
Suitable Wide-Slots – the slots are the key components that determine the variety of ingredients you can or cannot toast. Due to that, pick out a model that comes with at least 1.10 inches wide slots. This or bigger width is suitable for toasting bread, bagels, buns, and more.
To Wrap It Up
The orange toaster that I recommend is the Smeg TSF01RGUS toaster. I would recommend this specific model because it has a beautifully designed mirrored body in orange-copper color. It comes with good power of 950 W and it has all the basic and standard functions like 2 modes (reheat and defrost) and different browning settings. The toaster has 1.4 inches wide slots suitable for toasting different ingredients. If you're specifically looking for copper models, read this post about copper-colored toasters. If you're interested in pink ones, be sure to check out this post about pink 4 slice toasters.