Would you like to know how you can use food vacuum sealers in the best way possible?
Then you absolutely have to read this article!
Here we have prepared a step by step guide on how to use a food vacuum sealer on different types of foods. If you have just bought your first ever vacuum sealer and you don't know how or which foods you can use it on, this article will be very helpful. So, if you are interested to learn more, just keep on reading.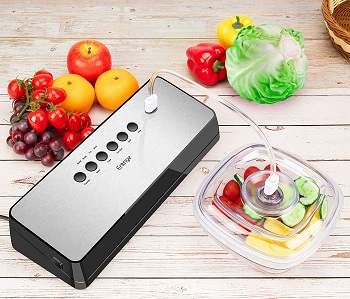 How To Use Food Vacuum Sealer
How To Use A Bar Sealer?
The first type of food vacuum sealer is the bar sealers and those are the most common sealers you can use at home. These use a very simple suction technique of these kitchen vacuum sealers. First, you have to fasten the bar sealer onto the top of the vacuum bag with your food inside. Then you will have to attach the bag to the machine, and it will such all of the air out. You can use this technique only with the dry ingredients because the sealer will extract all of the liquids and gas out of the bag.
How To Use A Chamber Vacuum Sealer?
The second type of food vacuum sealer is the chamber vacuum sealer. This one works in a more sophisticated way and can be used with liquids as well. Of course, first, you have to fill in the vacuum bag with your desired food. It doesn't vacuum the bag directly, rather removes the air from the space around it. That way the vacuum that compresses and seals the bag is produced. It's always good to have a large vacuum sealer so you can use both big and small bags.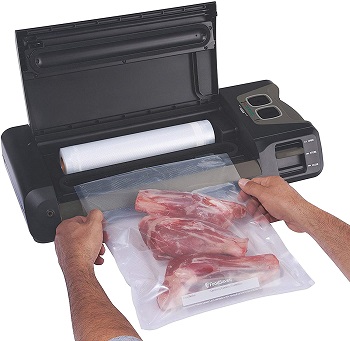 Using A Vacuum Sealer With Meat And Fish
The first way you can use a vacuum sealer is with the fish or meat that you just freshly bought from the farmers' market. Vacuum sealing fish and sealing meat is similar. Simply portion out the quantity of the meat or fish you want to freeze, put it in the vacuum bag, and put it in the freezer. When you want to eat it, simply take it out of the freezer and put it in a microwave for a couple of minutes. The only downside is that you shouldn't reuse those bags again if they've held raw meat or fish even after washing them.
Using Food Vacuum Sealers When Batch-Cooking Meals
Another great way to use a vacuum sealer is when cooking liquid meals such as soups, chili, stews, etc. You can vacuum seal liquid, freeze it, and use it later. The food vacuum sealers are way more convenient than the regular plastic containers as they take a lot less space. By using the vacuum sealer, you can portion out the exact amount of food you need for one meal. And you will also be able to organize the freezer much more efficiently.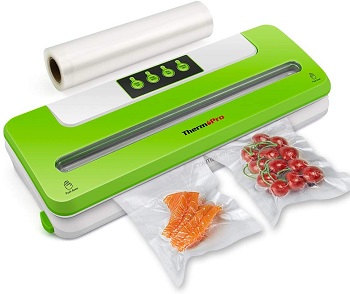 Using Food Vacuum Sealers When Marinating
Another way how to use a food vacuum sealer is when marinating something in a short amount of time. If you don't want to prepare the meat the night before, you can simply use the vacuum sealer which will open the pores of whatever you're marinating, and therefore the marinade will penetrate better and faster than when you leave it in a bowl in your fridge overnight.
Using Food Vacuum Sealers With Junk Food
Have you ever eaten half a bag of chips and then try to eat the rest of the bag some other day, but the crunchiness just isn't there anymore. That is where the food vacuum sealer comes to the rescue once again. It will make a huge difference in preserving the crunch.
To Wrap It Up
After you have read this article, we are sure you know how to use a food vacuum cleaner. There is no best way, it all depends on the type of food you want to save in a vacuum bag. Keep in mind that you can adjust the sealer to the type of food, for example, for junk food use the chip bag sealer, while for other dry food you can use a home vacuum sealer. But there are a few steps that you need to follow in order to do it correctly and they are all mentioned above.