Usually, the kitchen island is the centrepiece of the kitchen and has an important role in decorating space.
Yet, if you don't decorate it, it can look massive and a little bland.
If you need creative and helpful ideas on how to decorate your kitchen island, you can read this article and inspire yourself.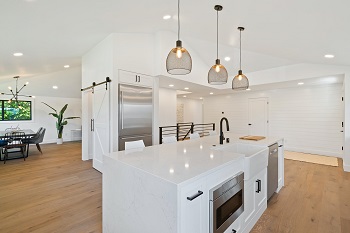 How To Decorate Kitchen Island
Decorating the kitchen island can be a very creative and fun thing to do. Try to incorporate decoration with the rest in your kitchen or living room. Also, always tend to keep it in the centre, so you can easily use the rest of the space. Yet, be sure that you incorporate some of your styles. What is more, you will never have to worry about breaking it since your kids won`t reach it easily.
Make Decoration Useful
Nobody says that decorations should only bother you and stand in the middle of the island without reason. One way to decorate it usefully is to use fruits as a decorative element. Choose a modern or very decorative plate that can be made of various materials and add some colourful fruits. The best part is that it will change each time you add some fresh fruit. Also, you can have a big glass container for cookies or sweets and also add colourful filling to make it vibrant and new each time, but still useful and edible.
Change It Over Seasons
As the main dining table, you can treat the kitchen island the same and decorate it over seasons. How to decorate your kitchen island depending on the seasons? For the spring use decorative branches and fresh flowers, for summer fruits and sunflowers, for autumn make a decoration out of colourful leaves and for winter use Christmas decoration. This is also very fun because there are several occasions where you can change it, which will keep it interesting and very decorative. Try to match the other decoration to keep it unified and classy.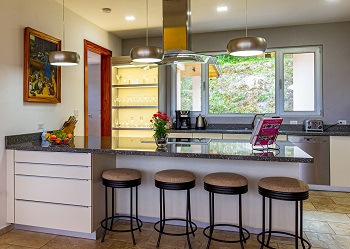 Keep It Simple And Effective
Among all, you should keep your kitchen island decoration simple. Never forget that it is a working station, too, and that it should be useful. There are some practical solutions that you can use to keep it more vibrant. Try to hang pans above it: it is a very classical and practical decoration. Also, pick interesting containers for spices and use that place for holding them. What is more, you can keep some kitchen appliances such as small or big toasters, bread maker, classic 2 cup rice cookers and more. 
Use Quality Material And Decorations
The kitchen island is often made of marble or similar material, so you may want it to look luxurious. The material is similar to the materials of the countertops so it's good to know also how to decorate your kitchen counters to be in harmony with the island. Because of that, try to pick some quality pieces to decorate it with. Choose an interesting and artistic vase and keep simple flowers in it, but change it regularly. Also, use some artistic and special figures, but don't crowd them. The decorations on the kitchen island are very exposed, so always try to pick quality one which won`t only look good, but last for a longer time.
To Wrap It Up: How To Decorate Your Kitchen Island
Decorating kitchen island is a creative job and you can change it as you like and how often you want to. Some make it seasonal and some keep classical decorations all year long, it is up to your preferences. Still, try to match it with the rest of your kitchen and always add a bit of your style. Choose kitchen appliances that fit your island design. You will never get wrong with a white juicer or black double flip waffle maker. It's important for appliances to be in a neutral color.