Excitedly searching for a high top dining table set for 4 to put into your home, office, bar, restaurant or something else?
Unsure of the type of model that would fit your space?
In that case, keep reading this article where we have reviewed 6 different models. You can find out about the features and qualities of tall, wooden, round, modern, and cheap models the market has to offer. Besides that, you can also read our buying guide where we have presented many useful tips to help you ease your search. Enjoy!
The Rundown
Top 6 High Top Dining Table Sets For 4
Best Of Best High Top Dining Table Set For 4
Signature Desing By Ashley Table & Stools
Industrial Style
This counter-height set features a round table that is 39 inches tall and 4 stools that are 28.25 inches tall. The brown set of 5 pieces comes in industrial style and is a great addition to industrial and rustic kitchens. The high table with the bar stools can then be used for drinking coffee or enjoying brunch in your kitchen.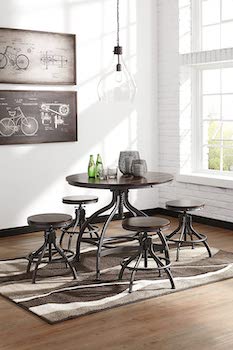 Metal, Wood & Veneer Material
The base of both the stools and the table is made from metal material while the tabletop and the seats are made from engineered wood and birch veneers. Moreover, the base of the stools has a footrest for comfortable seating so that your legs don't dangle. Moreover, the stools allow you to swivel on them.
Customizable Height
The industrial-inspired table and stools allow you to customize their height. In short, the chair can go as low as 17.25 inches in height, and the table as low as 30.5 inches in height. Moreover, the chic industrial vibe is possible thanks to dark bronze powder coating, as well as exposed knots and hardware.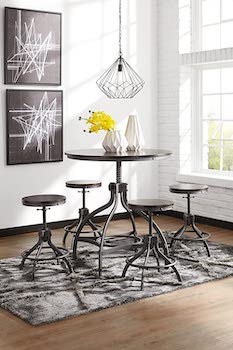 Brown Wood Tone
Finally, this type high top dining table set for 4 is ideal for open floor plans, connecting the sitting room with the kitchen and dining space. The brown tone on the tabletop and seats allows you to easily combine it with many other colors and styles, including rustic.
Short Description:
the table height between 30.5 and 39 inches
chair height between 17.25 and 28.25 inches
industrial style with metal and wood material
metal table and stool base in dark bronze
solid wood and birch veneer tabletop and seats
Best Tall High Top Dining Table Set For 4
Mainstay 4 Seat High Top Table & Chairs
37.75 Inches Tall Table
This set includes a tall kitchen table 4 chairs model in a stylish finish with contemporary chairs. It seats up to 4 people at once, ideal for a small dining nook in your kitchen. The square table is 38 inches wide and deep and 37.75 inches tall. Moreover, it is ideal for modern contemporary kitchen spaces thanks to the tall design.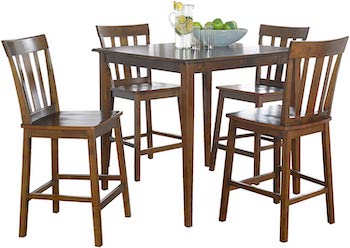 Rubberwood & Plywood
Moreover, the table is made from 100% rubberwood material, as well as the chair frame. Similarly, the backrest on the chairs is crafted from plywood for durability. The high-top dining table set for 4 is ideal for small dining room spaces. Also, it can be put in the kitchen for a breakfast area.
Cherry Finish
The dining table set for 4 comes in a cherry finish, allowing you to decorate it with different colors. Moreover, the wooden material can easily blend with many other pieces and colors in the kitchen. Also, you can fit into an eclectic style room, or even into farmhouse kitchen decors.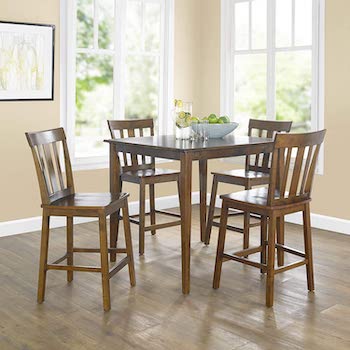 Adds A Unique Accent
Finally, by adding this set to your dining area, you give a unique accent to your home and dining room. Small families can enjoy breakfast or dinner together. Moreover, it is also a great choice for singles and couples living alone while offering enough space for a nice dining experience.
Short Description:
38 inches wide and deep square table
100% rubberwood table and chair frame
the table is 37.75 inches tall
cherry finish for contemporary style
the durable plywood chair backrests
for small dining rooms or kitchen nooks
Best Wooden High Top Dining Table Set For 4
East West 4 High Chair Dining Set
Buttermilk & Cherry Tones
If you prefer wooden material in furniture, this set might be the one for you. It includes a counter-height table and 4 chairs in buttermilk and cherry finish. The seats and the tabletop come in cherry, while the chair frames and the table pedestal come in a buttermilk tone.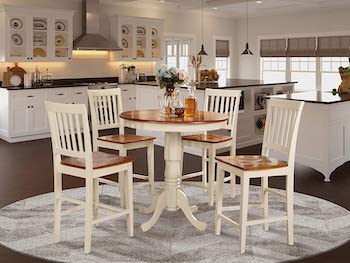 36-Inch Tall Table
The round table measures 36 inches in diameter and is also 36 inches tall. The wooden chairs have bars on the backrest and footrests under the seat, as well. To put this high-top dining table set for 4 into your kitchen, simple assembly is required. It is ideal for small apartments, maximizing the space.
Vintage Vibe
Both the chairs and the table are made from solid Asian hardwood for durability, stability, and longevity. Moreover, the 42-inch tall chairs measure 18 inches in width and 20 inches in depth. Finally, the two-tone set gives a vintage vibe to your dining area. The cherry makes for a warm atmosphere, while buttermilk lightens it.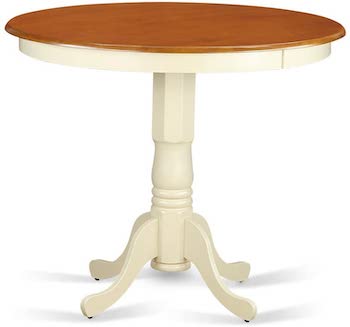 Chairs Store Underneath
Furthermore, this high top set makes it easy to find matching pieces for your kitchen or dining room. The wooden material easily fits into vintage, farmhouse, and many other decors. Likewise, the pedestal base allows you to easily store the chairs under the table when not in use.
Short Description:
a counter-height table with 4 high chairs
buttermilk frames, cherry tabletop, and seats
durable solid Asian hardwood construction
36-inch diameter, 36 inches tall table
barred backrest and footrest on chairs
fits in the vintage, farmhouse, other decors
easily matchable; for small spaces
Best Round High Top Dining Table Set For 4
New Classic Furniture Cori 5 Pc Dining Set
Ideal For Dinette Spaces
If you want a round high-top table with chairs for your kitchen and dining area, this model is ideal for dinette spaces. The table features two storage racks under the brown tabletop and comes in creamy color. The 4 high chairs have footrests under the seat to make the sitting experience more comfortable. Moreover, the padded seats also help with that.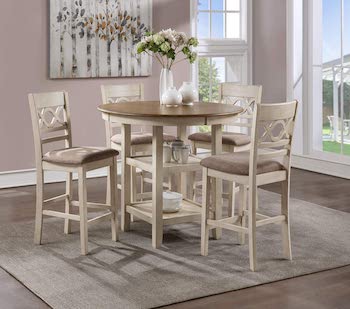 Wood Construction
The 36.25-inch tall table has a diameter of 42.25 inches to easily fit 4 chairs. Moreover, every chair is 40.25 inches high, 18.5 inches long, and 19.25 inches wide. Furthermore, each chair has a bearing load capacity of 250 pounds. Also, the set is made from mindi wood, solid rubberwood, as well as wood veneers for durability.
Featuring Intricate Patterns 
Furthermore, the table of this high top dining table set for 4 is accented with reverse diamond patterns for a stylish addition to the dining area. Also, the backrest on the chairs has an interlocking twist design. The storing racks are convenient for placing many items under the table so they are always easy to access.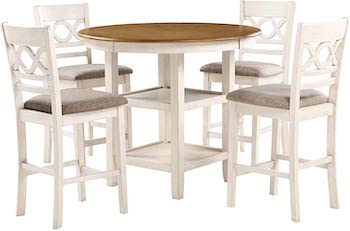 Convenient Design
Finally, the seat on the chair is made from 100% polyester fabric and comes in beige color. The functional shelves are a great addition to dining rooms that can be away from kitchens to store some essentials. Furthermore, wooden materials can easily fit with many other types of furniture.
Short Description:
round table and 4 chairs for dinettes
brown tabletop with reverse diamond patterns
creamy table base and padded chairs
36.25-inch tall table with 2 storing shelves
interlocking twist design on high chairs
mindi wood, solid rubberwood, veneer materials
Best Modern High Top Dining Table Set For 4
Roundhill Cicicol High Top Dining Set For 4
48-Inch Round Glass Top
This glass dining set for 4 features a 36-inch high table crafted from solid wood with an 8-millimeter thick glass top. Moreover, the pedestal base of the table has a two-ring design and comes in a grey color. The round tabletop has a diameter of 48 inches. Furthermore, the design makes it durable for long-lasting use.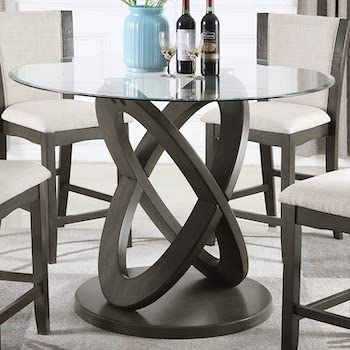 Four Modern Chairs
For a sophisticated look, the table is matched with 4 chairs in a modern finish. Similarly, the chairs have a solid wood frame and are comfortable thanks to the beige fabric on the seat and the backrest. Moreover, the seat height is 24 inches. The four chairs comfortably fit around the table to seat a small family.
Comfortable Footrests
With this high-top dining table set for 4, you can achieve a contemporary style in your dining area. The glass top table is a great centerpiece that will impress your guests, as well. Furthermore, around the table, each chair is 20 inches wide, 23.5 inches deep, and 38.5 inches high. Also, the footrests under the seats make it comfortable to sit on the chair for longer periods of time.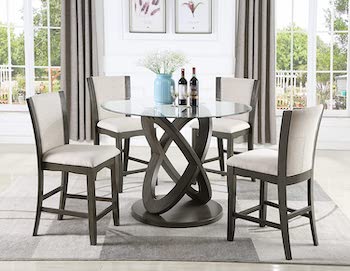 For Dining & More
However, the table and the chairs are a bit more complicated to assemble, so that could take you some time. Once you assemble it, the set is durable and easy to keep clean. Also, it is ideal for couples living in apartments for dining and entertaining friends.
Short Description:
solid wood table pedestal and chairs
8-mm glass tabletop with a 48-inch diameter
beige fabric on chair seats and backrests
comfortable sitting thanks to footrests
36-inch high table, 24-inch high seats
sophisticated design and contemporary style
Best Cheap High Top Dining Table Set For 4
Abington Lane Table Set Walnut Finish
For Dining Nooks
This high top dining table set for 4 is available to purchase for the price of just around 180 dollars on Amazon. It includes a 34.25-inch tall table with four backless chairs. Likewise, these four stools fit perfectly around the table, ideal for dining nooks in the kitchen where a family can enjoy a quick breakfast or a whole meal.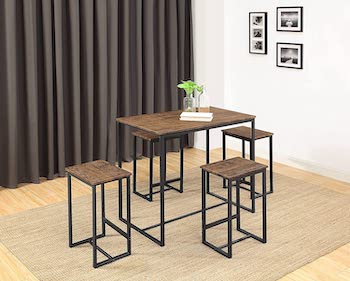 Store The Stools For Space
The legs of the table and the stools are made from steel while the seats and the tabletop have a walnut finish. Moreover, these two materials and tones go well together and can easily blend into many kitchen decors. Furthermore, for apartments and small kitchens, the stools can store under the table for extra space when not in use.
Minimalist Quality Design
The minimalist design on both the stools and the table brings a modern touch to the dining area. Moreover, the quality materials ensure that this set lasts for as long as you want it in your home. Finally, the stools also offer comfort as they feature footrests under the seats.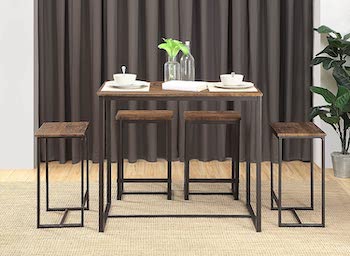 Modern & Rustic
Finally, the sleek black metal frames along with the rectangular walnut tabletop make a great option for both modern and rustic environments, as well as industrial-vibe spaces. Also, to seat up to 4 people, the tabletop measures 39.25 inches in length and 23.5 inches in width.
Short Description:
34.25-inch tall rectangular table seats 4 people
it comes with 4 high stools with footrests
metal table and stool frames for durability
quality walnut finish on tabletop and seats
for quick breakfast and whole meals
minimalist design fits different decors
ideal for apartments, small kitchens, etc
What To Consider In A High Top Dining Set For 4?
Firstly, look for a style that will fit your personal style and the design of your home. Secondly, consider the size that also fits your space. Thirdly, make sure the high-top dining table set 4 chairs model is made from durable materials. Moreover, consider different shapes and designs of both tables and chairs. Finally, don't forget about other qualities that a good set should have.
Various Styles Available – When choosing a high-top table with chairs, you will learn that the market offers a wide variety of style options to choose from. Some of the popular styles include modern, contemporary, rustic, minimalist, industrial, eclectic, farmhouse, and more. In short, picking the right choice will depend on your personal style and what would go well with your home.
Choose A Size – To seat 4 people at most, the table won't have to be very big. This makes it a great choice for small apartments where there isn't space for large 10-chair dining table sets. Moreover, this also makes them ideal for couples and small families. On the contrary, they can even be used as dining nooks in kitchens away from the formal dining room.
Durable & Long-Lasting – A table, as well as chairs, needs to be crafted from quality materials for longevity, durability, and stability. In other words, pick among solid wood, metal, glass, stone, and other quality materials. However, the material of the set will also depend on the furniture style.
Shapes & Designs – Firstly, high chairs can come with backrests or without them. Moreover, look out for footrests for sitting comfortably. Likewise, padded seats can also help with comfort. Secondly, high-top tables can be round, square, rectangular, or oval. Moreover, they can have legs, a trestle, or a pedestal as a base. In short, there is a wide variety for you to choose from.
Look For These Qualities – Firstly, choose a durable high-top dining table set for 4 in your favorite style. Secondly, make sure it is easy to assemble and easy to keep clean. Thirdly, choose a model that allows you to easily put the chairs under the table to save space. Finally, consider around 22 inches of space for each place at the table.
To Wrap It Up
To conclude this article, our top choice for a high-top dining table set for 4 is the Signature Design by Ashley set. It comes in industrial style with four stools and a table. Made from metal and wood materials, both the table and the stools allow you to adjust their height. In case you are looking for an even smaller table, consider the reviews of 2-chair dining table models. Likewise, if you like marble furniture, check out our selection of marble dining table sets for 4.