Are you looking for a 2-chair dining table for your kitchen space?
If yes, you have come to the right place!
Keep reading this article to check out reviews of round, glass, breakfast, counter height, and small tables that can be folded. Similarly, you can also learn about qualities to look for in such kitchen tables to get the one that is suitable for both your space and your needs.
The Rundown
6 Top 2-Chair Dining Tables
Best Of Best 2-Chair Dining Table
Linon 3-Piece Table Tavern Set
Counter-Height Table
This 2-chair dining table also comes with two chairs included. The counter-height table is 36.25 inches tall, 42.25 inches wide, and 22.13 inches deep. Moreover, the stools are padded and measure 25 inches in height. The table has a weight capacity of 200 pounds, and each stool can hold up to 275 pounds.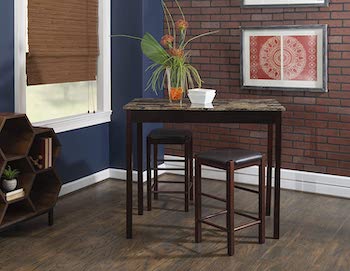 Hardwood In Espresso
Moreover, both the table and the stools are easy to wipe clean. They are constructed from hardwood and come in an espresso finish. Furthermore, the tabletop comes wrapped in faux stone paper. Also, the table has four legs so that the stools can easily go under for storage, thus saving you space.
Solid & Simple Design
This type of table is great for small spaces or can fit into a kitchen nook to provide you with additional dining space. Likewise, the padding on the stools is black vinyl for comfort and easy cleaning. Furthermore, it is stable thanks to solid wood construction. At the same time, it easily fits different decors as it has a simple design.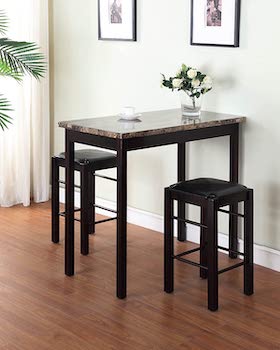 Elegant Classis Style
The faux marble top brings elegance to this set along with classic style. Moreover, the elegant stools are backless and allow two people to sit at the table at once to enjoy all kinds of snacks for breakfast, brunch, lunch, dinner, and more. Finally, it will save space, so that is great for kitchens that are tight on space.
Short Description:
features a solid wood counter-height table
includes two backless padded stools
hardwood construction in espresso finish
padded vinyl upholstery on the stools
saves space as the stools can go under the table
Best Round Two-Seater Dining Table
Coavas Industrial Kitchen Dining Table
Minimalist & Industrial Style
This round table 2 chairs model measures 31.4 inches in diameter and can be used for dining, drinking coffee, and enjoying snacks. Also, a full set of tools and screws come in the package and the assembly of this furniture piece should take around 15 minutes only. Moreover, it has a minimalist modern design, combining industrial and contemporary details, as well.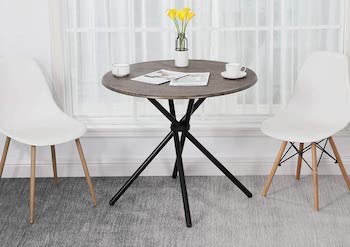 Durable Build
The tabletop of this round dining table 2 chairs model is crafted from medium-density fiber that is both waterproof and shock-proof. Moreover, it is supported by high-quality metal-coated tubes. Also, the wood finish on the tabletop combines with metal legs so that this 2-chair dining table can fit into many different decors.
Brown & Black 
Furthermore, this two-seater round table can be used for dining, as it seats up to two people so that you can place it in your kitchen. Moreover, it is also great for drinking coffee and enjoying different snacks throughout the day. Finally, the brown tabletop with black metal legs gives a mid-century and vintage vibe.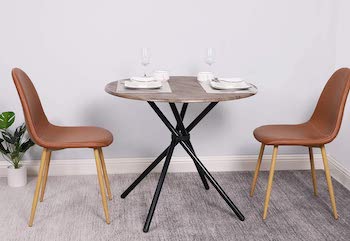 For Indoors & Outdoors
Finally, the two-seater round dining table can be used both indoors and outdoors, so that you can place it in your kitchen, on your balcony, the patio, or in many other locations. Coasters should be used with hot dishes to protect the tabletop damage.
Short Description:
31.4-inch diameter round table
15-minute assembly with included tools
medium-density fiber tabletop material
black metal legs for support
mid-century modern with vintage vibes
minimalist design with industrial style
Best Glass Two-Chair Dining Table
Best Master Furniture Mirage Dining Table
47-Inch Glass Tabletop
If you want a modern two-chair dining table for your kitchen or dining space, this 2-chair glass dining table might be the one for you. Firstly, it measures 47 inches in diameter and is also 30 inches high. The glass tabletop is supported by turned chrome legs. Also, the combination of glass and chrome material will give the room a modern touch.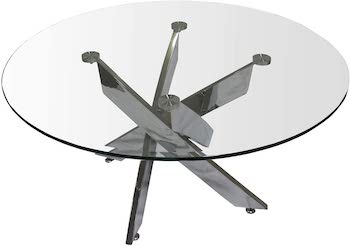 Seats 2+ Easily
The 2-seat glass dining table does not just look good, it is also functional. It can seat two people for a feast as it is large enough. However, in case you have guests over, the table is also big enough to add two more chairs for comfortable sitting. For instance, it is a good choice for small households and couples.
Durable & Easy Maintenance
The glass tabletop is heavy, giving off a high-quality construction. Moreover, it is also durable so that it can last while giving an elegant accent to your dining area. Also, the glass material is easy to take care of as it wipes clean quickly. It goes perfectly in smaller rooms.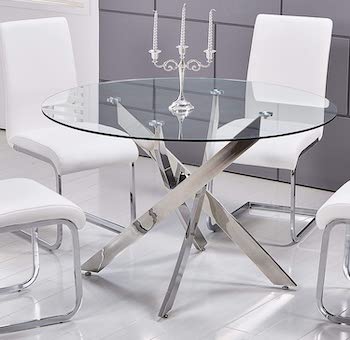 Contemporary Design
Futhermore, you can add this table to your smaller shared kitchen and dining space if you want a stylish table. Moreover, while it brings style to the room, it is also small enough not to look too bulky. The modern glass dining table 2 chairs model goes well with contemporary style spaces.
Short Description:
heavy glass table top with chrome legs
measures 47 inches in diameter
30 inches tall; modern style
seats 2 to 4 people easily
high-quality construction, easy to clean
contemporary style and elegant design
ideal for couples and small families
Best Breakfast Two-Chair Kitchen Table
Best Choice Products Table & Chair Set
For Compact Space
This 2-seat breakfast table comes in a set with two chairs and is ideal for compact space. The set comes in a combination of white and brown colors that can easily fit into many different room designs. Futhermore, the solid iron frames of the two-seat breakfast table and the chairs make them sturdy with durable engineered wood tabletop and seats.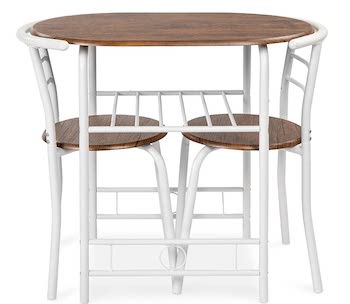 A Storage Rack
The oval two-chair breakfast table is 29.5 inches high and large enough to fit two people. Under the tabletop, you can also store bottles of drinks as there is a wine rack. Moreover, this convenient rack can also be used for holding food trays and many other things.
Ergonomic Chairs
The chairs have curved backrests that fit the edge of the two-chair kitchen table perfectly to save space. Meanwhile, they are also ergonomic to promote a healthy posture of the person who sits in them. The high-quality chairs also have a capacity limit of 330 pounds per chair.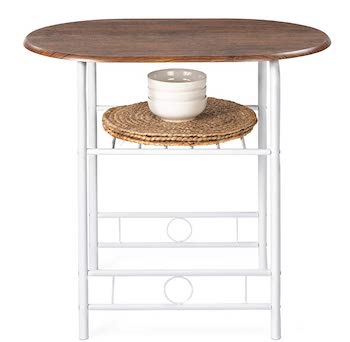 Water-Resistant & Durable
The compact two-seat dining room table is ideal for small spaces and can be added to kitchens, living rooms, and more. Furthermore, the two-chair breakfast table with chairs is also great for dorms and small apartments where up to two people can enjoy breakfast and many other snacks. Finally, the durable materials of the breakfast table 2 chairs model are water-resistant for easy cleaning.
Short Description:
compact oval table with two chairs
white solid iron frames for durability
brown engineered wood top and seats
convenient rack for storage under the table
ergonomically curved backrest for better posture
Best Counter-Height Two-Seater Dining Table
Teraves Kitchen Bar Table
Black Steel Frame
This 2-seat counter-height table features a solid steel frame in black. This leg frame is easy to assemble and supports a wooden-looking tabletop. However, the tabletop is made out of P2 class particle board with perfect edge technology. Moreover, these materials ensure quality and durability for long-lasting use.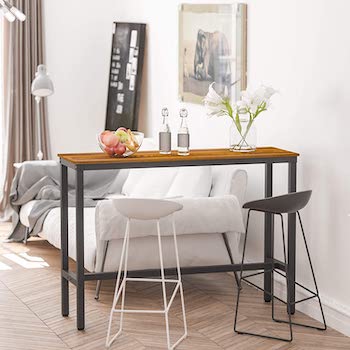 Over 39 Inches Tall
The legs have adjustable pads to customize the height of the two-chair kitchen table. Also, this table is 39.37 inches high and long and is also 17.71 inches wide. Moreover, it has a load capacity of 450 pounds. With it, you can create a bar space in your kitchen or living room and seat up to two people.
For Bar & Kitchen
Furthermore, the four legs are easy to put together and the tabletop then fits in nicely for quick assembly. Likewise, the table saves space in the room as it is tall and long, but not very wide. Also, the multifunctional design allows you to use this piece of furniture as a kitchen table for dining, as a bar table, and much more.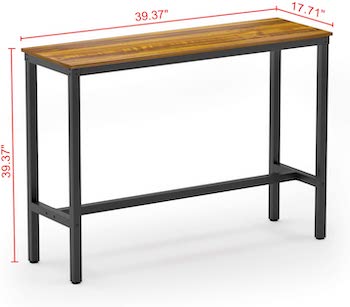 Convenient Footrest
To clean the table, simply use a damp or dry cloth. Moreover, it is recommended for indoor use and should not be cleaned with abrasive detergents. The footrest under the table is there so that your legs don't dangle when you sit at the table. Finally, the assembly should take around 15 minutes only by following the instructions.
Short Description:
features a solid steel frame in black
P2 class particle board for tabletop
39.37 inches tall and long
space-saving and multifunctional design
easy to clean; 15-minute assembly
seats 2 people, features a footrest
Best Folding 2-Chair Dining Table
Flash Furniture Plastic Folding Table
Grey & White Combination
This small 2-seat dining table is 29.38 inches tall and has a diameter of 24 inches. The grey legs support a white tabletop and can fold easily for storage and transport. Similarly, the top of the table is waterproof and resistant to stains and impact. Moreover, it is 0.75 inches thick and made from granite.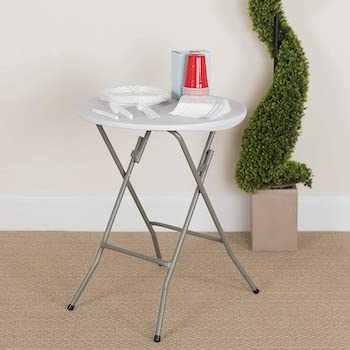 For Small Spaces
The powder-coated cross legs of the table come in grey and have protective caps not to scratch the floor. Altogether, the table has a static load of 180 pounds and seats up to 2 adults. Also, it is a great choice for small spaces where you can dine, enjoy snacks, make crafts, and much more.
Easy To Fold
Moreover, the legs of the small folding dining table 2 chairs model come together quickly so that the table can be put away when not in use. Because of this, it is a great choice for very small spaces as it can be stored out of the way in seconds when not needed.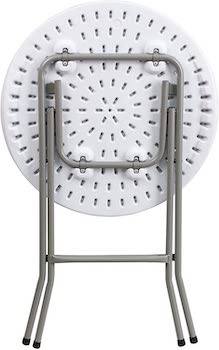 For Outdoor Use, Too
To sum up, besides the kitchen and dining space, you can even use this table on the patio to enjoy meals outdoors. Furthermore, it is designed with both indoor and outdoor use in mind. However, the two-chair kitchen table should always be stored indoors for protection.
Short Description:
24-inch diameter, 29.38 inches tall
0.75-inch white granite tabletop
waterproof and stain and impact-resistant
grey powder-coated legs with protective caps
the table seats up to two adults
for small spaces, both indoors and outdoors
legs fold for easy storage and transport
What To Consider In Two-Chair Kitchen Tables?
The market offers a wide variety of small two-chair dining tables that you can choose from. That is why you should think of the following when choosing. Firstly, choose a style according to your preference and the room where you plan to use the table. Secondly, consider its size as well as material to get a durable piece of furniture. Finally, tables also come in different shapes and with different bases and feature many qualities that can make them suitable for your space.
Go Stylish – The market offers tables in many different designs and styles so that there is something for everyone. In short, you can choose between modern, contemporary, rustic, vintage, farmhouse, industrial, minimalist, and many other types of tables. Also, the style of the table should reflect your own style and preference. Similarly, it should fit into the rest of the kitchen and dining room decor.
Don't Go Wrong With The Size – To seat only two people, a table won't need to have big dimensions. Also, small tables are great for kitchen nooks, small rooms, and more. Moreover, they can even be a good addition to your kitchen away from your dining area, for quick breakfast and enjoying some snacks, coffee, or other beverage of choice.
Material For Longevity – A 2-seat dining room table needs to have a durable build to be long-lasting. In short, popular materials on the market include solid wood, veneer, manufactured wood, glass, metal, stone, plastic, and more. Furthermore, the material choice will also depend on the style you want because different styles favor different materials.
Choose Features Wisely – Two-seater dining tables can be round, oval, rectangular, or even square. Moreover, choosing a shape will depend on the space where you want to locate the table. Besides the shape, you can also choose among tables with legs, a pedestal, or a trestle as a base. Moreover, the two latter bases allow for easier adding of chairs.
Qualities To Search For – Firstly, a table should be durable and fit the space. Moreover, it should be easy to assembly and keep clean. Furthermore, it should be stable and come in the style of your choice. In addition, it should also be easy to put the chairs under to save space. Finally, folding legs can also help save space.
To Wrap It Up
In conclusion to this article, we would like to use a few words for our top choice for a two-seater dining table. The Linon Brown dining table comes with two chairs and is made from solid wood. Moreover, the solid wood chairs have comfortable padded seats. Likewise, the espresso finish gives this set a classic touch and the stools can go under the table to save space. If you would like to see the options for seating more people, consider our selection of 10-chair dining table sets. If you would like to seat four people at a modern table, check out the reviews of glass dining sets for 4.