Looking for the perfect marble dining table set for 4 to give a home to?
Perfect, because we reviewed 5 different models for you!
In this article, you can find reviews of the round, marble top, modern, and high-top models the market has to offer. Moreover, you can also find out about the qualities to look for when buying if you read our buying tips in the second part of this post.
The Rundown
Best 5 Marble Dining Table Sets For 4
Best Of Best Marble Dining Table Set For 4
Hooseng Marble Dining Table And 4 Chairs
Minimalist Design
This minimalist marble dining table set for 4 includes a table with white legs and 4 white chairs. Moreover, the chairs have padded seats and backrests in white color to match the table. Likewise, this also makes them comfortable to sit on. Moreover, this set can be used in the kitchen as a breakfast nook, a dining set, and can even complement living rooms easily.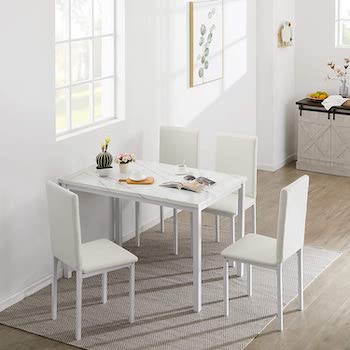 Contemporary Style
The table has a simple design, ideal for contemporary-style spaces, featuring a white faux marble top. The 30-inch tall rectangular table is also 41.8 inches wide and 30 inches deep. The 5-piece set is also easy to assemble so that you don't have to spend a lot of time and energy on it.
Compact For Small Spaces
Moreover, the compact design of the set is ideal for people living in small apartments who want to add a touch of style to their living and dining room space. Similarly, it can also be placed in the kitchen. Moreover, it is easy to clean the tabletop. Also, the man-made leather upholstery makes the chairs comfortable and easy to wipe clean.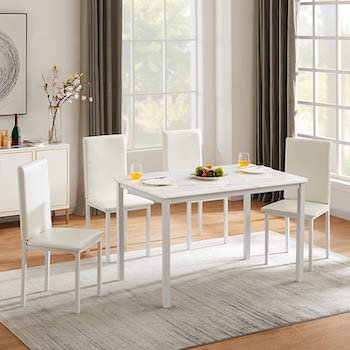 Durable Metal Frames
Finally, the marble top has a scratch-resistant finish with a waterproof layer for convenient cleaning. Moreover, the table and the chairs are durable thanks to the metal frames. To assemble the dining set, you will get simple instructions and the necessary hardware in the package.
Short Description:
white faux leather chairs and faux marble top
minimalist and simple contemporary design
compact size for apartments and small spaces
metal table and chair frames for durability
scratch-resistant and waterproof tabletop
Best Round Marble Dining Table Set For 4
Merax Lumisol Marble Table 4 Chairs
Elegant Details
This classic-style marble dining table set for 4 includes a round table with 4 chairs. The wooden-looking set is made from medium-density fiberboard for durability, offering a string bearing load capacity. The table has a pedestal base and each chair has a cross-back design.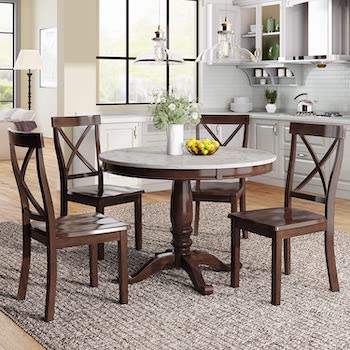 White Marble Tabletop
Moreover, the tabletop comes in a faux marble finish for easy cleaning. Besides that, the marble tabletop also brings elegance to the dining area with the white color. The table is 29.9 inches tall and has a diameter of 41.7 inches. Moreover, the 4 chairs fit around the table comfortably, measuring 39.3 inches in height.
Simple Assembly
The combination of wooden finish with a white marble top makes this round marble table and 4 chairs ideal for dining rooms, kitchens, and even living rooms. To install it into your home, you will get all the necessary hardware so that assembly is easy by following the included instructions.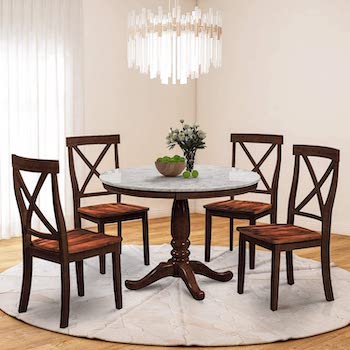 Strong & Durable
Finally, the wooden seat on the chairs is combined with a solid frame to make sure each chair is strong and durable for everyday use. The classic style of the set makes it easily fit into different rooms and decors. The round pedestal table is a great statement piece you can put in your dining area.
Short Description:
41.7-inch round table with a white marble top
durable medium-density fiber construction
pedestal table base, cross design on chair backs
classic style with marble and wooden finish
durable table and chairs for a strong load capacity
instructions and hardware for easy assembly
Best Top Marble Dining Table Set For 4
P PURLOVE Marble Dining Table 4 Chairs
With Matching Chairs
This marble top dining table set 4 seater model includes a rectangular table with four matching chairs. Moreover, each chair, as well as the table, has a maximum bearing load capacity of 300 pounds. Also, in the package, you will get the necessary instructions for easy assembly.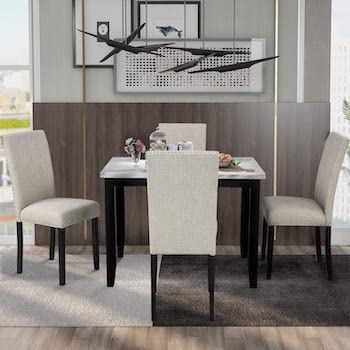 Comfortable Burlap Upholstery
To protect the floors from scratching, both the table and the chair legs come with protective footpads. Moreover, the legs on the chairs and the table come in black color. With 4 chairs, you can seat the whole family at the table at once. It is also comfortable thanks to the thick woven burlap upholstery on the seat and the backrest.
Rubberwood Table Frame
Adding a modern sense to space, the tabletop has a paper marble cover. Along with the marble top, the table frame is made from rubberwood. Moreover, the chairs have copper nails along the edge to give them a more drastic look. In case of spills, the chairs are easy to clean with a wet wipe.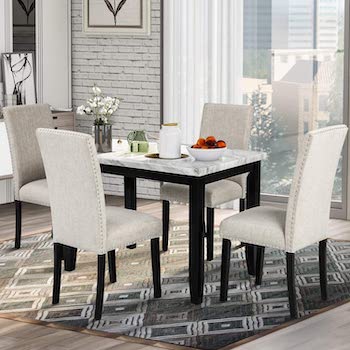 Glossy Marble Tabletop
Finally, the tabletop has a glossy finish, making the marble top dining table with 4 chairs a stylish choice for any space. Likewise, you can place it in the kitchen, dining room, or your open-plan kitchen and living space. Moreover, it is ideal for smaller spaces and small families, seating up to 4 people, one chair on each head, and each side of the rectangular table.
Short Description:
black legs on the rectangular table and chairs
rubberwood material with a paper marble tabletop
chairs with burlap upholstery for comfort
modern style for kitchens and dining rooms
protective footpads on the table and chairs
copper nails on the edge of the chairs
glossy finish on the marble tabletop
Best Modern Marble Dining Table Set For 4
Costway 5 Piece Faux Marble Dining Set
Powder-Coated Metal Frames
This kitchen breakfast furniture set includes a marble tabletop with black powder-coated metal legs on the table and 4 chairs. The 4 chairs are comfortable to sit on thanks to the upholstery on the seats. Moreover, on top of the chair backrests, there is a marble board, as well, combining perfectly with the tabletop.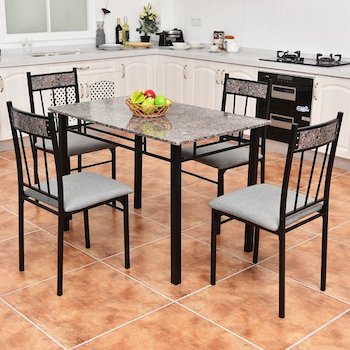 PVC Marble Cover Top
Moreover, the assembly is simple and easy with the help of the included hardware. The smooth tabletop surface is crafted from the medium-density fiber with a marble PVC cover on top. Furthermore, this also makes it easy to keep clean. Under the tabletop, four metal legs keep it stable and supported.
Modern Furniture Set
Besides the marble details on each backrest, the chairs also have bars on the backrest. The padding on the seat comes in a grey color. Along with the table, it gives a modern touch to the room. Moreover, you can put the marble dining table set for 4 in your kitchen or your dining room. Also, it is ideal for smaller families, seating up to 4 people at once.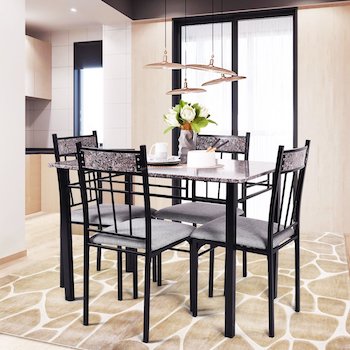 Long-Lasting Build
Finally, the rectangular table is 30 inches tall, as well as 43.5 inches long, and 27.5 inches wide. Moreover, each chair has a load capacity of 264 pounds and is 35.5 inches tall. The simple design allows you to even fit it into your living room without problems. It is durable and long-lasting.
Short Description:
black powder-coated metal table and chair legs
medium-density fiber marble PVC tabletop
easy to assemble and easy to keep clean
grey padding on seats for comfort
for kitchens, living rooms, etc
Best High-Top Marble Dining Table Set For 4
Rhomtree Marble Table With 4 Chairs
Bar Stool Style Chairs
This high-top dining table set for 4 includes a counter-high table with 4 tall chairs with short backrests. Also, the padded chairs come in a bar stool style with black tufted faux leather upholstery on the backrests and the seats. Moreover, the footrests on the tall chairs make it comfortable to sit down and easy to stand up. Finally, each chair has a 250-pound capacity.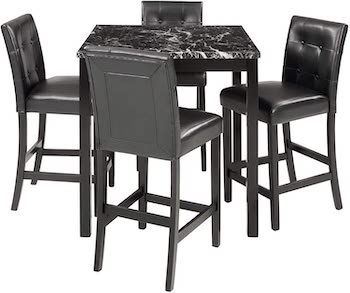 Rubberwood Table Material
On the other hand, the square dining table measures 35 inches in length and width to fit one chair on each side. The high-top table measures 35.8 inches in height and is great for a quick breakfast in the kitchen. Moreover, it is ideal for small spaces. Also, the rubberwood table features a faux marble top and is durable for everyday use.
Black Finish
The marble dining table set for 4 is great for placing in the dining room or your eat-in kitchen. Moreover, the counter height gives the room a unique accent where you can invite guests over for snacks and drinks. The black color makes it easily fit in with many styles and decors.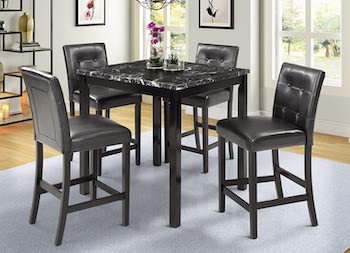 Quick Assembly
Each chair is 39.9 inches high, measuring 15.9 inches in width and 18.5 inches in length. Also, you will have to do minimal assembly on this set. Moreover, all the necessary hardware will come included to make assembly as simple and as easy as possible.
Short Description:
the high-top square table is 35.8 inches tall
high chairs with tufted faux leather upholstery
bar stool chair style with footrest and backrest
for small space, eat-in kitchens, etc
black faux marble top with a rubberwood frame
black color easily fits many decors
minimal assembly with included hardware
What To Consider In Marble Dining Table Set For 4?
To get the perfect 4-chair marble dining table set, here are some things to keep in mind. Firstly, make sure it is durably built to last you for as long as you want it. Secondly, look out for user-ferindly qualities that each dining set should have. Thirdly, make sure its size fits your space. Similarly, make sure that the style of the set is compatible with the room. Finally, consider different table and chair designs the market has to offer.
Look For Durability – Marble tables usually mean that the table is made from non-marble materials with a faux marble top. However, the market surely also offers upscale custom-made tables from real marble for much higher prices. However, even faux marble tables can be durable thanks to metal or solid wood construction.
User-Friendly Qualities –  To get the perfect dining table for your home, look out for models that are firstly easy to assemble. Secondly, make sure it is also easy to keep clean. Thirdly, look for tables that allow you to easily put the chairs under. Finally, each place at the table should have between 22 and 24 inches of space.
Choose The Size – Unlike 12-seat dining table sets that are a great choice for big formal dining rooms or open-plan farmhouse living space, 4-seater sets are good for small spaces. They work great for a breakfast nook in the kitchen or for couples and small families living in small apartments. Moreover, consider 3 feet of breathing space on all sides when choosing a model for your space.
Make It Stylish – The market offers a marble dining table set for 4 in many furniture styles. In short, some of the popular ones include farmhouse, modern, minimalist, contemporary, rustic, vintage, retro, industrial, and more. The style will depend on your personal preference and the decor of the space you want to achieve.
Many Table & Chair Designs – On one hand, chairs can have backrests or come in a stool style. Moreover, they can have upholstery to make them more comfortable. On the other hand, tables can come with round, square, oval, or rectangular tops. Furthermore, they can also have legs, a pedestal, or a trestle as a base. With the wide offer, everyone can find something to float their boat.
To Wrap It Up
To sum everything up, the marble dining table set for 4 that stood out the most to us is the Hooseng marble dining table set 4 seater. It comes in white minimalist design, featuring metal frames, a white faux marble tabletop, and faux leather padded chairs. Its compact size is ideal for small spaces and small families living in apartments. If you'd like to see what the market has to offer when it comes to glass tables for 4, read our reviews of glass dining sets for 4. If you need a round table with a pedestal for small spaces, check out our selection of 42-inch round pedestal tables the market has to offer.