Stainless steel objects and surfaces in the kitchen are made to be durable and resistant to corrosion, high temperatures or mechanical damages.
Yet, there are some situations where it can be scratched or damaged mechanically.
To avoid any problem, we have found some of the most popular ways to protect your stainless steel sink easily.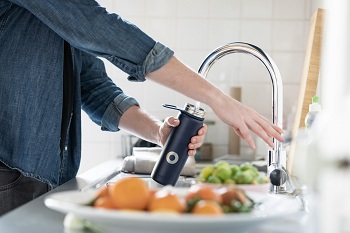 How To Take Care Of Your Sink?
Stainless steel sink can be very durable and compared to other sink materials, it will last the longest and behave well near water and high temperatures. Yet, with constant, you want to be sure that it will keep shine and quality to resist corrosion. First, you have to check if it has any factory damages and is sure that you have quality and the whole product. Then, be sure that you have appropriate accessories with it, like a drainer for dishes that will let any water excess. Be sure that it is non-slip, so your dishes won't fall and damage the surface.
How To Maintain Stainless Steel?
Maintaining stainless steel requires specific cloths and chemicals to keep it shiny and clean, without losing the protective layer. Avoid steel wool or abrasive materials that are hard on metal. Rather use a soft sponge side and combine it with cleaning chemicals. Be sure that you don't use aggressive cleaning chemicals like bleach or strong acids that will tear apart protective layers and change the color immediately. Also, while you clean it, be sure that you don't press the cleaning sponge and scrub too hard, but rather gently rinse remains and minerals from water, coffee (if you don't use an all-in-one espresso machine), or any other food and liquor.
How To Care For Minor Scratches?
There are some minor scratches possible after everyday use, but you can easily bleach it out into the patina and won't notice it. Prevention is the most important, but with careful handling of the problem, you can easily solve it. Clean the sink from food remains and empty it. Block the drain and fill it with warm water, later you can mix mild dishes detergent. With a soft sponge side gently rub the dirty spots and clean them completely. Use a gentle and dry towel and rub over scratches to remove them. Once you finish all cleaning, spray the stainless steel protective medium and dry it out.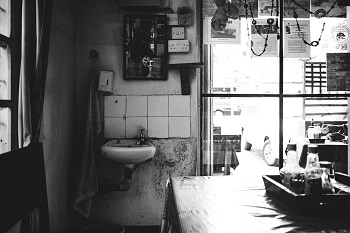 How To Take Care Of Major Scratches?
Even some big scratches can be dealt with if you know how to. Again, don't be aggressive and use aggressive chemicals that can make even more damage. Again, fill the sink with warm water and clean all food that remains from it. You can again use mild dish soap and mix it with water, but leave some clean water in the bowl aside. Use a rubber sanding block and at least 1000 sanding paper. Be sure that you don't make any sudden or rough movements, but rather rinse the sandpaper in the water and gently rub it on the scratch. After each repetition rinses it with clean water and tracks your progress. Be sure to rinse it thoroughly after all rubbing.
What To Avoid On Stainless Steel?
Stainless steel is very durable and corrosion-resistant, but some things should be avoided. First, avoid sharp objects and cutting directly on them since they can cause very small scratches that are still capable to cause corrosion. Any aggressive acid or chemical can cause discoloration and lead to major problems with corrosion because of minerals in water and other liquids. Also, be sure that you always use the soft sponge that is ideal for rinsing all food leftovers. What is more, after every using dry it out as much as you can which will prevent the water from finding the way to create corrosion.
To Wrap It Up
Having a stainless steel sink can look very classy and modern in your kitchen and it is a great solution if you want it to last for a long time. Yet, you have to maintain it properly to get good results. By using the appropriate sponge and chemicals, you can get rid of the scratches and keep the sink shiny. The tips for the sink are useful also for stainless steel dishwashers, stainless steel rice cookers, and other appliances.