Are you looking for tips on how to decorate your kitchen counters?
You are in the right place!
Here you will find the best advice and find the best ideas for decorating your counters. Keep reading and find which kitchen decoration would be the best option for your kitchen type.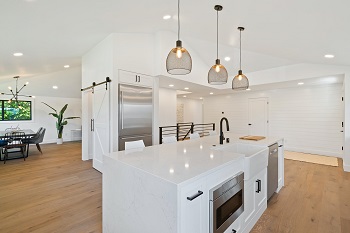 Best 6 Ideas To Decorate Kitchen Counters
1. Springle Colour Through Your Kitchen
Set different colors in your kitchen. This way kitchen counters will come to the fore. Of course, be careful that the colors fit into the style of your kitchen. you can place kitchen towels that will match the color and arrange them in a visible place. For example, you can place a bowl of different fruits in the middle of the kitchen counter. So these colors will draw attention to the rest of the kitchen.
2. Put Green Elements
Green elements will bring a new and more beautiful look to the kitchen. It would be best to place green plants in the kitchen. You can put any flowers, they will beautify your space and you will get a natural scent. You can also place herbs on kitchen elements. For example, you could put mint, parsley, rosemary, or coriander in your kitchen. These plants will not only improve your interior but will be close to you when you need spices for your meals.
3. Curate Everyday Items on Kitchen Counters
Place the elements you will need in everyday use on kitchen surfaces. You will be able to find them easily, and they will decorate your kitchen space nicely. Place bowls or cups on shelves, or items where you won't mind. Place plates, dishes in the elements. Make sure everything is neat and easily accessible to you. Put the knives in their place. Store them in an elevated position so that children cannot reach them.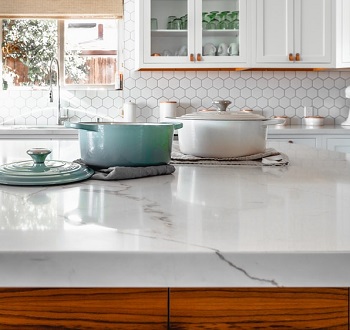 4. Make Place For Cooking or Coffee Area
If you are wondering how to decorate your kitchen counters, you need to take care of free space in the kitchen. When you have arranged all the things, take care to free up space that will be used for cooking. Make sure you have enough space to be able to cut, mix the ingredients. You can place a cutting board near this place so as not to damage the kitchen element. You can also leave places to make coffee. Place a coffee machine or cup nearby, and leave enough space to have a place to store cups and other ingredients.
5. Put Countertop Appliances
Various kitchen appliances look great on the elements. They will greatly help you with cooking, preparing small meals, but also refreshing drinks. For example, a kettle will not take up much space but you will be able to make a great hot beverage quickly and effortlessly. The microwave, or even better – countertop microwave toaster oven combo – is also one of the useful appliances that you will need in the kitchen. You will need to leave more space for it, but it will give a certain decor to your kitchen.
6.Put Decorations On The Wall And Fridge
The walls in your kitchen also play a big role in the decor itself. Make sure the kitchen counters look out for them and the things you place in their space. Therefore, it is best to place pictures on the walls. They will improve the atmosphere in the kitchen. Also, be careful what images you choose. it would be best to choose pictures of still lifes or pictures of different plants. You may notice that people often add decorations to their refrigerators. These can be family pictures, they will show a more intimate atmosphere, but they will act on the decoration of your kitchen counters.
To Wrap It Up
Here you could read about the best 6 ideas on how to decorate your kitchen counters. Be careful what elements and decorations you will place depending on the style of your kitchen. Do not mix a lot of colors, and be careful not to place too many decorations. Be moderate, and make your kitchen a nice place to feel comfortable in it. Place flowers or plants on your kitchen counter, the flowers will kill the monotony. Also, place pictures on the walls, to beautify the interior. Appliances also contribute to the final look so think about purchasing some fancy toasters or a 10-cup coffee maker.