Keen on buying a 2-cup rice cooker?
In that case, look no further!
We have reviewed 4 different models so that you can choose the one that meets your requirements. Consider stainless steel, mini, and rice cookers that are suitable for travel available on the market. Besides that, you can also check out our buying guide to help you figure out what to have in mind when buying a rice cooker.
The Rundown
4 Best 2-Cup Rice Cookers
Best Of Best 2 Cup Rice Cooker
AmazonBasics Two Cup Rice Cooker
One-Touch Operation
This simple rice cooker can be used for cooking and keeping the rice warm all with one touch of a lever. Besides the lever, the cooker also features indicator lights for cooking and warming modes. Inside the cooker, the non-stick bowl is removable for serving and easy cleaning.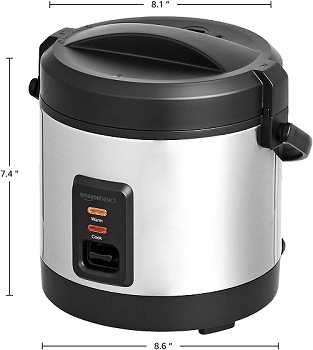 Ready For Serving
The cooker can prepare 4 cups of cooked rice from 2 cups of raw rice. Once cooking is done, the unit maintains the optimal serving temperature with the keep-warm function. To make serving as easy as possible, remove the bowl from the unit and use the included rice spatula to serve rice.
Compact Design
This rice cooker comes in a compact size, measuring 8.62 by 7.36 by 8.11 inches. With the small size and the small capacity, it is ideal for small households and can even be used as a personal rice cooker. It will easily be stored away when not in use.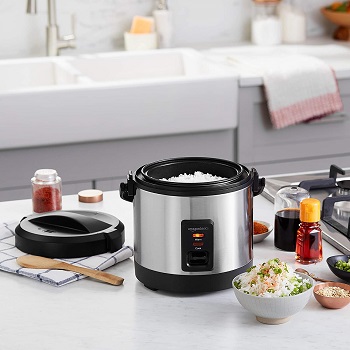 For Singles & Couples
A measuring cup is included along with the spatula. It is to be used for setting adequate water to rice ratio. Thanks to its easy use, it can become your everyday kitchen appliance, preparing fluffy rice to serve with many different dishes. The 2-cup rice cooker is ideal for singles and couples.
Short Description:
one-touch operation for simple use
removable non-stick bowl for cooking
2 cups of raw, 4 cups of cooked rice
small size for small households
keeps rice warm until serving time
Best Stainless Steel Rice Cooker 2 Cups
Aroma Rice Cooker ARC-753SG
Free Of Coatings
This Aroma 2-cup rice cooker has a maximum capacity of 6 cups of cooked rice. Inside the unit, there is a 304 stainless steel inner pot free of any non-stick and chemical coatings. It is easy to use by simply pouring in the rice and water and turning on the lever switch.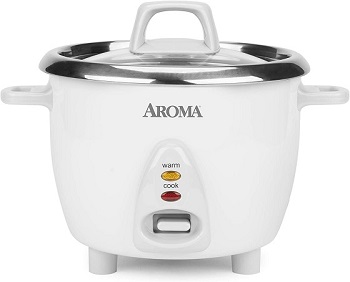 Versatile Use
The 2-cup stainless steel rice cooker is durable for long-lasting use and also allows you to wash the inner pot in the dishwasher. Apart from rice, you can use it to cook also soups, pasta, omelets, oatmeal, and more. As it is free of toxic chemicals, you don't have to worry about health.
Automatic Detector
This rice cooker without Teflon features a rice spatula and a measuring cup, as well as side handles for easy carrying. The single lever makes it easy to operate, without complicated functions and buttons. It automatically cooks and detects when rice is thoroughly cooked.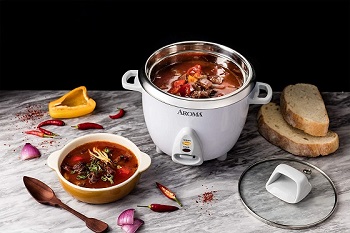 White & Brown Rice
After that, it shifts to the warming mode and keeps the rice ready for serving with your other food. You can use it to prepare white and brown rice. When not in use, it will be easy to store away as it is compact in size. The side handles will help with carrying and storage.
Short Description:
holds up to 6 cups of cooked rice
easy to use for preparing 2 cups of rice
it cooks rice, pasta, oatmeal, soups, etc
304 stainless steel inner cooking pot
free of non-stick coatings and chemicals
a rice spatula and measuring cup included
Best Mini 2 Cup Rice Cooker
Dash Small Rice Cooker
Quick & Easy
This small rice cooker 2 cup model is available to purchase in pink, black, aqua, white, and red colors. It has a 2-cup capacity, ideal for healthier portions or individual meals. It is very quick and easy to set up with a single push of a switch. It can cook rice, soups, quinoa, stews, pasta, or even steam vegetables.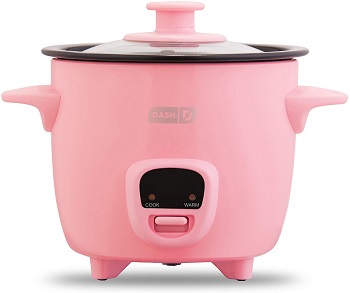 For Small Spaces
As it comes in a small size, the Dash 2-cup rice cooker is ideal for small spaces, such as kitchenettes in studio apartments, dorm rooms, RVs, or campers. After cooking, it will keep the rice warm until you serve it. Cooking is also quick, taking just about 20 minutes.
Recipes Included
The pot for cooking is non-stick coated for hassle-free cleaning. To use the cooker to its full potential, you will also get a recipe book along with the Dash 2-cup mini rice cooker. A paddle for mixing rice and a cup for measuring rice are also included.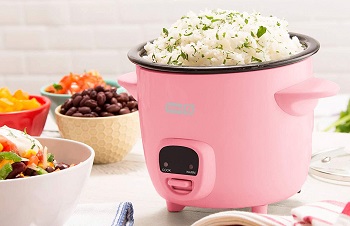 Variety Of Dishes
This cute rice cooker that comes in different colors allows you to choose the one that best fits your style and your space. The side handles stay cool to the touch for easy carrying and storage. Inside the cooker, you can make a variety of dishes, including rice pudding and mac and cheese.
Short Description:
comes in a palette of colors
easy to set up with one push
it cooks rice, soup, pasta, etc
ideal for use in small spaces
it cooks quickly in 20 minutes
2-cup capacity for individual meals
easy-to-clean non-stick pot
Best Travel Rice Cooker 2 Cups
TLOG Rice Cooker Multicooker
Digital Cooking Programs
This travel rice cooker has a capacity of 2 cups of uncooked rice and comes in a portable size with a carrying handle. It features digital buttons, offering cooking programs for rice, brown rice, soup or congee, and yogurt. For extra flexible use, while traveling, you can preset the cooking program for up to 12 hours.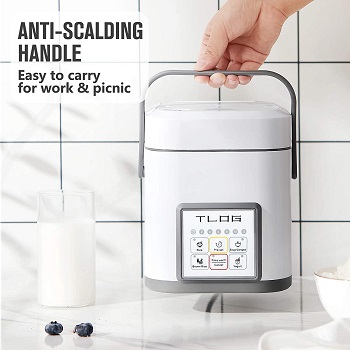 Quick & Foolproof Use
With 6 preprogrammed functions that are activated with a single push of a button, this rice cooker 2 cup model is very easy and quick to use. It can be used on the go, in the office, at work, and ideal for singles, couples, and small households.
Where To Use?
The ergonomic handle on the unit is comfortable for transport, allowing you to take it along to the dorm room, camper, RV, etc. Its mini size with a lightweight design is great for use in small spaces. The cooker comes with accessories for foolproof use – a measuring cup and a rice spatula.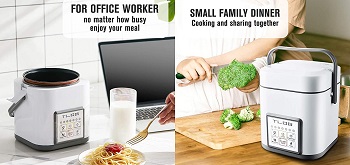 Non-Stick Pot 
The cooking bowl has a non-stick coating that makes cleaning a breeze. After cooking, the 2 cup rice cooker will keep the rice warm thanks to the automatic keep-warm mode. The handy appliance makes it easy to cook various meals and can even delay the cooking start according to your needs.
Short Description:
the capacity of 2 cups of uncooked rice
features 6 easy to use cooking programs
ideal for use on the go, in smaller spaces
lightweight design with an ergonomic handle
white, brown, soup/congee, yogurt options
What To Consider In Rice Cooker 2 Cups Models?
When looking for the best 2-cup rice cooker, keeping a few things in mind could help you. Firstly, consider the capacity of such a rice cooker and what it can be used for. Secondly, look at the cooking options it offers you. Likewise, make sure it is easy to use, without complicated setups. Finally, also read about additional features that make the best rice cookers with a 2-cup capacity.
The Capacity – The capacity of 2 cups of rice usually means that the cooker is small in size and ideal for smaller households. It can usually cook up to 4 cups of rice to feed singles, couples, and small families. A rice cooker for two persons also helps smaller households not to waste any food.
What To Use It For? – Apart from use in smaller households, rice cooker 2 cups models can also be used on the go thanks to their compact size. When traveling, such an appliance will become a portable rice cooker that you can take along with you in the camper, RV, or even use in dorm rooms. It is also great for studio apartments.
Cooking Options – A rice cooker usually goes well beyond just cooking rice. It offers possibilities for preparing soups, stews, pasta, oatmeal, and more. Besides that, some cookers also offer steaming and keep-warm functions. That way, you can steam and cook at the same time, and then keep the rice warm once cooking is done.
Ease Of Use – For foolproof use, look for models that don't have complicated functions and setups. That way, setting up the cooking cycle will be done easily and quickly. Without wasting any time, you will be able to enjoy rice and other food anytime you like.
What Else? – To be able to steam foods, a rice cooker will need to have a steam basket included. For quick and easy cleanup, a non-stick cooking pot is also useful. To make the operation and setup of a cooking cycle as easy as possible, you will also get a measuring cup and a rice paddle included with the cooker.
To Wrap It Up
To sum up, for our top pick we have chosen the AmazonBasiscs rice cooker 2 cups model. Its size is ideal for smaller households, making 4 cups of cooked rice from 2 cups of raw rice. It is operated easily and quickly with just one touch of a lever. If you are interested in other compact models, consider some of the healthy choices among stainless steel rice cooker 3 cup models. In case you are a fan of Japanese manufacturers, consider some of the small Japanese rice cookers.