Have you been trying to find the best vacuum sealer on the market that fits your needs and provides amazing performance?
Then my post might help you with your search!
All models I reviewed below are top-rated in their category and ensure great sealing results. Check them out, compare their designs, features, and prices, and choose the one you like the best.
The Rundown
What Is A Food Vacuum Sealer?
That is a kitchen machine that removes the air from either a plastic bag or another storage container with food in it. It then seals the bag/container to prevent any air from coming in. With that action, a food sealer keeps it fresh.
What Food Can Be Vacuum-Sealed?
Almost any type of food. That includes dehydrated fruit, trail mix, cereal, rice, pasta, herb and spices, vegetables, meat, fish, baby food, bread, chips, coffee beans, cookies, deli meat, oats, and more.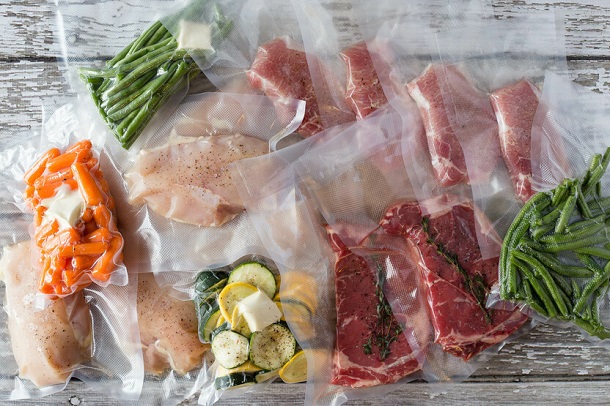 What Food Can't Be Preserved This Way?
There are a couple of food items that you can't vacuum seal. That includes raw onions and garlic, raw Crufigerae and Brassicaceae vegetables such as cabbage, broccoli, kale, cauliflower, arugula, radishes, and bok choy. You also can't vacuum seal soft cheeses, raw mushrooms, bananas, and whole apples.
Is There Other Way To Preserve Those Food Items?
Yes. You can actually vacuum seal them, but you just need to properly prepare them for that operation. The Crufigerae and Brassicaceae vegetables should first be blanched and then vacuum sealed, while whole fruits should be sliced. Mushrooms can be vacuum sealed if they are cooked, while bananas need to be frozen first. Garlic and onion can't be vacuum sealed, but that's a good thing. When they are sealed, they actually spoil faster.
Can I Seal Liquid?
Yes, you can. You can seal wet food, marinades, sauces, soups, and other liquids. For those food, you can use bags as usual, but it's more practical to store them in canisters or jars using a pump sealer.
What Can Be Vacuum Sealed: Storage Options
For vacuum-sealing food and liquids, you can use different storage items.
Vacuum sealing bags are most often used for preserving food this way. They come in many different sizes and thicknesses so you can choose the one that is most suitable for your sealing machine, as well as for the food you want to seal. The most reliable brands of vacuum sealing bags are Avid Armor, Simple Houseware, FoodSaver, and FoodVac. The vacuum sealing bags are made from strong plastic.
Canisters for vacuum sealing are specially designed with an air valve on their top lid. They are made from plastic or glass, and they come in different sizes. Some of the models are designed to be freezer safe.
Glass bottles that contain liquids can also be vacuum-sealed, no matter the bottle.
Mason jars are great for preserving food. They are quite similar to the canisters as they too come with an air valve lid.

Can I Use Any Storage Item?
No. Bags must be specially designed and suitable for vacuum sealing, while canisters and mason jars need to have a lid with an air valve. On the other hand, any type of glass bottle can be safely vacuum sealed.
How Long Will Vacuum Sealed Food Last?
This depends on the food type you seal, however, some of the food items that are vacuum sealed and then frozen can last between 2 and 3 years. For comparison, if the food is frozen without a vacuum seal, it can last up to 12 months only.
Is A Vacuum Sealer The Same As The Heat Sealer?
No, these are actually different appliances. A heat sealer doesn't vacuum seal the food, it just uses the heat to seal the plastic bag or potato chip bag. It can be quite handy when you just want to keep your snacks fresh for a couple of days, but the preservation time can't compare to the preservation and freshness that the vacuum sealing machine provides.
Commercial vs. Home Usage
Vacuum sealing machines are great kitchen appliances for both home and professional use. Commercial sealing models have a more industrial design. They have heavy-duty units made from stainless steel in order to be able to withstand hours of continuous use. On the other hand, home sealing models are more aesthetically designed. They are smaller in size and usually made from plastic. In the terms of efficiency, both commercial and home food sealers will meet your expectations.
Price Range
Sealers for households are a bit cheaper than commercial ones. Most of them are priced between $5 and $500, depending on the model and the power source. Commercial sealers are usually priced anywhere between $60 and $800. Some are priced even more, depending on the model and brand.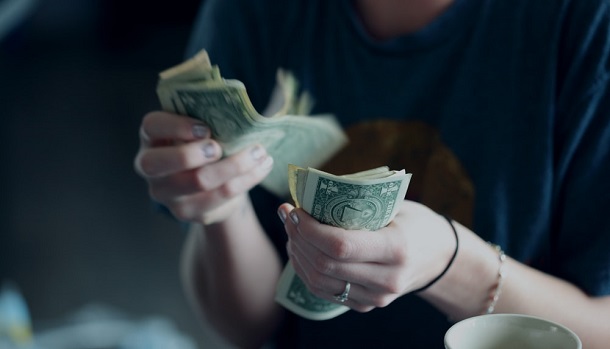 Where To Buy?
You can find versatile food sealer machines in your nearby kitchen appliance store or homeware shop. You can also purchase them from online retailers such as Amazon, eBay, Walmart, and Home Depot.
Reliable Brands
There are many brands you can turn to. Some of the best ones for home usage are FoodSaver and NutriChef, while for commercial use, the two brands that stand out are Waring and Weston.
Why Should I Vacuum Seal My Food?
There are many benefits of preserving food this way. To name a few, it keeps food fresh, healthy, and safe. Here are more details.
Preserves Food
Vacuum sealed food is preserved thanks to the prevention of the growth of mold and bacteria. As the vacuum deprives the food of oxygen, mold and bacteria can't grow.
Extends Shelf Life
A vacuum seal extends the shelf life of the food and it can be preserved 3 to 5 times longer than food that is stored in classic bags or plastic containers. The final preservation time depends on the storage of vacuum-sealed food – refrigerator, freezer, or pantry. If it is placed in the freezer, you can expect maximum preservation time.
Food Lasts Longer
Speaking of extended food life, frozen vacuum-sealed food can last up to 2 to 3 years. If it is stored in other ways, it usually lasts between 6 and 12 months. In the refrigerator, food will last for 2 weeks which is again much longer than the typical 3 days the food lasts when it is just placed in a refrigerator without sealing.
Great Food Organization
You can easily organize your freezer as the vacuum-sealed food saves you a lot of space. You can also label each bag to organize it even better. If you use mason jars for vacuum sealing operation, your pantry will have a beautiful aesthetic organization system.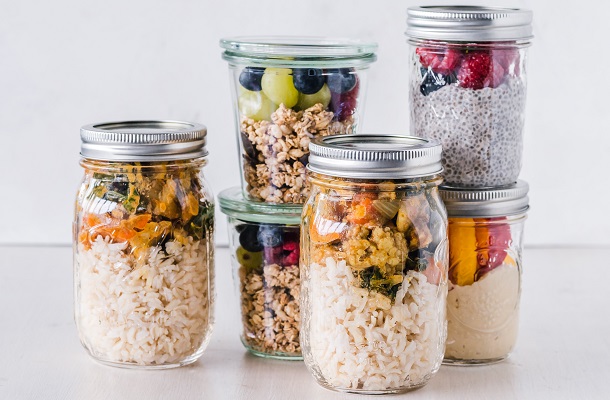 No Freezer Burn
Since vacuum sealing provides an air-tight environment for food, it prevents the crystals that cause freezer burn from forming on the food.
Keep Food Fresh
When vacuum sealed, the food keeps its fats, it doesn't change color, and it doesn't go slim or bad. It can be fresh for months, some food items even for years.
Food Tastes Even Better
Vacuum-sealed food keeps its juices, moisture, and flavors, you won't even notice the difference in the taste.
Store Liquids
Prepare marinades, sauces, or soups, vacuum seal them, and preserve them for the upcoming weeks and months. When you need something, take it out from the freezer and simply use it.
Reseal Chips, Cookies, Snacks
Yes, you can vacuum seal and reseal different types of snacks too. For example, chips can go bad really fast once you open them. Now, you can eat it as much as you want, then vacuum seal it and keep it fresh for the next time. The same goes for other snack items and cookies. Plus, cookies can be stored in the freezer too, once they are vacuum-sealed.
You Can Vacuum Seal Cookie Dough Too
Besides the cookies, you can vacuum seal the dough too, and then use it when you need it. This is a great option for festivities and holidays. You can prepare the dough in advance to save time when those days come.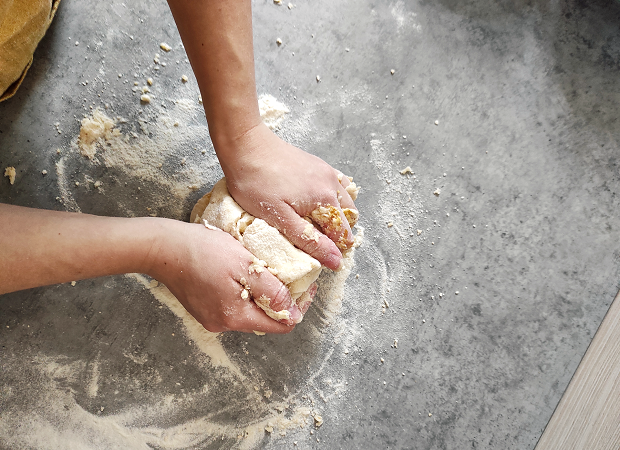 Time-Saving
You can seal family-sized portions of meat or individual portions of vegetables or snacks. Then, you can freeze them and when it's time to eat, fix the portions you need, and you're done! This will save you a lot of time on preparation.
Save Money Too
Instead of letting your food go bad by accident, now you can preserve it and use it only when you need to. This can save you hundreds of dollars on a monthly basis.
Model Options: Electric, Battery, Manual
Vacuum food sealers are divided by their power sources. Due to that, you can choose 3 different options, electric, battery, and manual. Here are the details on each of the power source and model options.
Electric Model
These is the most popular type to go with. There are 2 model options and here is the info.
External are classic models with flat heat wire. They are great for vacuum-sealing solid and wet food items but aren't suitable for liquids. External machines are also known as countertop sealers. They can feature a seal bar that is big between 8 and 16 inches.
Chamber are bigger machines with a chamber instead of a flat heat wire. This model is often used for commercial purposes too. The chamber sealer is great for solid and wet food items, as well as for liquids.
Battery Powered Sealers
These sealing models are rechargeable so they can be used anywhere. Here are the details of different models.
Handheld automatic devices are mini in size. They feature an automatic vacuum sealing operation and need to be pressed to the air valve on the bag, canister, or bottle. These handheld models are portable and can feature a unit that is big about 5 inches.
Wine sealers are specially designed devices with automatic operation for sealing wine bottles. They usually feature a stopper too. Some models even have smart features and can show the temperature and other sealing details.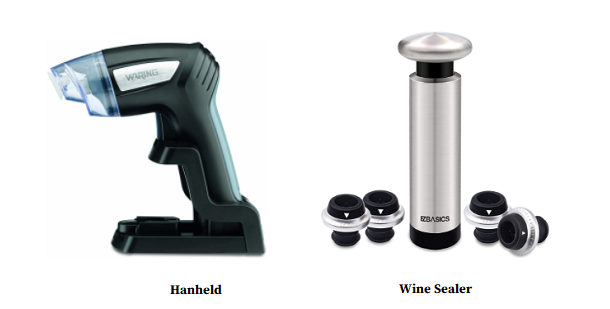 Manual Sealers
These vacuum sealing models require a bit of your input. Some are semi-manual while others completely depend on your strength and input.
The T-rod pump is a completely manual model. It comes with a T-rod that you need to pump in order to vacuum seal all the air out of the bag or canister. This is a really small sealer that is between 4 and 12 inches big.
An extracting tube is a semi-manual option. This is basically just a tube that needs to be connected to a standard sealer on one side and a bag, canister, jar, or bottle on the other side. It can be quite handy for vacuum-sealing different items.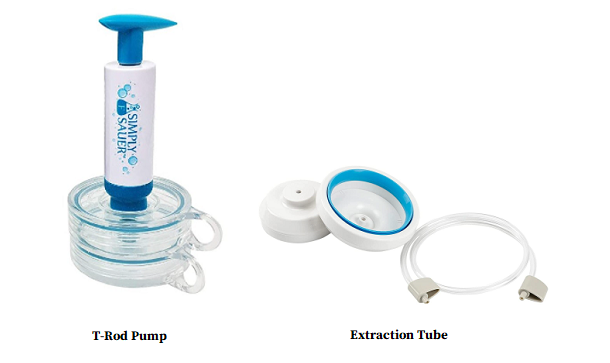 What To Look For In Vacuum Sealing Machine?
You need to check out some of its specs and functions which will make a seal durable and efficient. Here are the most important features you need to check before you buy.
Strong Construction
Most often, food sealers are made from plastic or stainless steel. Now, steel is surely the best material on the market. It is strong, durable, and resistant to almost everything so the steel models are the most preferred ones. However, plastic is a relatively strong and durable material too. Some of the materials you may also encounter are aluminum, iron, and silicone.
Handhold Sealer: Ergonomic Design
In case you want to go for a mini sealer, make sure it comes with an ergonomic design. It needs to fit into the palm of your hand and be comfortable for use.
Powerful Performance: Hg & Watts
In order to be efficient, a vacuum sealing model needs to have strong suction power. This, of course, refers only to electric models.
Vacuum strength in vacuuming sealer ranges from 22'' Hg to 29'' Hg. The strength around 25'' Hg is ideal.
In the terms of wattage power, sealers can have between 100 and 1000 Watts. That range is quite big and it provides impeccable efficiency.
Durable Motor
Power isn't the only thing that provides great performance. Make sure to check out the motor in the sealer as it needs to be fan-cooled. That way you can use it continuously for several hours without overheating it.
Multiple Sealing Modes
Electric sealers come with multiple sealing modes. Here are the details on the modes that can most often be found in these kitchen appliances.
Dry sealing mode is a default mode suitable for vacuum sealing dry food items.
Moist sealing mode is suitable for sealing food that has liquid or moisture.
Pulse sealing mode ensures optimal control of air removal which prevents crushing of delicate items like pastries, cut produce, and potato chips.
Canister sealing mode is an additional mode that is designed for vacuum sealing the canister. In that case, a sealer has a plug for the extractor tube which you connect to the sealer and canister.
Smart Technology
Some of these food sealers come with smart detectors that can detect moisture inside the bags you're trying to seal. They can have many other smart features such as touch displays, sealing timers, and more.
Built-In Indicator Light
This feature will let you know at what stage is the sealing process. Quite a convenient little feature!
Noise Range
You can't really count on finding a quiet machine. Most of them feature a noise level between 70 and 83 decibels, and that is as loud as a vacuum cleaner.
Additional Accessories
A lot of vacuum sealing machines come with some additional accessories. That can be a bag roll, pre-cut sealing bags, an additional vacuuming hose, canisters and containers, wine stoppers, and more, depending on the model you go with.
Safety Certificates
Certificates are especially important for commercial models as they ensure the safety of the machines in professional environments. Some of the certificates can be ETL and UL.
21 Best Food Vacuum Sealers
AXL Extractor Pump
Simple Performance
This jar sealer is very easy to use. Firstly you need to fill up your jars using whichever ingredients you want to preserve. Once full, place the included jar lids atop the jar and screw them on. Finally, use the sealing pump to extract any excess air from the jars.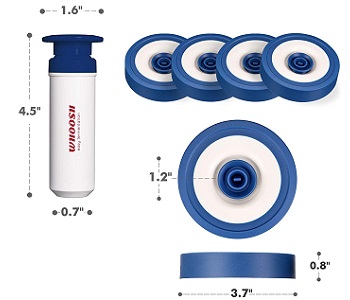 Efficient Results
The important thing about this sealer is that it provides efficient, and very quick results. You will know that an air-tight seal has been made once you feel some resistance coming from the pump.
NutriChef PKVS50STS Vacuum Sealer
User-Friendly Control Panel
The great thing about this commercial sealer is that it comes with a user-friendly control panel with multiple settings. It allows you to adjust the machine's performance with a simple touch of a button. Since it is top-mounted, you won't have any trouble accessing it.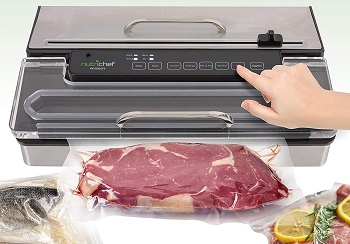 High Suction Power
No need to worry wheter this model can create a powerful seal. It comes with a powerful 400 W suction element that creates a 9bar vacuum seal pressure. Additionally, it allows you to control the suction power to ensure that you can seal versatile ingredients.
Fresh World Vacuum Sealer
Different Modes
This vacuum sealing machine provides you with 2 different operating modes. Due to this feature, you can use it to seal both dry and moist foods. You can even adjust its vacuuming strength according to the food you are sealing.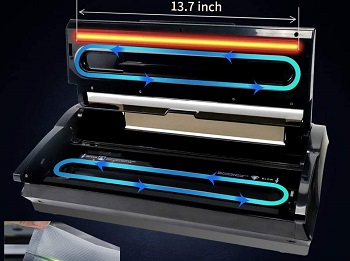 Vacuum & Inflation Mode
Not only does this model provide powerful vacuuming performance, but it also provides a convenient inflation mode. You can use it to seal cookies, potato chips, etc. If you want to switch between the two options simply turn the direction of the included drip tray.
Metronic 8541949845 Impulse Sealer
Heat Sealer
As opposed to the previously reviewed model, this impulse plastic bag sealer is only a heat sealer. It does not create a vacuuming effect inside the bag.  However, it is still very easy to use and provides great sealing results.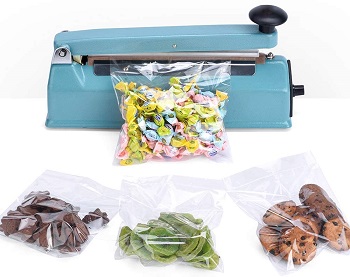 Temperature Control
The best thing about this impulse sealer is that it comes with a convenient temperature regulator that allows you to control its sealing temperature. Most importantly, it does not require any time to heat up. Plug it in, adjust its temperature level, and in a second it will be ready for use.
Waring Pro PVS1000 Pistol Vac
Convenient Design
This handheld sealer features a highly convenient design. It comes in the shape of a pistol and fits perfectly into your hands. It is specially designed for professional use, however, you can use it in a domestic environment as well.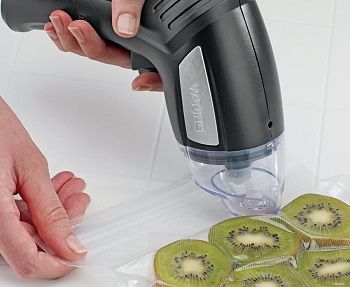 Powerful Battery
Another thing you should keep in mind is that this vacuum sealing model comes with every powerful NiMH battery. It is completely rechargeable so you never have to worry about replacing it.
Baiwka Mini Vacuum Sealer
ABS Design
This mini sealing machine features a high-quality aviation-grade metal ABS design. It offers a skin-friendly texture that makes it much more comfortable to handle.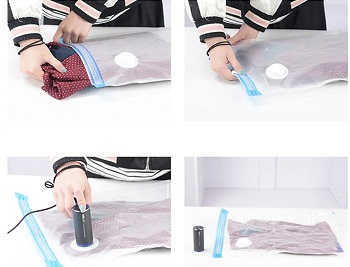 Rechargeable Battery
This is another mini bag sealer that comes with a battery you can easily recharge using a USB charger. This also makes it highly convenient for travel. You can easily recharge it inside your car or even while hiking using a power bank.
Samiadat Vacuum Sealer
Convenient Size
Due to its somewhat smaller size, this model is a great choice for those looking for a machine they can easily transport around when needed. It takes up very little counter space, and most importantly, requires very little storage space.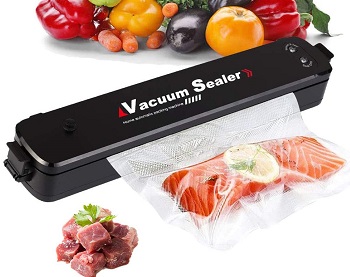 Dual Pump System
The best thing about this portable model is that it comes with a powerful dual pump system. As a result, it provides a suction strength of up to 60 Kpa and creates a waterproof, air-tight seal.
NutriChef PKVS18BK Vacuum Sealer
Simple Design
As opposed to the previous NutriChef model, which is perfect for professional use, this sealer is made for use in a domestic environment. To use it properly simply plug it into a power source and set the desired operating mode.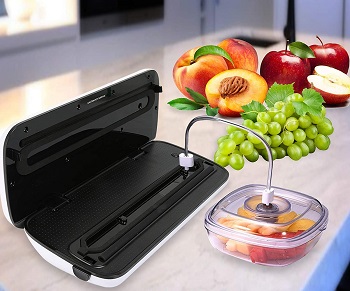 Complete Kit
This home vacuum machine comes with a complete starter kit. The package includes a suction hose you can use on containers and jars, a wine stopper cork, five pre-cut bags, and a large bag roll you can customize to your needs.
Entrige Vacuum Sealer
Seal & Vacuum Seal
This is another model that provides you with both seal and vacuum seal functions. To seal a bag it only needs about 6 to 10seconds. However, to vacuum seal a bag, it needs about 10 to 20 seconds.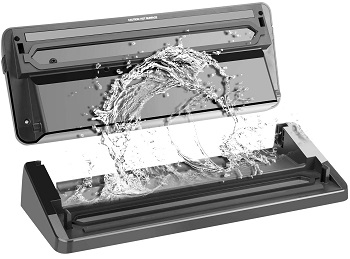 Safe To Use
No need to worry wheter this model is safe for use or not. It comes with CE, ETL, and ISO certificates. Additionally, each model has been tested by EU RoHS and REACH dual tests and approved to meet all requirements.
FoodSaver V4840 Vacuum Sealer
Smart Technology
The best thing about this wet food vacuum model is that it comes with smart moisture detection technology. Once it detects moisture inside a bag, it will automatically switch to a proper sealing mode and create an air-tight waterproof seal.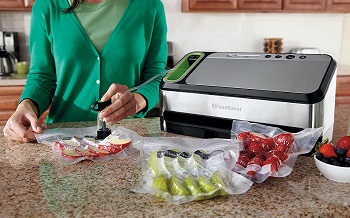 Handheld Sealer
This sealer comes with an additional retractable handheld sealer. It is highly convenient for use on mason jars, glass containers, etc. It creates just as powerful a vacuum seal as does the machine so you can count on amazing results.
Weston Pro 65-0201 Vacuum Sealer
Operating Modes
The best thing about this 15-inch big sealer is that it provides you with both automatic and manual operating modes. Its double piston pump creates a high 28″HG vacuum strength and ensures a powerful and waterproof seal.
Large Sealing Bar
Because of its large sealing bar, this model can easily seal vacuum bags that are up to 15-inches wide. Its top transparent acrylic lid makes aligning the bag a much simpler process. The best thing is that its motor is fan-cooled, As a result, the sealer will provide you with much more lasting performance.
VMSTR Handheld Vacuum Sealer
Versatile Use
Due to its small lightweight design, this sealer is very easy to use. The best thing is that you can use it on vacuum bags, containers, glass jars, wine bottles, etc. Either way, you can be sure that it will provide you with great performance.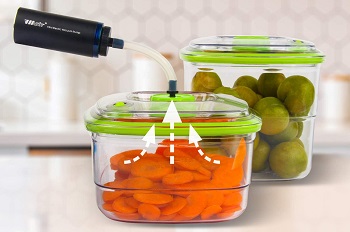 Low Noise
This is another model that provides fully automatic performance and is battery-operated. However, it creates very little noise, meaning, you will be able to enjoy a very peaceful kitchen environment.
ColorGo Rechargeable Sealer
Operating Modes
This sealer provides you with multiple sealing modes. It also comes with a sealer and a bag opener. To switch between the two modes simply use the small rotating knob on the machine's bottom side.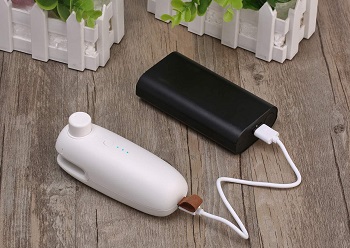 Safe Design
You can be sure that this model is perfectly safe to use. Both the heating bar and the bag cutter are covered to ensure that you don't accidentally harm your hand while using the machine. It also has a safety lock and an additional patented clutch switch.
TRANZOR Automatic Compression Pump
Simple Performance
This is another handheld model that provides a very powerful but at the same time simple performance. Everything you need to do is place the sealer's nozzle over the bag's air valve and turn it on. In a few seconds, you will get perfectly sealed bags you can keep in a refrigerator or store inside your freezer.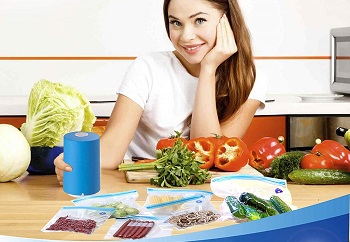 Bag Compatibility
Keep in mind that this sealer is compatible only with the vacuuming bags that come included in the package. They are completely BPA-free and safe for use with food.
Anova Culinary ANVS01-US00 Vacuum Sealer
Convenient Size
This vacuum sealing model comes in a somewhat smaller and very convenient size. The best thing is that it requires very little storage space. You will be able to keep it inside your kitchen drawers.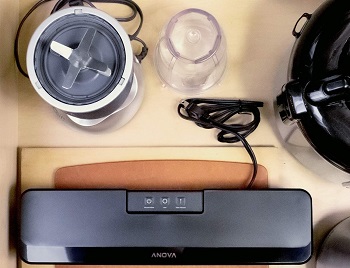 Versatile Modes
Another thing worth mentioning is that this machine also provides versatile sealing modes. You can choose from seal only, vacuum seal, and pulse vacuum program. Each one will provide you with amazing performance and ensure that you can store versatile ingredients including delicate ones.
TINVOO VS960S Vacuum Sealer
Adjustable Timer
Amongst the variety of amazing features this model provides, it also offers an adjustable timer. The best thing is that you can control both vacuuming and sealing time. To make the adjustments, simply use the "+" and the "-" button.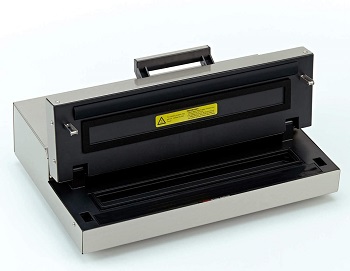 Complete Kit
Note that this large model comes with a complete kit that includes versatile accessories that will get you started. The package offers an accessory vacuum hose you can use on canisters, jars, and bottles, five gallons 11″x 16″ bags, and five-quart 8″x 12″ bags.
Amyhome Vacuum Sealer Pump
Quick Performance
This sealer provides vers simple, quick, and efficient performance. Simply place its nozzle over the bag's air valve and pull on the pump's T-shaped rod a few times.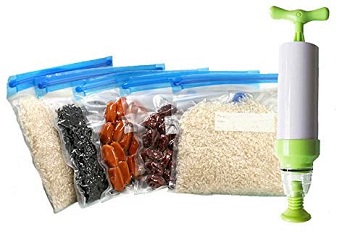 Washable Bags
All vacuum bags that are included in the package are washable and re-usable. Most importantly, they are completely BPA-free and safe for use with food. They feature small labels you can fill up with information about the ingredients, dates, etc.
Bonsenkitchen VS3801 Vacuum Sealer
Bag Cutter & Storage System
The best thing about this model is that it comes with a built-in bag cutter. It allows you to easily make custom-size bags for your ingredients. Its storage system is specially designed to ensure that you have convenient space for the bag roll.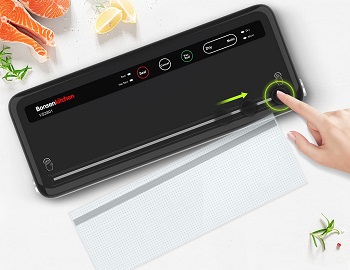 Machine's Compatibility
Keep in mind that this sealing machine is compatible for use with both bags with folded sides and textured vacuum sealing bags. If you use it with bags that have no lines or folded sides you won't be able to use the vacuuming function, only sealing.
FoodSaver V3835 Vacuum Sealer
Vertical Construction
This is another FoodSaver bag sealer. As opposed to the previously reviewed two, this one features a convenient vertical design. It is very space-saving and easy to move when needed.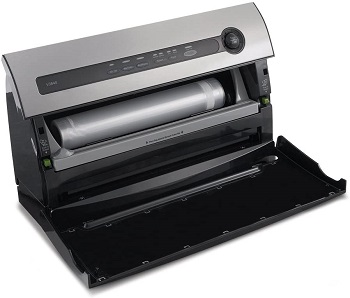 Multiple Controls
Another thing worth mentioning is that this model comes with multiple controls that allow you to adjust its performance according to your needs. You can even adjust the speed of its vacuuming process. Its crash-free technology is specially designed to help you store more delicate ingredients.
LEM MaxVac 500 Vacuum Sealer
Powerful Performance
This is another professional-grade model that provides very powerful and efficient performance. It can work up to 5 hours continuously and create about 450 consecutive seals. Its 14-inch sealing bar provides you with the option of sealing larger bags too.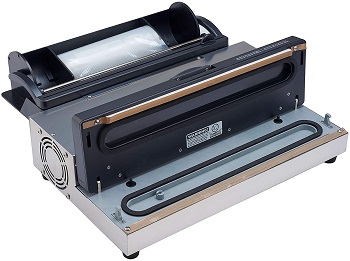 Automatic Shut-Off
The best thing about this heavy-duty unit is that it comes with an automatic shut-off program. It is specially designed to turn off the machine once a perfect seal is reached.
LinsnField PFS-300 Heat Sealer
High-Quality Design
This model also features a high-quality design. It is made out of hard aluminum material with high resistance to exterior damages.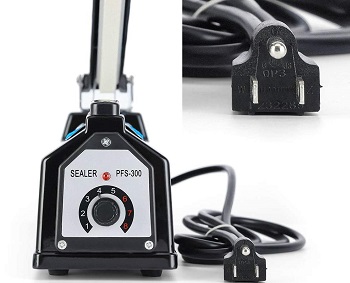 Material Compatibility
This heat sealing model is compatible with versatile materials including cellophane, foil, P.V.A., mylar, polyester, and other heat sealable materials. It also provides versatile sealing modes and simple temperature control that allows you to make a perfect seal with every use.
How To Use, Based On The Model
There are a lot of vacuum sealing models you can choose from and almost each of them comes with individual usage instructions. Here are the most important details you need to know.
External & Chamber
These electric models have similar usage.
Place your desired food into the vacuum sealing bag.
If you have an external sealer, place the opening of the bag on the flat wire and close the lid. Choose the sealing mode and that's it. It takes a couple of seconds to vacuum seal the bag.
If you have a chamber sealer, you just need to place the entire bag in the chamber, close the lid, and choose the operation mode.
Battery Powered, Manual & Pumping Sealers
All these models use pretty much the same sealing operation. They all need to be connected to the air valve on the bag, canister, or mason jar in order to evacuate all the air. Battery-powered models are automatic and once you connect them, just press the sealing start, and that's it. The manual model, once it is connected, needs to be pumped to suck out all the air. On the other hand, pumps and tubes just need to be connected to the compatible sealer and bag, canister, jar, or bottle, and then you choose the sealing mode on the sealer.
How To Clean & Maintain A Vacuum Sealing Machine?
Cleaning the vacuum sealing appliance is pretty easy. Here are the general steps, however, make sure to check the official manual.
Use water, anti-bacterial soap, and cloth to clean the appliance.
Clean slowly, don't soak the cloth too much in the water.
Wipe the unit but make sure to not go near the electric plug of the sealer or the buttons.
Once you clean the sealer, take a dry cloth and gently dry the entire unit.
A manual handheld sealer can be washed under running water. The same goes for the extraction tubes.
Frequently Asked Questions
Here are the answers to all of your questions about vacuum food sealers.
Do I Need To Freeze Food Before Vacuum Sealing?
No, for most food items, you don't need to freeze them before vacuum sealing. Unless we're talking about some specific items such as bananas. Also, you can freeze cookie dough divided into pieces before vacuum sealing just so you make sure they won't stick to each other.
Are Vacuum Seal Bags Safe?
Yes, they are. Just be sure that when you're buying them, they are marked with a BPA-free label.
Can I Just Use Ziploc Bags Instead Of Vacuum Sealer?
You can but they won't preserve food for as long as a vacuum sealing machine will. Vacuum sealing the food is the safest and best way to preserve food long term.
Can I Reuse Vacuum Seal Bags?
Yes. Most bags just need to be rinsed and you can reuse them. However, if you vacuum-sealed meat, don't use that bag more than once. For all other food items, you can reuse their vacuum sealing bags.
Can I Microwave Vacuum Sealed Food?
That depends on the type of bag you use, but most of them are microwave safe. You just need to be careful if you want to microwave sealed liquids as they can get very hot and cause burns.
Can I Place Vacuum Sealing Canister Into The Freezer?
That depends on the type of canister you use, however, most of them are designed to be freezer and microwave safe.