With 689 million monthly active users worldwide, TikTok is surely one of the most popular social media. So it isn't hard to conclude that it has a massive influence on its users, as well as on consumerism. Firstly, TikTok is a home for music trends and artists, and secondly, it is a place for inspiration. Especially when it comes to basic and simple cooking skills.
With that much of an impact, no wonder people turn to it not only for fun but also for educational purposes. 30% of people we talked to, said they watch cooking videos in order to learn something new, while 11% of them said – we're bored, those videos aren't.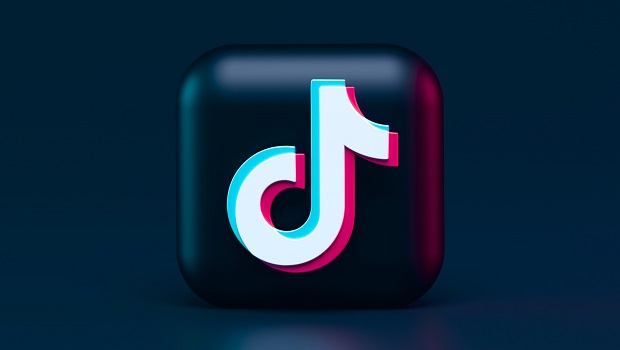 Now, whether you're bored or not, and whether you want or don't, TikTok will teach you some new tips and tricks – at least that's what over 65% of our polled people said.
Key Info About The Study – Generations X, Y, Z & More
In order to learn about the influence TikTok had on people's cooking habits, we talked to 100 people from all around the globe. Their main interests are closely related to our field of research which makes them suitable to be a part of the study. Besides, they are daily users of TikTok and due to that, the best participants.
In our study, the participants identify themselves as:
The age generations follow:
15 to 21 (10%)
22 to 29 (66%)
30 to 39 (16%)
40 to 49 (4%)
50 and older (4%)
Regarding the mentioned data, it is interesting to see that not only younger people use TikTok but also other generations – 4% of our respondents have 40 to 49 years, while another 4% of them have 50 years or more.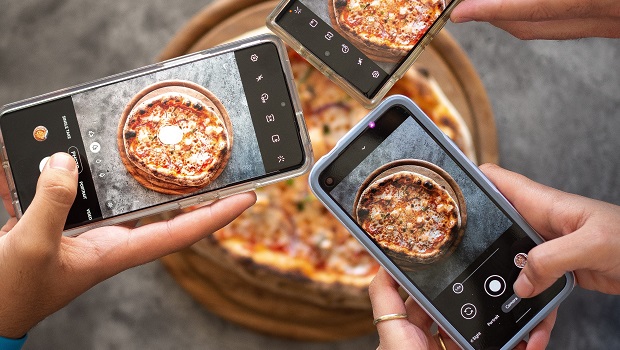 No matter if we're talking about generation X, Y, Z, or some other classification, the thing is that TikTok has conquered the world. But what about its influence on people's cooking habits?
The results on that question might surprise you. Here are interesting facts we gathered from our 1-week long research!
Influence In Less Than 30 Minutes
Despite its great popularity, 61% of people said they watch TikTok videos for less than 30 minutes on a daily basis. 24% of them watch videos for up to 60 minutes, 9% up to 2 hours, while 6% can enjoy TikTok and its influence for more than 2 hours.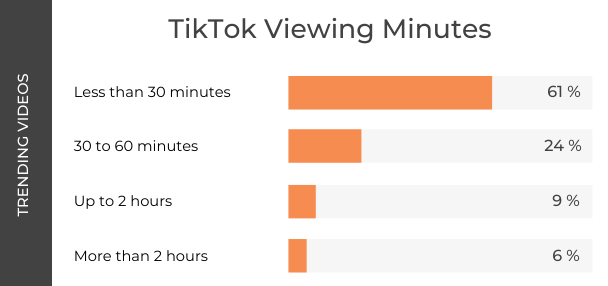 30% Of Education & 29% Of Aesthetic
Cooking videos are among everyone's favorite ones on TikTok. However, there is almost a tie between wanting to learn something and just enjoy watching the video.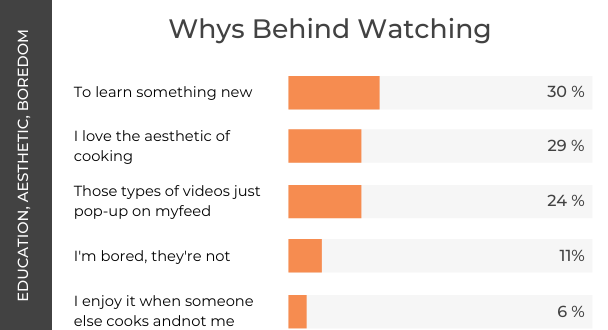 Only 30% of people watch such videos so they can learn something new, while 29% of them simply love the aesthetic of cooking. 24% of our polled TikTok watchers don't look for cooking videos, but they watch them because they just pop-up on their feed. 11% of watchers are simply bored – and cooking videos aren't. It is fun to see how 6% of our respondents enjoy watching how someone else cooks. With an emphasis on the fact that it's not them that cook. I guess it's Netflix and chill!
It's (Almost) A Tie – To Cook Or Not To Cook
Cooking videos are there on TikTok – whether we like it or not. And 51% of our respondents watch such content with an actual intent to cook. 49% of them don't share the same desire.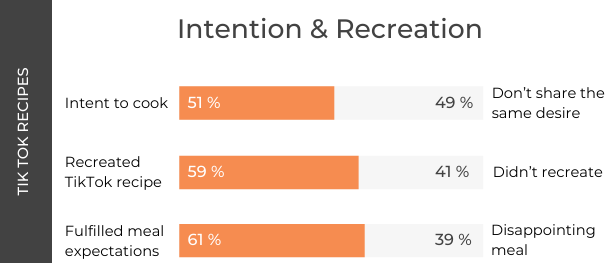 With intent or not, TikTok influences our minds. Due to that, 59% of our respondents tried to recreate some recipes they saw on this platform. Needless to say, 61% of them said that the recipe fulfilled their expectations, while 39% of them were left disappointed.
Mirror, Mirror On The Wall, How Come TikTok Recipes Are So Delicious?
TikTok cooking videos have some high expectations to fulfill – if you wish to be famous and popular, you actually need to prepare delicious food, not only something to meet the content quota. Well, only 37% of our respondents think that TikTok recipes are actually really delicious.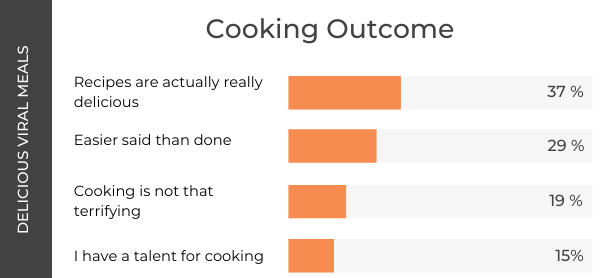 However, with 29% of positive answers, the second runner is basically – easier said than done. And that came as a big surprise! TikTok helped 19% of polled people to see that cooking is not that terrifying, while 15% of them have discovered a secret talent for cooking.
Educational? Yes – Healthier? For 51% Of People, Definitely
TikTok cooking videos are great for learning some new hacks around the kitchen – at least they are for 65% of our respondents.

Despite the fact that those types of videos bring simplicity into meal prepping, 49% of polled people said that TikTok hasn't inspired them to use healthier ingredients. But the number of 51% people who use ingredients which are beneficial to their diet and health, is quite satisfying.
Entertaining Platform Influenced Only 35% Of People & Their Cooking Habits
Even though there is no need to talk about the massive influence TikTok has on its audience and users, when it comes to cooking, there isn't much influence as we expected. 65% of our respondents said TikTok didn't influence them to start cooking more, while 54% of them said it didn't make them love cooking more either.

The numbers of 35% of people who started to cook more, as well as 46% of them who love to cook more thanks to TikTok, make us think about the platform's influence. But then again, those numbers are quite satisfying because TikTok still had that positive effect on a small number of our respondents.
TikTok Recipes vs Professional Chefs
The reason why people love to watch or recreate TikTok recipes is their easy-to-follow cooking steps.

57% of polled people think that such cooking videos are easier to follow than standard recipes. But not only that – 55% of them prefer to recreate TikTok recipes more than the ones from professional chefs. Maybe the problem with professional chefs is when they say – and now, it's time to use the ingredient that every kitchen needs to have – and then they pull out quail eggs.
Budget-Friendly Ingredients
When it comes to narrowing down all the good sides of preparing a TikTok meal, costs and money are certainly deal breakers. This is what our respondents said:

Simplicity, affordability, and easy-to-follow guides – TikTok certainly has some good points regarding its cooking videos and recipes!
Romance Is Still Intact By TikTok Cooking Influence
Now, to end the survey on the right note, we wanted to check if TikTok influenced the romance note – to be more specific, we wanted to see if people ever used a TikTok-inspired dish for a date night.
77% of our respondents said that they never recreated a TikTok dish for a date night, while a small number of them (23%) admitted that they have.

We all know how frustrating a meal prep for date night can be, so it was quite surprising to see that TikTok hasn't taken over the romance and that people still turn to standard recipe sources other than simple and affordable TikTok meals.
Final TikTok Thoughts
This relatively new social media has certainly influenced a great mass of people and their cooking habits. People are intrigued to learn new cooking tricks, as well as to prepare simple, affordable, and easy-to-follow recipes other than complicating the meal prep with recreating meals made by professional chefs. According to our surveys, TikTok recipes are delicious, while half of the people we talked to have begun to use healthier ingredients to cook meals. However, and despite its popularity, the platform hasn't influenced people into cooking more, nor has it affected romance – people still tend to use standard recipe sources to prepare a meal for a date night.
Study Methodology
KitchenToast conducted this research between 09/20/2021 and 09/26/2021. The data have been collected from 100 people who are interested in cooking, recipes, and entertainment that TikTok has to offer.
After the survey registered their gender and generation, the surveys were asked a series of questions. The collected data and information present the basis of the certain conclusions that are stated in this survey. Data is presented both verbally and visually.
All the information we collected is only and specifically used for this research.