Have you been trying to find the best vacuum sealer handheld machine on the market?
Then my post might help you with your search!
Listed below, you can find my reviews of the top 15 models that provide great performance. Keep reading to get more information and choose the model you like the best!
The Rundown
What Is A Handheld Vacuum Sealer?
It is a small vertical item that you can hold in your hand and use for the same vacuum sealing job as any other classic-designed vacuum sealer. Since this particular model fits in the palm of your hand, you can use it almost anywhere. It is small and depending on the model, can be used for sealing snacks in the bags, wine bottles, mason jars, and canisters.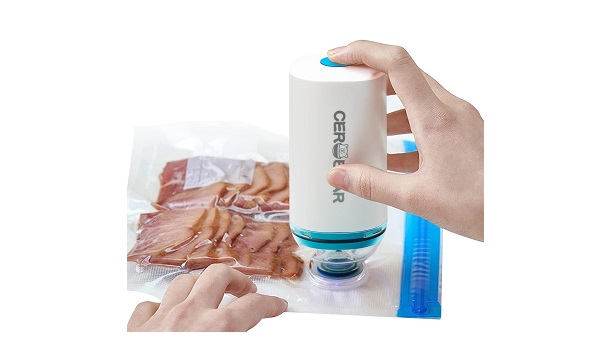 3 Different Powering Options
Handheld sealing models can be powered by batteries, electricity, and manual work. Here are the details on each powering option.
Battery-powered vacuum sealers come with rechargeable batteries. They need up to 3 hours to be fully charged and then they can usually be used for 24 hours continuously. These vacuum sealers can be used with bags, canisters, jars, and wine bottles.
Electric vacuum sealers need to be connected to the power outlet or to a standard vacuum sealer that is compatible with the handheld one. Either way, it requires electricity to work. This type of model is pretty rare to find but it can be used for canisters and wine bottles.
Manual vacuum sealers require your input to work. That includes pumping the sealer or just pressing the button which then sucks out all the air. These models are usually used for bags and canisters.
So, What Model Options Do I Have?
Based on their power sources, you have a couple of sealing models to choose from.
A classic manual pump is actually a vacuum sealer that requires pumping. It has a T-rod at its top while its tip is designed to be connected with a bag or canister. When the connection is there, you need to pump the T-rod until the bag or canister is completely vacuum-sealed.
An automatic pump is just a small battery-powered device that you connect to the bag, canister, or wine bottle, press start for the sealing operation, and that's it.
A sealing hose is usually an additional accessory of a vacuum sealer. You need to connect it to the sealer on one side and to the bag, canister, or bottle on the other side. Then you turn on your vacuum sealer and the sealing hose will vacuum seal your desired ingredients.
Do I Need To Use Special Bags & Canisters?
Yes, some vacuum sealing models such as pumps and sealing hoses, can be used only with specially designed bags and canisters that feature an air valve. The sealer is then connected to that air valve in order to vacuum seal the item and its content.
Can't I Just Use A Ziplock To Seal?
No. Using Ziplock won't keep your food fresh for as long as vacuum-sealed bags will. Even though Ziplock does have some advantages, it actually breaks down at a certain temperature and after a certain time period.
Do I Need To Freeze The Food Before I Vacuum Seal?
No. There is really no need to do that, you can vacuum seal fresh and raw food, and then place them in the freezer. Pre-freezing some of the food items, such as meat, will just cause freezer burn. However, if you wish to vacuum seal cookies, you can freeze them for 30 minutes and then vacuum seal them. That way they won't crush.
Benefits Of Manual Vacuum Sealers
This handheld vacuum sealing appliance comes with great advantages that will certainly impact your decision on whether or not you should buy it.
Mini In Size
And that is quite convenient! You can store it in a drawer, cabinet, basket, or some other place where you have the space. And this sealer needs as minimal space as possible. Plus, some of the models come with a magnet or small hook so you can place them on the refrigerator or hang them somewhere in the kitchen!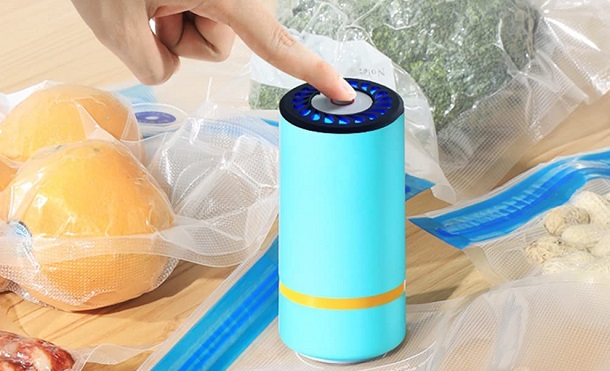 Portable Units
Yes, you can use them wherever you like, on a camping trip, picnic, in the office, RV, boat, mobile home, or some other place.
Satisfying Efficiency
These vacuum sealers will provide you with good efficiency and a satisfying vacuum sealing operation. And that's everything you need from these small kitchen appliances.
Easy To Handle
Thanks to the simple user-friendly design, both beginners and professionals can use this type of sealing machine. You just need to pump or press the button to begin the operation, and that's it.
Multipurpose Use
Standard vacuum sealers can't really work with canisters and wine bottles unless you have a sealing hose. That's why these portable battery-powered vacuum sealers are a great option to go with. You need no additional accessories to make them work.
Budget-Friendly
These are pretty affordable kitchen appliances. Most of them are priced between $10 and $80 so you'll have no problem finding an efficient sealer while staying within your budget.
Here Is What You Should Know Before Buying
Of course, as with any other sealing model, in order to buy the best hand pump vacuum sealer, you must know what construction it has, what it needs to provide good performance and more.
Quality Construction
These models are made from plastic. However, the plastic that is used in the sealers' construction is strong and durable, and it will provide you with great longevity.
Ergonomic Design
The handheld sealer machines are specially designed to fit into the palm of your hand. They offer an exception-quality design that ensures comfortable usage.
Size Range
How small are these small appliances? Most of them feature a unit that is big between 3 and 11 inches.
Do I Get Different Sealing Modes?
No, not really. This mostly depends on the model, but not many of them have this option. Most of them have one universal vacuum sealing option and that's it.
Powerful Performance
You have to bear in mind that these are small appliances. They don't have high power as classic vacuum sealers do. However, you can count that handheld sealers will be efficient in vacuum sealing small bags, canisters, and bottles. Most of them need between 5 and 10 seconds to finish vacuuming the air.
Built-In Indicator Light
This is a great feature as it shows you the sealing process. Once the vacuum sealing is done, the light will turn off.
Top 15 Vacuum Sealer Handheld Models
FoodSaver 31161370 Vacuum Sealer
Convenient Design
This vacuum sealer features a convenient, user-friendly design. It is completely cordless, and as a result, simpler to use. It comes with a charging station that has a built-in cord management system. Most importantly, it is compatible with a variety of FoodSaver vacuum zipper bags, canisters, and other accessories.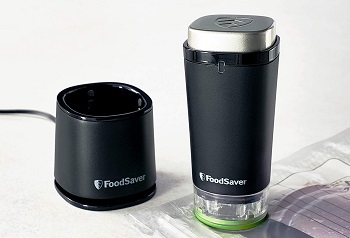 Powerful Seal
Note that this handheld bag sealer provides a very powerful seal. It removes all the excess air from the bags very quickly and efficiently. Additionally, it can seal up to 60 1-quart bags on a 24-hour charge.
Fermentology 8541956505 Sealer Kit
For Wide Mouth Jars
This model is specially designed for use over wide-mouth Mason jars. It provides a very precise airtight lock and keeps your ingredients in their optimal state for a very long time.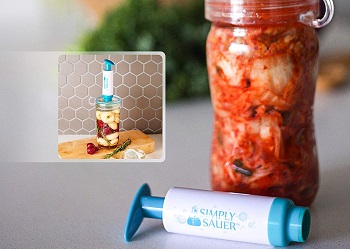 Low Maintenance
Since this vacuum sealer doesn't come in contact with your food at any point, keeping it clean won't be any trouble. Simply use some mild dish soap and a soft cloth to wipe its nozzle. Once clean, you can store it away inside your kitchen drawer.
FOYO VC-01 Vacuum Sealer
Durable Design
This small vacuum sealer also features a durable design. It is constructed out of a combination of high-quality ABS, MS, TPU, and silicone. As a result, it has a very high resistance to abrasion, heat, high temperatures, etc.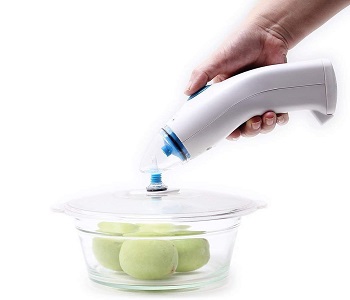 Powering Options
The best thing about this handheld bag sealer is that it provides you with different powering options. You can decide whether you want to use it with an AC adapter or six AA batteries. Keep in mind that the batteries do not come included, you will need to purchase them separately.
Baiwka Mini Vacuum Sealer
Mini Size
This is another vacuum sealer that comes in a conveniently small size. It is specially designed to ensure that it fits into the palm of your hand and requires every little storage space. It is powered using a USB charger you can plug into a wall or a car charger.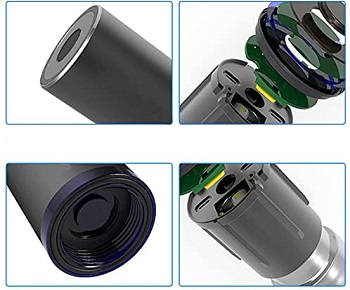 High-Quality Design
The best thing about this handheld sealer machine is that it features high-quality construction. It is designed out of aviation-grade metal ABS material. It has a skin-friendly texture that makes it much more comfortable to handle.
Vicarko Vacuum Sealer Pump
Portable Size
Because of its size, this handheld
food saver is a perfect choice for use on the road. It can easily fit inside your bag. Even though it is a handheld model and provides you with fully automatic performance. Additionally, its reservoir is detachable from its nozzle, making it much easier to clean.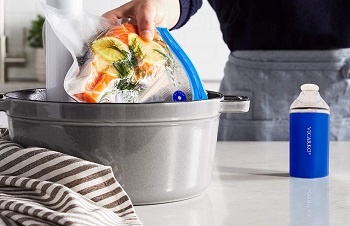 Complete Kit
Included with this portable mini sealer comes a complete starter kit. It consists of 5 large bags, 5 small bags, 5 bag clips, 5 zip sealers, a pump, and a charging cable. The vacuuming bags are BPA-free and perfectly safe for use.
RELIGES Mini Vacuum Pump
Simple Performance
This automatic vacuum sealer provides a very simple performance. Simply load up the bag, seal it, smooth it out, place the pump over the vacuuming port and start the process.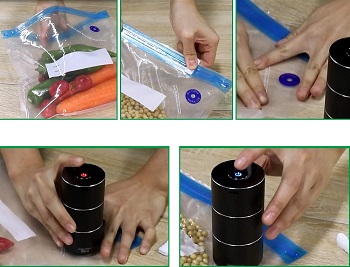 Built-In Battery
This is another handheld vacuum sealer for food that comes with a built-in 1500mAh battery. The best thing is that it is rechargeable, being, you won't have to replace it. A USB charger comes included in the package to ensure that you can easily recharge it when needed.
Mighty Rock Vacuum Sealer
Fast Charging
This kitchen vacuum sealer is also battery-operated. Its type-C charging mechanism ensures that you can quickly and efficiently recharge the battery. Once fully charged, its 800 mAh battery can continuously work for up to 1 hour.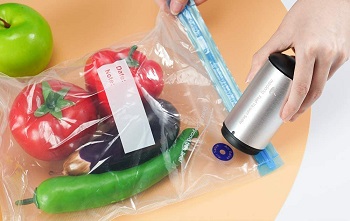 Reusable Bags
Keep in mind that this handy vacuum sealer comes with reusable vacuuming bags. This means that you can easily wash them and re-use them several times. Most importantly, they are completely BPA-free, meaning they don't contain any harmful plastic components.
Lasting Freshness Vacuum Seal Set
Simple Performance
This food vacuum sealer is made for manual use but at the same time provides very simple performance. To use this handheld food sealer properly you need to place its nozzle over the air valve on top of the container's lid and make a few manual puls.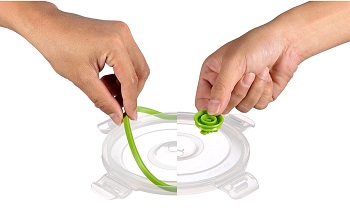 Container Set
A complete set of storage containers of various sizes is included in the package. Each container is specially designed to help you marinate your food in a bacteria-free environment and keep it at its optimal quality level for a long time.
Justar JT-W10 Wine Preserver
Simple Automatic Performance
This hand vacuum sealer provides very simple automatic sealing performance. Everything you need to do is place a sealer on the bottle, place a pump atop it, and turn it in a clockwise direction. Once you see "OK" displayed on the pump, the sealing process is over.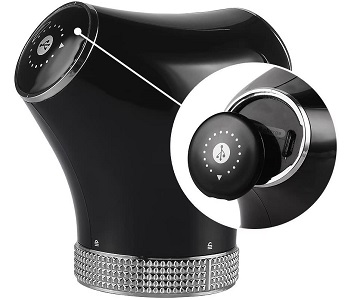 User-Friendly Features
Apart from its backlit display, this glass bottle sealerhas many beneficial features to offer. It informs you about the ambient temperature, shows the elapsed time since the last sealing performance, has a convenient battery display, etc.
VMSTR Handheld Vacuum Sealer
Versatile Use
The best thing about this model is that you can use it for versatile intentions. Apart from the glass jars, you can use this machine to vacuum seal zipper bags, canisters, and even wine bottles.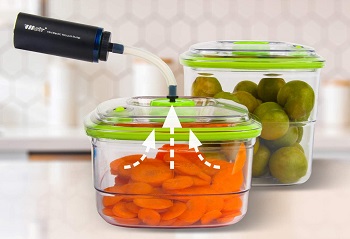 Low Noise
Even though this handheld food saver vacuum machine provides an automatic performance, it creates very little noise during its sealing cycle. Thanks to this feature you will be able to enjoy a very peaceful kitchen environment while you vacuum seal your jars.
Lasting Freshness 10250 Vacuum Seal
Manual Sealer
This is another sealer machine that is made for manual use. To ensure that you achieve the best results, you need to place its nozzle over the container's air valve and pull its handle a few times. In just a few seconds, you will make an air-tight seal.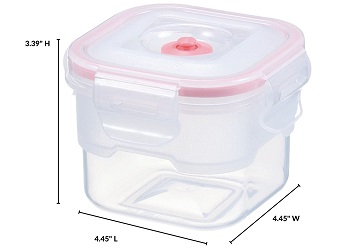 Multifunctional Containers
Included with this handheld food sealer comes a set of multifunctional containers. They are refrigerator, freezer, microwave, and dishwasher-safe. This means that you can use them to store your food, freeze it, defrost, or reheat it.
Waring PVS1000 Vacuum Pistol
Pistol Design
Out of all models I reviewed in this post, this one is specially designed for professional use. Its design ensures that it perfectly fits into your hand and is somewhat easier to use.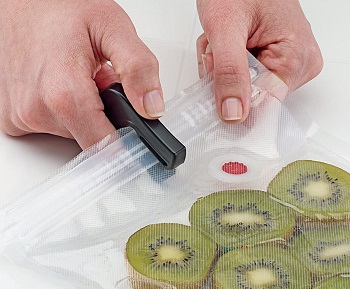 Powerful Performance
This is another manual vacuum sealer for food that provides very powerful performance. It is designed to seal more than 30bas on one charge. It also comes with a rechargeable NiMH battery and a charging stand that makes the pistol much easier to store away.
Innoka Sous-Vide Food Saver
Complete Kit
This vacuum sealer comes with a complete starter kit. Apart from the sealing pump, it includes 5 reusable bags, 3 valve plugs, and 1 sealing clip. It also comes with a European LFGB food-safe certificate that makes it perfectly safe for use.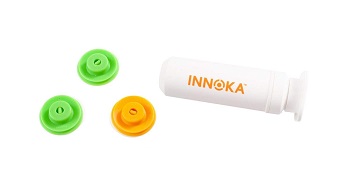 Low Maintenance
You won't have any trouble keeping this hand pump vacuum sealer perfectly clean. Once you are done using it, simply pop it inside your dishwasher and let the machine do its job.
Kosbon Electric Vacuum Sealer
Performance & Maintenance
This vacuum sealer provides a very powerful vacuum sealing performance. Because of its automatic performance, it requires minimal effort input. The best thing is that it requires very little maintenance.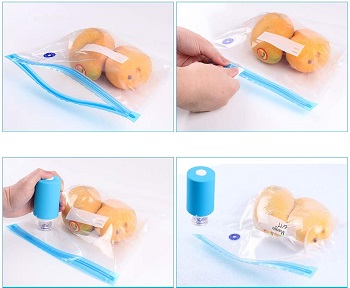 Complete Package
This handheld bag sealer comes in a package with 30 different size sealing bags, 5 cooking clips, 5 sealing clips, 10 replacement valves, and a USB charging cable. You will have all accessories you might need to enjoy the machine's best performance.
GloryMM Hand Pump
Efficient Performance
This is another food vacuum sealer that provides very powerful and efficient performance. It is specially designed to remove all oxygen and moisture from the bags you are sealing and keep the stored ingredients at their optimal quality level.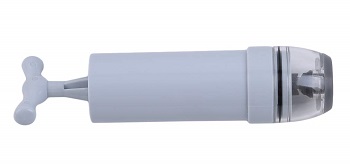 Affordable Price
When compared to the rest of the listed models, this vacuum sealer comes at a more affordable price. It costs less than 10 dollars, meaning, it's a perfect fit for everyone looking for a budget-friendly choice.
How To Use, Based On The Model
Since you can get different model options, here is how to use each of them.
Automatic Vacuum Sealer
This model is the easiest one to use. You basically just need to place it on the air valve on the bag or canister, and press the sealing start button. And that's it. Once the sealing is finished, you close the valve and remove the sealer.
Manual Vacuum Sealer
This vacuum sealer requires your input to work. Here is how.
Place desired food items into the bag.
Take your sealer and connect it to the air valve on the bag.
Start pumping out the air. That will evacuate the entire air in the bag.
When you see that the bag is vacuum-sealed, you're done.
Sealing Pump Hose
This sealing option actually needs to be connected to the standard vacuum sealer. When you do that, connect the hose on the air valve of your glass bottle, canister, or bag, and press the sealing button to start.