Are you looking to spice up your mealtimes with a new 3-piece dining set for small space?
Interested in learning about small tables for 2 with chairs and styles the market has to offer?
If so, you have come to the right place!
In this article, you can check out reviews of 6 models with different tabletop shapes, including folding, wooden, round, island, and cheap 3-piece dining sets that work in small spaces. Moreover, you can also learn more tricks on how to utilize your small dining space by choosing the right type of dining set in our buying guide.
The Rundown
6 Best 3-Piece Dining Sets For Small Space
Best Of Best 3-Piece Dining Set For Small Space
Giantex Small 3 Pc Dining Set
With A Storage Shelf
This 3-piece dining set for small space includes an oval table with two chairs. Thanks to its shape and space-saving design, you can fit in a corner or center of any small room. Under the oval tabletop, there is a storage shelf where you can put wine bottles, snacks, newspapers, and many more things.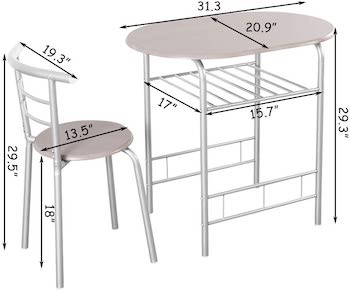 Chairs Fit Under The Table
While saving space, this set also provides you with additional storage so that you can have your favorite things always on hand when dining. Moreover, the oval table comes paired with 2 chairs. The chairs have curved backrests for comfort and rounded seats. Moreover, they fit against the round edges of the table to save space when not in use.
Iron Pipe Frames
The simple design comes in silver color with iron pipe frames. Metal legs of the table are stable and safe with two horizontal bars for added stability. Likewise, both the tables and the chairs assemble easily with the help of the included instructions with illustrations.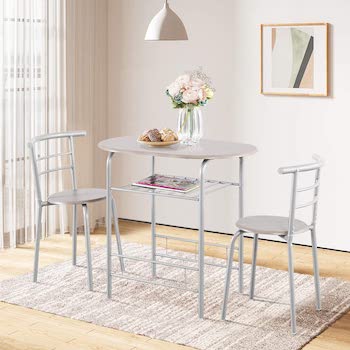 For Singles & Couples
Finally, such a dining set is a great option for limited spaces, small kitchens, and people living in studio apartments. The compact size with 2 seats is great for singles and couples. Moreover, you can also use it for a small kitchen nook for dining away from your formal dining room.
Short Description:
oval shape table with iron pipe legs
2 chairs with round seats
curved backrests fit against the tabletop edges
compact design with a storage shelf
silver color with a simple design
Best Folding Small 3-Piece Dining Set
OC Orange-Casual Small 3 Piece Table Set
Round Tabletop & Curved Seats
This small 3-piece folding dining table set is great for outdoor use on the balcony, porch, and patio. Moreover, you can take it along with you anywhere as it won't take up too much space. For transport and storage, both the table and the chairs can be folded. The table has a round top while the chairs have curved seats for comfortable sitting.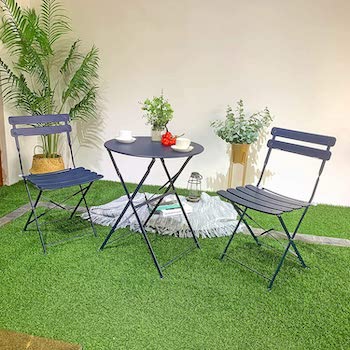 User-Friendly Design
The outdoor dining set is rust-resistant and water-proof to withstand outdoor weather conditions. It is easy to keep clean with a wet cloth. Moreover, the plastic pads on the legs keep your floors on the balcony, patio, or other surfaces protected from scratching. As the table and the chairs fold easily, you can store them during the winter days to take up minimum storage space.
Comes In Various Colors
After that, the set will unfold easily so that you can use it again during the nice weather. Moreover, the table is 28 inches high and measures 20 inches in diameter. For durability, the frames are made from solid steel. Also, the set is available in not just navy blue color, but also in blue, white, olive green, grey, and turquoise.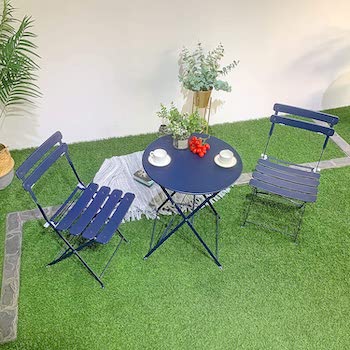 For Confined Spaces
Besides outdoor, this 3-piece dining set for small spaces fits even indoors. It is ideal for confined spaces and households where you don't have to seat a lot of people at a table at once. It allows you to enjoy a drink, have a chat, and snack on foods with another person.
Short Description:
for indoor and outdoor balcony and patio use
easy to fold and unfold for storage and transport
rust-resistant and waterproof solid steel
plastic pads on feet protect floors from scratching
a 20-inch round table is 28 inches high
features two chairs with curved seats
Best Wooden 3-Piece Dining Set For Small Space
Coaster Home Furnishings Dining Set
Two 7-Inch Drop-Leaves
This set comes in a specific combination of beige and natural wood colors. Moreover, it includes a small table with two chairs. Likewise, the table has a round top with two 7-inch drop-leaves. Upon dropping them down, the round table transforms into a rectangular one. That way, you can locate it flush against the wall and save some more space.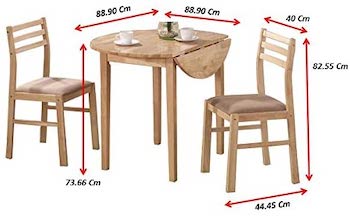 Made From Asian Wood
Furthermore, the table has four legs for support, while the chairs have three horizontal bars on the backrest. To make the chairs more comfortable, the seats have beige cushions made from polyester. Also, the set is durably built by using Asian tropical wood and Asian hardwood materials.
35-Inch Diameter
Thanks to the durable build, this small 3 piece dining set includes long-lasting table and chairs can hold up to 300 pounds each. Moreover, the round tabletop measures 35 inches in diameter to be able to seat 2 people for a meal, a drink, or a chat. However, when your meals don't require as big of a surface, you can drop the leaves down and save some extra space.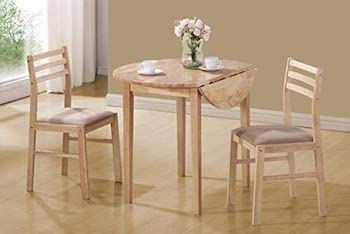 For Condos & Small Rooms
The table is 30 inches tall and suitable for small spaces, such as condos, studio apartments, and more. The wooden construction makes it very durable and easy to blend into many different styles. This is especially easy thanks to the natural-looking colors that will elevate the look of your small room.
Short Description:
a combination of beige and natural wood colors
Asian tropical wood and Asian hardwood materials
35-inch round table with two 7-inch drop-leaves
beige polyester cushions for comfortable sitting
small table and chairs for condos and studio apartments
durable construction with natural colors
saves space by turning into a rectangular table
Best Round Small 3-Piece Dining Set
Homury Small Dining Table Set For 3
Black Steel Tubing Frames
This 3-piece dining set for small spaces features a round table with two chairs. The tabletop is made from thick manufactured wood and comes in an espresso brown finish. Moreover, the frames of the table and the chairs are made from black steel tubing. This makes them sturdy and durable for frequent use.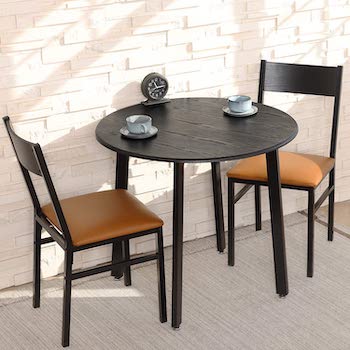 Small Round Table
The round tabletop measures 33.8 inches in diameter and stands tall at 29.5 inches. Its small size can seat 2 people and works in small kitchens and dining rooms. You can even use it in condos and studio apartments where there is no space for large dining tables.
20-Minute Assembly
The 3-piece round dining set can even create a small breakfast nook in your kitchen away from the dining room. To use it in your home, you will have to assemble it. It can be done in around 20 minutes by using the tools, hardware, and instructions that come in the package.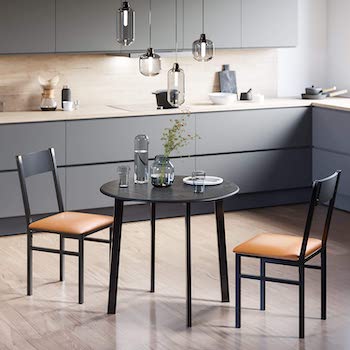 Matching Colors
Finally, to save even more space, the chairs fit under the table when not in use. Also, they come with padded seats in brown faux leather upholstery and curved backrests. These features make it comfortable to sit and enjoy your meal. Moreover, the colors of the chairs match with the table for a stylish look.
Short Description:
a small round table with two padded chairs
33.8-inch diameter and 30-inch height
manufactured wood top in brown finish
black steel tubing for durable frames
for condos, small kitchens, dining rooms
assembles in 20 minutes with tools
Best Island 3-Piece Dining Set For Small Space
SSLine 3 Piece Compact Dining Set
Food Prep & Dining
This 3-piece dining set for small spaces is a bit different from the other models we have reviewed. It features a rolling breakfast bar table that can be used as a kitchen island in small spaces. In short, you can use it for both preparing food and dining. Besides the table, the set also includes two backless stools.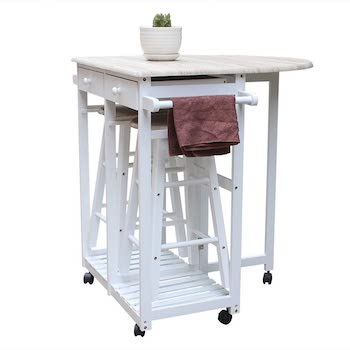 Extends When Needed
The backless stools have round seats and beige and legs in white color. Likewise, the island table base is white, while the tabletop comes in beige. Moreover, the tabletop features a drop-leaf that saves space when a bigger dining surface is not required. Finally, the set is made from solid pinewood for long-lasting use.
Mobile & Space-Saving
Under the tabletop, there are two drawers and a dining cart underneath. Both of the barstools fit inside the cart to save space when not in use. As they have wheels, you can also move the island around to save precious space. This is especially convenient if you are really tight on space in your kitchen and dining room.
For Small Kitchens
Finally, there is a handle on each side of the table for easy moving. Moreover, it can be used for hanging tea towels to dry after use. With storage drawers, 360-degree wheels, and two barstools, such a table is a great addition to any kitchen that is tight on space.
Short Description:
a rolling breakfast bar table with a drop-leaf
360-degree wheels for easy moving
features two storage drawers
two barstools fit under the tabletop
in a combination of white and beige
an ideal solution for small kitchens
Best Cheap Small 3-Piece Dining Set
Best Choice Products 3 Piece Small Table Set
Chairs Go Under The Table
This small 3-piece dining set comes in a combination of white and brown colors. The oval tabletop and the round seats of the chairs are brown, while the frames come in white. Moreover, to save space, the chairs have curved backrests that fit the round edges of the tabletop to save space by putting the chairs under the table.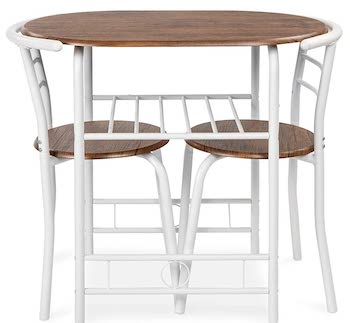 Convenient Storage Rack
Each chair has a capacity of 330 pounds and is comfortable and ergonomic thanks to the curved backrests. Another convenient feature belongs to the table. The storage shelf under the tabletop is great for storing plate mats, wine bottles, food trays, and more.
Intimate Dining Experience
The frames on the chairs and the table are made from solid iron to make them durable. Moreover, the tabletop and the chair seats are made from engineered wood. The small size creates an intimate dining experience and is suitable for dorm rooms, studio apartments, condos, and more.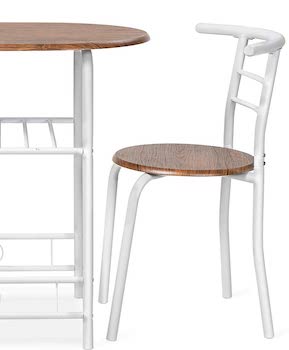 Functional Design
Finally, this set can be purchased for the price of around just 90 dollars on Amazon. The small table and chairs are functional for confined rooms. Moreover, the table can hold up to 110 pounds of weight.
Short Description:
white frames and brown surfaces
features an oval table with a storage shelf
two chairs with round seats and curved backrests
functional and ergonomic design
chairs fit under the table to save space
solid iron frames with manufactured wood top
for dorm rooms, condos, kitchens, etc
What To Consider In 3-piece Dining Set For Small Space?
This type of dining set is ideal for fitting into your confined kitchen, dorm room, studio apartment, or condo. When searching for the one to use in your small space, we advise you to follow these tips. Firstly, make sure to choose a size and height suitable for your space. Secondly, ensure the set is durable and that it comes in a style of your choice. Moreover, you should also pay attention to space where you want to fit it to choose the right shape. Finally, also make sure that it is easy to use.
Choose The Size – Small space 3-piece dining sets come in different heights and sizes. The standard height for a table is around 30 inches, but you can also choose from 3-piece high-top table sets that are usually from 34 to 39 inches tall. Furthermore, also pay attention to the width and the length to get a set that won't be too big for your space.
Durable Build – Unless you go for durable materials, chances are the dining set won't last you long before all the tears. That is why it is important to look for quality materials. For instance, the market offers tables and chairs made from materials such as wood, glass, and metal.
Which Style To Get? – The market is full of different styles when it comes to furniture. Choosing one will depend on your personal style and the style of the room where you want to fit it. In short, small 3-piece kitchen table sets come in the modern, rustic, farmhouse, contemporary, minimalistic, and many other styles you can choose from.
How To Choose The Right Shape? – Tables come in square, round, rectangular, and oval shapes. Rectangular and oval shapes are most suitable for bigger rooms to seat more people at once. As a small 3-piece dining set features a 2-chair dining table, it is suitable for small rooms. Rectangular and square models will work great even when put against the wall. Moreover, round tables that seat 2 create an intimate dining experience.
User-Friendly Features – A table with chairs should be easy to keep clean and take care of. Similarly, you should also make sure to choose a set that is easy to assemble. Moreover, also make sure to go for tables that allow you to easily put the chairs under to save space. If you lack storage, you can even search for tables with storage racks and other storage solutions.
To Wrap It Up
To sum everything up, we recommend the Giantex compact set as our favorite small 3-piece dining set. It is affordable and built to last long while saving you space. It comes in silver color, featuring a table with an oval top and a multifunctional storage rack, as well as two chairs. In case you are interested in a small set with a glass top, you should read our reviews of 3-piece glass dining tables. For models with higher tops, check our list of 2-seater bar tables that are popular on the market.