Have you been looking for the best antique coffee maker that provides great performance?
Then this is the post for you!
In the next few segments, you can find out everything you need to know about the five best models on the market. Also, I added a short guide that will help you learn more about the important features that the best models provide.
The Rundown
Top 6 Antique/Retro Style/Vintage Looking Coffee Maker/Machines
Best Of Best Antique Coffee Maker
Nostalgia RCOF12AQ Coffee Maker
User-Friendly Control Panel
This antique coffee maker features a very simple, user-friendly control panel with push buttons. It's located on the front side of the unit to ensure that you can always adjust its performance according to your needs and enjoy the best results.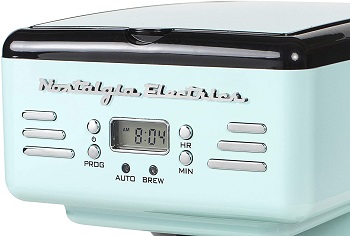 Programmable Features
The great thing about this model is that all of its features are programmable. For example, the 24-hour clock with a delay option will allow you to program the exact time when you want the brewing process to start up to 24 hours in advance.
Pause & Serve Option
Another thing worth mentioning is that this 12-cup programmable coffee maker provides a highly practical "pause and serve" option. This feature can come in very handy especially if you don't want to wait for the machine to make an entire carafe before you can enjoy a hot cup.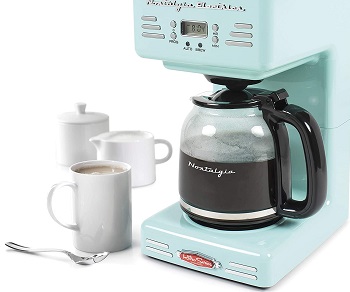 Anti-Drip Carafe
The included glass carafe features an anti-drip design thanks to which you won't create any mess while pouring the coffee from the carafe. Its simple pouring spout will guide the coffee right into your mug.
Short Description:
twelve cup brewing capacity
a simple user-friendly control panel
provides versatile programmable features
a highly practical "pause & serve" option
an adjustable 24-hour delay start feature
the two-hour warming function
anti-drip carafe with a pouring spout
Best Electric Retro Coffee Machine
Smeg Retro Style Coffee Maker
Electric Design
Like most of these models, this retro coffee machine also features a simple electric design. That means that everything you need to have for the unit to work properly is a power source you can plug it into. You'll be able to use it anywhere and anytime you want.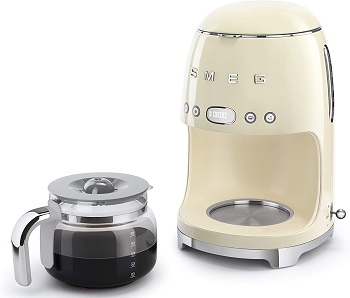 Brewing Options
Another great thing about this model is that it provides you with different brewing options. For example, you can choose whether you want to brew an entire 10 cup carafe for a larger gathering or up to four cups.
Reusable Filter
The included coffee filter is specially designed for long-term use. This is a great thing because it means that you won't have to add any additional paper filters to it. However, it can accommodate paper filters if you prefer to use them as well.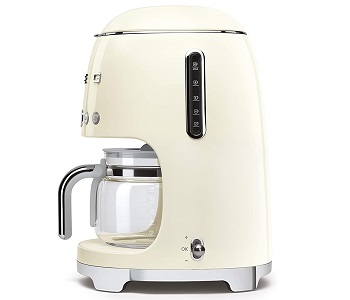 Water Level Indicator
This electric coffee maker comes with a practical water level indicator that is located on the side of the unit. It features simple markings that will let you know about the amount of water that is left inside the water reservoir. Thanks to this feature you'll always be able to tell when the reservoir needs a refill.
Short Description:
simple electric plug-in design
features a ten cup brewing capacity
provides different brewing options
comes with a reusable coffee filter
water level indicator with markings
Best Percolator Retro Style Coffee Maker
Moss & Stone Coffee Percolator
Copper Finish
Even though this antique coffee percolator offers many modern features, its copper finish is what provides it with a bit more vintage look. Because of its size, it will fit perfectly onto your countertops. The best thing is that you won't have any trouble finding the perfect storage space for it.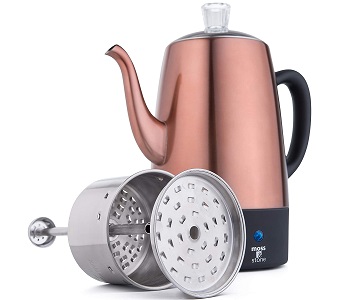 Durable Construction
You can be sure that this vintage electric coffee percolator will have a long life-span. It features a stainless steel interior, lid, and a coffee basket. This is a great thing because it means that it won't alter the taste of your brew and the cleaning process will be a breeze.
Simple Brewing Performance
This vintage looking coffee maker will allow you to brew between two and ten cups of coffee per brewing session. Most importantly, you'll be able to enjoy a delicious cup in about six to seven minutes, depending on the strength of the brew you want to make. Simply add water and coffee and let the unit do the rest.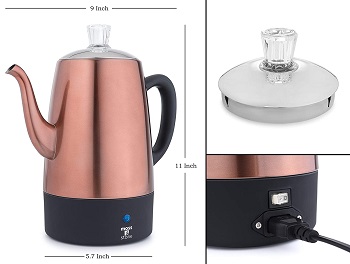 Automatic "Keep-Warm" Function
Another amazing thing about this model is that it provides a highly practical automatic warming function. Thanks to this feature, your brew will remain at its optimal temperature level for a much longer time.
Short Description:
vintage looking copper finish
durable stainless steel construction
permanent stainless steel coffee basket
time-efficient brewing performance
an automatic warming function
completely detachable power cord
Best 10-Cup Vintage Coffee Machine
Kalorik 10 Cup Retro Coffee Maker
Space-Saving Design
This retro-style coffee maker features a space-saving design. This is a great thing because it means that it will take up a very small amount of your counter space. It is a great choice for smaller spaces such as apartments, dorm rooms, offices, etc.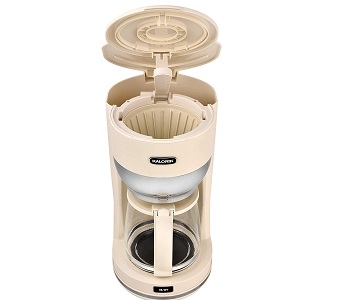 10-Cup Capacity
The included coffee carafe is designed to make up to ten cups of coffee per brewing session. It has a heat-resistant handle that will help you pour yourself a cup of coffee without suffering an accidental heat-burn.
Auto-Pause Function
Another great thing about this 10 cup coffee maker is that it provides you with an "auto-pause" function. It is designed to stop the brewing process when you remove the carafe to ensure that you can pour yourself a cup of delicious coffee before the brewing process is done.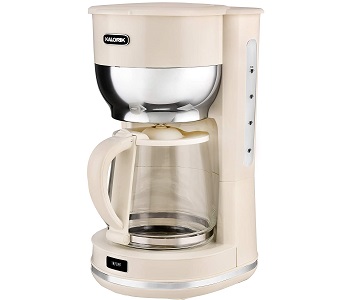 Warming Option
This is another coffee maker that comes with a warming function that will maintain the temperature of the brewed coffee for up to two hours. The best thing is that it will automatically shut down after the two hours are up.
Short Description:
features a space-saving design
provides a 10 cup brewing capacity
a two-hour warming function
auto-pause function for a mid-brew pour
Best French Press Vintage Style Coffee Maker
Makidar French Press Coffee Maker
Easy To Use
As opposed to the previous models, I reviewed in this post, this antique french press is designed for manual use. Everything you need to do is add your favorite coffee or tea and, boiling water over it, wait for a few minutes, and press the plunger down.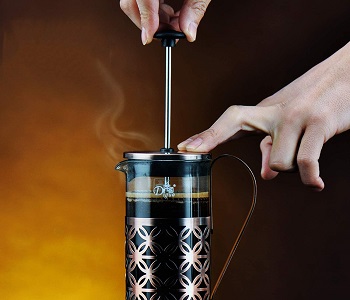 Three-Part Plunger
The included three-part plunger is made out of stainless steel material to ensure that it lasts for a long time. It also comes with a mesh filter that is specially designed to keep all the delicious flavors and coffee oils inside your brew.
Quick Cleanup
Because of its simple construction, this 20 oz french press will be very easy to clean. You can easily remove the copper base and the handle from the glass carafe and clean the carafe inside a dishwasher. Make sure that you clean it after each use to ensure that you always achieve the best results.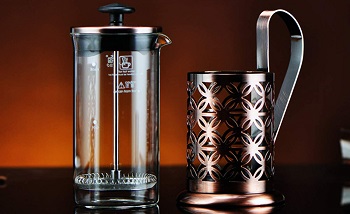 Affordable Price
Out of all the listed models, this vintage looking coffee maker comes at the most affordable price. It costs less than thirty dollars which makes it a great choice for everyone who is looking for a more budget-friendly option.
Short Description:
a three-part stainless steel plunger
heat-resistant borosilicate glass construction
mesh filter ensures the delicious taste of the brew
safe to clean both manually and inside a dishwasher
comes at the most affordable price
What To Consider About The Best Antique Coffee Makers?
All retro coffee machines I reviewed in this post will provide you with a great performance and add a bit more vintage look to your home. Here are some features you should consider when choosing the best model.
Size And Capacity – The first thing you need to consider is the size and the capacity of the coffee maker you want to buy. Larger models will provide you with a much larger capacity, however, smaller models will also provide amazing performance and are a great option for smaller spaces.
User-Friendly Features – The more features and controls the coffee maker you like provides, the more control you will be able to have over its performance and the results that it provides. Some features you should look for are a programmable timer, different brewing options, keep-warm function, automatic shut-off, etc.
Coffee Filter – Always make sure that the model you decide to buy comes with a permanent coffee filter. That way you won't have to spend your money on additional paper filters and your brew will contain all the delicious flavors and oils that are usually absorbed by the paper filters.
Cleaning Requirements – All coffee makers I reviewed in this post are very easy to clean and require very little maintenance. Some of them are even dishwasher-safe to ensure that you don't have to spend your time cleaning them manually.
Price Range – The last thing you need to consider when buying a vintage coffee machine is how much money you are willing to spend on it. Although the expensive models usually provide more features, you can easily find inexpensive coffee makers that provide great performance.