Undecided about which 2-seater bar table or set to get for your home or business?
In that case, in this article, you can check out our selection of the models the market has to offer.
Read the reviews to find out more about the characteristics and qualities of table and chair sets, round, wooden, modern, and cheap models. Moreover, in this article, you can also learn about features to keep in mind to get the best model for your home, business, and your needs.
The Rundown
6 Beast 2 Seater Bar Tables & Sets
Best Of Best 2 Seater Bar Table
Yaheetech Round Pub Bar Table
Swivel Feature
This type of bar table features a round top with a silver pedestal base. Moreover, the tabletop can swivel for easy and quick access to whatever you keep on it. Also, this 2 seater bar table is great for creating your own bar in your home, but it can also be used in pubs, party venues, and more.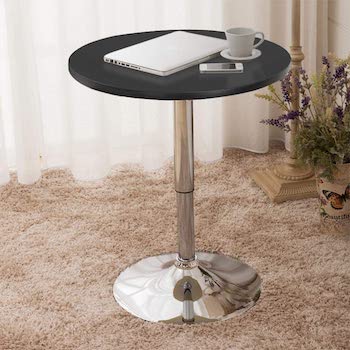 Waterproof Top
Most importantly, the black tabletop is easy to clean with a damp cloth and is waterproof to resist water stains. Also, the table is easy to take apart to take up a little space for storage. With detailed instructions, the table is also easy to assemble. Furthermore, the table can hold up to 40 kilograms of weight.
Adjustable Height
The table has a rust-resistant silver stand and the anti-skid ring at the bottom makes the table stable for use. Another important feature is the gas lift that lets you adjust the height of the table. You can easily transform it from a bistro table into a counter-height table.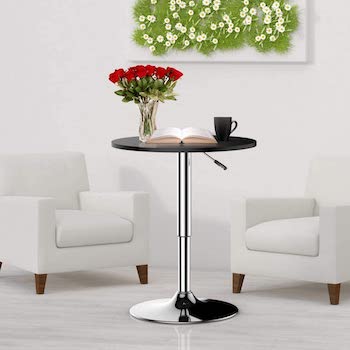 23.6-Inch Diameter
Finally, the table can go from 27.5 inches to 36 inches easily. The tabletop is made from medium-density fiber while the stand is made from stainless steel. To seat two people, the tabletop has a 23.6-inch diameter and is 0.7 inches thick.
Short Description:
23.6-inch diameter swivel tabletop in black
for home bars, pubs, party venues, etc
rust-resistant stainless steel stand
waterproof tabletop easily wipes clean
height from 27.5 to 36 inches with a gas lift
Best Set 2 Seater Pub Table
Vasagle 2 Seater Bar Table And Chairs
Simple Construction & Assembly
This 2 seater bar table set features a table with legs and two backless stools. It can be used in pubs or create a breakfast nook in your home to seat 2 people for a meal. The assembly is easily done thanks to the uncomplicated parts. The legs of the table and stools are constructed from black steel material for durability.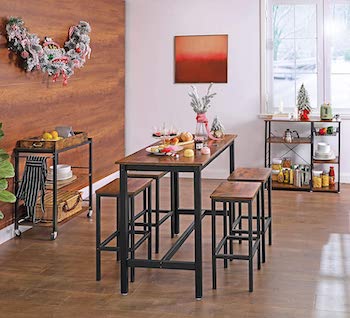 Rustic Brown Color
Moreover, along with the metal frames, the tabletop and the stool seats come in a rustic brown color and are made from particleboard. Also, the rectangular table measures 47.2 inches in length and 23.6 inches in width and is 35.4 inches high. It has a load capacity of 220 pounds, while each stool can hold up to 264 pounds.
Stools With Footrests
Each stool measures 15.7 inches in length, 11.8 inches in width, and 25.6 inches in height. Also, they can fit under the bar table to save space. Moreover, the table can be fixed against the wall to save space and to prevent tipping over. For comfortable sitting, the stools have footrests under the seats.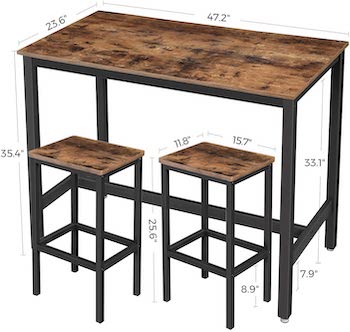 Industrial Style
With the combination of metal with wood-looking materials, this set gives an industrial touch to your space. You can place it in your kitchen, living room, or bar-space in your basement. Finally, the rectangular table is big enough to fit two people for a meal or drinks.
Short Description:
a table with legs and two backless stools
steel frames, particleboard seats, and tabletop
black metal with rustic brown seats and top
35.4-inch high bar table for many uses
seats 2 people for meals, drinks, games
chairs fit under the table to save space
Best Round 2 Seater Bar Table
HOMCOM 2 Seater Bar Stool Table
42 Inches High
This round table measures 42 inches in height, making it ideal for having a drink in the pub even while standing up. However, it can seat up to two people for a drink, as well. Also, it features a metal stand with a rustic weathered wooden top. Furthermore, the ring at the base keeps the table sturdy along with the black steel body.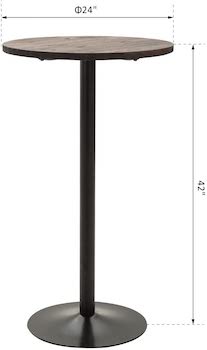 Indoor & Outdoor Use
The tabletop is made from elmwood and is treated with dark, medium, and sanded white wood grain to achieve a weathered look. Moreover, the top, as well as the base and the body have a resin coat that is water-resistant for both indoor and outdoor use. You can use it in your home, bars, coffee shops, and more.
Rustic Industrial Style
The tabletop has a 24-inch diameter, ideal for seating two people at once. Also, to make it stable, the round ring at the base measures 18 inches in diameter. Overall, the 2-seater bar table comes in a rustic industrial style thanks to the wood and metal combination.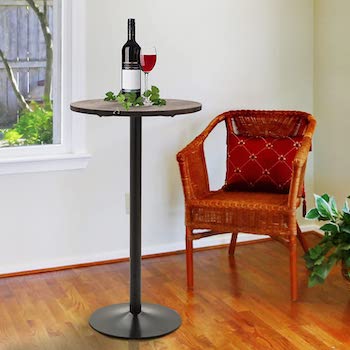 Scratch-Resistant
Finally, the table is ideal for home, commercial, and even use on the decks, and patios. It has a clean sophisticated look and can support up to 110 pounds of weight. Also, it is easy to keep clean and won't scratch thanks to the scratch-resistant property.
Short Description:
42 inches high with a 24-inch round top
ideal for standing, sitting, indoor, outdoor use
elmwood tabletop with a black steel body
scratch-resistant with a water-resistant resin coat
weathered tabletop for an industrial rustic vibe
stable and durable with an 18-inch ring base
for homes, decks, patios, cafes, and more
Best Cheap 2 Seater Pub Table
Best Choice Products 3-Piece Bar Set
A Table With Shelves
This 2-seater bar table comes with two stools with backrests and features a storage area, as well. The set can be purchased for the price of around 160 dollars on Amazon. The storage space is ideal for cookware, cookbooks, wine, other bottles, and more. That way, it will also stay close to you while you eat, as well.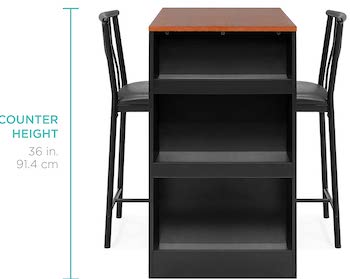 Two Padded Chairs
Both the two chairs and the table have a counter height. In other words, the table measures 36 inches in height. Similarly, it is also 36 inches long and 19.5 inches wide. Moreover, the tables have barred backrests and padded seats for comfort. With two chairs, two people will be able to enjoy a meal together.
For Small Areas
Moreover, both the table and chair frames are made from black metal material for stability and durability. Similarly, the storage shelves and the tabletop are constructed from engineered wood. Also, it is ideal for small spaces such as studio apartments, dorm rooms, and other small areas.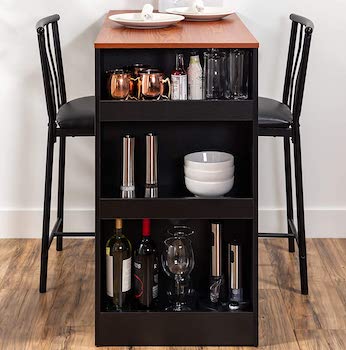 Convenient Storage Shelves
The chairs have footrests for comfort, as well as curved backrests. Moreover, they each have a 285-pound weight capacity. To save space, both chairs can go under the table that has a 90-pound weight capacity. The three storage shelves on the side are very convenient.
Short Description:
metal frames, engineered wood tabletop, and shelves
stores cookware, cookbooks, bottles, and more
36 inches high table seats two people
curved backrests and padded seats for comfort
for small spaces, dorm rooms, studio apartments
Best Modern 2 Seater Bar Table
Dorel Living Tanner Two Seater Bar Table
Modern With Marble
This 2-seater pub table comes with two backless stools in a modern design. The set includes a rectangular table with two square stools to seat one person on each side of the table. Also, the tabletop has a faux white marble finish with a brass metal finish on the frames of the table and the stools.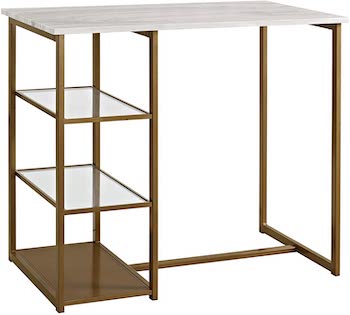 Practical Glass Shelves
Under the table, there are two storage tempered glass shelves for practicality. Similarly, this convenient design makes it ideal for living in small confined spaces, such as studio apartments and dorm rooms. The table is 40 inches wide, 22 inches deep, and 36 inches high.
Space-Saving Design
Furthermore, the stools are comfortable for sitting thanks to the footrests under the seats. Similarly, to save space, the stools can go under the table. This bar set is great for fitting into your kitchen or as extra space in your dining room, and even for creating a bar in your own home.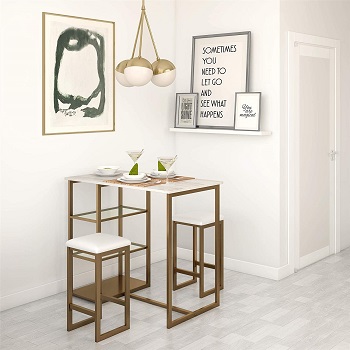 Elegant & Convenient
Finally, the tabletop is easy to clean by wiping. Also, its elegant design will enhance the look of your home, giving it a beautiful addition. The storage shelves work great for storing many things so they are always within reach while eating or drinking. Likewise, the elegant set adds a modern feel to the decor.
Short Description:
modern design backless stool and bar table
rectangular table with a faux white marble top
brass metal finish on the table and stool frames
tempered glass shelves under the tabletop
stools fit under the table to save space
elegant for many decors and uses
Best Wooden 2 Seater Pub Table
International Concepts Bar Table For 2
Solid Wood Table
This 2-seater pub table is made from solid wood and comes with 4 shaker legs. The table is 42 inches high and has a square top measuring 30 inches in width and length. Upon receiving the order, some assembly is required before you can use this table. The bar height table saves space while seating up to 2 people for coffee, breakfast, or other meals.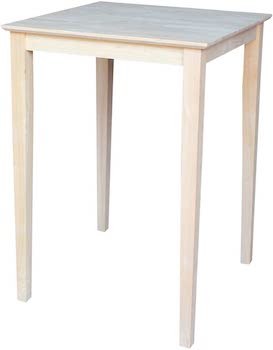 For Small Spaces
This table is intended for residential use so that you can fit it into your kitchenette in your studio apartment, dorm room, dining room, kitchen, or breakfast nook in the kitchen. Moreover, you can also use it to create your own bar area in the home.
Durable & Tough
Also, the shaker legs made from solid rubberwood make the table stable and durable for long-lasting use. The square surface comes in a butcher block style, making it very durable, tough, and resilient. As it comes unfinished, you can easily tailor it to your home decor.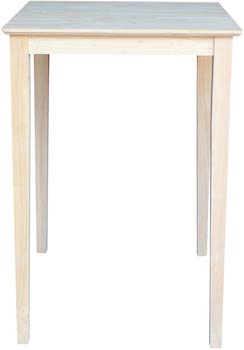 Easy Cleaning
The table is meant for use with bar-height stools and chairs. The parawood material allows you to easily clean this table and maintain it. No matter where you decide to install it, it can be helpful as a dining table and more.
Short Description:
solid parawood tabletop and shaker legs
42 inches high, 30 inches wide, and long
seats 2 people for meals and drinks
for kitchenettes, studio apartments, etc
ideal for small kitchens and dining areas
easy assembly and easy maintenance
butcher block style square tabletop
What To Consider In 2 Seater Pub Tables?
To get a bar-style table for your business or to fit into your home, here are some of the features we advise you to keep in mind. Firstly, consider the different styles the market has to offer to see which one fits you best. Secondly, also make sure that it has a durable build. Thirdly, consider the size and the shape. Moreover, choose a model with or without storage, depending on your needs. Finally, also make sure that cleaning is easy and that the table is overall user-friendly.
Pick Among Styles – The market offers many different furniture styles to choose from, including a modern, vintage, retro, rustic, farmhouse, industrial, minimalist, and many other styles. The choice will depend on your personal style, as well as the style of your home design. Bar-style tables will also measure more in height than regular kitchen tables.
Durable Materials – To get a table that will be long-lasting, it is important to look for the ones built from durable materials. In short, these materials include wood, metal, stone, glass, veneers, and more. Moreover, the material will also depend on the style you go for, as different styles prefer different construction materials.
Which Size & Shape Is Good For You? – Two-seater dining tables can have oval, round, square, and rectangular tops. Moreover, the shape you choose will depend on the space where you want to put the table, as well. To seat two people at most, the table won't have to be big in size. In short, this makes it ideal for small spaces, such as studio apartments and even commercial use in cafes, pubs, bars, etc.
Yes Or No To Storage? – If you are looking for a table for your home and you live in a tight space, storage shelves along with the 2-seater pub tables could be a great feature. That way, you can store many things, such as bottles and dishes so they are close to you when you are eating. For businesses, shelved storage won't be necessary.
User-Friendly Qualities – Firstly, a table should be easy to assemble and easy to keep clean. Secondly, it should also be durable for long-lasting use. Moreover, you should also choose a model that allows you to easily put the chairs or stools under. Finally, each place at the table should have around 22 inches of space for dining.
To Wrap It Up
In conclusion to this article, we have chosen the Yaheetech bar table as our favorite choice. It features a swivel black tabletop and a metal body for durability. Moreover, it allows you to adjust the height with a gas lift from 27.5 to 36 inches. That way, you can use it in your home or for businesses. Similarly, if you want a counter-height table with 4 chairs, consider our selection of high-top dining table sets for 4. For other small options, check out reviews of 24-inch dining tables.