Unsure of whether you should get a 24-inch dining table in a round, rectangular, or square shape?
In that case, read this article to find the answer!
In short, you can read reviews of the best of best, round, rectangular, square, and counter-height tables that have a 24-inch width. Moreover, you can also read our tips to help you choose the best model for your space and make it durable.
The Rundown
6 Top 24-Inch Wide Dining Tables
Best Of Best 24-Inch Dining Table
161 Collection By OFM Modern Table
White Square Top
This 24-inch dining table has a white square tabletop with 4 legs in a wooden finish. The table comes in a mid-century modern style that can seat two people easily. This makes it ideal for small spaces. Also, you can even put it in your kitchen, living room, and small dinettes and dining rooms.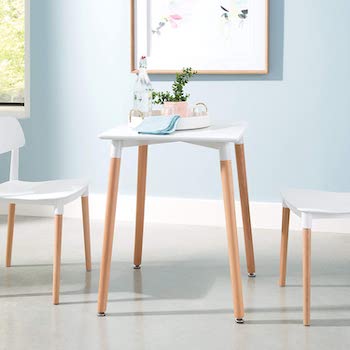 Solid Natural Wood Legs
The table can hold up to 200 pounds of weight and is sturdy and durable thanks to solid natural wood legs. The table measures 23.62 inches in width and length and is also 28.35 inches tall. Furthermore, the clean lines make it easily fit into many decors. Also, the neutral colors help here.
Adjustable Floor Glides
At the bottom of the solid wood legs, there are adjustable floor glides that protect the flooring and make the table stable in any environment. Also, the table assembles quickly and easily thanks to the simple design.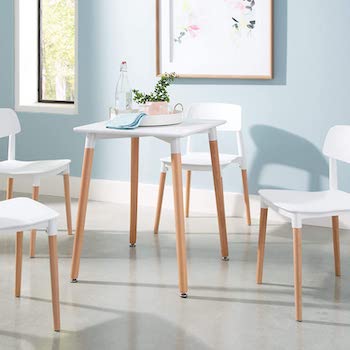 Modern Emphasise
For eat-in kitchens and even accent pieces in the living room, this mid-century modern table adds emphasis and brings style. Cleaning is easy as the table can be simply wiped with a damp cloth. Finally, the 24-inch size is great for smaller spaces.
Short Description:
features a square tabletop in white
comes with 4 solid wood legs
with adjustable metal floor glides
28.35 inches high, 24 inches wide, and deep
for eat-in kitchens, living rooms, and more
Best Round 24-Inch Dining Table
Sunnydaze Chestnut Foldable Table
For Indoor & Outdoor Use
This 24 inch round dining table is designed for both indoor and outdoor use. It can be used in the kitchen, on the patio, balcony, and is ideal for small spaces. Similarly, the table is foldable so that it can be stored away when not needed. The table is 30 inches tall and has a 23.75-inch diameter.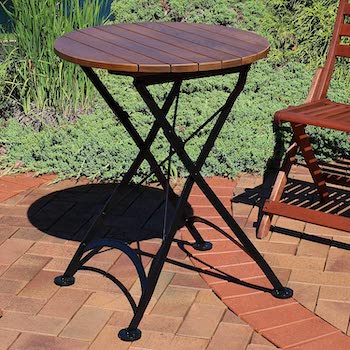 User-Friendly
Two people can enjoy a meal, a coffee, or a drink even in small eat-in kitchens or apartment balconies, or small patios. The 24 inch round kitchen table has large feet so they don't sink into the grass when used outdoors. Moreover, the plastic protective pads keep the flooring from scratches when you use it in indoor spaces.
Black Steel Feet
Besides the protective footpads, the legs of this 24-inch wide dining table are also durable. They are made from 7-millimeter thick steel with a black powder coating on top. The 24-inch round tabletop is made from chestnut wood, giving the table a contemporary look.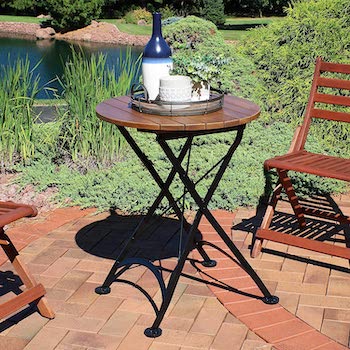 Folds Easily
As the table easily folds, you can even transport it easily, and take it with you to nature for a barbecue and more. The materials are also naturally resistant to outdoor weather conditions, making the table durable.
Short Description:
for indoor and outdoor use
for kitchens, patios, balconies, etc
23.75-inch round table, 38.5 inches high
chestnut tabletop, 7-mm steel legs
protective plastic pads protect the floor
large feet can't sink into the grass
Best Rectangular 24-Inch Wide Dining Table
FDW 24 Wide Dining Table Metal
Very Durable Build
This 24-inch wide rectangular dining table is also 48 inches long and 30 inches high. The legs are made from iron for strength and durability. Moreover, there is an X-brace under the top that adds support to the table to make it very durable. The four feet on the legs have plastic mats that prevent slipping and protect the floors from scratches.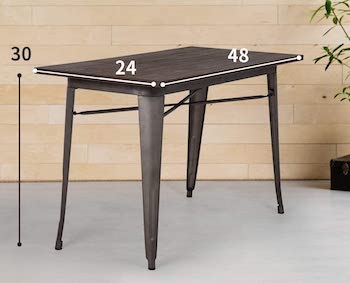 Elmwood Tabletop
Also, this table has a load capacity of 330 pounds. The tabletop is made from elmwood material while the metal legs have a protective film of high-quality paint. The 24-inch wide dining table is a great choice for kitchens as the wooden top is easy to clean.
For Small Spaces
Furthermore, a manual is included so that you can follow the easy instructions to assemble the table in a short time. Besides the kitchen, you can also put it into dinette spaces, small dining rooms, and even on the patio.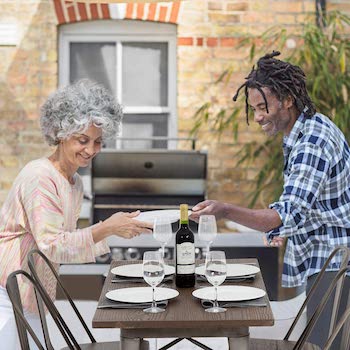 Seats Up To 4
Finally, the table is big enough to fit up to 4 people, ideal for couples and small families of 2 to 4. Moreover, the table adds a modern touch with an industrial style to any space with a combination of metal and elmwood materials.
Short Description:
48 inches long, 24 inches wide, 30 inches high
iron legs and an X-brace for strength
plastic feet mats prevent slipping and scratches
elmwood tabletop is easy to keep clean
seats up to 4, for kitchens, patios, etc
for couples and families of 2 to 4
it has a 330-pound load capacity
Best Square 24-Inch Wide Dining Table
Modway Lippa 24 Inch Kitchen Table
Pedestal Base
This 24-inch deep dining table is also 24 inches long, making a square tabletop supported by a pedestal. Moreover, it is made from medium-density fiber wood and comes in white color to easily fit with many other styles and colors in your dining space. Moreover, you can also use it for dinettes, eat-in kitchens, or kitchenettes in studio apartments.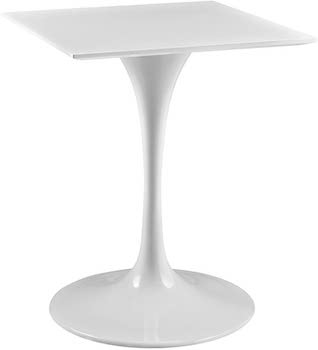 Simple & Durable Build
Included with the table, you will get a manual to give you instructions for easy assembly. The simple shape makes it easy to assemble. Moreover, the tabletop is resistant to chips for durability so that it is also easy to keep clean.
Timeless Look
The timeless design makes it easily fit into many designs and decors without many problems. You can style the 24-inch square dining table with different colors and chair designs to seat up to 2 people for a meal, a drink, or a chat.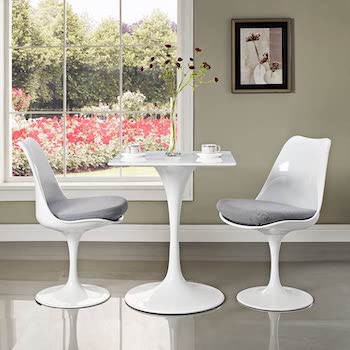 Metal Tapered Base
The 24-inch dining table is 28.5 inches high and has a metal tapered base to make it long-lasting and durable. Also, the tabletop is 1 inch thick to make it strong for holding drinks and meals.
Short Description:
24 inches long and wide square tabletop
28.5 inches high, metal tapered base
white color and a timeless modern design
chip-resistant MDF wood tabletop
seats up to 2 people; for small spaces
Best 24 x 24 Counter Height 24-Inch Dining Table
Puluomis Adjustable Pub Bar Table
Round Tabletop
This 24 x 24 counter height table features a round top and comes with a chrome body and a ring base for stability. It is an ideal design for modern homes and is even suitable for use in pubs and bars. Also, the table is 35.8 inches high so that people can stand around it or you can combine it with bar stools.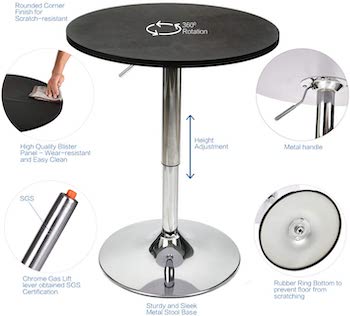 Adjustable Height
Moreover, the medium-density fiber tabletop can swivel so that drinks and other bits on the table are easy to access. With the hydraulic lift, you can adjust the height of the table easily. The lowest it can go is 27.5 inches. When at the tallest point, the 24-inch dining table measures 35.8 inches in height.
Steel Base
The table has a simple design so that it easily fits into many different decors and styles. Likewise, this also makes the assembly very quick and easy by following the instructions. Moreover, the table is stable thanks to the steel base.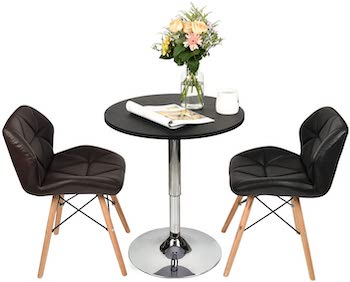 Stable & Stylish
Finally, the ring base has a 17.7-inch diameter to keep the table stable, preventing tipping over. The black tabletop finish with a chrome pedestal finish brings a stylish touch to your eat-in kitchens or open-style kitchen and sitting areas. You can use it to create your own home bar.
Short Description:
medium-density fiber tabletop in black
24-inch diameter, adjustable height
hydraulic lift, from 27.5 to 35.8 inches high
for modern homes, eat-in kitchens, etc
swivel tabletop for easy access
chrome pedestal made from steel
Best Counter Height 24 Inch Dining Table
International Concepts 24 x 48 Counter Height Table
Solid Parawood Table
This 24 x 48 counter height table comes unfinished and is made from solid parawood. This solid wood material makes it durable and strong for long-lasting use. Furthermore, this table is 24 inches wide, 48 inches long, and 36 inches high. Also, it is ideal for combination with counter-height stools.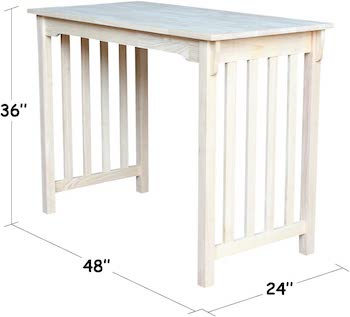 Stylish Barred Design
The table has four legs for stability and durability. The two legs on each head of the table feature parallel bars to add to the stability and add a stylish touch. Moreover, the table is ready to assemble so that you don't spend a lot of time on it.
Seats Up To 4
Furthermore, as the table comes unfinished, you can easily choose the color you want to use to make it blend into your home and to reflect your personal style. The 23-inch wide dining table can seat up to 4 people easily.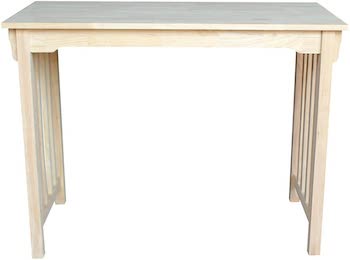 For Dining Nooks
Finally, to seat 4 people, you can put two chairs on each side of this 24-inch dining table. The small size makes it great for small spaces as a dining nook away from the dining room. Moreover, it is also ideal for couples and small families living in apartments where there is not a lot of space.
Short Description:
36 inches high rectangular table
24 inches wide, 48 inches long
durable parawood material for stability
unfinished and easy to assemble
ideal with counter-height stools
it can seat up to 4 people
for eat-in kitchens, small apartments, etc
What To Consider In 24-Inch Wide Dining Tables?
Firstly, you should know that dining tables with a 24-inch width can come in many different shapes. Secondly, you should also consider the table base it comes with. Thirdly, also check out which styles of furniture the market has to offer. Similarly, you should also consider where you want to use this table. Finally, also keep in mind some of the features that make a table as user-friendly as possible.
Tabletop Shape – Tables come in different shapes, including oval, round, square, and rectangular. Similarly, for a dining table 24 inches wide, you can usually choose between round, square, and rectangular options. Also, the choice will depend on the layout of the room where you want to put it. Smaller spaces will benefit from round or square tables.
Choose A Table Base – Besides choosing the shape of the tabletop, you can also choose between different styles of table bases. In short, you can choose between tables with legs, pedestals, and trestles. The first option is not the most convenient for adding more chairs to the table in case you get guests.
Which Style To Get? – Furthermore, along with other furniture, tables can come in many different styles. The market offers styles such as modern, contemporary, rustic, industrial, mid-century, farmhouse, minimalist, and more. The style will depend on your personal choice and the decor of the space where you want to install it.
Where To Use The Table? – As these tables are small, some of them can even be used in bars and pubs, especially if they come in counter height. Unlike 10-person extendable dining tables, 24-inch wide dining tables can also be used in eat-in kitchens, dining rooms, dinettes, and living rooms. However, some tables are also suitable for outdoor use on patios, balconies, and other outdoor spaces.
User-Friendly Features – Firstly, make sure the table is durable. Durable materials include glass, wood, and metal. Moreover, also make sure the table is easy to clean and easy to assemble. Likewise, also ensure at least 22 inches of space for every place at the table.
To Wrap It Up
In conclusion, our top pick is the OFM 161 Collection square table. This 24-inch wide dining table is also 24 inches deep with a square tabletop. Moreover, it is suitable for eat-in kitchens and even as an accent table in living rooms. It features a white tabletop with solid wood legs that can easily fit many decors. If you want a round table that is a bit bigger, check out our selection of 42-inch round pedestal tables. Finally, if you are interested, you can also consider reviewed models of 24-inch wide rectangular tables.