Are you interested in 3-piece round dining sets to fit into your kitchen, pub, or other rooms?
Not sure which style to go for?
Do not fret, we are here to help!
In this article, you can read reviews of pub sets, kitchen table sets, glass, modern, and cheap models with 3 pieces. Moreover, here you can read about features and qualities that you should pay attention to when shopping to get the best furniture for your kitchen, pub, or any other room.
The Rundown
6 Best 3-Piece Round Dining Sets
Best Of Best 3-Piece Round Dining Set
Homury 3 Piece Round Table Set
Espresso & Brown Tones
This 3-piece round dining set includes a round table with two chairs in two-tone espresso and brown colors. The sturdy table features a round manufactured wood tabletop with stainless steel legs. Also, the chairs have faux leather upholstery in brown with curved backrests for comfortable sitting. Furthermore, the set is durable thanks to metal and wood construction.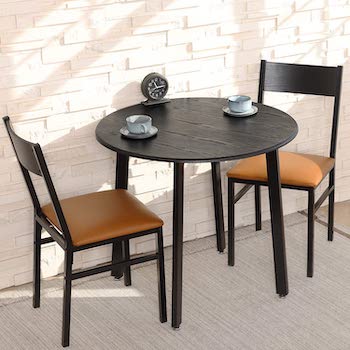 Wide Seats With Foam
The round table has a 33.8-inch diameter and is 29.5 inches high. Also, the chairs are 33.4 inches high and have wide seats for comfortable sitting.  The foam padding with faux leather in brown also makes sitting very comfortable. Finally, both the table and the chairs assemble easily in about 20 minutes.
Multitude Of Uses
This dinner table with two chairs is thus ideal for small spaces, such as dorm rooms, condos, studio apartments, coffee shops, and more. The table with four legs allows you to easily tuck the chairs under the table to save space when not in use. Finally, to clean it, simply use a damp cloth.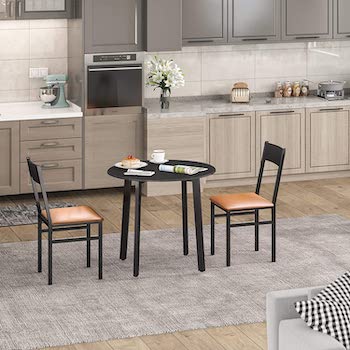 Simple Design
Besides dining, you can also use this table for work, preparing food, and entertainment nights in small spaces. The simple design of the table and chairs allows you to easily fit it into any room and any decor. Moreover, the brown and espresso finish help here.
Short Description:
two-tone espresso and brown colors
manufactured wood top and stainless steel legs
33.8-inch diameter, 29.5 inches high
easy assembly in 20 minutes
for dorm rooms, condos, coffee shops, etc
Best Pub 3-Piece Round Dining Set
Dorel Living Montgomery Dining Set
Matching Table & Stools
This industrial set has a combination construction of metal and wood materials. Moreover, the circular table comes with matching round stools that have footrests to make sitting and standing up comfortable. Also, your feet won't have to dangle in the air while you are eating, having a chat, or enjoying a drink.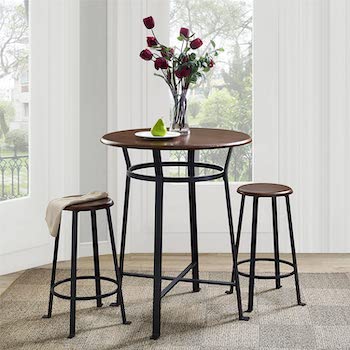 Mahogany Wood Grain
The round tabletop and the seats have a mahogany wood grain finish. The tabletop has a 30-inch diameter while each stool has a 13.75-inch diameter with a 12-inch diameter seat. Moreover, each stool is 24 inches high, while the table is 36 inches high. The industrial style of the set is perfect for industrial pubs where it can fit in easily.
Sturdy For Small Spaces
Moreover, the small build of the 3-piece round dining set makes it friendly for small spaces. For extra sturdiness, the table has an X-base metal piece under the table. Moreover, the metal base comes in black color to go nicely with the mahogany wood grain finish on the tabletop and the seats.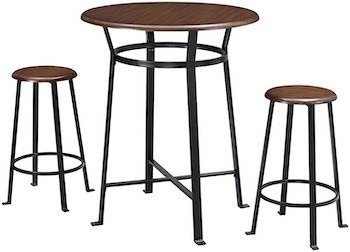 For Bar & Home
Finally, such a sturdy 3-piece round pub table set can even be used in your own home. You can create a bar area in your kitchen or living room nook. Moreover, you can also use it as a dining area in small studio apartments, ideal for singles and couples.
Short Description:
metal frames with mahogany wood grain top
30-inch diameter tabletop, 12-inch diameter seats
24-inch high stools with footrests
the round table is 36 inches tall
industrial style for pubs, kitchens, and more
user-friendly for small spaces
Best Kitchen 3-Piece Round Dining Set
East West 3 Pc Small Table Set
Two 9-Inch Drop Leaves
This 3 piece round kitchen table set is a great choice for eat-in kitchens, as well as open-plan homes that connect the kitchen, living, and dining area into one big open space. The set includes a round table with a pedestal base and two chairs with backrests. Moreover, the round tabletop features drop-leaves that measure 9 inches to help save space when necessary.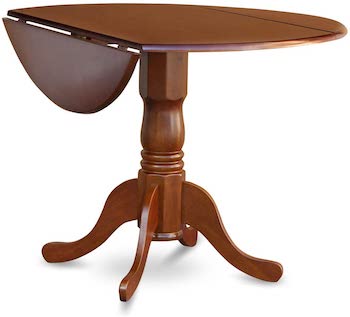 Space-Saving Design
By dropping the leaves, you can even place the table flush against the wall while saving space at the same time. After that, you can easily extend the table into a round tabletop, for binging dinner dates and rich breakfast portions. The 42-inch round pedestal table is also 29 inches tall.
Cherry & Black Finish
Moreover, the chairs with backrests have 21 inches wide and 18 inches deep seats. Also, they are 38 inches high. Furthermore, the seats on the chairs and the tabletop come in cherry finish, while the chair and the table frames are black. The pedestal base and the two-tone finish bring a classical touch to your kitchen area.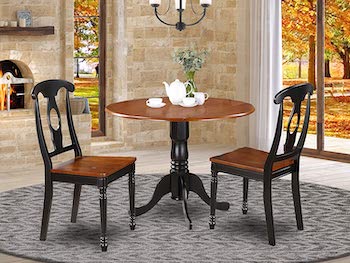 Solid Asian Hardwood
For sturdiness, this table with chairs is made from solid Asian hardwood. The elegant design is simple enough to bring a feel of formality into any kitchen. By seating two people, the 3-piece round dining set works great in compact kitchens, but also other small spaces.
Short Description:
for eat-in kitchens and compact spaces
42-inch round table with a pedestal base
two 9-inch drop leaves help save space
solid Asian hardwood in black and cherry
formal simple yet classic design
29-inch tall table, 38-inch tall chairs
the chairs have backrests for comfort
Best Glass 3-Piece Round Dining Set
Sicotas Round Dining Table Set
Glass Top & Chrome Legs
Compared to the above-reviewed models, this table set features a table with a glass top and two chairs. The 0.315-inch thick glass top has a 35.4-inch diameter and stands on 3 metal legs in a polished chrome finish. Moreover, the table is easy to assemble, as well as the chairs. The chairs come with grey upholstery on the backrest and the seats with a square pattern for style.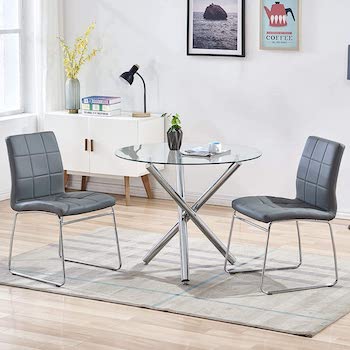 Thick Seat Pads For Comfort
The metal legs and the glass tabletop make this 3-piece round dining set very sturdy for long-lasting use. Each chair is 33.5 inches tall and can hold up to 250 pounds of weight. Also, the seats on the chairs are 18.5 inches tall. For comfort, seat pads are 2.36 inches thick.
Can Seat 4 People
Moreover, the chairs have grey faux leather upholstery that goes well with the clear glass top and chrome finish on the legs of the table. The table is large enough to even seat up to 4 people at once, in case you get friends or family over for a drink, a meal, or an entertaining night.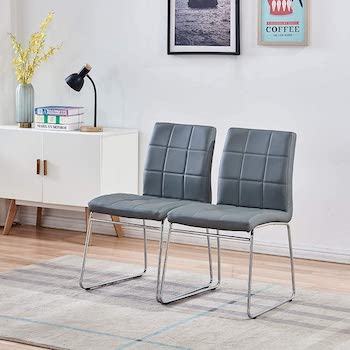 User-Friendly Design
Also, the chrome legs have anti-scratch feet that prevent the floor from scratching. The modern table with stylish legs easily becomes the centerpiece of any dining area. Finally, the 3-piece glass dining set is ideal for couples and urban living in small apartments where there is no space 0r need for long tables and large capacities.
Short Description:
a 0.315-inch thick glass tabletop
35.4-inch diameter glass top
3 metal legs in a chrome finish
two chairs with grey faux leather upholstery
modern design with stylish legs
Best Modern 3-Piece Round Dining Set
Yourlite Pub Table Set Of 3
White Marble Veneer
This table set of three includes a round pub table with two bar stool chairs. The barstools have leather-looking upholstery in white color on the seats and the short backrests. Moreover, the white marble veneer tabletop comes in a round shape to match the barstools.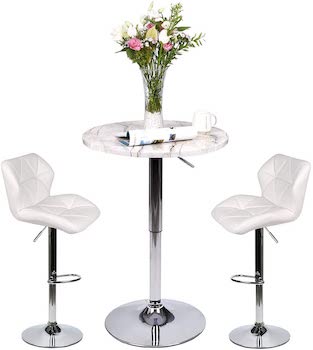 Steel Frame In Chrome
Both the stools and the round table have a steel frame coated in a chrome finish. Moreover, for stability, the frames of the table and the stools feature a ring base that prevents them from wobbling. Moreover, there is a rubber ring on the bottom to prevent the stools and the table from scratching your floors.
Adjustable Heights
What makes the pub table and the stools so special is the fact they can swivel for 360 degrees. Moreover, both the stools and the table allow you to adjust their height. The table can be adjusted between 27.5 and 35.8 inches. Meanwhile, the height of each stool is adjustable from 34 to 42 inches.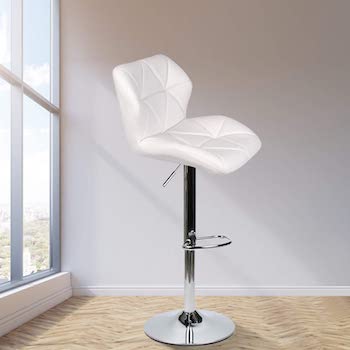 Easy Maintenance 
The modern 3-piece round dining set furniture is a great choice for any pub, bar, living room, or bar area in your home. What also makes it ideal for both residential and commercial use is the fact it is easy to maintain clean. All you have to do is wipe it clean with a towel. Finally, assembly is also easy as all the necessary tools and hardware are included.
Short Description:
a round pub table with two barstools
leather white upholstery on stools
a round marble veneer tabletop
steel frame in chrome with ring bases
stable and anti-scratching design
swivel models with adjustable heights
Best Cheap 3-Piece Round Dining Set
Monarch Specialities Bistro Dining Set
Wood & Metal Materials
This 3-piece round dining set can be purchased for the price of just around 140 dollars on Amazon. This makes it affordable and suitable for small spaces where you won't have to seat more than two people for a meal. The combination construction includes wood and metal materials to create a durable table and two chairs.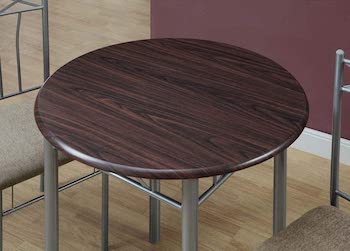 Cushioned Seats On Chairs
The bistro table features a round top in a cappuccino finish with four metal legs in silver. The matching chairs have silver metal frames and padded seats for comfort. Moreover, they have backrests but are also armless. The cushions on the seats allow you to sit comfortably, while the criss-cross design with bars on the backrest brings a stylish look.
Clean Lines 
Moreover, the set is emphasized with clean lines that bring a classical and rich vibe to any space. Furthermore, the velvet-like upholstery also helps here. The small table can seat up to 2 people at once and is thus an ideal choice for dorm rooms, studio apartments, and condos.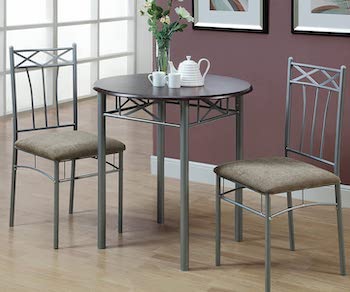 For Many Uses
With natural-looking colors, this set easily fits into any type of space. You can put it in your living or dining room, eat-in kitchen, and more. Also, it is even suitable for balcony use, sunrooms, and other confined spaces.
Short Description:
wooden round table top in cappuccino finish
metal table and chair frames in silver
padded seats for comfortable sitting
clean lines with a classic design
for studio apartments, condos, etc
for eat-in kitchens, sunrooms, living rooms
affordable price on Amazon
What To Consider In 3-Piece Round Dining Sets?
In case you are not sure which features to pay attention to when shopping for a round table with two chairs, here is a list we have put together. Firstly, you should keep in mind the size and the height of such a 3-piece set. Secondly, you should make sure that the set comes in a style of your choice. Thirdly, consider the materials that make durable models that can last you a long time. Moreover, also ensure that the set is user-friendly for convenient and simple use and maintenance.
Where Are Round Tables Acceptable? – For small and square rooms, you can choose between square and round tables. A 2-chair dining table in a round shape can then be fitted into small eat-in kitchens, studio apartments, condos, and more. Moreover, round tables are great for creating an intimate dining experience and are thus common with small seating capacities.
Height & Size – Tables and chairs come in two different sizes – standard and high-top. Standard size usually means that tables are around 30 inches high, while counter-height models usually measure between 34 and 39 inches. Moreover, round tables can have different tabletop sizes, but they hardly go over 40 inches to seat only two people.
Choose The Style – The market offers tables and chairs in many different styles. That way, there is something for everyone. For example, tables and chairs can come in modern, contemporary, vintage, retro, rustic, industrial, eclectic, minimalistic, and many other styles. Thanks to that, you will be able to choose a set that matches your home and your personal taste.
Durability – Tables, and chairs should be durable so that they can last you a long time. This will mostly depend on the material used to construct the sets. For instance, durable materials include wood, glass, stone, metal, and more. However, the material will also depend on the furniture style you choose, as different styles favor different materials.
Qualities To Search For – A 3-piece round dining set should be easy to assemble, as well as easy to clean. Secondly, the table should allow you to easily put the chairs under which is especially important for small spaces. Likewise, you should also ensure between 22 and 24 inches of space for every place at the table.
To Wrap It Up
In conclusion, we recommend the Homury 3-piece round dining set as our favorite choice. It includes a round table with a 33.8-inch diameter and two chairs. The set comes in a two-tone brown and espresso finish. It is a great choice for small spaces, coffee shops, and more. Lastly, it is also durable thanks to the combination of wood and steel. If you want to have a breakfast nook, you should consider our selection of 3-piece breakfast nook dining sets. In case you have a small space available for dining, check out small 3-piece dining sets the market has to offer.