Are you looking for the best yellow juicer you can fit your kitchen interior?
Then you can continue reading this post!
In this post, we will show you the most popular juicers in yellow color on the market at the moment. You can choose a juicer between 6 different categories that include electric, mini, and glass models, even models made for beginners.
The Rundown
Best 6 Yellow Juicers Reviews
BEST OF BEST YELLOW JUICER
Proctor Silex Citrus Juicer Machine
Transparent With Yellow Details
This yellow juicer comes in a pretty simple design that will fit in almost every kitchen. The entire unit is made of plastic which makes it easy to clean and maintain. It is not completely yellow, the pitcher in this juicer is transparent so you can see the content inside.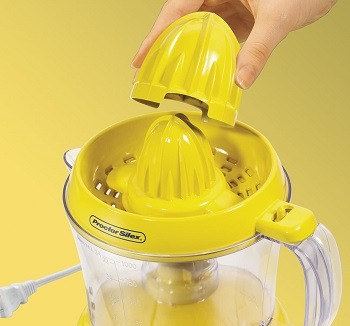 Dishwasher Safe
Although it is made of plastic, it is made of dishwasher safe materials. You can put the transparent pitcher in the dishwasher, but you can't do that to the base of the juicer because it is an electric unit. The base has a cable so you can easily plug it in the socket and start juicing.
2 Different Reamers
This juicer is made for small and bigger citruses. You can use it to squeeze key lime, lime, lemon, or, for example, pink grapefruits, and oranges. You can adjust the size of the reamer to the fruit you want to squeeze because this juicer comes with two different reamers.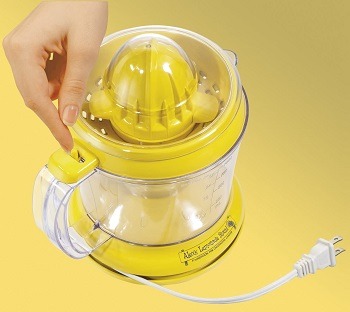 With Or Without Pulp
The size of the reamer is not the only thing you can adjust in this model. If you prefer juice with the pulp, you can easily achieve that with the adjustable control dial. That also means you can minimize or maximize the pulp amount with that dial.
Recipe Book For Juice Ideas
The size of this juicer is 6.3 x 8.58 x 8.5 and the capacity is around 34 ounces. That means you can easily make juice for the entire family. Also, if you want to expand the juice offer for them, you can check out the recipe book that comes with this juicer for more ideas.
Short Description:
2 reamers for different fruit sizes
pulp control dial
dishwasher safe detachable pitcher
34 oz capacity
comes with a recipe book
BEST FOR BEGINNERS YELLOW JUICER
IMUSA J100-00110 Citrus Juicer
Cast Iron Yellow Juicer
This juicer comes in yellow color with black and silver details. The entire juicer is made of cast iron so you can expect it to last a long time. It is a manual juicer so you don't need electricity for it to work.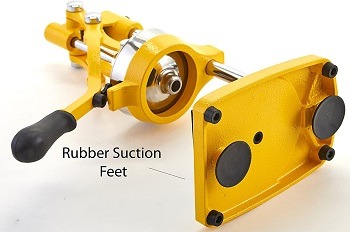 Safe And Easy To Use
This juicer is a pretty user-friendly unit. It is very easy to use; you simply place the orange/lime/lemon (or any other fruit) on the juicer and press it. The base of the juicer has rubber feet so you can be sure it won't slip no matter how hard you push it.
3 Different Adapters
This is a simple juicer, but that doesn't mean it can't impress you. It actually comes with 3 different adapters: slicer, juicer, and wedger. That means you can also slice fruits and vegetables. For example, if you are interested in making your own french fries.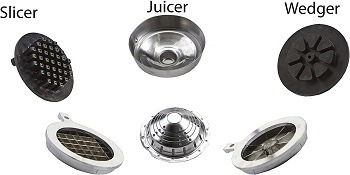 Cut Apples, Pears & Potatoes
The adapters we've mentioned in the paragraph above are made of stainless steel so you can be sure they will last for a long time. You can use a juicer to separate pulp if you aren't a fan of it. You can use a wedger to slice apples and pears for a quick snack or even a pie. You can use a slicer if you want to slice harder vegetables like potatoes.
Weight & Dimensions
This juicer is not a lightweight unit which is not surprising due to the fact it is made of cast iron. Its weight is 15 pounds. Also, it is good to know that this juicer's dimensions are 15.83 x 7.98 x 20.55 inches so you can plan where to put it before you buy it.
Short Description:
manual juicer
made of cast iron and stainless steel
comes with juicer, slicer, and wedger adapters
rubber feet for stability
ideal for fruit and vegetables
BEST MINI YELLOW JUICER
Household Portable SHUI Juicer
Cute Design Made Of Glass And Steel
This mini juicer is made of stainless steel and comes in yellow color and cute design in the shape of a cat. Its unique design can brighten up the entire kitchen while preparing sweet and healthy juices. Juicer combines a yellow bottom and a transparent bottle made of borosilicate glass, but it can also be in the combination of pink or blue color.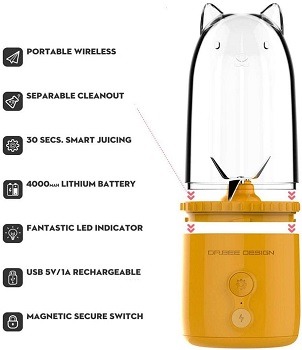 Durable Battery And USB Charger
SHUI Juicer has a built-in rechargeable lithium-ion battery that can be charged with the USB port connected to any USB device, laptop, and car charger (do not charge it while using the juicer). The battery capacity is 4000mAh and it provides a good amount of time juicing and mixing.
Magnetic Safe Use
With its magnetic secure switch, the juicer offers a good safety system. It is activated when the magnetic sensor placed on the cup matches the one placed on the base. This system makes it easy and safe to use for all generations.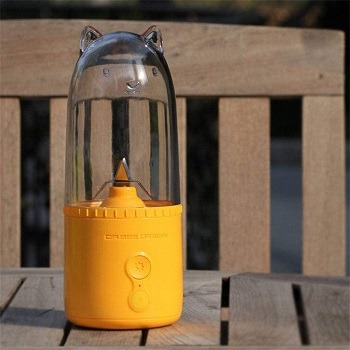 Mini And Portable
This mini juicer comes in dimensions of 3.15 x 3.15 x 8.27 inches, weighs about 1.1 pounds, so it is suitable for every kitchen. It is easy to clean and since it is so portable, it will easily fit in your lifestyle and travel. Juicer is made of non-toxic PP and ABS materials, so it is environmentally friendly.
30 Seconds For Beverage
The yellow juicer can be used for a variety of fruits and vegetables while making all sorts of juices, cocktails, and smoothies, as well as baby food. The juicer cuts every ingredient in small pieces so it's only a matter of time (around 30 seconds of juicing) until you have a fresh dose of healthy beverage.
Short Description:
cute design
combination of stainless steel and borosilicate glass
due to its dimensions, it is suitable for traveling
magnetic sensor for safe activation and juicing
ideal for fruit and vegetables
BEST GLASS YELLOW JUICER
Prepara Citrus Juicer
Glass Design With Lid For Storage
The yellow juicer has an elegant and modern design and a base made of glass. Its reamer is in yellow color and has good angles for the output of juice. The juicer comes with a separate lid for storing the remaining juice or for preparing it and keeping it fresh for later in the day.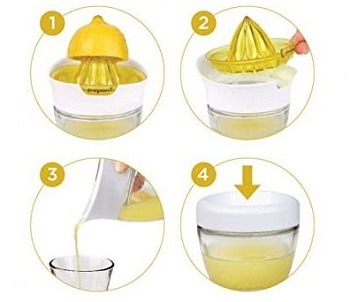 Integrated Options For Clean Use
The Prepara citrus juicer has 4.6 x 4.6 x 2.1 inches and 10.7 ounces and can contain 5 ounces of juice. The reamer is integrated and can be easily removed, while the integrated spout is great for the clean pouring of the juice. This juicer is BPA free.
Smaller Picks More Suitable
Due to its size, the juicer is more suitable and efficient for smaller citrus. But on the other hand, the dimensions of it makes it easy to store. The juicer is dishwasher safe, so while cleaning, you must remove the reamer and wash all parts separately.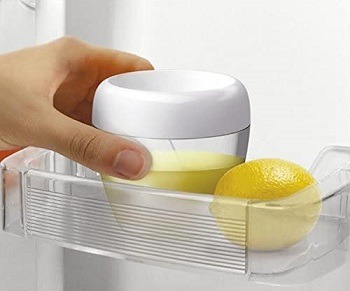 Reamer Design For More Juice
This citrus juicer is great for preparing all sorts of fresh beverages. You can juice all sorts of fruits such as oranges, limes, and lemons, while the reamer will make the job easy. It is designed to make the juicing easy and fast, while it will give you 2 times more juice.
Easy To Make, Easy To Clean
This manual juicer is easy to use and doesn't require much strength to use. It offers you an easy way to pour juice, as well as to store it safe and sound in the refrigerator. Since the juicer doesn't require much strength, you need to be careful to not overdo it. The part of the juicer that is made of glass is quite fragile since the glass isn't tempered, so be careful while juicing and don't press it too hard.
Short Description:
manual juicer for easy use
integrated lid for storage
base made of glass
good design of the reamer for quick press and juice
modern and elegant design with yellow details
not tempered glass, so careful while using
BEST HOME YELLOW JUICER
Choners Multifunctional Blender
Classic Innovation
This multifunctional machine or blender, juicer, and mixer, comes in specific yellow color. It is made of plastic on the outside, while the inside blade is made of stainless steel. This machine has a quite classic design but offers a lot more than it meets the eye.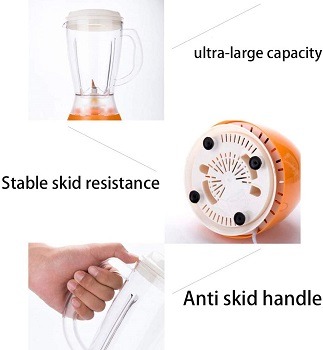 Multifunctional Characteristics
This yellow juicer/blender has 7 different functions that allow you to make milkshakes, smoothies, and juices, as well as puree and complimentary food. It has adjustable speed that you can manage through 4 buttons. The motor of the blender is pure copper and is suitable for all different kinds of food, fruits, and vegetables.
Two Cups For Variety
The cups of the blender come in two sizes. The larger one has quite a big capacity and can contain 1500 ml, its dimensions are 10.63 x 4.53 x 4.53 inches, while it weighs around 3.45 pounds. That one is suitable for the fruits, vegetables, and food, while the smaller one is suitable for grinding the nuts.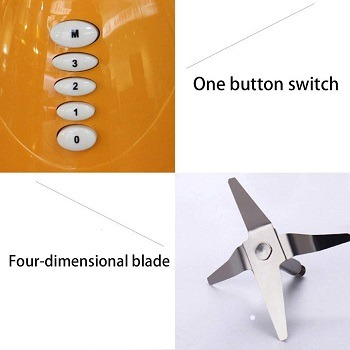 Easy To Handle And Hold
Since it has different speed options, the blender is adjustable for everyone's desires and it is quite easy to use. To make it safer, the blender has stable skid resistance on the bottom, as well as an anti-skid handle, so you don't need to worry about slipping.
Good Friendly Fit
This user-friendly blender will certainly be a good fit in your kitchen. Its different options are suitable for making all kinds of fresh and healthy beverages and food, while its design and used materials are thick and safe from leaking.
Short Description:
classic design with an innovative approach
7 multifunction options
4 adjustable speed
two sizes of the cups
skid resistance on the base and handle
BEST HANDHELD YELLOW JUICER
Drizom Citrus Juicer
Small In Size, Easy To Handle
This small juicer comes in a combination of transparent bottom and yellow details that brighten up the entire design. The container of the juicer comes with a measuring scale to keep tracking the volume, while its handle makes it easy to pour. The juicer is made from food-safe plastic that is quite durable.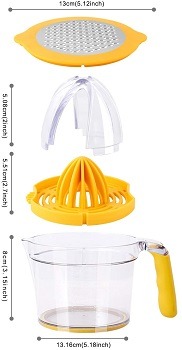 Technical Measurements And Suitability
The juicer comes in the dimensions of 6.3 x 5.34 x 4.41 inches and weighs 1.15 pounds. It also comes with two different reamers. One has 12-tooth and is good to juice maximum of the lemon or lime, while the 3-claw reamer is great for squeezing the orange or some other bigger fruit.
Different Options And Savings
Besides two reamers, when getting a Drizom citrus juicer, you also get a grater that is suitable for lemon, lime, and other fruits, as well as potato, garlic, and ginger. Due to these multifunctions, you won't have to buy all sorts of kitchen tools.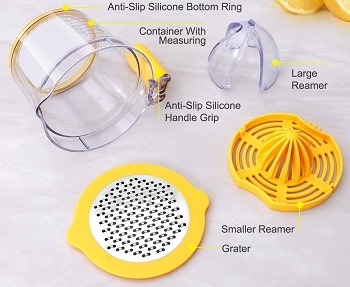 Design Suitable For Transfer
20 oz of capacity is quite nice for this small yellow juicer and the additional flip-top design is great for storing the remaining juice or ingredients for the preparation of the supper. Since it can be closed without any leaking, the juicer is great for traveling, camping, and picnic.
Clean Within Seconds
Regarding the cleaning, Drizom citrus juicer is really easy to clean. It is suitable for dishwashers and is clean in a matter of seconds. Thanks to the good design and quality making, the juicer is easy and safe to use, and its non-slip silicone handle gives you better stability and comfort while juicing.
Short Description:
manual juicer easy to use
multifunction options for a variety of fruits and vegetables
two different reamers
good design and finishing suitable for transfer
made of food-safe plastic
What To Consider About Yellow Juicers?
When you are looking for a yellow juicer, you know what color you want. But, what about other characteristics? For example, you can choose the electric or manual juicer, you can choose the size of the juicer and you can even choose the model with only one option, or the model with 3 or more options. But, to know what you really need and want, read our short guide below.
Yellow Color – a yellow color is a great choice because it gives a dose of freshness into the kitchen. Other colors that you can choose are white, orange or you can simply go with the transparent option. The last option is the best if you want to check out what is inside the pitcher.
Iron, Glass, Or Plastic? – plastic juicers are light, easy to clean but you can't put every plastic model in the dishwasher so keep that in mind. The iron juicers are durable and they will last a long time, but they are quite heavy. Glass option is the best option if you want a material that is right between plastic and metal, but be careful because it can easily break if the glass isn't tempered.
Manual Or Electric Option – manual options are great if you don't want to use a socket (or you can't use it), but keep in mind that you will have to use your strength to squeeze the fruits. The electric option is not that messy and you can simply press the button and the job is done. The only thing you have to do is choose the battery option or the corded one.
Multifunctional Devices – most juicers on the market come with two or more options and you can see that by the types of adapter included in the package. You can get a juicer, a squeezer, a blender all in one. That means you don't have to prepare only juice, you can also blend fruits and vegetables for smoothies, prepare soups even pies or french fries.
Choose The Right Size – think about the juicer you want to buy, do you need it for yourself, your family, or your business. Depending on the size of the juicer or the pitcher, choose the most suitable model. Keep in mind that bigger models often come with more features, while smaller models are often weaker and come with simpler functions.
To Wrap It Up
If you are looking for the best yellow juicer, we would recommend the Proctor Silex Citrus Juicer.  This model comes with two different reamers so you can adjust the reamer to the fruit size you want to squeeze. Also, it comes with pulp control which means you can choose to make a pulp-free juicer if you want. This model also comes in white color, so if you are interested in learning more about other white models, check out my post about white juicer machines. On the other hand, if you want to check out models that will squeeze the entire fruit, check out my post about whole fruit juicers.