Vintage & Antique lemon squeezers come in a unique design, but due to their specifications, which model is the best for your household?
In these 6 reviews, we are discussing 6 very different models, their designs, and technical components. Read this post and find which model will be your new favorite kitchen tool!
The Rundown
Best 6 Vintage & Antique Lemon Squeezers
BEST OF BEST VINTAGE LEMON SQUEEZER
New Star Citrus Juicer
Antique-Inspired Bronze Finishing
With its unique design, this juicer comes in an antique attire that will certainly light up an entire kitchen interior, but it's most suitable for lovers of industrial or rustic design. It comes in an antique-inspired bronze finishing with silver and black details. It's also available in a combination of black and silver, but that model looks a bit too modern.
Good Size And Dimensions
This vintage lemon squeezer is made of a combination of cast iron and stainless steel. Its dimensions are 9 x 6 x 23 inches, while the weight is 12 pounds. Due to its size and specifications of the making, the juicer is suitable for lemons, as well as for limes, oranges, and grapefruits.
Commercial Grade Design
Due to the making of the ergonomic handle, as well as to the strainer and funnel made of stainless steel, this squeezer extracts the maximum of the juice, while preserving all the nutrients and vitamins. Its design and specification work well and are easy to handle, so you can consider this mode a commercial-grade lemon juicer.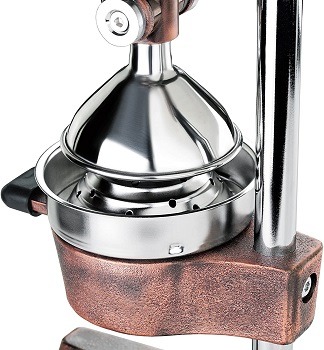 Safety Components
The base of the juicer is quite heavy and comes with rubber feet to give you more stability while juicing. The handle is longer and also comes with rubber so it gives you a better and more secure grip. Even though this model is suitable for commercial use, it's also a good fit for any household that loves fresh and healthy lemon juices.
Low Maintenance But Regular Cleaning
Maintaining this juicer doesn't require much time and effort, since it's made of high-quality and durable materials. But to keep it in a good condition, clean the juicer after every use.  Regarding the cleaning, all of the detachable parts, such as cone and funnel parts, are safe to put in the dishwasher.
Short Description:
unique design with antique-inspired bronze finishing
made of the combination of cast iron and stainless steel
good size and dimensions for juicing lemons, as well as other fruit
comes with safety components such as rubber feet and handle
the juicer requires cleaning after every use
BEST HANDHELD ANTIQUE LEMON SQUEEZER
Manual Citrus Press
Professional Silver Design
This squeezer comes in a prestigious silver design. Its lines are giving away quite a professional impression that will certainly be a great fit for the rest of your kitchen tools. This model comes in a variety of different finishings, so besides this clean silver look, you can get the one that has a little bit of more rustic silver, as well as the one in rose gold.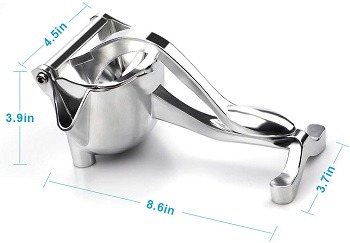 30% More Extracting Of The Juice
With its dimensions of 9.3 x 5.3 x 5.1 inches, and its weight of 1.75 pounds, this squeezer is relatively small, but due to that, it's a perfect fit for squeezing lemons. Due to its simple design and principle of work, it can extract 30% more juice from lemons, or any other used fruit.
Suitable For Any Flat Surface
The handle is made to provide you with a quite comfortable grip and it doesn't require a lot of strength for squeezing. This vintage designed ornge juicer and lemon squeezer comes in a stable design that makes it suitable for placing on any flat surface since it won't slide off that easy.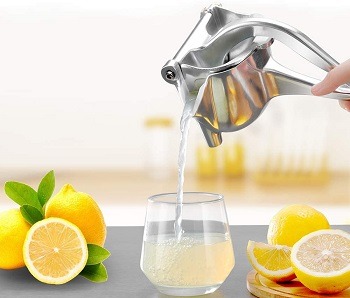 A Couple Of Minutes For The Fresh Juice
The use of this squeezer is really simple but it takes a bit of additional preparation such as cutting the lemons into 2 pieces. After the lemons are cut, put the one piece into the juice bag, close the lid and squeeze the pulp. After you're done, take the pulp out and just pour the juice through the squeezer's funnel into a glass.
Hand Wash With Water And Cloth
This vintage lemon squeezer is not dishwasher safe. When it comes to cleaning, you need to hand wash the entire squeezer with water and some cloth. The squeezer needs to be cleaned and drained after every use. If you follow the instructions, the squeezer will be efficient and durable.
Short Description:
silver design with a professional impression
due to its simplicity of work, it extracts 30% more juice
made to provide stability while using at any flat surface
not dishwasher safe requires hand wash only
BEST STAINLESS STEEL VINTAGE LEMON SQUEEZER
Ruibo Lemon Squeezer
Copper Old-Fashion Beauty
With a beautiful copper color, this vintage lemon juicer certainly comes in an interesting design that is unique, yet simple, and vintage, yet a bit modern. It comes in an old-fashion and simple design, while the copper workmanship gives a beautiful mix of rustic and vintage. Besides the copper, this squeezer also comes in clean silver, but that model looks too much like every other kitchen tool.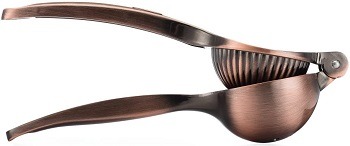 Stainless Steel For Efficiency And Durability
This high-quality stainless steel lemon squeezer won't rust or crack. Also, this kind of material won't bend and deform. The dimensions of the squeezer are 2.8 x 1.7 x 8.7 inches and it weighs 15.5 ounces.  Due to all these specifications, the squeezer is made to be efficient during a long period of time.
Good Juicing Capacity
Ruibo vintage lemon squeezer has a large bowl with a width of almost 3 inches, so it is suitable for large lemons and limes, as well as smaller oranges or mandarins. Due to its design, the squeezer extracts maximum juice in a couple of seconds so it presents a good and quick tool for making fresh and healthy juices at any time of the day.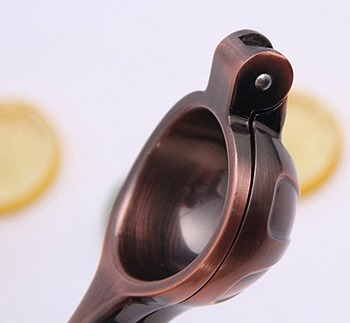 Simple Cutting And Juicing
As with most handheld lemon squeezers, this model also needs additional preparation before juicing. Nothing much, you just have to put the pressure on the lemon and roll it to make it softer, and then cut it in half. When you're ready, put the lemon facing downwards in the squeezer and then squeeze. The juice will start pouring immediately.
No Hand Wash
Due to the fact that this squeezer is made of high-quality material that won't go bad on you, the cleaning part is easier than on some of the models. This one doesn't require any hand washing (if you're up to it, go for it), it is perfectly okay and safe to put in the dishwasher.
Short Description:
comes in a pretty copper old-fashion finishing
high-quality alloy stainless steel so it's efficient and durable
large bowl capacity allows you to squeeze big lemons and limes
requires to soften the lemon before cutting and squeezing
due to its material of making, it's dishwasher-safe
BEST HOME ANTIQUE LEMON SQUEEZER
Kilner Citrus Juicer
Beautiful Glass Workmanship
This antique citrus juicer comes in a beautiful glass design. Its lines of workmanship are gentle, yet strong, while the design itself is a combination of the glass juicer and mason jar. The glass is even more emphasized with silver string details and orange touch on the lid.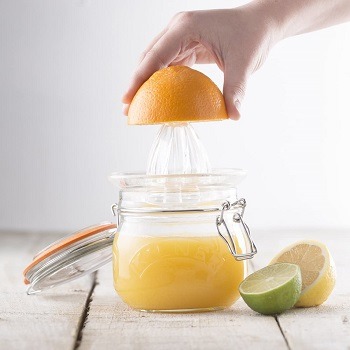 Made Of Durable And Safe Glass
This 2 in 1 set comes in the dimensions of 5.91 x 5.91 x 8.27 inches and with a weight of 1.1 pounds. The entire product is made of a non-toxic and non-porous glass that is durable and efficient. The glass top reamer is made to be sharp to ease up the juicing so it doesn't require that much of a  strength for the pressure.
Mason Jar For Storing
This antique squeezer is great for storing lemon juice or any other fruit juice since it comes with a mason jar. While juicing, the juice pours right into the jar so when you're done, all you need to do is close the lid and store the juice in a refrigerator.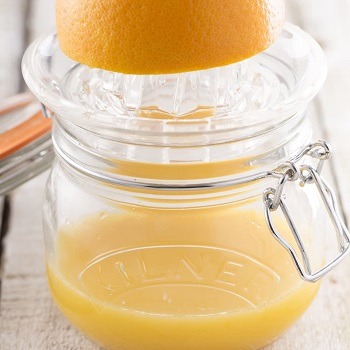 No Odors And Stains, Yes To The Freshness
With its capacity of around 15-fluid ounces, this vintage squeezer is a good fit for all the lovers of fresh and healthy beverages. The glass is made to be resistant to odors and stains, while the freshness of the juice is preserved thanks to the orange silicone seal.
Dishwasher Or Hand Wash
Since this glass lemon squeezer is quite easy to clean. To make it dishwasher safe, just remove the seal and that's it. If you're more of a hand-wash-lover and don't want to be bothered with removing some parts of the squeezer, you can wash it with water and cloth. This squeezer or any of its parts shouldn't be used for boiling water.
Short Description:
beautiful workmanship and glass design
made of non-toxic and durable glass
the squeezer present a unique set of the squeezer and mason jar
great for storing and preserving freshness
it can be washed by hands or in a dishwasher
BEST FOR BEGINNERS VINTAGE LEMON SQUEEZER
Fox Valley Traders Glass Juicer
Standard Design With Green Reflection
With its glass design with a little touch of green reflection, this vintage glass lemon juicer comes in a standard, but cute design. It comes with two parts, the reamer and the cup for the juice. The bowl has a measuring scale to ease up the amount of the juicing.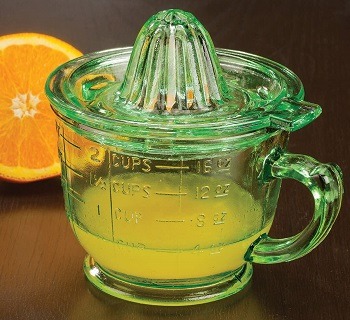 Options For Capacity
This lemon squeezer is inspired by the 1900s and it comes with the dimensions of 6.38 x 6.38 x 6.22 inches and with a weight of 1.85 pounds. Due to its measuring scale, its capacity goes from half of a cup of fresh juice that is 4 oz to the 2 cups of juice that is 16 oz.
Manual But Quick
When it comes to the manual lemon squeezers, you basically depend on your own strength of pressing the lemon on the reamer. Due to its design, this squeezer is made to ease up the juicing and save you time.  Just press the lemon on the pointed tip of the reamer, twist it a couple of times, and that's it. The juice is ready.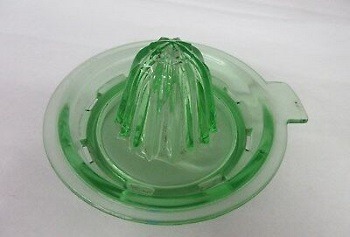 Smoothness Without The Pulp
The lid of the squeezer will secure your smooth juice from any pulp or skin that might fall off during the juicing. Since the reamer lid fits perfectly to the cup, you will have no problem with making smooth juices without any pulp or fruit remains. To ease up the pouring, the cup is spouted.
Hand Wash Recommended
The cleaning of this lemon squeezer is quite easy. It's recommended to wash it with hands, just to be sure that it won't break. Just a little bit of water, cloth, and some mild soap, and you're good to go. The squeezer will be clean in no time.
Short Description:
standard glass design with a bit of green reflection
comes with a measuring scale with different capacities
even though it's manual, it doesn't require much strength
the reamer lid keeps all the pulp away from the juice
it is recommended to hand wash the squeezer
BEST GLASS ANTIQUE LEMON SQUEEZER
Godinger Citrus Juicer
Fancy And Elegant
Beautiful carvings of this antique lemon squeezer come with perfect workmanship of its rounded shape. The entire juicer is made of crystal clear glass, and its lines of making are elegant and fancy. This juicer won't have any problem with fitting and brightening up the entire kitchen.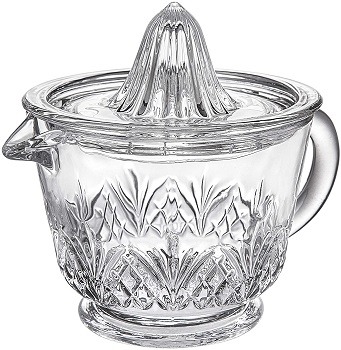 Perfect Size Suitable For Storage In Kitchen Cabinet
This glass lemon juicer is made of Dublin crystal glass and it comes in the dimensions of 6 x 4 x 7 inches, and with a weight of 1 ounce. Its size is perfect to fit any kitchen since it doesn't require much space for storage, just a bit of place in the kitchen cabinet.
A Glass Of Fresh Juice
The juicer comes with a capacity of 14 oz that is suitable for making a bit more of one glass of fresh juice. The juicer is quite practical since it has a perfect fit between the reamer and a cup made for juice. When you're squeezing the lemon, you just press it on the reamer while the juice will pour directly into the cup.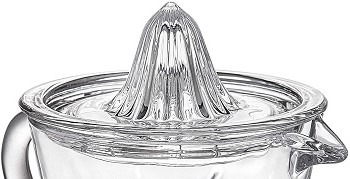 Clean Juicing Without Mess
With its good design, the juicer is made to make no additional mess and spillage. All the pulp and skin of the fruit will be secured on the reamer's lid, while the juice will fill up the cup. To ease up the pouring and to minimalize the mess even more, this cup of the squeezer is spouted.
Half Of A Fruit And Juice
This manual antique lemon press is a good fit for squeezing not only lemons but oranges as well. The fruit must be cut in half before juicing and then you just press its soft flesh on the sharp reamer. You will have a full glass of fresh juice in a couple of minutes. Regarding the cleaning, the squeezer is dishwasher safe.
Short Description:
fancy and elegant glass design with beautiful carvings
good size to fit in any kitchen cabinet
the capacity of the squeezer is 14 oz
the perfect fit of the reamer and the cup without spillage
requires a bit of additional preparation for juicing
What To Consider About Vintage & Antique Lemon Squeezers
When choosing that unique vintage & antique lemon squeezer, a lot of components must be taken into account. Read this guide and find out how to choose the right model. Learn which size is more suitable, what comes in the set of 2, which materials are the best, why the measuring scale is a plus, and what design is more suitable for this era.
Smaller In Size – the lemon squeezer can come in a variety of different sizes and dimensions. Due to the fact that all kitchen tools must be efficient, yet practical, choose the model that is a bit smaller and requires minimal storage space, while it provides you with a good and quick juicing.
Set Of 2 – while choosing the right vintage & antique lemon squeezer, it is best to choose the one that comes in a set of sharp reamer and a mason jar. Due to its perfect mutual fit, the reamer and its lid will provide you with a simple and quick juicing without additional mess and spillage, while the mason jar is a good product for storing and preserving the freshness.
Glass Or Stainless Steel Is A Must – the good material of making is the key point when looking for the right lemon squeezer. You have to choose the one that is made of non-toxic and durable glass or the one made of high-quality alloy stainless steel that won't rust or crack. The material is important since it can affect not only the efficiency and durability of the squeezer but also the safety of fruit and the process of juicing.
Measuring Scale Is A Plus – with this type of squeezer the best option is to choose the model that comes in the set of 2. We know we already mentioned that, but when looking for the best fit, try to pick out the one that comes with a measuring scale. The scale is good to manipulate the right amount of the juice while not making additional waste.
Design With Details To Fit The Theme – vintage & antique lemon squeezers comes with quite unique designs. To get the one that fits the theme the most, choose the model that has specific lines of the making, as well as beautiful carvings and details. The more specific design, the more it will fit the vintage & antique theme.
To Wrap It Up
The vintage & antique lemon squeezer that I recommend is Kilner Citrus Juicer. I would recommend this glass model because it comes as a good set of 2, the reamer, and a mason jar with a lid. It's made to provide you with easy juicing, while it gives you a good and resistant jar for storing in the refrigerator and preserving the freshness. If you want a good lemon squeezer but the vintage one isn't right for you, check this post about wooden lemon squeezers. If you're interested in finding a unique juicer made for oranges, read this post about vintage orange juicers.