While vegetarians avoid consuming proteins from meat, it doesn't mean that don't have to take proteins. Thanks to many modern solutions, it is easy to keep a nutritious and balanced diet.
It is well-known that proteins should be taken later in the evening for dinner to prevent gaining weight. In this article, we bring you modern and easy recipes for vegetarian protein dinners that are easy to prepare after a busy day.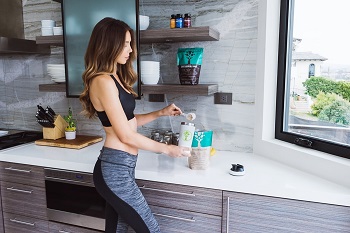 Protein Intake For Vegetarian
High protein intake is connected to people who train and want to build muscle. Yet, you need to eat a satisfying aunt every day for a balanced diet. The normal person, with moderate activity, should consume 0.8 g of protein per kilogram of body weight. For vegetarians, it is about 63 grams for men and 52 grams for women per day. Simply, it depends on your age and activity, but there are many sources to check your needs. Yet, there is still possible to overdose with proteins that can have negative aspects. A double dose of recommended can affect kidneys and their work. If you eat only protein in a day and repeat, that stress can cause dehydration. Remember that a healthy diet is diverse, so break it with carbohydrates and vegetables.
Why Are Proteins Necessary?
Every cell in the human body contains protein and they are very important for our life. Their intake helps to rebuild cells and make new ones, which is crucial for children and pregnant women. It is essential for stronger bones and muscles. People who train a lot need help to build and recovery muscles, so they take them as supplements. Besides, when they digest, they break into amino acids that are crucial for healthy function. They help you keep normal digestion, but also energy production. Some proteins are hormones and are responsible for insulin and glucagon transfer. They play an important role in maintaining proper pH. In another case, it could be mortal for you. Not less important, it is an immune system booster and with proper exercise helps you to avoid cold.
Protein Source For Vegetarian
Since many people take it from meat, it sounds like a tough replacement for vegetarians. Actually, it isn't hard to meet recommendations. If you have any problems with finding it in food, you can take protein powder. It comes in different flavors, so you can compose it with breakfast or dessert.
Hummus is a good source of protein since its main ingredient is chickpeas. It is rich in lysine, which is a good amino acid. Any food rich in chickpeas, like falafel, is suitable for daily consumption. Beans are rich in amino acids, so consuming them can be a rich meal. Nutritional yeast is excellent adding filled with protein. It is usually used to add cheesy flavor to vegan dishes. Chia seeds are excellent for combining with meals and are rich in amino acids. You can consume them in smoothies, oatmeal, and many more. Spirulina is algae that is consumed as dust. One teaspoon of spirulina has 4 grams of protein. It is mostly added in granola or soups for a nutritional boost. Ezekiel bread is made from sprouted grains, like soybeans, lentils and spelled. The combination provides all nine amino acids. It is great for making a vegetarian sandwich and for spreading hummus. Combined with peanut butter and chia, it is a great breakfast. Tofu is great for adding meat-like texture and one serving has even 8 grams of protein. As a grain, quinoa is also rich in protein. It can be added for more texture to a salad or is great as a simple meal with a lot of vegetables. Find the most nutritious vegetables to juice as a good combination with a high protein meal.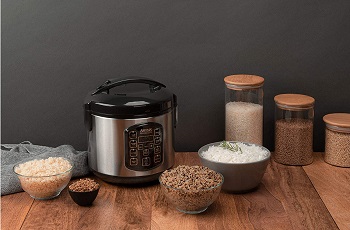 Recipes For High Protein Vegetarian Dinners
There are many solutions to how you can make a delicious and rich high protein vegetarian dinner. To save you time, we have chosen the 6 best recipes that are quick to make, but nutritious. You can make them for an everyday meal or surprise your friends at dinner. Maybe you can inspire them to try meatless meals!
Warm Bowl Of Brown Rice
Rice is high in amino acid methionine and the classic pair are beans which are high in lysine. Combining these two is great for consuming protein. One cup of rice and beans provide you 12 grams of protein. To prepare, add 1 cup of brown rice and water to boil. Sprinkle with salt and leave for water to disappear. In the pan add a bit of olive oil and one chopped shallot. Cook it for a minute or two and add one can of beans. Season with preference. On the other side prepare guacamole. Chop one avocado finely and combine it with finely chopped tomato. Sprinkle with salt, olive oil, and lemon juice. In a bowl add a half cup of cooked rice and top with beans. Add guacamole to your preference and enjoy!
Quinoa Greek Salad
This vegetarian protein dinner is a quick and light version of a famous dish. It is flavourful and contains even 2 ingredients rich in protein. Cook quinoa until soft and rinse to remove bitterness. For better taste, you can toast in the oven for 10 minutes before cooking. Use 3 cups of quinoa and combine it with 1 cup of rinsed and drained chickpeas. Chop one medium cucumber and kalamata olives. Dice one medium onion and quarter cherry tomatoes. Combine all and cool it down. For the dressing, chop finely fresh parsley and combine it with the juice of 2 lemons, 2 tablespoons of olive oil, and 2 tablespoons of dijon mustard. Add salt and pepper to taste. Before serving, pour dressing over salad and mix well.
Chickpeas Pumpkin Curry
Chickpeas are full of protein and you can find a boost in hummus. But, rather than just spreading it on bread, we bring you a delicious and easy idea. For this recipe, you need to heat 1 teaspoon of curry paste, 2 diced onions, and 3 stalks of lemongrass on oil. Stir pumpkin in the pan and cover with paste. Then, add coconut milk and vegetable stock. Cook until the pumpkin is soft. Add drained chickpeas and boil for 10 minutes. Wait to cool and serve in bowls. This preparation can be frozen for months. Also, curry can be mixed with many spices and the taste can be better. A good choice is a saffron, but it doesn't need to be expensive if you learn how to grow saffron at home.
Tofu Stir Fry
Tofu has meat-like consistency, but it is high in proteins and a great choice for a quick and healthy meal. This recipe is very adaptable and you can add any vegetable you have, but we bring you a classic version. First, you need easy peanut sauce. For it, combine fresh ginger, half cup of peanut butter, 1 garlic clove, 2 tablespoons of soy sauce, 2 tablespoons of sesame seeds in a blender, and add water to preference. Cut extra-firm tofu on cubes and toast it on hot canola oil. Add 2 cups of chopped cabbage, 1 small head of broccoli, and sliced green onions. Fry until they are golden and cover with peanut sauce. Enjoy while is still hot.
Vegetarian Burger
The vegetarian burger is a dish that even omnivores adore. The only difference is burger patty, but we bring you a recipe you won't find the difference and it is loaded with protein. For this burger prepare fresh bread and slice two thin slices. Fry tempeh, instead of bacon, until golden and crispy. For the sauce, combine mayonnaise, dijon mustard, and white vinegar. Add a teaspoon of creme fraiche and salt to taste. For patty, chop mushroom, carrot, onion and combine it with black beans. Add salt, smoked paprika, garlic powder, and fresh herbs, like parsley. Then, add 2 eggs and a tablespoon of tomato paste. Blend well and if needed add breadcrumbs. Shape patty and fry in hot canola oil. After they are finished, put some sauce on one slice of bread, add the patty and cover it with a green salad and caramelized onions. Finish with tempeh and bread slice.
Miso Noodle Soup
For cold and long days, or just when you want hot comfort food, try this muso soup. Deep in flavor, it is also loaded with proteins and a great immune system boost. First, cook noodles according to instructions. After they are finished, rinse with cold water to remove excess starch. In the other pot, heat the oil and add one tablespoon of sliced onion, garlic, ginger, and season with salt and pepper. Pour 4 cups of vegetable broth and 1 tablespoon of soy sauce. Bring to a boil and cook for additional 10 minutes. Add 1 tablespoon of miso paste and whisk until dissolved. Add 170 g of sliced tofu, 55 g of sliced shitake mushrooms, and 2 cups of baby spinach. Cook until vegetables are tender and serve hot in a bowl.
To Wrap It Up
Vegetarian protein dinner sounds hard to get, but with simple ingredients, you can eat delicious and healthy meals. As a vegetarian, it is important to take care of protein intake since it is very important for overall health. Yet, with these recipes, you will always have delicious and balanced meals. If you need a quality professional juicer machine to make your dinner, read this post. You might also be in need of an excellent 12 cup rice cooker so check the offer here.