Are you looking for a meat slicer that will help you make the most perfect cuts manually?
Then a manual hand crank jerky slicer is just what you need!
In the next few segments, you can find my reviews of the four best models that are currently available for sale. Check them out, compare the features they have to offer, and choose the best one.
The Rundown
Best 4 Manual (Hand Crank) Jerky Slicers
Best Of Best Manual Jerky Slicer
Nomal Jerky Slicer Set
4In1 Appliance
The amazing thing about this model is that it provides you with the versatility of four different appliances in only one machine. You can use it to loose, tender, shred, or slice the meat. It comes with two different blade assemblies that ensure perfect results with every single use.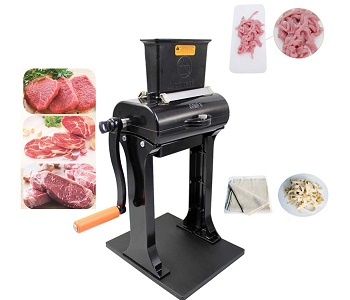 Multipurpose Use
You can use this hand crank jerky slicer to process versitile meat. It is suitable for use with side steaks, skirt steaks, boneless, and round ones, with chicken breasts, fried meat, etc. Whichever option you choose you can be sure that you will achieve the best results.
Cast Aluminum Design
Even though this kitchen meat slicer is constructed out of cast aluminum, it is still very lightweight. Due to this feature, you won't have any trouble moving it around when needed. Additionally, its blades are made out of stainless steel which ensures their durability and lasting performance.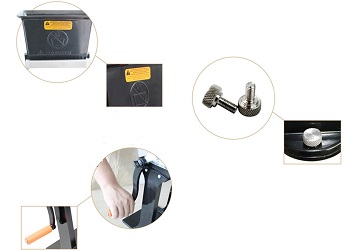 Mechanical Crank
Just like the next models, this one also features a mechanical crank. It is specially designed in accordance with human mechanics meaning that it will perfectly fit into the palm of your hand. A a result, you'll be able to easily slice up your meat.
Short Description:
a highly practical 4in1 appliance
two different blade assemblies
made for use with versitile meat
durable cast aluminum construction
very lightweight and easy to carry
features a simple mechanical crank
solid base for additional stability
Best Commercial Hand Crank Jerky Slicer
Cgoldenwall Manual Slicer
Versitile Use
Because of its construction and design, this slicer is the perfect choice for both domestic and commercial use. Its four-millimeter blade is extremely sharp to ensure that it can easily slice up versitile ingredients. This includes versitile meat, dried food, herbs, nuts, etc.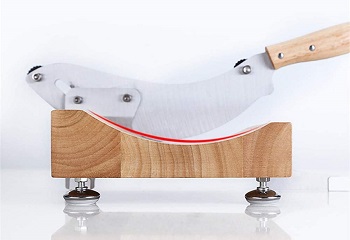 Thickness Control
Another thing worth mentioning is that this commercial food slicer allows you to control the thickness of each slice you make. As a result, you'll be able to achieve both thin deli slices and the thicker board cut ones.
Solid Wood Base
The bottom of this manual jerky slicer features a solid wood construction. It is very durable and has a strong texture. Additionally, the base features specially designed grooves that will prevent the ingredients you are cutting from rolling off.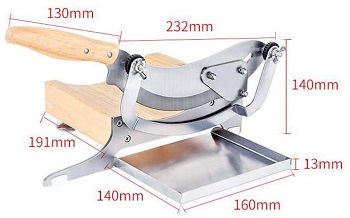 Support Foot
Because of its balanced support foot, the base won't move during the slicing process. It even has bottom non-slip feet that provide additional stability and ensure that the slicer stays in its position on the countertops.
Short Description:
made for both domestic and commercial use
provides precise thickness control
features a 4 mm sharp cutting blade
solid wood base with a balanced foot
non-slip feet for additional stability
a storage tray comes included
Best For Home Hand Crank Jerky Slicer
Weston Single-Support Jerky Slicer
Easy To Use
This meat slicer for home use is very easy to use. Once you set it up, you can add bulk meat that is up to five inches wide and 1.25 inches thick. The blades can make up to fifteen 1/4 inch thick strips of meat at once. This means that you will get results in a very short time.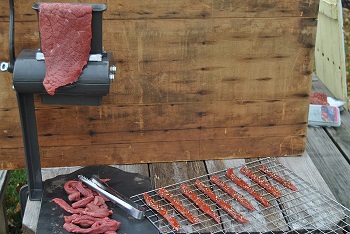 Stainless Steel Blades
The included blades are made ut of stainless steel material which makes them highly durable and also resistant to rust, corrosion, and other damages. Its combs are also made out of stainless steel material. They are designed to prevent the meat you are slicing from gaming inside the machine.
C Clamp
Because of its highly practical bottom C-clamp, you'll be able to set this hand crank jerky slicer on almost every countertop surface. The only condition is that the surface is no thicker than two inches. By securing the machine on the working base it will become much more stable and easier to work with.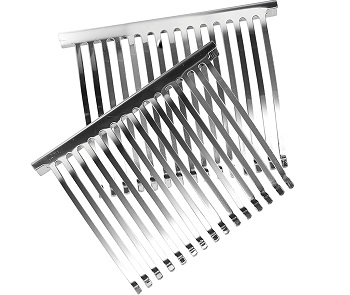 Easy To Disassemble
Just like it is very easy to assemble, this machine is also very easy to disassemble. It breaks into two pieces meaning that you won't have any trouble cleaning it up once you are done using it. Once clean, dry all parts of the machine thoroughly to ensure its lasting performance.
Short Description:
features a very simple design
stainless steel blades and combs
a highly practical c-clamp base
easy to disassemble and clean
Best Cheap Manual Jerky Slicer
Shop-Ezy Beef Jerky Slicer
Adjustable Thickness
This is another model that allows you to adjust the thickness of the slices that it provides. To adjust the thickness between the three options it allows, simply set the guard rails and the included plastic spacers.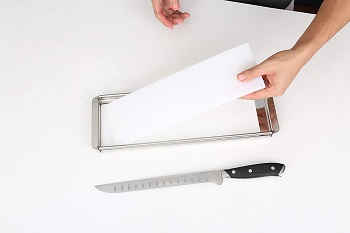 Butcher's Knife
Included with the set comes one razor-sharp butcher knife that will easily glide along the rails and provide evenly thick meat slices. If you notice that the knife is getting obtuse, you can easily sharpen it just like you do with the rest of your kitchen knives.
Finger Guard
Alongside this slicing kit, you will also get a simple finger guard. It is also made out of stainless steel to ensure that it doesn't get damaged due to long-term use. The guard's main purpose is to keep your finger safe at all times from the knife's sharp blade.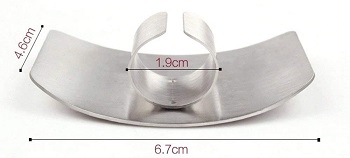 Affordable Price
This manual jerky slicer is the only cheap meat slicer on this list. It costs around fifty dollars which makes it the perfect choice for everyone who doesn't want to spend a lot of money on a slicer.
Short Description:
three different thickness options
food-grade cutting board and rails
premium razor-sharp butcher's knife
takes up very little storage space
comes at the most affordable price
What To Consider About The Best Manual Jerky Slicer?
All hand crank jerky slicers I reviewed in this post will provide you with great slicing performance. Here is a short guide that might help you choose the best model out of the ones that are available on the market.
Durable Construction – If you want your slicer to have a lasting lifespan, pay attention to its construction. Stainless steel models are the best choice because stainless steel, as a material, is highly durable and resistant to versitile damages. They won't rust or corrode due to long-term use.
User-Friendly Design – Before you decide to buy a model you like, you should make sure that it provides a user-friendly design. For example, this can refer to an ergonomic handle that will fit perfectly into your palm, a lightweight design that makes the machine much easier to move around, etc.
Multipurpose Use – Just like all food slicers on the market, these manual models are also made for multipurpose use. This means that you can use them to slice versitile ingredients such as beef, chicken, roast meat, etc. Some models can even chop herbs and nuts.
Sharp Blades – It is very important that you find a model that comes with sharp slicing blades. The sharpness of the slicing blade is what determines how "clean" your cut will be. Most blades are sharpenable to ensure that you can resharpen them when needed.
Price Range – The last thing you need to consider before you choose the best manual jerky slicer is how much money are you willing to spend on it. The models I reviewed in this post range between fifty and three hundred dollars to ensure that you can easily find the one that fits your budget perfectly.