Are you having trouble slicing your frozen goods by hand?
Then a manual frozen meat slicer is just what you need!
The five models I reviewed in this post will provide you with versatile features that will make your experience much more enjoyable. Check them out and find a model you like the most.
The Rundown
Best 6 Manual Frozen Meat Slicers
Best Of Best Manual Frozen Meat Slicer
Befen Manual Meat Slicer
Multipurpose Use
Because of its design and sharp blade, you'll be able to use this appliance for multiple options. For instance, you can use it to slice versatile frozen goods such as frozen lamb, beef, chicken, fish, and ham, etc. But, you can also use it to evenly slice your fruit and veggies.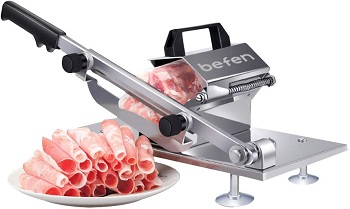 Stainless Steel Construction
The important thing worth knowing is that this cold meat cutter is made out of high-quality stainless steel material. This is a great thing because stainless steel is both durable and resistant material and it won't start to corrode or rust due to long-term use.
Slice Thickness
This meat slicer even allows you to adjust the thickness of each slice it makes. To set it to your likings, simply turn the small thickness knob in a clockwise direction until it reaches the desired position. Once it does, tighten the inner knob and you are good to go.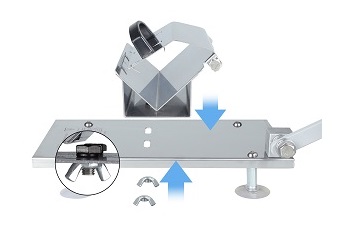 Whole Package
Alongside this manual frozen meat slicer, you will get all the accessories you may need to enjoy its best performance. The package includes a separate meat holder, two cutting blades (one of which comes installed), two suction cups that provide additional stability to the unit, an Allen wrench, and ten meat bags.
Short Description:
specially made for multipurpose use
durable stainless steel construction
fully adjustable slice thickness knob
comes with all required accessories
easy to assemble and disassemble
a replaceable slicing/cutting blade
very easy to clean and maintain
Best Commercial Manual Frozen Meat Slicer
Autolock Manual Meat Slicer
Commercial-Grade Design
This is another slicer that features durable stainless steel construction. This is what makes it such a good choice both for home and commercial use. Its durability ensures its lasting performance and a long lifespan.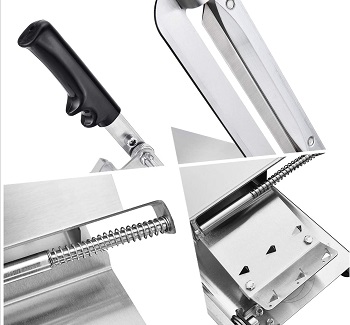 Ergonomic Handle
You won't have any trouble using this manual frozen meat slicer. It comes with an ergonomic handle that will fit perfectly into the palm of your hand. It also has an additional handle that will help you hold the frozen meat in its place while you slice it.
Sharp Blade
The included slicing blade is very sharp, and most importantly, it's sharpenable. It will help you make perfectly thin deli slices and thicker meat cuts. One slicing blade comes installed into the machine and another one comes included in the package.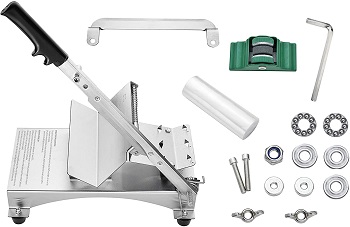 Cut-Resistant Gloves
Included with this commercial food slicer you will also get high-quality gloves that are highly resistant to cuts. Make sure that you always use them when slicing to ensure that your fingers are perfectly safe from cuts and scratches.
Short Description:
durable stainless steel design
0.5 to 20mm adjustable slice thickness
a highly practical ergonomic handle
a sharp durable slicing blade
comes with cut-resistant gloves
Best For Bones Manual Frozen Meat Slicer
Baoshishan Meat Slicer
Effortless Use
Because of its specially designed focal point, which is located at the golden section point, you won't have to add too much effort to the cutting process. Additionally, the extended support rod prevents your goods from rolling off the slicer.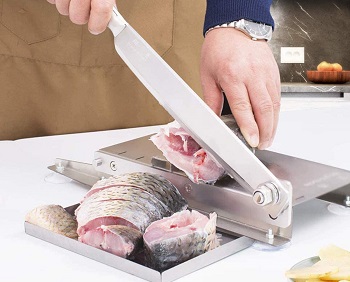 Anti-Slip Snaps
The included anti-slip snaps are added to the unit to ensure additional stability for the ingredients you are slicing. Thanks to this feature the whole process will go much smoother and you'll achieve great results in a very short time.
Bottom Suction Cups
This manual frozen meat slicer comes on a stable stainless steel base that has additional suction cups on its bottom. The suction cups will stick firmly to your countertops to ensure that the slicer is perfectly stable during the slicing process.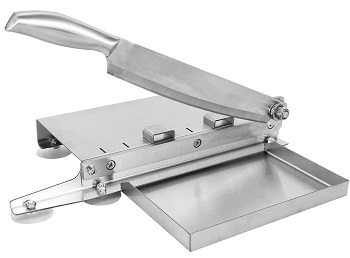 Removable Food Tray
This meat & bone cutting machine for home comes with a completely removable food tray that is also made out of stainless steel material. Because of its removable design, you'll easily be able to clean it after every use. Clean it simply with tap water and mild dish soap to maintain its lasting design.
Short Description:
designed for effortless use
highly stable anti-slip snaps
non-slip bottom suction cups
a removable stainless steel food tray
Best For Home Manual Frozen Meat Slicer
Garne T Meat Slicer
Simple Setup
To set up this slicer properly you need to immobilize it by pressing its bottom suction feet against your worktop surface. Once it's stable, you can add the frozen meat you want to slice. Also, you should hold the handle while slicing if you want to make more precise cuts.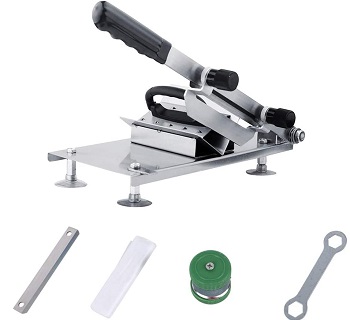 Easy To Use
Just like the rest of these models, this hand meat slicer is also very easy to use. Simply take the meat you want to use, store it in the bag, and freeze it for up to 48 hours. Once completely frozen, the meat will be very easy to cut both into thin and thick slices.
Premium Blade
The machine's slicing blade is made out of premium stainless steel material that ensures its durability and lastingness. Note that the blade is replaceable and you will get an additional one included in the package. You'll also get a knife sharpener that will help you maintain the sharpness of the blade.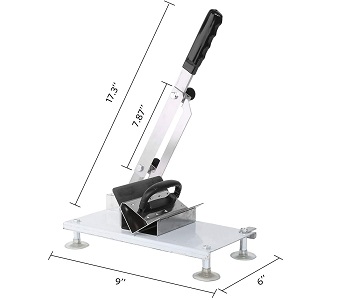 Additional Tips
Keep in mind that this manual frozen meat slicer is made to cut frozen meat and hard fruit and veggies. It won't work with fresh meat. Also, it can't cut through bones. If you try to, you might cause serious damage to the blade.
Short Description:
very easy to use and maintain
stainless steel construction and PVC handle
makes up to sixty slices in about one minute
adjustable thickness between 0.07in and 1in
Best Cheap Manual Frozen Meat Slicer
XinChangShangMao Meat Slicer
Countertop Design
Like all models I reviewed in this post, this meat slicer also features a countertop design. This means that it will perfectly fit onto your kitchen worktop surfaces. Keep in mind that, because of its size, it will require a bit more storage space.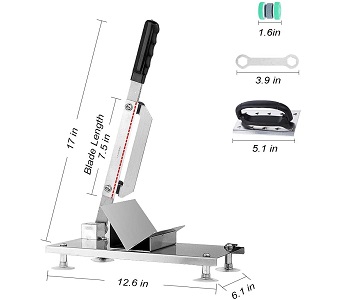 Thickness Control
This is another manual frozen meat slicer that will allow you to control the thickness of each cut you make with the slicer. You can adjust it between 0.2mm and 25mm to ensure that you get the perfect slice depending on your likings and needs.
Easy To Clean
Due to its stainless steel design, this kitchen meat slicer will be very easy to clean. Everything you need to use is water and mild dish soap. Make sure that you always dry up all parts of it thoroughly to ensure that the slicer is ready for the next use.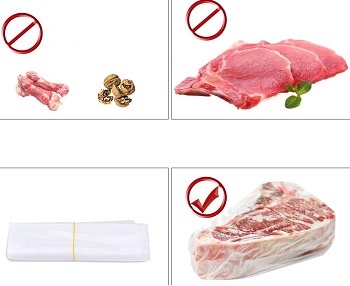 Cheap Price
Compared to the previous models I reviewed in this post, this one comes at the most affordable price. It costs less than fifty dollars, meaning, it is the perfect choice for everyone who is looking for a more budget-friendly option.
Short Description:
a simple countertop design
0.2mm to 25mm thickness control
requires very little maintenance
includes all accessories you need
comes at a budget-friendly price
What To Consider About The Best Manual Frozen Meat Slicers?
Are you still having doubts about which manual frozen meat slicer is the perfect choice for you? Here is a short guide to the important features you should consider that might help you make the final decision.
Durable Design – When it comes to durability, stainless steel meat slicers are definitely the best choice. The reason behind that is that stainless steel is one of the most desirable materials when it comes to kitchen appliances. It doesn't rust or corrode, and it ensures the lasting performance of the machine.
Quick Setup – All models I reviewed in this post are very easy to set up. Make sure that you always secure them to your working surface to ensure they stand firm on top of it. Once you do that you can use slicers without worrying they might slip while you cut your ingredients.
Simple Adjustments – Almost every slicer on the market provides simple thickness adjustments. This is a very important feature because it ensures that you can adjust the performance of the slicer according to your likings. You can cut both deli thin slices and make thicker cuts.
Sharp Blade – The most important thing you need to consider is the design and the sharpness of the included slicing blade. Most models come with a spare blade you can use if you accidentally damage the one that comes pre-installed. Also, you can use knife sharpeners to re-sharpen the blade if you notice that it became blunt.
Intended Use – Lastly, before you buy a model you like make sure that you check its intended use. For example, manual frozen meat slicers I reviewed in this post are not made to cut through fresh meat. Also, some can cut through bones while others can't, etc.
To Wrap It Up
The best manual frozen meat slicer is the Befen Manual Meat Slicer. It features durable stainless steel construction, is made for use with versatile ingredients, and provides precise and yet simple thickness adjustments. Read more about similar products on our page and find out is there any difference between the best steak slicers and the best pork slicer, and if so, learn more about it.