Kids are really hard to impress – but not with these fun and entertaining ideas we're bringing you today!
How to use a vibrant color palette, food servings, cutlery, and animal details to keep your kids entertained during the meal? And does it help to make them your sous-chefs? Keep reading and find out!
Kids – Fun Guests Indeed
A meal is never just a meal. It is a moment of gathering, a new way to connect with your family and friends, catch up on all the news and stories, and simply – an enjoyment with your loved ones. And despite the fact that every one of them is fun in its own way, we all know who are the most fun guests – kids. Of all ages.
Kids find fun in everything they do, they are creative in finding new ways to entertain others, as well as to be entertained. But what about the time they need to be calm and sit at the table?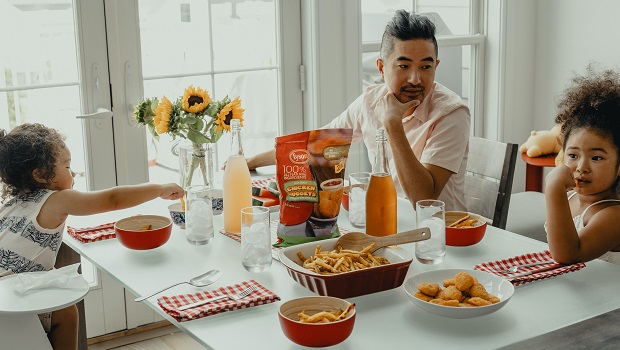 Lunch or a simple dinner party imply many people, including kids, at the same place and at the same time. And those moments can be too much for the kids sometimes. Especially if they become bored or get a feeling like they're not being listened to by the adults.
The biggest problem with kids, and regarding food and meals, is boredom. They got easily bored while they're expected to be calm and fed. So instead of enjoying their meal, kids are up, down, and all around the table, or to be more precise, they are everywhere than at the place they should be – at the table.
Most people advise families with kids to use a variety of color books, simple board games, word plays, or kids-only-area with a special table, but is there a way to actually entertain them at the main table? Absolutely.
Simple & Bright Entertainment
What kids need is fun. And fun can be served and created quite easily, without any mess and fuss. So what can you actually do?
The solution is right there in front of you – on the table. Try to incorporate interesting things that will be fun for the kids. For example, bright colors will steal their attention. But will it be enough?
Serve those colors – in food, smoothies, by laying down an interesting tablecloth with details, or perhaps a napkin with a fun scenario. Every detail on the table could have a crucial part in entertaining your kids so serving them bright colors that will have their attention is certainly one step closer to the entertainment. Now what?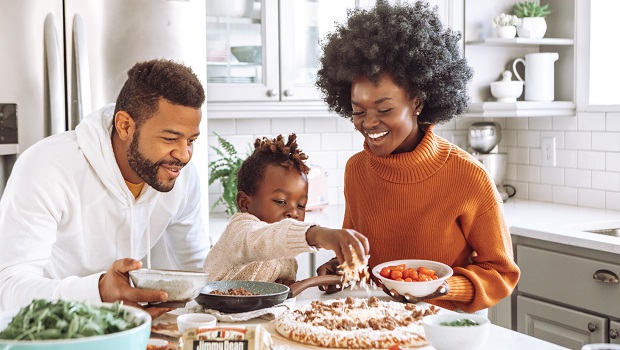 Make food servings fun! Use food, meals, ingredients, and herbs to create interesting shapes, play with them, and your kids will love to eat them – whether we're talking about fruit and veggies, or classic meat and desserts.
Make sure to add cute cutlery so kids can eat by themselves. We know, that may not be the best solution due to the possible mess, however, kids love doing things by themselves. Besides, they love to imitate everything adults do, as well as to show how they are independent, smart, and brave, and above all – creative! Maybe they'll show you a new way of eating spaghetti or how the fork is threatening the spoon to get out of the way. Anything is possible!
Use kids' favorite characters, cartoons, movies, animals, stories, and more. Listen to them throughout the day in order to have the best dinner!
Now, let's talk about some specific ideas on how to serve food, use cutlery, color palette, and animal details, as well as why making kids your sous-chefs is always a good idea!
Color Palette
We already talked about using bright and vibrant colors in creating meals that your kids will actually find fun to look at and eventually eat with enjoyment.
Red, blue, green, purple, orange, and yellow are fun and vibrant colors. They take full attention and are great for entertaining the kids. Now, there are many shades and nuances of these colors, however, try to use ingredients and herbs that are strong and vibrant. Don't go with too-fade shades, they won't look that interesting, actually, they'll probably get lost on the plate and won't achieve a good effect on the kids.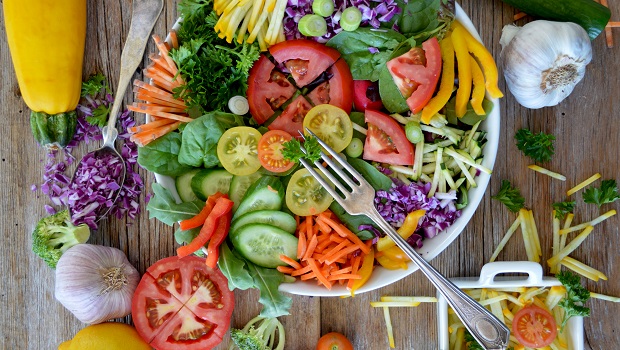 Fruits and veggies are great to lift up the meal in a fun way. Use them, play with them, and make fun and colorful dishes your kids will love!
Food Servings
How can you make food fun? Create animal shapes, make bright smoothies, and smiley faces! We know these actions require a few additional minutes of preparing but trust us – your kids will love them!
Sandwiches
Despite the fact that sandwiches are probably the simplest kids' meal, they surely can be fun and diverse. The easiest way to make perfect kids' sandwiches is to make smiley faces. Make a classic sandwich and use veggies such as olives, cherry tomatoes, and pickles, as well as spreads and sauces like avocado, mayonnaise, and mustard to create smileys. Be creative and make every sandwich different by using herbs, ingredients, and sauces!
Animal Fruits
Animal fruits? Yes! Fruits are a great and healthy meal, they come in vibrant colors, and are delicious. So use them to make your kids' plate as a cute animal party. Create shapes such as dolphins with bananas and blueberries as the ocean, make a big spider out of cut pieces of the apple, or combine pineapple with oranges and create a lion, a bear out of kiwi, fish out of watermelon, and more. How fun would be for kids to see cute animals in front of them!
Smoothies
You can serve food as smoothies because – why not! Your kids will get all the vitamins, minerals, and nutrients they need, while they'll be entertained by vibrant colors and fun smoothie-filled glasses. And when you tell them that the drink will make them strong as Popay, they'll ask for one more glass in no time.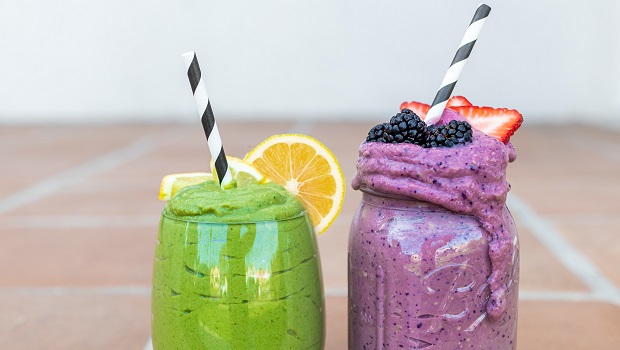 Funny Vegetables
Some kids really don't like their veggies. So serve them in a new and fun way! We already mentioned the vibrant colors so use the vegetables to serve your kids a rainbow of fun, happiness, and healthiness. You can sort them in a fun way, cut them into interesting shapes, or let your kids use them to create a scenario in front of them before eating. The possibilities are endless!
Food-On-A-Stick
This is one of the most fun ways to serve food to your kids. But have in mind that this is for a bit older kids since you're using small wooden sticks, cream stick, or toothpicks to create a fun meal. Sticks can be used for every type of food – from small bites of toast and sandwiches to desserts such as pancakes served like ice cream. Cut every piece of food into small pieces and start your way into building meal-on-a-stick! You can make every course in this way – appetizer, main meal, and dessert, you can use meat, cold cuts, bread, veggies, fruits, sweets, and more. Such a fun way to entertain your kids and watch them enjoy their meal.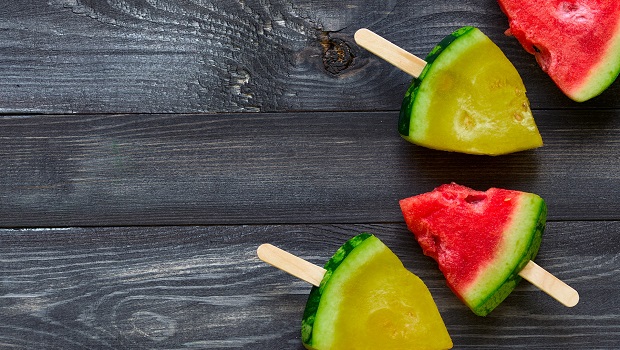 Cutlery? Why Not!
Kids' cutlery is simply made to be fun. So why not use that as an advantage to entertain kids during lunch or dinner? Oh, and hey, even adults enjoy some fun cutlery (yes, we do)!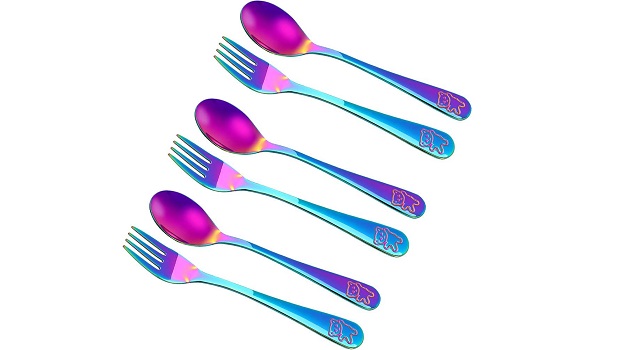 There are many cutlery sets to choose from – some have cartoon characters, while others come in bright and vibrant colors. Rainbow cutlery? Yes, there are rainbow sets. Engraved letters, numbers, and animals, fun stickers, comfortable grip, dots, superheroes, and more. Today, the choice is really big and versatile. Here are some of our favorite Amazon finds:
There are many more sets we find cute, adorable, and kids' themed, so you can choose according to your kids' favorite characters, cartoons, shapes, and colors!
Animal Details
Animals are always more than welcomed since they're considered to be amongst the most favorite kids' friendly details. Now, we already mentioned animal-shaped food, so where else could you squeeze in some animal details to give more fun and entertainment to your kids?
Plates
To complement the fun cutlery set, go with animal plates. They can be shaped like animals, have an animal drawing or a photo, or simply a few animal details like paws, bunny years, or cat mustaches. Same with the cutlery, the choice is quite versatile. Just remember your kids' favorite animal and go for it!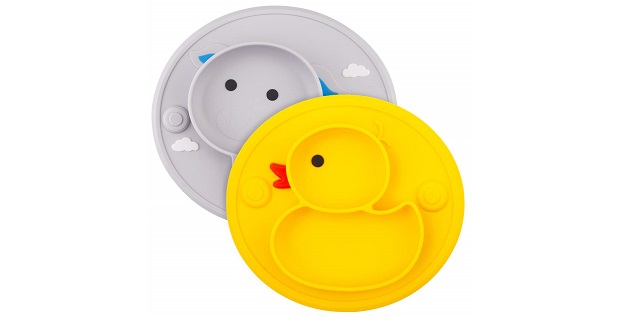 Tablecloth & Food Mat
We know that sometimes you have a perfect dinner table decor vision in your head, but you know that the vision won't work for kids because it's not fun or entertaining enough. Well, you don't have to give up on your decor idea, maybe just adapt it a bit. Use a small, special tablecloth or a food mat with animal details, placed only in front of kids' sittings. They will definitely find it really fun and interesting to have something different than the adults.
Napkins
Napkins may have just a small part in the fun dinner table, but hey, we're grasping at straws here. There are many animal napkins to choose from – from those that are actually made in an animal shape to those with the cute animal scenario, story, and details. Choose wisely but have fun!
Chopsticks
If your kids are not fans of cutlery or you can't find the perfect set for them, try chopsticks. There are such cute models with animals and colorful and vibrant designs – your kids will love them! And no, they do not need to be used as in professional cuisines, but just as a cute and simple way for your kids to have fun at the table while poking the food.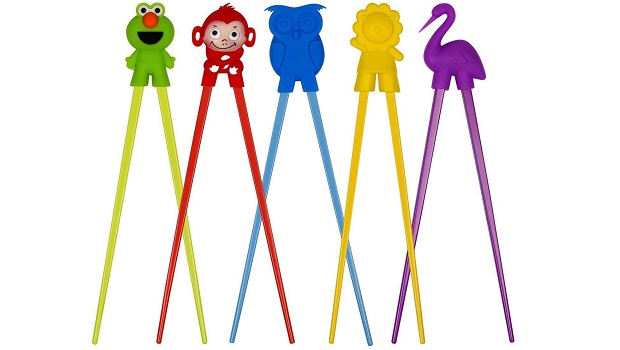 Here are just a couple of them we find simply adorable:
There are many more animal sets to choose from so just think – what are your kids' favorite animals?
Kids As Sous-chefs
Okay, listen up – we know that kids can be messy, and including them in the meal preparation can be a bit adventurous, but trust us, they'll love it! And they'll enjoy telling their culinary tales at the table while waiting for your reaction to their food creations.
So let your kids do small chores such as picking their meal's side dish – vegetables, herbs, sauces, and/or spreads. Once they do, let them mix them up and create their own plate scenario. Give them tasks to fulfill with their creations such as making an animal using only fruits or veggies, or give them a small knife (kids-safe) to cut food into squares or triangles needed for the food-on-a-stick meal. Or put them in charge of making a dessert – you place the pancakes and let them decorate with sprinkles, chocolate, spreads, and more. Of course, when you let them choose the ingredients, they'll certainly be more excited about the meal that follows.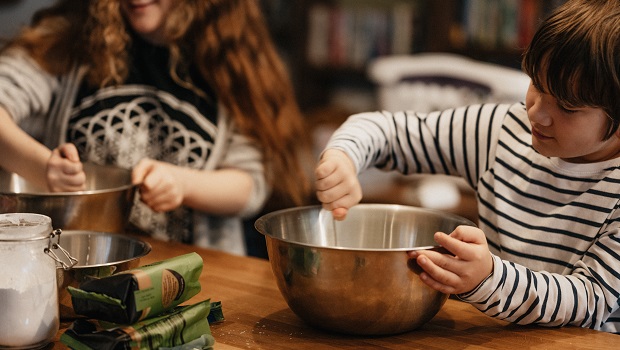 There are many ways to include your kids in cooking which is fun both for you and them. In such actions, you'll see their creative side, the way they think and combine colors and shapes. Besides, once they're done, they'll proudly present the meal to the rest of the family and guests.
Tips & Tricks
These were some of the ideas we found quite helpful and entertaining for kids during mealtime. But we want to give you just a few more tips and tricks that will ease up the meal prep and table party.
Give kids a job. Simple as that. Kids love helping out, especially if we're talking about adults' tasks. So include them in, let them choose their eating set like cutlery, food mat, and plates. Put them in charge of decorating for other guests too. Once they're involved in the entire process, they'll certainly have more fun at the table.
Timing. Make sure to have in mind that kids have some sort of routine when it comes to meals. So if you're planning on preparing a nice family lunch or diner, just organize everything around the same time your kids are usually hungry. This way you won't break their routine and they will actually be hungry – which is the most important thing.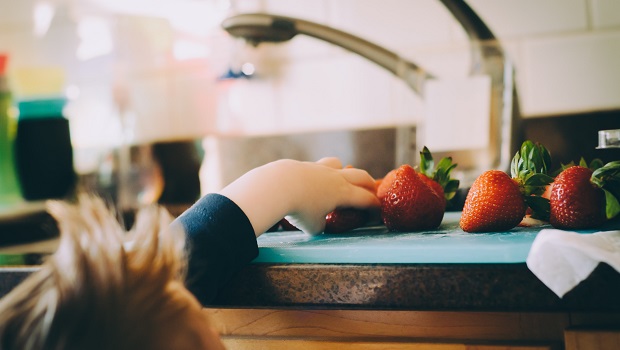 Give your kids a bit of freedom at the table. They can find fun in almost everything – choosing their side dish and enjoying their cutlery, watching details, colors, and talking about all the things they did that day or what they're planning to do. So give them the freedom to create their own meal, stories, and time.
Take it easy. Don't stress out when the meal prep and/or lunch/dinner don't go according to your visions. It actually rarely does. Have in mind that kids' attention goes from one thing to the other, from one idea to another one. And that's okay. Great actually. Kids are more creative than adults, they are honest and excited about everything, and they need fun most of the time. So let them search for that fun while they're cooking with you or sitting by you at the table. Yes, they can definitely sometimes get impatient but that's why all the fun ideas are here – to help you out a bit and to give your kids fun while they're eating their meal.
To Wrap It Up
There is never a guarantee that your kids will stay still at the table – but there are ways to give them enough interesting meals and details so they have fun at that table, as well as with their food! Use vibrant colors, cute cutlery, serve kids' food in awesome shapes, with sticks, or interesting scenarios, include animals in any form, or make your kids your best sous-chefs! Use these fun ideas and make every meal unforgettable.
If you want to include more healthy meals in your household, check out this article about healthy snacks. If you and your kids love soups, make sure to have all the info about how to make soup less salty (in case one more pinch of salt is too many).