Thinking to add a 24-inch round dining table into your kitchen or another room in your house?
We admit that may be a good idea and that is why we have selected and reviewed 5 different models for you.
Continue reading this article where you can find reviews of wooden, modern, folding, glass, folding, and metal models the market has to offer. Moreover, you can also read our buying tips to guide you to the best model for your needs and requirements.
The Rundown
5 Top 24-Inch Round Dining Tables
Best Of Best 24-Inch Round Dining Table
Flash Furniture Metal Table 24 Inch
Metal Table In Many Colors
This 24-inch round dining table is made from metal, featuring a round tabletop with four legs. It comes in grey color and is also available to purchase in black, green, orange, yellow, white red, and blue. Besides the 24-inch diameter, the table is also 29 inches high.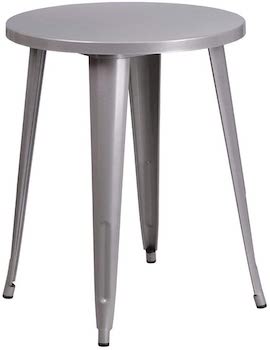 For Commercial Use
The small table easily fits into many spaces so that you can add it to your kitchen, living room, patio, balcony, and more. The small table can fit one person for breakfast or seat two people for a chat and a drink or a small bite to eat. However, the table is rated for commercial use, as well, so that it is ideal for cafes, bars, and more.
For All Weather Conditions
Also, the round tabletop has a 1.25-inch thick edge to make it sturdy. Moreover, the surface of the top is smooth for easy cleaning. Similarly, it is treated for all weather conditions so that you can use it both indoors and outdoors. Finally, to add extra stability to it, there is a brace under the top.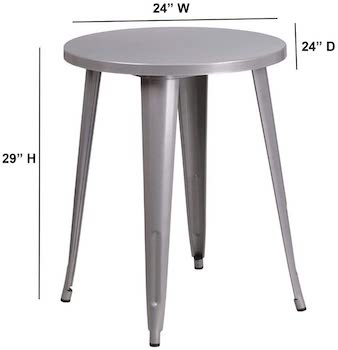 Protective Glides
Scratching of the floors is prevented with the glides featured on the bottom of the 4 table legs. The rubber feet prevent slipping, as well. With the simple metal construction, the table is an example of industrial style. As it comes in grey, it is easy to combine with many other colors and designs.
Short Description:
metal table with a thick brace for stability
available in grey and many other colors
24-inch round diameter, 29 inches high
ideal for drinks, bites to eat, or a chat
smooth round tabletop, protective rubber glides
Best Wooden 24-Inch Round Dining Table
Taylor + Logan Indoor Round Table
Metal & Wood Material
This kitchen table comes in a combination of metal and wood materials. For stability, the legs of the table are made from metal and they come in silver color. Moreover, the table is 30.5 inches high and has a textured wooden top. The tabletop is 1 inch thick and made from elmwood.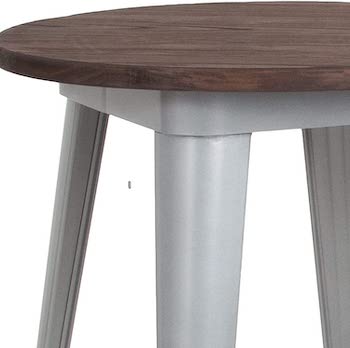 Rustic Walnut Color
The elmwood tabletop comes in a walnut color for a rustic emphasis. Moreover, the metal legs have a powder coat finish on them. Thanks to the design, it can fit both modern and rustic decors. Similarly, it is even suitable for industrial kitchens and living spaces.
Business & Home Use
The legs have rubber glides to protect the floor from scratches and from sliding. Also, they help you easily glide the table when needed. Finally, the table is designed for both commercial and residential use, making it great for both businesses and home use.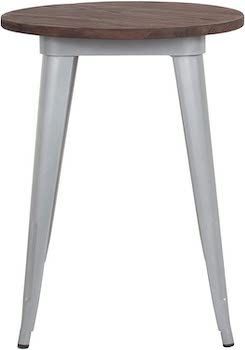 For Small Spaces
The 24-inch round dining table is great for fitting into your small kitchen, studio apartment, or even the balcony. For business use, it is ideal for cafes, bars, and more.
Short Description:
durable metal and wood construction
silver color legs and walnut tabletop
rustic elmwood top, powder coating on legs
rubber glides on feet to prevent scratches
modern, rustic, and industrial styles
for business and home use
Best Modern 24-Inch Round Dining Table
Puluomis Adjustable Bar Table
Swivel Tabletop
The 24-inch round dining table comes in black color and allows you to adjust the height. The simple design and style are fashionable for any modern home. The tabletop has a 24-inch diameter and can swivel for easy access to food and drink.
Hydraulic Lift
Also, the tabletop is made from medium-density fiber and is supported by a steel frame and a ring base to add stability. The hydraulic lift helps to adjust the height of the table easily. In short, you can adjust the table height from 27.5 to 35.5 inches.
Counter Height Table
As the table is simply designed, its assembly is easily and quickly done. If you want to create a bar space in your home, adjust the table to counter height. After that, you can even combine it with bar stools to enjoy drinks or have a game night with friends in your basement, kitchen, or other space.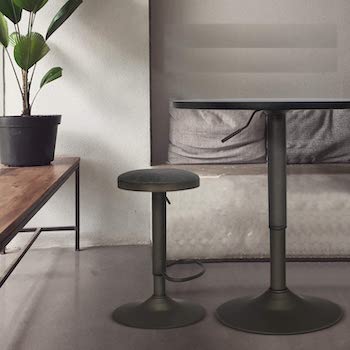 Sturdy & Modern
Modern homes require modern solutions and this table easily fits into modern designs. With the sturdy steel frame and ring base, the table can hold up to 300 pounds in weight. Finally, the black color can easily fit many designs and colors.
Short Description:
black color and a simple design
fashionable table for a modern home
medium-density fiber round tabletop
24-inch round swivel tabletop
features a steel body and ring base
adjustable height from 27.5 to 35.5 inches
maximum weight capacity of 300 pounds
Best Glass 24-Inch Round Dining Table
Tiita 24 Inch Round Kitchen Table
Water Ripple Glas Top
This 24-inch round dining table has a tempered glass top and is weathered for patio use. To add a stylish touch, the tabletop has a water ripple design. Also, around the glass top, the cast frame is rustproof and has a brown powder coating. However, the glass top has a smooth finish for easy cleaning.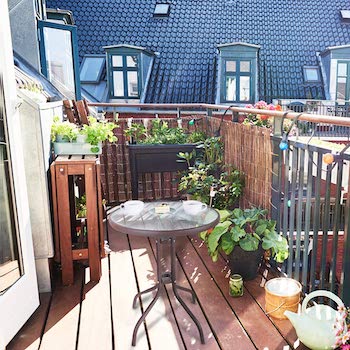 Indoor & Outdoor Use
Moreover, the table is easy to assemble with included hardware and easy-to-follow instructions. Also, as it is lightweight enough, the table is easy to transport. Likewise, because of that, it can also be used both indoors and outdoors. It is ideal for lawns, backyards, balconies, poolside, etc.
Non-Slipping
The table is stylish and easily fits many room designs. Moreover, the legs of the table are non-slipping while rubber mats ensure that floors don't get scratched. The brown-coated frame fits with many different colors in your home or outdoor space.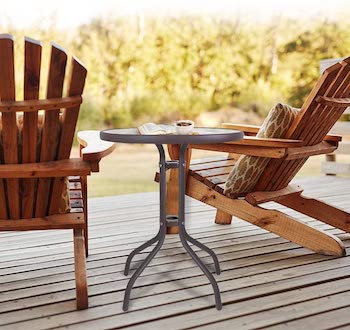 For Small Spaces
The table is 28 inches high and can be used for enjoying a drink with a friend, having a bite to eat, and more. The small size is great for small spaces, such as small balconies or as an extra dining surface in the kitchen.
Short Description:
water ripple design on the glass top
24-inch round top, 28 inches high
for both indoor and outdoor use
a brown coating on the cast frame
non-slip feet with scratch-resistant rubber mats
Best Folding 24-Inch Round Dining Table
Flash Furniture Granite White Table
Space-Saving Design
Compared to the other 24-inch round dining tables, this model comes with folding legs. By folding them, the table can be stored away when you don't need it to save space. Furthermore, the folding legs support the plastic round tabletop, making it 29.38 inches tall. The small table can seat up to 2 adults.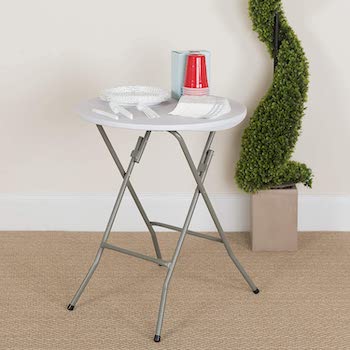 White Granite Top
The white granite tabletop is 0.75 inches thick and it is also waterproof and resistant to impacts and stains. Also, the legs have protective pads on the feet so that the flooring doesn't get scratched. Moreover, the legs have a grey powder coating. Finally, the table can bear up to 180 pounds.
Folds & Locks
The small table unfolds easily to add to your breakfast nook in the kitchen. Also, you can use it on the balcony or the patio when the weather allows it and then easily store it away when you don't use it. To take up little space, the legs lock after folding for convenient storage and transport.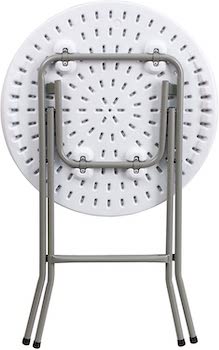 Seats 2 People
Finally, the table is big enough to seat 2 for breakfast, a coffee, or another drink. Moreover, if you want to serve snacks next to the pool, this table comes in very handy.
Short Description:
24-inch round table top with folding legs
fold and lock for storage and transport
29.38 inches tall, 180-pound capacity
for breakfast nooks, balconies, poolside, etc
white granite top, grey powder coating on legs
it seats up to 2 people
What To Consider In 24-Inch Round Dining Tables?
When searching the market for a small round dining table, you will notice that a lot of them have a 24-inch diameter. Besides the size, you should also keep an eye out for the materials the table is made from. Moreover, also consider the different styles to find something for your personal taste. Furthermore, choose between pedestal and leg table bases. Finally, also consider some of the user-friendly features we mention below.
24-Inch Diameter – Round tabletops with a 24-inch diameter measure 24 inches in width and length. Moreover, the market offers tables in different heights, usually around 30 inches. Also, they are available in counter height as well, usually above 34 inches tall. Finally, thanks to the small size, 2-chair dining tables fit easily into small spaces.
Materials – The market offers tables made from different materials. In short, popular choices include solid wood, wood veneers, glass, stone, metal, and plastic. Most importantly, you should choose a table with a durable build. That way, it will be long-lasting so that you can use it for as long as you want.
Choose Among Styles – Popular styles for the furniture include modern, industrial, farmhouse, minimalist, mid-century modern, rustic, vintage, and retro. The wide offer ensures there is something for everyone. When choosing, you can consider styles that go with your personal taste and the room design where you want to put it.
Pedestal Or Legs? – Round dining tables can have support from a pedestal or legs. Both can make the table sturdy enough for use. Also, one advantage of the pedestal base is that it allows you to easily add more chairs to the table in case you get unexpected guests. If you choose legs, make sure they have protective mats to prevent floor scratches.
User-Friendly Features – Besides choosing the style and the size, you also need to make sure the 24-inch round dining table is durable. Secondly, also make sure the table is easy to clean and easy to assemble. Other than that, also ensure it is suitable for outdoor use if you want to use it on the balcony or by the pool. Lastly, for easy storage choose a model with folding legs.
To Wrap It Up
To conclude, the best 24-inch round dining table is the Flash Furniture metal table. It is suitable for both indoor and outdoor use and is made from metal with four legs for stability. Also, it can be used for both commercial and residential use and is 29 inches high. For similar models with different tabletop shapes, also check out our reviews of 24-inch wide dining tables. If you are looking for bar tables for small spaces, consider our selection of 2-seater bar tables and sets.