Have you been trying to find the perfect 1950s kitchen table?
If yes, look no further than this article!
In the first part of the article, you can find reviews of 5 different models, including vintage, drop-leaf, metal, round, and small kitchen tables that come in the 1950s style. In the second part, you can also find useful tips to help you choose the correct table model for your needs.
The Rundown
5 Top 1950s Kitchen Tables
Best Of Best 1950 Kitchen Table
Coaster Home Furnishings Retro Table
Oval Top & Trestle
This 1950s kitchen table comes with an oval top and has a weight limit of 400 pounds. The table measures 29.5 inches in height and is also 60 inches long and 36 inches wide. Under it, the tabletop is supported by a trestle base. Moreover, the table comes in 1950s white and chrome color combinations.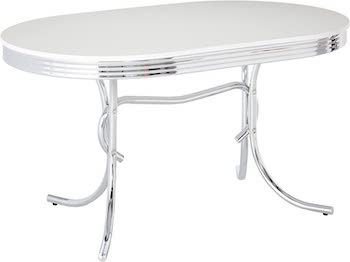 White Top With A Chrome Trim
Moreover, assembly is required on this table upon receiving it. The tabletop is made from medium-density fiber material (MDF) and comes in white color. Likewise, there is also a chrome rim on the tabletop to give it a retro look. The rim works along with the trestle to make a true 1950s style table for the kitchen.
Glamour For Dining
The metal trestle comes in a chrome finish and makes the table sturdy for long-lasting use. Similarly, this retro look brings glamour into your dining area and is suitable for longer dining rooms. To create a mid-century-inspired dining room, you can even add chairs with red, black, or yellow vinyl padding to the table.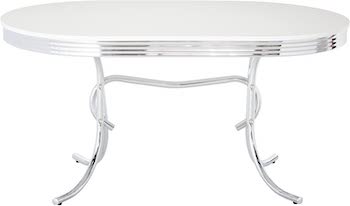 Seats Up To 6
In short, this table brings reminiscents of the 1950s style straight into your kitchen where you can dine and entertain. The table should be able to seat up to 6 people at most, giving you space for hosting guests.
Short Description:
the table has a 400-pound weight limit
29.5 inches high, 60 long, 36 inches wide
medium-density fiber white tabletop
chrome trimming and metal legs in chrome
durable build on the retro-looking table
Best Vintage 1950s Kitchen Table
TMS PISA 1950s Retro Kitchen Table
35.4-Inch Round Table
This 1950 retro kitchen table comes in a round shape with a pedestal base. The round tabletop has a 35.4-inch diameter and comes in black color with a chrome pedestal base that makes the table 29 inches high. Moreover, the table is long-lasting thanks to the sturdy base and a durable top.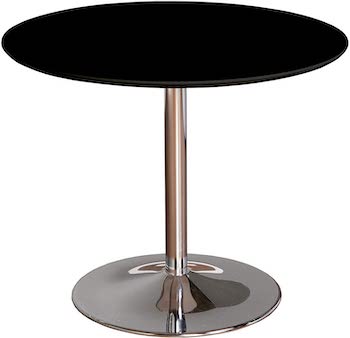 MDF Tabletop
Also, upon receiving this item, it requires minimal assembly. The dining table has a retro look to bring a touch of style into your everyday space. The wood top of the table features a laminated medium-density fiber material. As it has a small rounded top, the table is great for small spaces.
For Various Spaces
The small size of the table makes it great for singles and couples living in apartments. The 2-chair dining table can also be used in the kitchen for a breakfast nook away from the formal dining room. Also, it can even be used in the living room. Finally, no matter where you decide to put it, the artistic retro 1950's kitchen table will bring vintage style to space.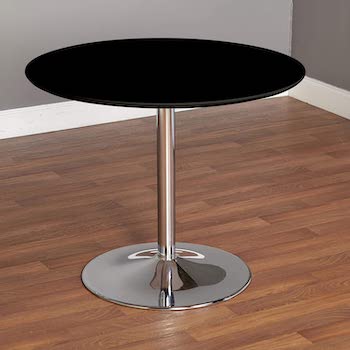 Lightweight Build
Finally, the 1950s kitchen table is easy to place anywhere as it is lightweight, measuring around 36 pounds. Also, the chrome and black colors easily fit different decors and you can combine them with a variety of other colors, as well.
Short Description:
round shape with a pedestal base
35.4-inch diameter, 29 inches high
MDF tabletop in black, chrome pedestal
for small spaces, kitchens, living rooms
artistic vintage-looking table for dining
fits 2 chairs, ideal for singles and couples
Best Drop Leaf 50s Kitchen Table
International Concepts Kitchen Table
Two 9-Inch Drop Leaves
This unfinished table is ideal for your small kitchen space and allows you to finish it in the color of your choice. The 30-inch high table measures 22 inches in width and 36 inches in length with the help of two drop-down leaves. The dual 1950's drop-leaf kitchen table features 9-inch leaves that drop down on two sides, creating an apron around the top.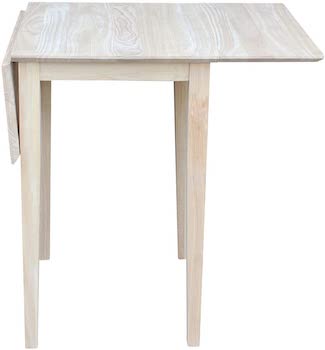 Parawood Construction
Also, this table is made for parawood for stability, durability, and longevity. The parawood is a type of hardwood that is easy to finish and that creates durable furniture that you can use in your home for a long time, as long as you want it. Moreover, the tabletop with extensions is supported by 4 shaker legs.
Space-Saving Design
The small table easily extends when needed and collapses to save space in your home. This 1950 kitchen table is ideal for dinettes, kitchens, and other confined spaces. It has a traditional look with a natural construction to easily blend into any kind of home decor and kitchen design.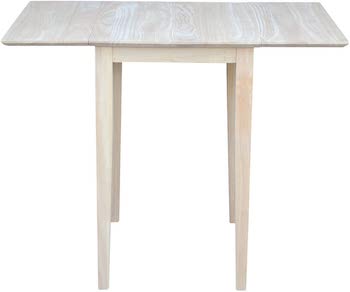 For Singles & Couples
Also, this table is a good solution for students who live alone in small apartments, for other singles, and even couples. It saves space when needed by simply dropping the extension leaves to the sides.
Short Description:
unfinishes parawood small kitchen table
features two 9-inch drop-down leaves
22 inches wide, 36 inches long, 30 inches tall
stable and durable for long-lasting use
the drop-down leaves save space
tabletop and 4 shaker legs for support
for dinettes, kitchens, confined spaces
Best Metal 1950 Kitchen Table
Bowery Hill 42" Round Retro Table
Diner Style Table
This 1950s metal kitchen table comes in the 1950s diner style. It features a round tabletop supported by a pedestal base. The tabletop comes in white color and has a chrome apron around. The chrome pedestal goes well with the glossy white tabletop to make any room appear lighter.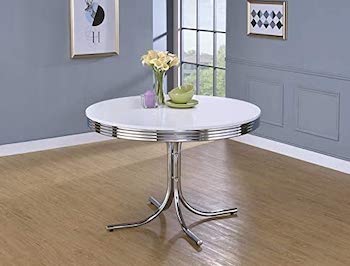 For Small Dining Rooms
Moreover, the 1950 kitchen table requires assembly upon receiving the item after ordering. The 42-inch round pedestal table is 30 inches high and great for small dining rooms. Likewise, it can also serve as a dining table in smaller kitchens. It works great for small households and small families.
Glossy White & Chrome 
Similarly, the retro-style metal table can be combined with retro-looking chairs that have chrome legs and vinyl upholstery in bright colors. Thanks to the glossy white and chrome combination, you can choose from a variety of chair colors to make a stylish dining space in your home.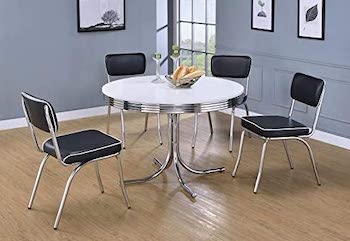 Easy To Put Chairs Under
The pedestal base allows you to easily put the chairs under the table to save space. Moreover, it also makes it easier to add more chairs to the table when you get unexpected guests.
Short Description:
the table comes in 1950s diner style
42-inch round tabletop with a pedestal
glossy white top with a chrome apron
the chrome pedestal for support
easy to combine with retro chairs
Best Round 1950s Kitchen Table
Signature Design By Ashley Table
Mindi & Engineered Wood
This round table comes in mid-century style, featuring a metal base with a wooden tabletop. The two-tone 1950s kitchen table is 30.25 inches high and has a brushed dark bronze finish on the metal base. On the other hand, the top is made from mindi veneer and engineered wood.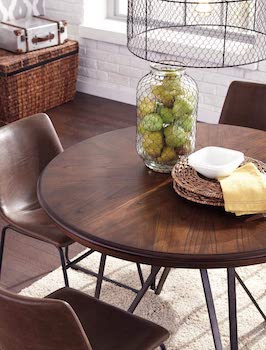 Tubular Metal Base
The table is a great choice for eat-in kitchens and measures 45.25 inches in diameter. Also, it requires assembly with the help of tools, hardware, and instructions that are easy to follow and come in the package. The tubular metal base adds style while the wood-looking top adds character.
Timeless Look
Besides putting this table in eat-in kitchens, it can also be used in smaller dining rooms, and even in open-plan kitchens and sitting rooms. The 1950 kitchen table has a timeless look so that it can fit not just vintage-style homes, but also many other decors.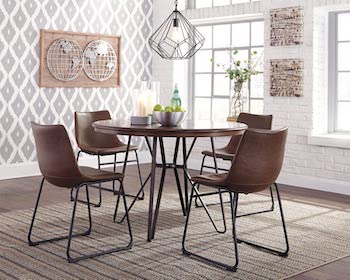 For Intimate Dinners
This round table is great for intimate dinners where people can feel close to each other and where conversation can flow easily. Also, the small size makes it great for seating immediate families for breakfast, lunch, and dinner. Lastly, the brown finish on the top brings warmth to the dining area.
Short Description:
metal base in a brushed dark bronze finish
brown mindi veneer and engineered wood top
45.25-inch diameter, 30 inches high
tools, hardware, instructions included
mid-century style with a tubular base
vintage style for eat-in kitchens and more
What To Consider In 1950s Kitchen Tables?
If you are a lover of retro and vintage-style kitchen tables, here are some of the things you should always keep in mind while shopping to get the right model for your needs. Firstly, look for the 1950s style and learn about the characteristics of this period's kitchen furniture. Secondly, consider the size you need, and make sure that the table has a durable build. Thirdly, check out different table shapes and bases you can choose from on the market. Lastly, consider some of the other qualities that make the best tables for every home.
Characteristics Of The 50s Style – When it comes to kitchens, furniture in the 1950s included chrome finishes on chairs and tables, as well as comfortable upholstery on chairs. Moreover, furniture often comes in pastel colors but Scandinavian influence also brought natural colors into the first plan. Finally, 1950's chrome and Formica tables were very popular in the 50s.
Size – The size of the 50s kitchen table will depend on the available space where you want to put the table and the overall capacity you need. That way, you can choose a table that can seat merely 2 people or go for a table that seats much larger crowds, such as 12-person round dining tables. Moreover, to get a proper size for the room, ensure 3 feet of breathing space on all sides of the table.
Durable Materials – Most importantly, look for materials that make durable tables that can last you a long time. In short, these include wood, metal, stone, glass, veneers, and some other materials. Likewise, when it comes to the 50s style, ensure that the tables with chrome legs have a durable build to make the table stable.
Shape & Base – The market offers 1950s kitchen table in different shapes and with different bases for support. On one hand, you can choose between oval, round, square, and rectangular tables to find the best model to fit the layout of the room. On the other hand, you can also choose between legs, pedestals, and trestles for the base. Furthermore, the latter two allow you to easily add more chairs to the table when necessary.
Any Other Qualities? – Firstly, look for a table in the style of your choice and make sure it is durable. Secondly, search for models that are easy to keep clean and easy to assemble. Moreover, ensure that the table is designed to easily fit the chairs under to save space. Likewise, make sure the size fits the size of your available kitchen space. Finally, ensure at least 22 inches of space for each place at the table.
To Wrap It Up
To sum everything up, the Coaster Home Furnishings table is our favorite 50s kitchen table model. It is 60 inches long and has an oval shape to seat 4 people comfortably, and up to 6 people in total. The MDF tabletop comes in white with chrome trim around and features chrome pedestal legs for support. Likewise, we have also reviewed models that come with chairs, and you can read about them in this article about 1950s dining tables and chairs. Similarly, you can also check out our selection of the 1940s dining tables and chairs that we have reviewed.