Interested in a 1950s dinette set that you can use in your small dining area?
If yes, look no further!
In this article, you can find reviews of mahogany, chrome, and small kitchen table and chairs inspired by the 1950s style. Besides the reviews, you can also read our buying guide to help you find the best model for your needs and your space.
The Rundown
4 Best 1950s Dinette Sets
Best Of Best 1950s Dinette Set
Merax 1950s Dining Room Set
Small Space Solution
This 1950s dinette set includes a kitchen table with 4 chairs. It is ideal for small spaces thanks to the square table seating one person on each head and each side. This set has a country charm with the distressed look in light grey color. The retro look is also a great addition to farmhouse-style spaces.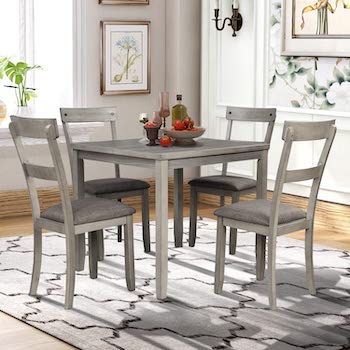 Water & Scratch-Resistant
Moreover, the legs of the set are sturdy and durable thanks to solid rubberwood construction. The other parts are made from MDF with veneers that are resistant to water, as well as scratches for long-lasting use. The chairs have a simple backrest and upholstered seats that are a constant in 1950s style.
Easy Assembly
The square table measures 35 inches in width and length and is also 30 inches tall. Likewise, it has a 333-pound capacity. Moreover, each chair is 38 inches high, 17.3 inches long, and 20.7 inches wide. Similarly, each chair has a capacity of 267 pounds. Also, the included tools make it easy to assemble this set.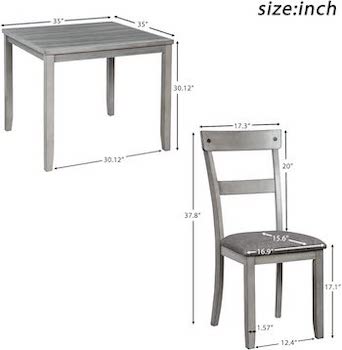 Comfortable Retro Look
Finally, this table with 4 chairs is small enough for kitchens, breakfast nooks, and other small spaces. Moreover, it has a retro style and is also comfortable thanks to backrests and upholstery on the chairs. The waterproof tabletop surface makes cleaning easy.
Short Description:
features a 35 inches long and wide square table
4 chairs with backrests and upholstery
solid rubberwood legs, MDF tabletop
distressed retro style in light grey color
country charm and suitable for farmhouse style
Best Mahogany 1950s Dining Table And Chairs
East West 1950 Dining Table And Chairs
Mahogany Wood Finish
This wooden 1950s dining table and chairs have a natural Asian hardwood construction in a mahogany finish. In short, the mid-century table is built from mahogany finish wood with mahogany chairs to bring a formal look to the set. Moreover, the table comes with 4 legs and a butterfly leaf for extensions.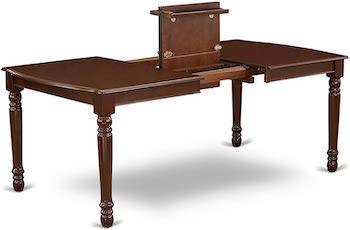 18-Inch Extension Leaf
The rectangular table is 30 inches high, 48 inches wide, and can extend from 60 to 78 inches in length with the help of the extension leaf. The wooden chairs also come in a mahogany finish featuring a backrest for comfort. Also, along with the table, they bring a touch of elegance to your dining room.
Effortless Clean-Up
Furthermore, the assembly of the 1950's mahogany dining room set is easy and quick by following the instructions. The matching table and 4 chairs are ideal for small families. However, the table easily extends in case you get guests unexpectedly. The tabletop cleans up effortlessly, as well, making maintenance a breeze.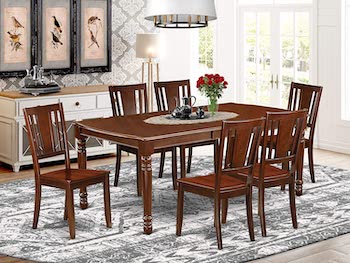 Seats 4 To 6 Easily
The classic style of the table allows you to seat one chair on each head and one chair on each side of the collapsed table. Once you extend it, you can easily add another chair to each side of the table to seat up to 6 people. At the same time, the 1950s inspired set will bring style to your dining area.
Short Description:
Asian hardwood in mahogany wood finish
formal-looking table and 4 chairs
mid-century table with a butterfly leaf
easy assembly by following the instructions
elegant chairs with backrests for comfort
it seats up to 6 people with an extension
Best Chrome 1950s Kitchen Table And Chairs
Crown Mark 1950 Dinette Set
Bar-Type Table & Stools
This 1950s chrome kitchen table and chairs are great for a bar area in your kitchen. The set includes a high-top table with two bar stools. The round table has a 30-inch diameter and is 41.37 inches tall. Moreover, the stools come with footrests for comfort, measuring 30 inches in height.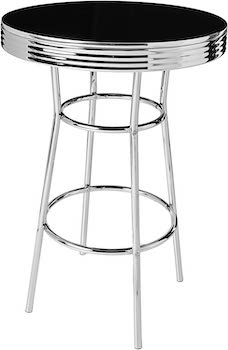 Chrome Metal Legs
The tabletop comes in a black metal finish, featuring four legs in a chrome finish, courtesy of the 1950s style. Similarly, the chairs also have chrome legs and padded seats in black color. The two swivel stools with the shiny table are ideal for singles and couples, perfectly fitting into any small space for breakfast and more.
For Apartments & More
This 1950s dining table and chairs are a great choice for small dinettes that will bring a piece of history into your home. The 2-chair dining table is great for urban living in small apartments.  Also, it can be used as a small dining set up away from the formal dining room.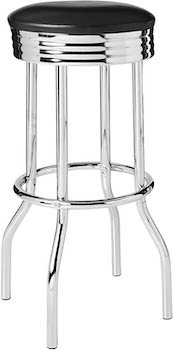 Sturdy Construction
Finally, the tabletop is easy to care for by wiping it clean after each use. Moreover, it is also sturdy thanks to the durable metal material on the legs. Also, the set requires assembly with the help of instructions.
Short Description:
for a bar area in the kitchen or dinette
41.37-inch tall table, 30-inch diameter
swivel stools with padded seats and footrests
chrome finish metal legs, black seats, and top
ideal for singles, couples, small spaces
instructions for easy assembly
chrome and black finish on the set
Best Small 1950s Dinette Set
Flash Furniture 1950 Dining Room Set
Space-Saving Design
This 1950s dining table and chairs come in a combination of white and red colors. It is a great set for small dining areas as it is designed to save space. The oval table allows you to store the two chairs under, making it compact for small apartments. It is an ideal solution for students in their first apartment, singles, and couples dedicated to urban living.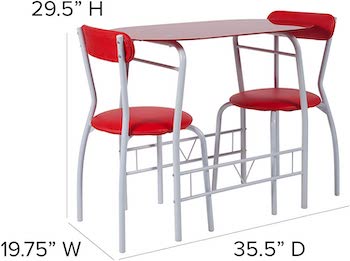 Red Tempered Glass Top
The oval table features a white powder-coated frame to fit the legs of the chairs. Moreover, the oval tabletop comes in red color, made from 0.6-millimeter thick tempered glass. Similarly, the chair seats come in red padding with a round shape and have a small backrest.
Red Vinyl Upholstery
The table is 29.5 inches high, 35.5 inches long, and 19.75 inches wide. On the other hand, each of the two chairs is 30.75 inches high, 16 inches wide, and 15.75 inches deep. Furthermore, the red vinyl upholstery with fire retardant foam and an open-back design makes it comfortable for sitting.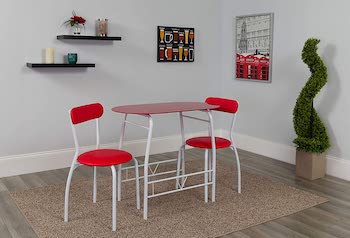 Sturdy & Easy To Maintain
Finally, the tempered glass makes a sturdy tabletop surface that is even easy to keep clean by simply wiping with a damp cloth. Moreover, the metal frames with a powder finish also make it easy to clean. The retro-style set also brings a charming touch to your living and dining area.
Short Description:
red and white oval table with 2 chairs
chairs go under the table to save space
for students, couples, small apartments
fire retardant foam in red vinyl upholstery
0.6-millimeter thick tempered glass top
What To Consider In 1950s Kitchen Table And Chairs?
When looking to get a retro-style dining set that includes a kitchen table and chairs, here are the things you should keep in mind. Firstly, consider the features that the 1950s retro style is known for. Secondly, look for the size of the set so that it can fit your space. Thirdly, make sure it has a durable build to last you a long time. Moreover, consider some other qualities that make a set of tables and chairs ideal for home use. Lastly, don't forget that you can choose among different table shapes and bases.
Peculiarities Of 1950s Style – Defined by the post-war era, this furniture style favored comfort and emphasized leisure. If you have the flair for the 1950s, then you already know about upholstered furniture, vinyl dining chairs, and dining tables with chrome legs. Moreover, pastel colors were popular for chairs and other furniture. Besides that, natural colors like brown and cream were also popular.
Choose A Size – For instance, 1950's style dining table and chairs can usually fit immediate families, without large models such as 10-chair dining table sets. However, you can still find models that seat between 2 and 6 people easily. When choosing the size, measure that the room also has 3 feet of breathing room around all sides of the set for comfort.
Look For Durable Materials – In short, a table and chairs should not just come in the size and the style you want, but also be made from durable materials. Also, the market offers durable materials such as solid wood, stone, metal, glass, veneers, and more. Moreover, 1950s furniture also likes upholstery for comfort.
Qualities For Home Use – Firstly, it is important that the 1950s kitchen table and chairs have a durable build and that they are also easy to assemble. Secondly, also make sure that the set is easy to keep clean. Likewise, also look for tables that allow you to easily put the chairs under when not in use. Finally, ensure between 22 and 24 inches of space for every place at the table.
Shapes & Bases Available – A table can have an oval, round, square, or rectangular shape. The shape will depend on the size and the layout of the room, as well as the capacity you need. Moreover, you can also choose between pedestals, trestles, or legs as table support. The first two options allow you to easily add more chairs in case you get unexpected guests.
To Wrap It Up
To conclude this article, we have chosen the Merax 1950s dinette set as our favorite model. In short, it features a retro-style table with 4 chairs, ideal for small spaces and smaller households. Also, the solid rubberwood legs and an MDF tabletop come in a distressed look, along with the chairs. If you are interested in even older retro designs, check out our selection of 1940s dining tables and chairs. Also, you can take a look at our reviews of the 1950s kitchen table to see what the market has to offer.