Are you in the need of a vacuum sealer pump that will help keep your ingredients fresh for a long time?
With a minimum investment, you can find amazing vacuum sealer pumps that are very simple to use. Read on and check out my reviews of the six best sealer pumps on the market with their specifications and the guide that can help you pick the best model for your needs.
The Rundown
Best 6 Vacuum Sealer Pumps
Best Of Best Sealer Pump
Automatic Compression Pump
Four-Step Use
This mini automatic compression vacuum pump is very simple to use. Everything you need to do is fill the bags with the ingredients you want to store away, zip up and seal the bags, and vacuum the air out of the bags by pressing the vacuum pump over the air valve on the bag.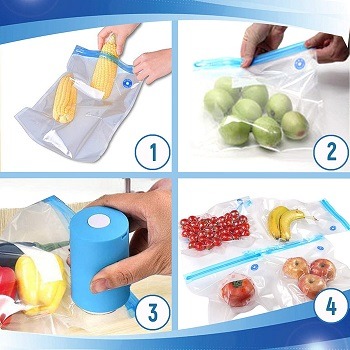 Rechargeable Battery
Like the previous model, this mini automatic vacuum sealer is also battery operated and rechargeable. Once it is fully charged it can provide you with up to three hours of constant use. It takes two to three hours for the battery to recharge again so make sure you do it on time.
Reusable Bags
The Tranzor mini automatic compression vacuum pump also comes with reusable bags. That means that there is no need to throw them away after each use. However, note that once the air valve gets damaged you should replace the bag, otherwise your food might be compromised.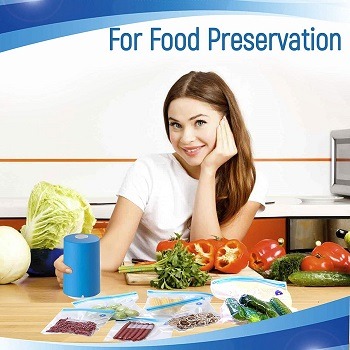 Additional Note
You should note that this mini automatic vacuum sealer is designed to work on the bags that come included in the package with the sealer. It won't work properly on larger bags on the market. Once you use up all the bags in the package make sure you purchase the same ones.
Short Description:
cordless design with a rechargeable battery
comes with reusable plastic bags
food-grade, safe, and non-toxic material
2-3 hour persistent charging time
built-in power indicator light
up to three hours of use when fully charged
Best Hand Vacuum Sealer Pump
Vicarko Rechargeable Vacuum Pump
Simplified Vacuum Pump
This hand pump vacuum sealer is very simple to use. Everything you need to do is press the vacuum nozzle that is located at the top of the pump over the air valve on the bag or a container. After that, simply turn the pump on and let it do the rest.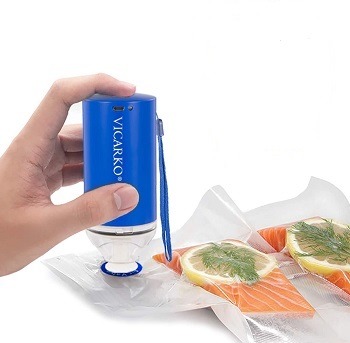 Lightweight And Portable Design
Because of its small size, the Vicarko vacuum pump is very lightweight and completely portable. You'll be able to take it on your vacation and store your food safely even when you are not home. It comes with a 1000mAh battery and a USB charger to ensure you can easily recharge it no matter where you are.
Multipurpose Plastic Bags
The plastic bags that come with this hand pump food vacuum sealer are made out of high-quality, BPA-free, multilayered plastic material. You can use them to make portioned meals and snacks, store different ingredients in your pantry, or freeze the fresh food to ensure it stays fresh for a longer time.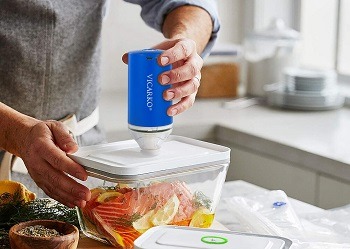 Complete Package
For a price of fewer than fifty dollars, you can get this hand pump vacuum sealer, five small and five large sous vide bags with an air valve and a USB charger. Even though the bags are reusable you should replace them once the air valve on the bag gets broken.
Short Description:
small rechargeable vacuum pump
completely portable design
highly convenient and versatile use
ten plastic BPA-free bags come included
all bags are waterproof and reusable
Best For Mason Jars Sealer Pump
FoodSaver Vacuum Sealer Kit
For FoodSaver Appliances
You should note straight away that this handheld vacuum sealer kit for mason jars is specially designed to work only with FoodSaver vacuum sealers. If you have any other vacuum sealer you won't be able to attach the valve to the unit.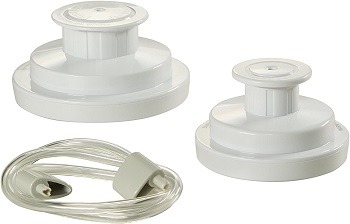 Use With Mason-Type Jars
This FoodSaver vacuum sealer hand pump kit is made to be used on mason-type jars. Simply push the jar sealer down until it covers the rim of the jar completely. After that just attach one end of the vacuum hose into the appliance and the other end on the top o the sealer and vacuum away.
Air-Tight Seal
Because of its powerful vacuuming performance, you can be sure that this mason jar vacuum sealer hand pump kit will provide the perfect, air-tight seal on your jars. It will maintain the freshness of your sauces, jams, or fresh spices. The best thing is that it won't let any smell in or out of the containers.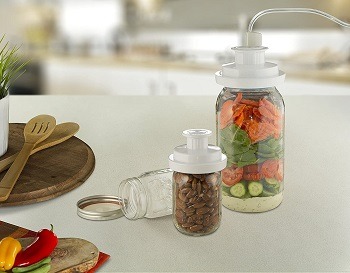 BPA-Free Design
The handheld vacuum sealer for the mason jars kit is entirely made out of BPA materials which makes it very environment-friendly. Also, this feature makes it perfectly safe to use because there are no harmful chemicals that you can usually find in plastic.
Short Description:
designed especially for use on mason jars
completely odor-proof and stain-resistant design
safe for dishwasher cleaning
for FoodSaver appliances with an accessory port
Best Pump & Seal Vacuum Sealer Pump
OUII Food Vacuum Hand Pump
Multipurpose Use
This pump and seal vacuum sealer comes with ten large and five small high-quality, food-grade nylon bags. You can use them to store all kinds of ingredients including fresh meat and vegetables, spices, etc. The best thing is that once you vacuum the air out nothing will be able to affect the quality of the stored food.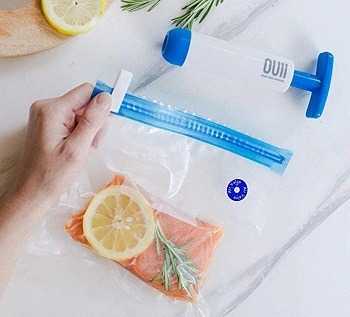 Sous Vide Cooking
You can use the bags that come with this pump and seal vacuum sealer for sous vide cooking because the bags are made out of non-toxic materials. However, if you choose to do so make sure that you don't submerge the zipper part inside the boiling water.
Easy To Use And Clean
The OUII pump and seal vacuum sealer is very simple to use. Everything you need to do is place it over the bags' air valve and remove all the air from the bag. All of the bags are reusable and easy to clean. Despite this feature, if a bag gets accidentally damaged you shouldn't use it anymore.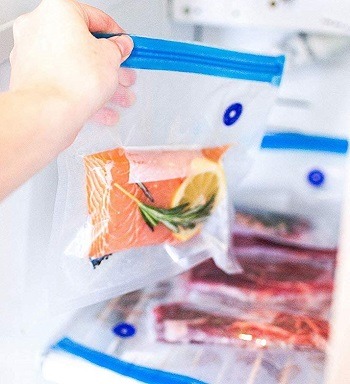 Affordable Price
If you like this affodrable pump and seal vacuum sealer you can purchase it at a price below fifty dollars. It is a great choice for everyone who wants to have a simple vacuum sealer pump for removing air out of freezer bags and creating an air-tight seal.
Short Description:
highly practical design
multipurpose plastic bags
BPA-free, non-toxic bags
easy-to-use hand pull-pump
complete package with zip clips and bag clips
instruction manual included
Best Cordless Sealer Pump
FoodSaver Cordless Food Vacuum Sealer
Small & Convenient Size
The FoodSaver 31161370 comes in a highly convenient small size. It is designed to ensure that it perfectly fits in the palm of your hand. Because of that, it won't take up too much counter space and you won't have any trouble finding the perfect storage spot for it.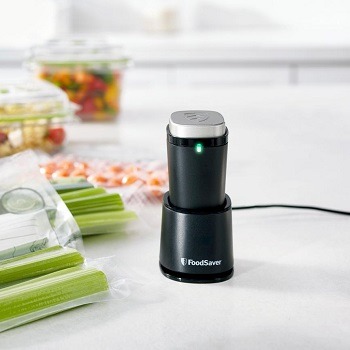 Powerful Technology
All of the cordless sealer pumps, that are available on the market, come with very powerful vacuuming technology, and this one is no exception. On a full, 24-hour charge it will allow you to vacuum up the air and seal up to sixty 1-quart bags.
Air-Tight Seal
This cordless vacuum sealer pump will create a super air-tight seal on your bags, containers, or any other FoodSaver accessories you want to use it with. Note that if you have damaged bags or containers it won't be able to vacuum out the air properly.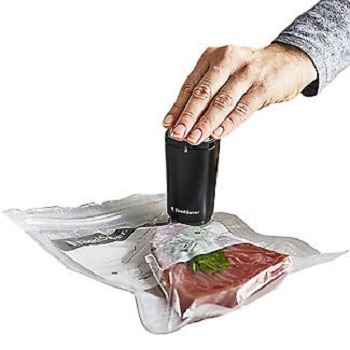 Charging Dock
Since this is a cordless, battery-operated FoodSaver vacuum pump, the package also includes a charging station. Proportionally to the size of the kitchen vacuum sealer, the charging dock is also small. Additionally, it offers a built-in cord design to ensure that it makes no mess on your kitchen counters.
Short Description:
small and compact size
highly practical cordless design
powerful vacuum technology
compatible only with FoodFresh Accessories
Best Cheap Vacuum Sealer Pump
Amyhome Vacuum Sealer Hand Pump
Manual Use
The Amyhome vacuum sealer pump is specially designed for manual use. That means that to create the air-tight seal you want to get, you need to pull the small green handle and pump the air out of the storage bags.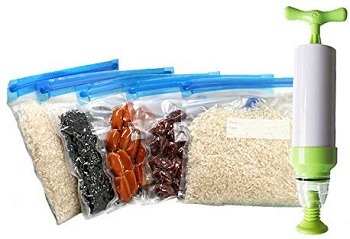 High-Quality Seal
Even though this cheap sealer pump is made for manual use, it will still provide you with excellent sealing performance. Additionally, you can control how much air you take out of the bags. Everything you need to do is place it over the air valve on the bag and vacuum the air out.
Reusable Storage Bags
This cheap manual vacuum sealer pump also comes with PA+PE and BPA free storage bags that are completely food-safe. The best thing is that the bags are reusable. Make sure you clean them with warm water and mild soap to ensure you don't accidentally damage them.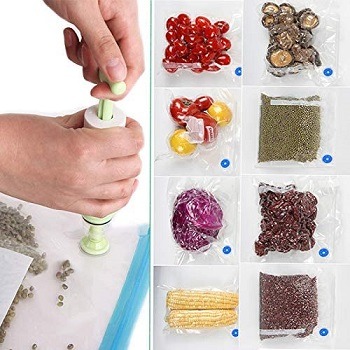 Budget-Friendly Vacuum Pump
The best thing about this manual vacuum pump for food storage is that it provides powerful performance and it costs less than 20 dollars. It is the perfect choice for everyone who wants a cheap pump that is completely safe to use.
Short Description:
high-quality zip bags included
excellent air-tight sealing performance
multipurpose use high-quality bags
environment-friendly materials
budget-friendly price of around twenty dollars
What To Consider In Vacuum Sealer Pumps
Owning a vacuum sealer pump is extremely useful, but you have to know a few things that differentiate a good pump from the best one. You have to think about the design, type of pump, purpose, and other things you can read below.
Design – Vacuum sealer pumps are specially designed to fit inside the palm of your hand. They come in a highly practical, somewhat smaller size which makes them completely portable and very easy to store while they are not in use.
Manual – If you buy a manual pump you will need to vacuum the air out of the container by pulling the T-shaped rod. They are a great choice but can be a bit harder to use if you want to store liquids inside the bag because they might pull out some liquid, too.
Automatic – On the other hand you have automatic vacuum sealer pumps that are designed to do the job for you. Everything you need to do is place them over the air valve and turn them on. They come with rechargeable batteries that are very powerful and usually take up to three hours to recharge.
Multipurpose – You can use all of the listed vacuum-pumps to reorganize your storage space, preserve food in a much better way, create perfect environments for marinating different ingredients, etc. If you are not sure about what you are going to use the pump for, a multipurpose one is always a great choice.
Cleaning – Since the vacuum cleaner pumps rarely get in touch with the food they don't require any special cleaning process. Everything you need to do is wipe out the nozzle or the seal are with a soft cloth and some mild detergent. After that simply wipe it off with clean cloth.
Bags – If you are set on vacuuming different foods, vacuuming bags are a must-have. Most of the models that are listed in this post already come with vacuuming storage bags. Always make sure that they are made out of thick, high-quality material and that they are made out of completely BPA-free food-grade materials.
BPA – When purchasing anything that comes in touch with the food you consume, always check that it comes with a BPA-free sticker. That means that the product does not contain any harmful organic compound Bisphenol A and that it is perfectly safe to use.