Are you looking for a way to preserve your food?
Then a freezer vacuum sealer is just what you need.
To help you decide which freezer sealing machine is the perfect choice for you, we reviewed six best freezer vacuum sealers and bags that are currently up for sale. Check them out and find out what is the best freezer bag sealer for you.
The Rundown
Best 6 Freezer Vacuum Sealer Machines
Best Of Best Freezer Sealing Machine
FoodSaver V4840 2-in-1 Vacuum Sealer
2in1 Appliance
If you are looking for a freezer bag sealer that is versatile and provides amazing performance, this freezer vacuum sealer will not let you down. Thanks to the combination of automatic bag detection and vacuum sealing process you will be able to store your food away in two simple steps.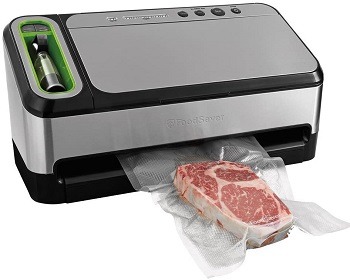 Multipurpose Use
The FoodSaver V4840 is the ultimate multifunctional freezer sealing machine. It provides both a standard sealer with automatic operation and a retractable handheld sealer. Both options will provide an airtight heat seal that will eliminate any possibility of moisture and outside air getting in touch with your food.
Handheld Sealer
The retractable handheld sealer can be used on vacuum zipper bags, canisters, containers, jar sealers, etc. While it is not in use, you can keep it atop the unit in its storage spot. It is designed to work with all FoodSaver accessories you can find on the market (you will find FoodSaver bags listed below in this post).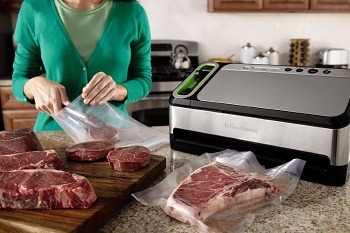 Versitile Functions
Because of its amazing performance, you can use this freezer bag sealer to preserve all kinds of food including marinated meat, fresh or frozen veggies, etc. It is so gentle that you will even be able act as chips and cookies vacuum sealer without worrying they might get crushed during the process.
Short Description:
completely automatic operation
optimal airtight heat vacuum seal
additional handheld sealer
for use on bags, jars, containers,
safe and certified appliance
Best Automatic Freezer Vacuum Sealer
GERYON Vacuum Sealer Machine
User-Friendly Design
Designed with fully automatic functions, this frozen food sealer features a very user-friendly design. It comes with digital touch buttons and LED indicator lights that will help you set the desired operations. Additionally, it comes in a highly practical size to ensure you can easily store it away when not in use.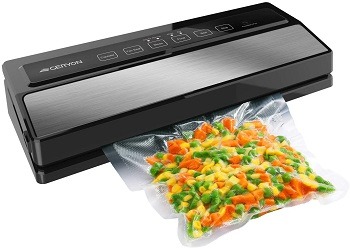 Versitile Use
Just like the previous model in this post, the GERYON Vacuum Sealer can also be used to store all kinds of food including both dry and moist ingredients. You can prepare your meals upfront or even cook the food sous vide without using multiple bowls and pans, simply use vacuum sealer for wet food.
Simple Cleanup
This frozen food sealer is very simple to clean. To do it properly you need to remove the upper lid and clean the vacuum chamber and gaskets. Make sure that you do this after each use to ensure that bacterias don't build up inside and get in touch with your food.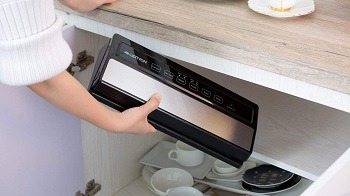 Affordable Price
You should never compromise the quality of a kitchen appliance for a lower price. For a mid-range price kitchen appliance, this frozen food sealer will provide you with amazing performance. It costs less than one hundred dollars which makes it very budget-friendly.
Short Description:
air-tight vacuum sealing system
different sealing modes for dry and moist ingredients
two pressure options including gentle and normal
fully automated vacuum sealing functions
completely detachable design for simple cleanup
complete starter kit including a roll and pre-cut bags
Best Commercial Freezer Bag Sealer
Weston Pro-2300 Vacuum Sealer
Commercial Grade Design
Because of its commercial-grade stainless steel design, you can be sure that this fresh and frozen food sealer is highly durable. It is more expensive and somewhat heavier than other models in this post. However, it will also provide amazing sealing performance so you can consider it a professional vacuum sealer.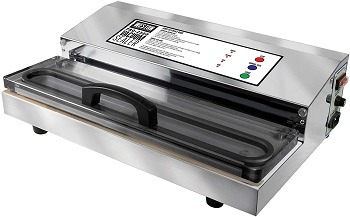 High-Quality Motor
Since the Weston Pro-2300 is designed for continuous use, it is very important that its motor doesn't overheat. That is why the motor comes with a fan cooler that will maintain its temperature throughout the use. With its wide seal bar, you can be sure it will always create a powerful seal.
Double-Piston Vacuum Pump
This commercial-grade freezer vacuum sealer features a powerful double-piston vacuum pump which will get the job done quickly and efficiently. Also, it is very simple to use. For most items, you only need to press start. On the other hand, if you are storing much more delicate food you can use the manual control option.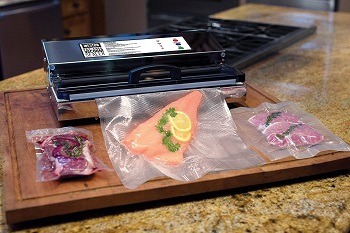 For Professional Use
The Weston Pro freezer bag sealer is initially designed to help you store larger amounts of different food. This is what makes it such a good choice for restaurants and hotels. But, it can also be a great appliance for everyone who wants to have a more professional kitchen and for professional hunters.
Short Description:
extremely powerful, professional vacuuming performance
extra long seal bar for a variety of bags
manual seal mode allows pressure control
fan-cooled motor for unerupted repetitive use
draws up to 28′ Hg vacuum strength
double-piston vacuum pump design
commercial grade stainless steel material
Best Cheap Freezer Sealer
NutriChef Vacuum Sealer
Automatic Sealing
The cheep NutriChef vacuum sealer is specially designed to provide an affordable, simple, and quick way of preserving food. You can store a variety of bulk, soft, crispy, or liquid ingredients in space-saving bags. Make sure that you clean the sealer between each use to prevent the possibility of bacteria build-up.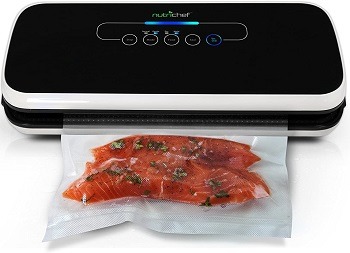 Easy To Use
This cheap vacuum bag sealer is very simple and easy to use. It comes with a user-friendly control panel that is located on the top of the unit. Additionally, the digital touch control buttons and the LED indicator lights will help you set the desired operating mode in no time.
Two Different Modes
The best thing about the NutriChef vacuum sealer is that it offers two different sealing options, including dry and moist. That means that you will be able to use it to store and freeze everything from soups and different liquids to fresh vegetables and meat for sous vide cooking.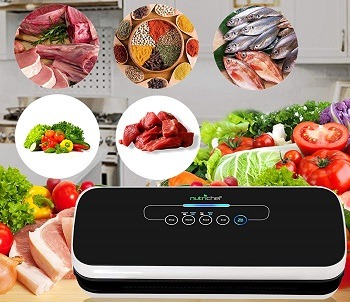 Complete Package
Besides the sealing unit and the air suction hose that will help you make a tight seal on bottles, jars, etc, you will also get a wine cork, five bags, and a long bag roll you can adjust according to your needs. Both the bags and the roll are completely waterproof and reusable.
Short Description:
different modes for the ultimate performance
12l per minute suction strength
reusable air-tight sealing waterproof bags
withstands food temperature up to 212°F
lab tested and very durable quality design
Best With Containers Freezer Sealing Machine
Lasting Freshness Vacuum With Containers
Handheld Pump
Unlike other models, I reviewed in this post, this Lasting Freshness vacuum features a handheld design and it is specially made to be used on food storage containers. To use it properly you need to place the vacuum on the marked spot on the lid of the container and simply pull it up until you fill some resistance.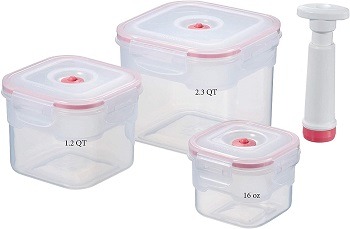 BPA Free Containers
Most of us know that plastic containers aren't the best choice for preserving food because of all the harmful chemicals found inside the plastic. That is why these containers are completely BPA-free to ensure that nothing affects the quality of the food you store inside.
Multifunctional Design
Another amazing thing about these vacuum sealer canisters is that they are freezer-safe, refrigerator-safe, dishwasher-safe, and even microwave-safe. Once you place your ingredients inside one container you can store them away, defrost, and heap up inside it without using other dishes.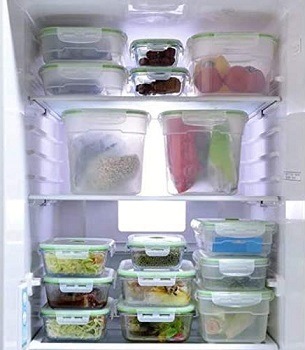 Money-Saving Vacuum Sealing System
This handheld pump with vacuum seal freezer containers costs less than fifty dollars which makes it the most affordable choice for any household. It doesn't offer as many features as the automatic models in this post do, but it is highly practical and it will do the job perfectly.
Short Description:
set of three different size containers
handheld vacuum sealing pump
BPA-free food storage containers
microwave, fridge, freezer, and dishwasher-safe
affordable price around thirty dollars
Best Bags Freezer Vacuum Sealer
FoodSaver Precut Vacuum Seal Bags
Easy To Use
These FoodSaver vacuum freezer bags are very easy to use. They come precut to ensure that you don't have to lose time on cutting bags each time you need one. Simply open the bag, load it up with fresh or frozen ingredients, and place the top of the bag inside your freezer sealing machine.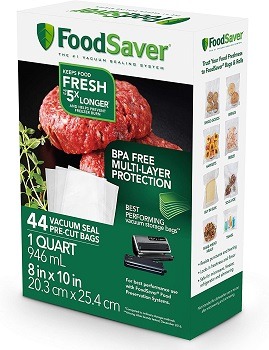 Perfect For FoodSaver Vacuum Sealing Systems
Since these vacuum seal freezer bags are made by FoodSaver, they are the best bags for use with FoodSaver vacuum sealing systems (the first model in this post). However, since they are regular bags made for automated sealing devices you can use them with other vacuum sealers too.
Multipurpose Use
The FoodSaver vacuum pack freezer bags are designed to ensure that you can use them for all kinds of purposes. They are perfect for storing frozen food, but you can also use them to store lunch leftovers, for picnic and camping snacks, and for cooking.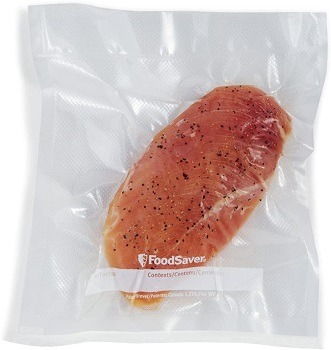 BPA-Free Material
You can be sure that these vacuum freezer storage bags are perfectly safe to use. They are made out of high-quality BPA-free plastic material that will keep all the flavor inside the bags. They are safe for microwaves, freezers, refrigerators, and you can even boil them.
Short Description:
BPA-free multilayer bag design
highly-durable superior quality bags
great for marinating different ingredients
multiple uses for storing, freezing, portioning meals…
What To Consider In Best Freezer Sealing Machine?
A freezer vacuum sealer can come in handy in preserving food and helping you create a more organized storing system. Keep reading and find out what are the things you need to pay attention to when purchasing a freezer bag sealer.
Practical & Lightweight Design – The thing that determines the weight of the freezer vacuum sealer is its design. For example, freezer bag sealers that are made of stainless steel will be much heavier. The models that are made of high-quality plastic will be very lightweight which makes them practical to use and store away.
Powerful Performance – To know how powerful the frozen food sealer you want to buy is you need to check its strength. Manufacturers usually use inches of mercury or inHgs to determine the strength. Always look for a model that has more inHGs, but the ones between 13 and 25 inHG should provide powerful suction.
Multifunctional Use – If you want a freezer sealing machine you can use for vacuuming a variety of food, look for the models that offer multifunctional use. That way you will be able to store both hard food and different liquids inside the sealing bags.
Wide Price Range – Depending on what kind of a freezer sealing machine you choose to buy, whether it' fully automated or handheld, you can find many models that fit in the cheap category (less than fifty dollars), mid-range, or very expensive ones (over three hundred dollars).
Bisphenol A – Organic compound Bisphenol A, or most commonly known as BPA, is a harmful chemical that is used in creating polycarbonate plastic. You should always check that the items you are using are completely BPA-free and food-grade safe.