Have you already found the perfect vacuum sealer pump?
Then it's time to choose the best vacuum sealer canisters you will use to store your food. Keep reading my post and find out what are the top-rated canisters you can currently find available for sale.
The Rundown
Best 6 Vacuum Sealer Canisters
Best Of Best Vacuum Sealer Canister
Lasting Freshness Vacuum Seal Containers
No Food Contamination
The best reason to get the Lasting Freshness model is that they will prevent any possibility of food contamination. They are designed to provide an air-tight seal and keep all the amazing flavors inside the food for a longer time.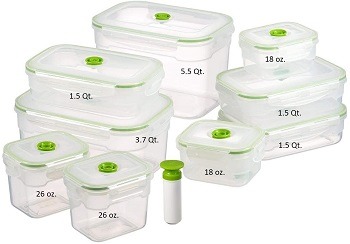 Perfect For Marinating Food
You can use these to store fresh meat, veggies, and even cookies, chips, and candy. It is also a great way to prepare for your next meal so it is a great choice for a kitchen vacuum sealer option. Place fresh meat and spices inside the canister and let it marinate to ensure you get the tastiest meal.
Refrigerator & Freezer Safe
These Lasting Freshness vacuum sealer canisters are both refrigerator and freezer safe. You can also use them to defrost or heat the food in the microwave. Additionally, the cleaning process is very simple because they are also dishwasher safe.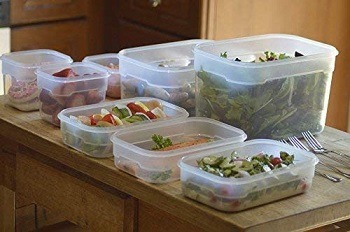 Manual Pump Included
A manual vacuum pump comes included in the package with these canisters. To use it properly, simply place it over the air valve on the top of the lid and pull the air out. To release the seal, gently press the valve.
Short Description:
nineteen different size rectangle containers
quick air-tight and leak-proof powerful seal
for fresh ingredients and marinating meat
keeps freezer burns away from your food
BPA-free & food-safe plastic containers
fridge, freezer, microwave, and dishwasher safe
handheld vacuum pump comes included
Best Round Vacuum Sealer Canister
FoodSaver Vacuum Storage Canisters
Three Round Canisters
In this FoodSaver canister set, you will get three round canisters that are specially designed to keep your food fresh for a longer time. The set includes one 75 quart canister, one 1.5 quart canister, and one 2.5 quart vacuum storage canister.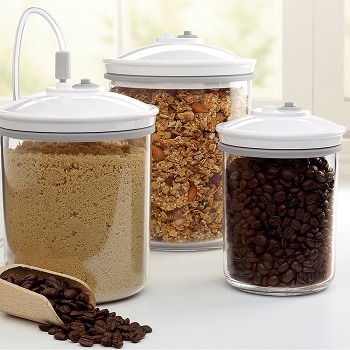 High-Quality Design
The best thing about these canisters is that they offer a high-quality design. They are completely BPA-free, odor-proof, stain-resistant, and dishwasher-safe. That means that they are perfectly safe for food storage and very simple to maintain and clean.
Multipurpose Use
Thanks to the air-tight seal that these vacuum sealer canisters provide, you can use them for storing all kinds of ingredients from fresh veggies to crispy chips. You can even keep the canisters both in your pantry and in a refrigerator so you don't need a freezer vacuum sealer.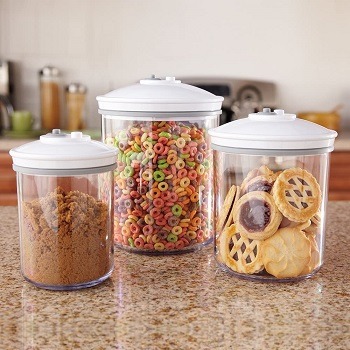 Compatible With FoodSaver Vacuum Pumps
Note that these FoodSaver canisters are compatible only with FoodSaver vacuums with accessory ports. To vacuum the air out of the canisters connect one end of the vacuuming hose to the machine and the other to the canisters. To release the seal simply press the small button on the top.
Short Description:
keeps the moisture and air out
maintains the freshness of food
preserves the natural flavor of food
completely BPA free plastic material
compatible only with FoodSaver vacuuming machines
Best Set Vacuum Sealer Canister
Vacumaster Food Storage Container Set
Airtight Food Storage
In this vacuum sealer canister set you will get three different size containers. They will provide you with an air-tight storage system by creating negative pressure. You can use them to store fresh ingredients but also cooked food, lunch leftovers, sandwiches, and candy.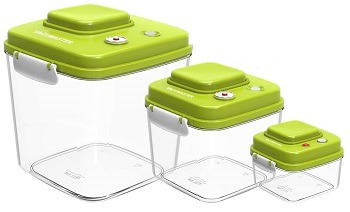 Easy To Use
These Vacumaster food storage containers are very easy to use. Everything you need to do is press the big vacuum button on the tp of the lid. If you want to release the seal simply press the small button next to it and open the container.
No Need For A Pump
The best thing about this sealer canister set is that it doesn't require the use of any kind of vacuuming pump. The large button on the top actually serves as a pump. You need to press it repeatedly until the small red column sinks into the lid.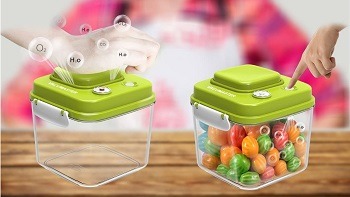 BPA-Free Design
Like most of the other vacuum sealer canisters on the market, the Vacumaster food storage container set is entirely made of BPA-free plastic materials. That means that there are no harmful chemicals inside the material and the containers are completely food-safe.
Short Description:
visual vacuum indicator that shows the status
extends the shelf life of food up to eight times
for storing a variety of ingredients
keeps the natural taste of food
made out of durable food-grade materials
very simple and easy to use
Best For Meat Vacuum Sealer Canister
CASO Germany Vacuum Sealer Canisters
Different Sized Containers
The CASO comes in three different sizes. These include a small 700ml container, a medium 1400ml container, and a large 2000ml container. They are designed to ensure you can store both smaller and larger amounts of food. That is why they are a good choice for wild game vacuum sealers.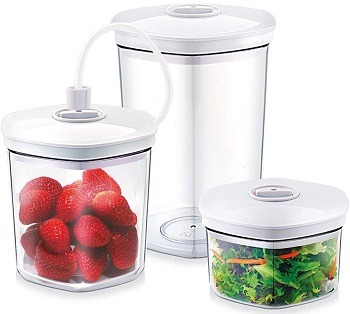 Space-Saving Design
Since the three canisters are designed to ensure that they fit into one another, you won't have any trouble finding the perfect storage space for them. Also, they won't create chaos and mess on your kitchen counters while in use.
Perfect For Meat Preparation
These vacuum sealer canisters are perfect for marinating meat. Simply place fresh meat inside the canisters, add your marinade inside, and vacuum up the air from the container. In no time you will have perfectly marinated meat that will have an amazing flavor.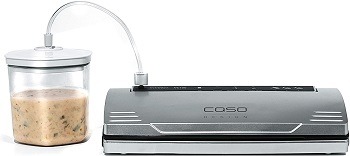 Compatible With CASO Vacuum Sealers
To remove the air out of these products you will need to have a vacuum machine that comes with an accessory port. Note that these containers are compatible only with all of the vacuuming sealers from the same manufacturer.
Short Description:
three sealer canisters with different capacity
designed to hold both liquid and hard food
safe for washing inside a dishwasher
stackable and space-saving design
preserves food for a long time
Best Safe Vacuum Sealer Canister
Seal'In Food Storage Vacuum Containers
Extremely Durable Design
These vacuum sealer canisters offer an extremely durable design. They are entirely made out of BPA-free polycarbonate material that can withstand different temperature changes. Because of that, the canisters will last a long time and look just like the first day you bought them.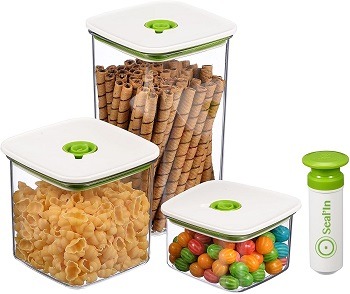 Hard Polycarbonate Material
Because of the hard polycarbonate material, these are completely safe to use both in freezers and refrigerators. Also, they can go inside the microwave and are completely dishwasher safe so no need to worry about cleaning them manually.
Built-In Silicone Valve
The Seal' In canisters are very easy to use. They come with a built-in silicon valve that helps you pump the air out of the containers. To release the seal, simply pull the valve slightly to one side and open the container.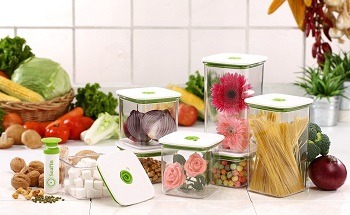 Manual Hand Pump Included 
A small manual hand pump comes in the package with these vacuum sealer canisters. Place it over the silicone valve and pull the air out of the containers. When you are not using it simply store it inside one of your kitchen drawers.
Short Description:
highly durable patented design
containers come in three different sizes
stores veriety of food
a free hand pump comes included
built-in silicone valve for vacuuming
Best Cheap Vacuum Sealer Canister
X-Chef Vacuum Seal Containers
Stackable Design
These cheap vacuum sealer canisters are highly practical and they offer a stackable design. That means that you don't have to worry they will take up too much counter space inside your kitchen. Additionally, they are completely leak-proof so you can store both liquid and hard food.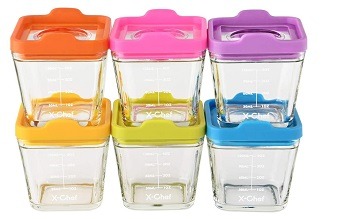 Heat-Resistant Durable Material
Unlike other models in this post that are made out of high-quality plastic material, these X-Chef vacuum sealer canisters are made of highly durable borosilicate glass. This makes them very durable and heat-resistant. Make sure that when you place the containers inside the microwave you remove the lids first.
For Storing Baby Food
Since these sealer canisters are so durable and food-safe they are the perfect choice for storing baby food. Prepare your baby's meals upfront and keep them in these safe containers. The meals will remain fresh for a much longer time and be ready-to-use when you need them.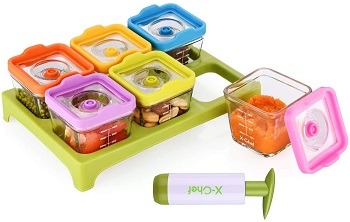 Affordable Price
The best thing about these X-Chef models is that they cost less than fifty dollars which makes them much more affordable. The package includes six containers, lids, one hand pump, and a plastic tray that allows you to organize the containers.
Short Description:
fun and colorful BPA-free silicone lids
durable borosilicate glass containers
small and simple manual hand pump
leakproof and stackable design
safe to use both in freezers and microwaves
the affordable price of fewer than 50 dollars
What To Consider In Vacuum Sealer Canisters?
Vacuum sealer canisters are a great way of organizing and storing your food. Most of the models are safe for use in refrigerators, freezers, microwaves, and even for cleaning inside the dishwashers. Read on to find out about the things you need to consider when purchasing one.
One Or A Set – Before you purchase a vacuum sealer canister you need to consider whether you want to buy a complete set or only one container. Make that decision based on whether you want one container for situations when you want to marinate meat or if you want to have an organized storing system.
Capacity And Volume – Another thing to think about is the capacity and the volume. In this post, you can find small canisters from 700ml all the way to the large 2-liter ones. If you choose to buy a set you can get multiple sizes in one package.
Design – The design of the vacuum sealer canister you want to buy is another very important thing you need to consider. Always look for the models that are made out of food-grade silicone, polycarbonate, or glass materials and that they are completely BPA-free.
BPA-Free – BPA, or organic compound Bisphenol A is a harmful chemical that was most commonly found in plastic bottles, cutlery, containers, etc. Nowadays, most of the plastic products are completely BPA-free to ensure that they are safe to use with food. Make sure that there is a BPA-free sign on the product before you purchase it.
Seal Types – Unlike sealing bags, canisters come with silicone air valves that are located in the middle of the lid. To vacuum the air out you will need to use a pump or a vacuuming hose that is attached to a vacuuming machine.
Compatibility – The one thing you really need to pay attention to with them is their compatibility. This rule applies only to the models that use a vacuum hose to seal the container. Some models on the market, such as FoodSaver, will work only with FoodSaver vacuuming machines.
Price – The last but not least feature you need to pay attention to is the price. Even if you have a tight budget you can still easily find the perfect vacuum sealer canisters for your household. The price range of the models in this post varies from around thirty dollars to more than one hundred.
To Wrap It Up
The best vacuum sealer canisters I think you should consider purchasing are the Lasting Freshness Vacuum Seal Containers. You will get nineteen different size containers that are made of entirely BPA-free material and can withstand temperature shifts between the freezer, fridge, and microwave. To learn more about how you can use these containers to marinate and prepare your food read this post about the best vacuum sealers for home. Also, if you don't have it, then read my post about vacuum sealer pumps and pick the best one for you!