You really want a twin gear juicer, but you don't know which model and its technical specifications will be most suitable for your lifestyle?
Here are 5 reviews of 5 different models, each is the best in its category, so you can find the ideal model with the best design and specifications. Best of the best, for home or for beginners, small in size or electric? Read this post and find out which model is your perfect match!
The Rundown
Best 5 Twin Gear Juicers
BEST OF BEST TWIN GEAR JUICER
Greenstar Juicer Extractor
Classic And White
With its classic design, this juicer comes in typical white color, with a few green, yellow, and bred details. The standard design looks good and quite big. It's a good additional kitchen tool, though it may take a bit of space for storing. It comes with rubber feet.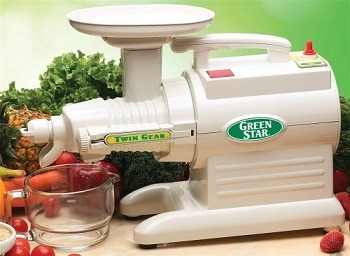 Plastic, Stainless Steel, Twin Gear
This twin gear juicer is made of plastic and comes in the dimensions of 6.5 x 19 x 12.5 inches, and with a weight of 24 pounds. It runs slowly with 110 rpm rotations and has stainless steel magnetic and bio-ceramic twin gear. The gears have specific cutting points and pocket recesses that make this juicer suitable for leafy greens, as well as a variety of other vegetables.
Technology For Extracting
The Tribest Green Star juicer comes with already mentioned bio-ceramic and magnetic technology to ensure maximum juice extraction. Due to its design, as well as the slow speed of the rotation, this juicer provides minimal oxidation and maximum extraction, while it preserves a high amount of vitamins.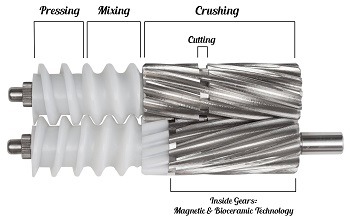 Minimal Noise
This low speed juicer comes with an impeller press system that in the combination with an exclusive low-speed of the rotations, produces minimal noise in the operation of juicing. It also produces minimal heat and frictions, while giving you fresh, smooth, and healthy beverages in no time.
Additional Parts And Accessories
The juicer comes with a glass juice pitcher, a drip tray, a strainer to eliminate all the pulp and pasta, and a breadstick maker set. To ease up the cleaning, the juicer also comes with a specific cleaning brush. When cleaning, all the parts need to be detached. Use some lukewarm water and cloth. Store the juicer in a clean and dry space.
Short Description:
classic and quite standard design in white
plastic on the outside, stainless steel twin gear on the inside
metallic and bio-ceramic technology for maximum extraction
the slow speed of 110 rpm rotations for quiet operation
additional parts like cleaning brush, pasta and breadstick maker set
BEST HOME TWIN GEAR JUICER
Tribest Pro Jumbo Juicer
Modern Grey Design
This juicer comes in a rather modern design. Due to its grey color, it looks modern and elegant and works quite well with any kitchen style. It is a good fit for home use since its lines of making, as well as the workmanship, provide a good first impression. This juicer is also available in white jiucer color.
Suitable For Countertop
This electric twin gear juicer comes in the dimensions of 18.6 x 6.8 x 12.4 inches and with a weight of 26 pounds. It's quite big in size and it's going to take some space for storing, but it presents a good kitchen tool that is suitable for placing on the countertop.
Extraction And Preservation
Due to its jumbo twin gears technology made of magnetic and bio-ceramic materials, the juicer extracts a good amount of juice that can then be stored for quite some time, without losing nutrients and vitamins. Juicer works as a cold-press machine that guarantees to preserve all the nutrients and preventing their degradation.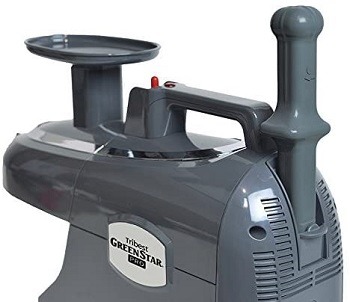 Variety Options
The technology of this juicer is universal and is suitable for a variety of ingredients, fruits, and vegetables. To prevent jamming, the juicer has a reverse function, and to offer even more varieties of the process, the juicer comes with additional parts that allow producing fruit sorbets and nut butter.
Simple Cleaning And Storing
When it comes to the cleaning, the juicer needs to be disassembled, but it only takes a few minutes to do so. Clean each dirty part with water and some mild soap. The juicer comes with a tamper holder for more conveniently storing. To keep the juicer in the good condition, store it in a safe and dry place.
Short Description:
modern grey design suitable for any kitchen
big but can easily be stored on the countertop
made for maximum extraction and preservation
suitable for different fruits and vegetables
comes with additional parts to make fruit sorbets and nut butter
BEST FOR BEGINNERS TWIN GEAR JUICER
Green Power Juicer
Simple In Design
This black home juicer. comes in a rather simple design. Its lines are good, so is the workmanship, but it's nothing special and specific about it. It looks like any other kitchen tool and with its black color, it is suitable for every household Despite the standard design, this juicer is made to impress with its efficiency.
Smaller In Size
The juicer is mainly made of recyclable materials. Its dimensions are 16 x 8 x 11.5 inches, while the weight is 20.8 pounds. This model is a bit smaller in size, but due to that, it is quite easy to store. It's maybe even suitable for storing in the kitchen cabinet or just placing it on the kitchen worktop.
Suitability For Versatility
With its standard magnetic and bio-ceramic technology, this twin gear juicer is suitable for wheatgrass, as well as fruits and vegetables. The twin gear impeller is quite powerful making the juicer suitable for a variety of different ingredients. The juicer works in a low-speed mood with 160 rpm rotations. Due to that, it generates minimal heat while extracting maximum juice.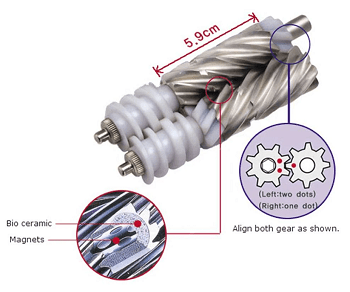 Options And Parts
The juicer has three screens. The normal hole for wheatgrass and vegetables, the large hole for fruits, and crush screen for soaked beans and grains. It also comes with two tampers, one is made of plastic, while the other is wooden. The package also includes one magnetized jug with a capacity of around 33 oz, an extra end cap, and a cleaning brush.
Quite And Simple
This juicer works in a quiet mood with 60 dB so it's perfect for families. It extracts freshness and nutrients that can be preserved for up to 72 hours in the refrigerator. Regarding the cleaning, the juicer is actually clean in three minutes. Detach dirty parts, rinse them in water and you're done.
Short Description:
black simple design mainly made of recyclable materials
smaller in size so easy to store
low-speed of 160 rpm rotations
quiet in-process and suitable for a variety of ingredients
good additional parts like jug, cap, cleaning brush
BEST ELECTRIC TWIN GEAR JUICER
BioChef Masticating Juicer
White Design For Elegance And Modernity
In its simple, but cute design, this twin gear juicer certainly makes a good impression. Its lines of the design are gentle and clean, while its white color brings up a touch of modernity with a bit of elegance. Besides the white coloring, the juicer comes with a few black details that offer good contrast, as well as a transparent tube.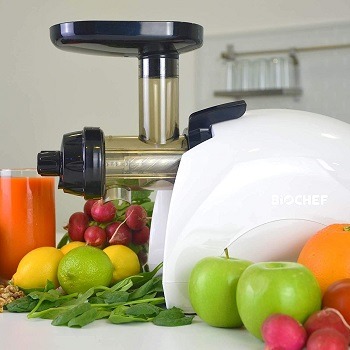 Technology For A Pulp-Free Juice
In its shiny white attire, this juicer comes with the dimensions of 16.4 x 6.3 x 11.02 inches, and with a weight of 13.89 pounds. Thanks to the magnetic and bio-ceramic technology of the twin gears, the juicer provides pulp-free juice rich in nutrients and vitamins.
Slow But Hard Squeezing, Juicing, And Extracting
Slowly crushing the ingredients is a key component of this twin gear masticating juicer. It squeezes hard while juicing and extracting the most juice of fruits and vegetables. The powerful twin gear opens up the ingredient's cellulose to extract a high amount of enzymes and nutrients.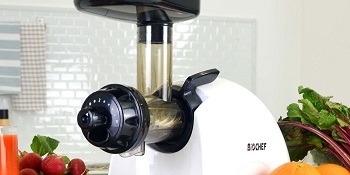 Suitable For Solid Ingredients
Due to its innovative technology, this affordable masticating juicer is suitable for preparing a variety of dips, sorbets, nut butters, and baby food. The juicer is even suitable for grinding coffee beans, sesame seeds, and peanuts, as well as other solid ingredients. The juicer is made to provide you with everything you need.
Cleaning After Every Use
In order to give you a good and durable efficiency, the juicer needs to be cleaned after every use. Just detach all dirty parts and rinse them in water. Use a cleaning cloth for the juicer's housing. When it comes to storing, put this juicer in a dry place so the environmental factors don't affect its efficiency, as well as an outer plastic housing.
Short Description:
comes in white modern and elegant design
made to produce a smooth juice without the pulp
slow but hard squeezing and extracting
suitable for fruits, vegetables, and solid ingredients
needs to be cleaned and stored in a dry place
BEST STAINLESS STEEL TWIN GEAR JUICER
Super Angel Juicer
Shiny Silver Industrial Design
This twin gear juicer comes in quite an impressive design. It has a clear and shiny silver color that gives it more of an industrial design. Despite that, the juicer can be a good fit for any minimalist, modern, vintage, and industrial kitchen style.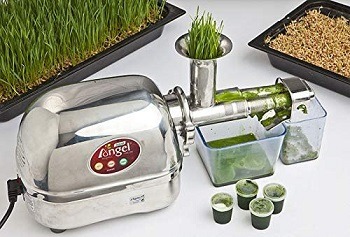 Stainless Steel High Performance
The juicer is entirely made of surgical stainless steel to provide amazing efficiency during a long period of time. Its dimensions are 21.7 x 14.5 x 10.1 inches, while the weight is 27 pounds. Due to its innovative and advanced design and technology, the juicer guarantees high-quality performance.
Low Speed Of 86 Rpm
This stainless steel citrus juicer comes with a twin gear impeller press system. The system may work at a low speed of 86 rpm rotations, but it is quite powerful. Due to its slower work, the juicer presses the ingredients while extracting the best nutrients and vitamins.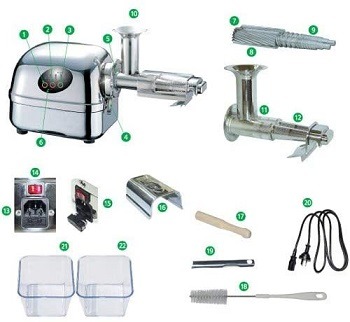 Juice, Milk, Tofu
The juicer is suitable for extracting carrots and apples, as well as spinach and wheatgrass. Whether the main ingredient is a fruit or leafy vegetable, the juicer can handle it without any problem. Besides making a regular smooth and fresh juice, the juicer also produces soy milk, as well as tofu.
Wet Cloth For Inside And Outside
The cleaning of the juicer is quite easy. It just requires a good brush of all parts on the inside, as well as the ones on the outside. Use a wet cleaning cloth and just wipe the juicer, it'll be clean in a matter of seconds. Due to its stainless steel making, the juicer can be stored in the kitchen or the dry storage room.
Short Description:
impressive clear shiny silver design
entirely made of stainless steel
made to provide high-quality performance
works at a low speed of 86 rpm rotations
suitable for making juice, milk, tofu
What To Consider About Twin Gear Juicers
Read this guide about twin gear juicers and find out everything you need to know about extracting more juice with a low-speed juicer, which technical option is family-friendly, when to choose a plastic model and when stainless steel one, what is it with additional parts and versatility, and why you need a good design for easier storing.
Low Speed For More Extracting – when it comes to the twin-gear juicers, the rule is that the slower the speed, the larger amount of nutrients and juice. Juicers that work with a low-speed rotation, between 80 rpm and 120 rpm, extract maximum nutrients, minerals, and vitamins, as well as a maximum of the juice. In order to get fresh, smooth, and rich juice, get a juicer with a slow speeding rate.
Quiet And Family Friendly – along with the low speed comes other operation components. The best factor about a juicer with low speed is the quietness. Quiet juicers operate in a quiet or even ultra-quiet mood, so they are perfect for families since the juicing can be done at any time of the day, without harassing any household member. Low speed for better extraction and minimal noise is the best solution.
Plastic Or Stainless Steel – the juicers are made of plastic or stainless steel. Choose a model made of plastic if you want versatility when it comes to the design. The plastic models can come in any color combination so you can choose the one that is most suitable for your kitchen interior. Stainless steel most usually comes in clean, silver, and modern attire, while the versatility is reduced to a minimum.
Additional Parts For Versatility – the stainless steel model comes with the power to juice everything, but the plastic one often comes with a lot of additional parts. When picking out the best model, choose the one that comes with additional parts like a couple of screens and tampers. That means that you can change the mentioned parts to provide the best fit for the ingredients you want to juice or grind.
Good Design For Easier Showing – when choosing the right twin-gear model have in mind that it comes in a quite big size. If you don't have a storage room, you'll probably have to place it somewhere in the kitchen. So when you're choosing the model that is most suitable to your household, as well as your needs, pick the one that comes with good workmanship and beautiful design so it fits right into your kitchen.
To Wrap It Up
The best twin gear juicer that I recommend is the Green Power juicer. I would recommend this model because it's made of recyclable materials, and it works in a quiet low-speed of 160 rpm rotations. The juicer comes with 3 screens that are suitable for a variety of ingredients, from wheatgrass and vegetables to fruits and soaked beans and grains. It also comes with a couple of additional parts like a magnetized jug with a capacity of around 33 oz, an extra end cap, and a cleaning brush. This model is made to be efficient and versatile. If you're looking for a strong juice machine, read this post about commercial citrus juicers. If you're more interested in finding a good and professional machine for juicing, check out this post about professional juicer machines.