Have you been trying to find the best citrus press that meets your needs with its size, design, performance, and price?
Then my post might help you with your search!
The 10 modes I reviewed below are all top-rated in their category. Check them out, compare their features, and find out which one suits your needs the best.
The Rundown
Best 10 Citrus Press Juicers
Best Of Best Citrus Press
Breville Citrus Press
Professional Attire
Both the body and the juicing cone of this citrus juice press are made out of stainless steel material. The mentioned cone has well-distributed carvings that meet at a sharp tip. Its universal size makes it suitable for use with both smaller and larger citrus fruits.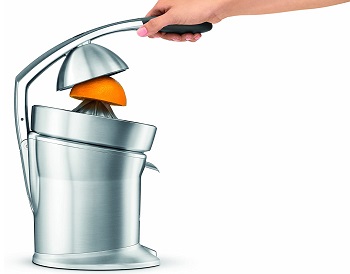 Pulp Control
Another great thing about this commercial citrus juicer is that it provides you with simple pulp control. Thanks to this feature you will be able to adjust the density of the squeezed juice according to your likings. Click on the enclosed link to read a more detailed review of this appliance.
Short Description:
constructed out of stainless steel material
a universal cone with well-distributed carvings
suitable for use with larger and smaller citrus fruits
provides very simple pulp adjustment control
strong motor with low operating noise
a coated ergonomically-designed handle
comes with a dual switch safety feature
Best Manual Citrus Press
Lukasa Manual Citrus Juicer
Easy To Use
To use this stainless steel manual citrus juicer properly simply cut your fruit into halves, place one half onto the cone, put the lid atop it, press it down, and rotate it. The lid features 10 needles that keep the fruit in place during the juicing process. To learn more about its performance click on the enclosed link.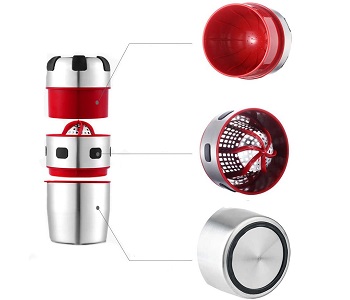 Portable Design
Its somewhat smaller size makes this hand juicer press a highly suitable choice for on-the-road use. Since it doesn't require any kind of power source, you can use it even in remote locations while you are outdoor hiking. It will provide you with a smooth, freshly squeezed juice in about a minute.
Short Description:
a somewhat smaller handheld size
suitable for indoor and outdoor use
provides very simple performance
maximum extraction 6-blade juicing cone
comes with a function filtration system
10-needle screw cap keeps the fruit in place
Best Lemon Citrus Press
Kitchen Aid Citrus Squeezer
High-Quality Design
This lemon press is constructed out of durable aluminum and nylon materials. Most importantly, it is completely BPA-free, meaning, it is perfectly safe to use. Its built-in strainer ensures that the pulp and the seeds remain out of your juice.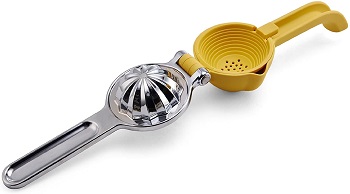 Easy To Store
You won't have any trouble finding the perfect storage space for this juicer. Due to its size, it can easily fit into the smallest spaces, such as cutlery drawers. If you need more information about this lemon crusher, click on the enclosed link.
Short Description:
durable aluminum and nylon construction
food-safe BPA-free design
built-in strainer collects pulp and seeds
fruit bowl collects freshly squeezed juice
takes up very little storage space
Best Antique Citrus Press
New Star Citrus Juicer
Professional Quality
This antique lemon squeezer features a U-shaped cast iron bottom base with non-slip safety feet. Its body, on the other hand, is constructed out of 18/8 stainless steel material. It is fully covered with an antique bronze finish that gives it a more vintage feel. By clicking on the enclosed link you can learn more about its design.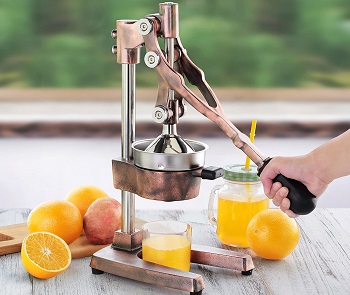 High Extraction Pressure
Another great thing about this antique juicer press is that its ergonomically designed handle can withstand the pressure of up to 2, 300 PSIs. Due to this feature, you will easily extract every single drop of juice from versatile citrus fruits.
Short Description:
U-shaped cast iron bottom base
features non-slip safety feet
18/8 stainless steel body
ergonomically designed handle
high pressure of up to 2, 300 PSIs
Best Metal Citrus Press
Zulay Citrus Juice Press
Durable Design
This is another metal juicer press that provides exceptional durability. Its body is constructed out of cast iron material while its key components, including the bowl and the cone, are made out of stainless steel material. All parts that come in contact with the juice are completely removable and dishwasher-safe.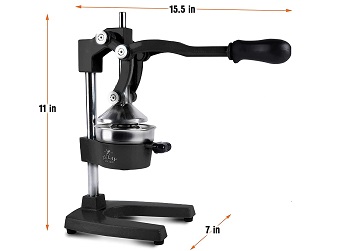 Versatile Use
Since it has a bit larger 5-inch bowl, you can use this model to juice versatile fruits including limes, lemons as well as oranges, and pomegranates. It provides a perfectly smooth juice in 4 simple steps. You can learn more about its design and performance in my post about the best metal juice press models.
Short Description:
a highly durable cast iron body
stainless steel bowl and cone
suitable for small and large fruits
dishwasher-safe removable parts
Best Orange Citrus Press
Kalsi Press Juicer
User-Friendly Features
This manual orange juicer offers versatile user-friendly features. Its bottom base is stable enough and has a built-in cup holder that will keep your cup in its place throughout the juicing process. It also has an ergonomically designed handle that provides you with a much firmer grip.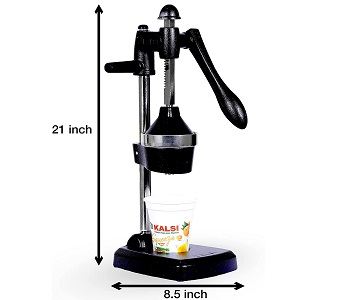 Eco-Friendly Design
The amazing thing about this orange juice press machine is that it is entirely made out of completely sustainable materials. It is a great choice for everyone looking for an eco-friendly choice. For a more detailed review, read my post about the best manual orange juicers.
Short Description:
made out of eco-friendly sustainable materials
offers versatile user-friendly features
stable bottom base with built-in cup holder
specially designed rack-and-pinion technology
features an ergonomically designed handle
withstands more than 1000 pounds of pressure
Best Aluminum Citrus Press
Y-Me Manual Lemon Squeezer
Efficient Performance
This aluminum hand press citrus juicer also provides very efficient performance. In only 4 simple steps you will be able to extract all the juice from your fruits. It comes in a convenient, small size and weighs only about 180 grams, meaning you can easily carry it around.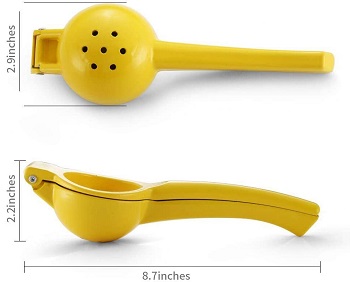 Easy To Clean
Due to its design, this juicer is also very easy to clean. You can easily rinse it out with some lukewarm water and wash it with mild dish soap. If you want to learn more about the benefits of its design, read my post about the best manual citrus juicers on the market.
Short Description:
simple and durable aluminum design
well-distributed juicing carvings
a powerful juice extraction process
requires little maintenance
Best Electric Citrus Press
Juiceman Lemon Juicer
Convenient Design
This electric lemon juicer squeezer features a simple design. Due to its somewhat smaller footprint, it takes up as little space as possible. All its parts that come in contact with the juice are detachable and very easy to clean. Click on the enclosed link for a more informative review.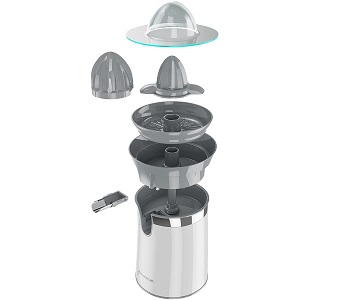 Juicing Cones
Another great thing about this electric citrus press is that it comes with interchangeable juicing cones. Both are pressure sensitive and offer an auto-reverse function that ensures an optimal extraction process. Its strainer separates the pulp from the juice so you can choose whether you want it to be smooth or pulpy.
Short Description:
a simple convenient design
features a somewhat smaller footprint
big and small interchangeable juicing cones
pressure-sensitive technology with auto-reverse function
flip-up juice spout provides a mess-free performance
Best Lime Citrus Press
Zulay Metal Squeezer
Durable Design
Due to its high-grade 304 stainless steel design, this lime juice press offers high resistance to versatile damages including rust and corrosion. Its hinge is specially designed to ensure that it doesn't break apart during the juicing process. This means that the juicer will have a lasting lifespan.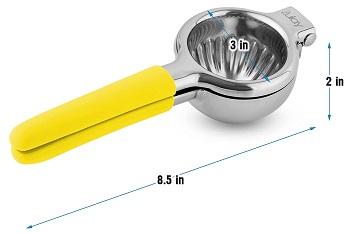 Fruit Compatibility
This key lime juicer squeezer is compatible for use with versatile fruits. This includes limes, lemons, oranges, grapes, and even tangerines. Either way, you can count on amazing results. If you want to know more about its performance, click on the enclosed link.
Short Description:
high-quality stainless steel design
silicone coated comfortable handles
suitable for use with versatile citrus fruits
the grooved design ensures optimal extraction
safe to clean manually and inside a dishwasher
takes up very little storage space
Best Stainless Steel Citrus Press
Bellemain Lemon Squeezer
Handheld Design
This is another juicer that features a convenient handheld design. This means that you can use it to juice limes or lemons directly into a cup or over your food. It is a great choice for use in both home and professional environments. Read more about stainless steel lemon squeezers and choose the best one.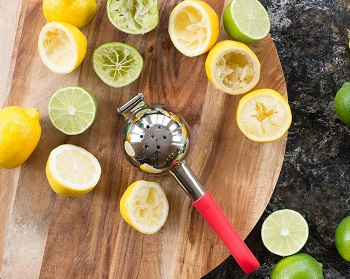 Filtration System
Like all listed models, this stainless steel citrus press also has a filtration system. It comes with built-in holes that are big enough to let the squeeze juice flow through. At the same time, they keep the pulp and seeds away from your cup.
Short Description:
a convenient handheld design
durable stainless steel construction
silicone coated comfortable handles
comes with built-in filtering holes
What To Consider About The Best Citrus Press Models?
Have you found the best citrus press? If you are still having some trouble deciding which of the listed models might be "the one" for you, read my buying guide. It will give you a peek into the features you want your juicer to offer.
Multipurpose Use – Most citrus juice press models I reviewed above are suitable for use with versatile citrus fruits. If you want to be sure that the juicer you buy can juice both larger and smaller fruits, go for one that features a somewhat larger juicing cone that works well with both.
High-Quality Design – Whether you buy a home juicer or a professional juicer machine, you want it to feature exceptional quality. That is why a stainless steel juicer is an amazing choice. It works well in versatile environments, provides high durability, and is resistant to versatile exterior damages.
Handle Design – To ensure that you can comfortably use the citrus press you buy, choose one that comes with an ergonomic handle. That way you will be able to have much higher control over its performance, and by extension, the results it provides.
Filtration System – Another thing you want to pay attention to is the juicer's filtration system. Be sure that it is efficient enough to keep all the pulp and seeds away from juice. That way you will be able to enjoy a cup of perfectly smooth juice.
Maintenance Level – All listed citrus press juicers require very little maintenance. Some even come with dishwasher-safe parts so you don't have to clean them manually. Make sure that you clean all parts that come in contact with juice immediately after every use.
To Wrap It Up
Due to the versatility and the amazing features, the listed models have to offer, choosing the best citrus press shouldn't be any problem. If you want to find out more about similar models on the market, read my post about the best juice extractors on the market and find out what are the benefits of having a manual citrus juicer.