There is nothing better than a cup of cold coffee on a hot summer day. So why wouldn't you want to make it yourself?
To do that, you need an at-home cold brew maker!
Listed below, you can find my reviews of the 6 best models that are currently available for you to buy. Check them out and find out which one fits your needs the best.
The Rundown
Best 6 Cold Brew And Iced Coffee Makers
Best Of Best At-Home Cold Brew Maker
Ninja Hot & Cold Coffee Maker
Touch Control Panel
This at-home cold brew maker comes with a user-friendly touch control panel. It features a backlit digital time display, multiple brew size options, and 5 different brewing options including classic, rich, over ice, cold brew, and specialty.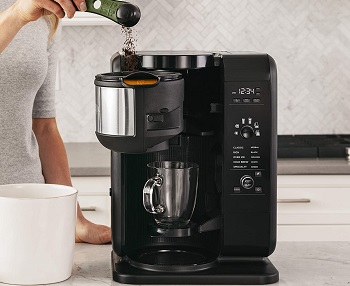 Versatile Use
Not only is this machine suitable for brewing coffee, but you can also use it to make tea. Keep in mind that you can only use dry tea leaves. The machine's smart basket recognition system automatically recognizes the basket and displays all possible coffee or tea options.
Height-Adjustable Drip Tray
Due to its versatile brew size options, you can choose whether you want to brew a small cup of coffee or an entire carafe. The machine's bottom drip tray is height-adjustable to ensure that you can brew directly into a cup without creating any mess on your kitchen countertops.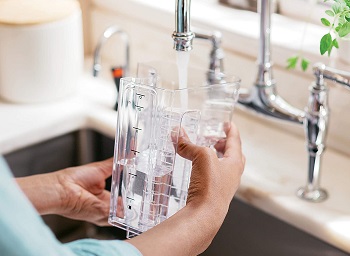 Thermal Carafe
Included with this programmable coffee maker comes an additional 50 oz carafe. It is entirely made out of durable stainless steel material that provides it with amazing thermal efficiency. It will easily maintain the temperature of the brewed coffee at its optimal level.
Short Description:
a user-friendly backlit touch control panel
makes coffee, tea, and versatile coffee-based beverages
offers 6 different brew sizes and 5 brew styles
both tea and coffee baskets come included
a built-in smart basket recognition system
comes with a height-adjustable bottom drip tray
a stainless steel thermal carafe
Best Latte Home Iced Coffee Maker
De'Longhi Coffee & Espresso Machine
Powerful Performance
With its high-performance 15 bar Italian pump, this brewer provides very powerful brewing performance. It needs only about 40 seconds to heat the water inside the reservoir to its optimal temperature level. It starts by brewing coffee at a somewhat lower temperature, pre-infuses, and finally infuses the coffee grounds.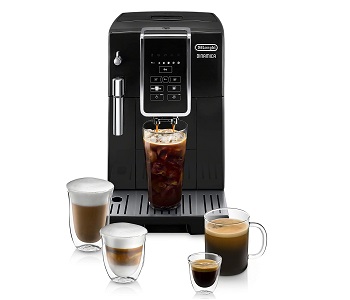 Customized Beverages
The best thing about this iced latte machine is that it allows you to customize all its beverages according to your needs and likings. You can control both the size and the strength of the brew. To do this you need to use its backlit touch control panel.
Burr Grinder
This iced coffee machine for home use comes equipped with a steel burr grinder. It is specially designed to ensure that you can grind your favorite coffee beans a minute before the next brewing process. It provides you with 13 adjustments that allow you to choose how fine or coarse you want your grounds to be.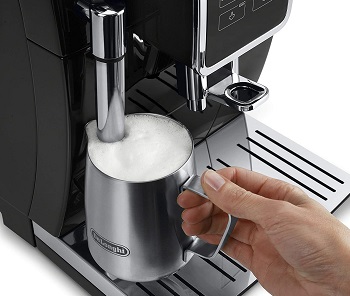 Frothing Wand
Another convenient feature of this brewer is its frothing wand. It allows you to make perfect milk froth for delicious lattes and cappuccinos. Make sure that you clean it after every use to prevent unwanted bacteria build-up inside the nozzle.
Short Description:
features a simple touch control panel
high-performance 15 bar Italian pump
provides a quick 40 second heat-up time
comes with a built-in steel burr grinder
13 different adjustable grinding settings
equipped with a milk frothing wand
Best Drip At-Home Cold Brew Maker
Mueller QuickBrew Coffee Dripper
Versatile Use
This is another at-home cold brew coffee maker you can use to brew both coffee and tea. Due to its size and design, it takes up little counter space and is very easy to store. You can keep it in your kitchen cabinets to ensure that you always have it ready for use at arm's length.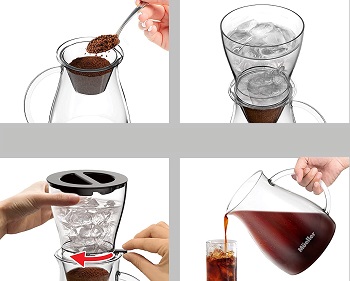 Premium Quality
Its bottom carafe is made out of durable borosilicate glass that can easily withstand both high and low temperatures without breaking. Its coffee filter, on the other hand, is made out of food-safe stainless steel material thanks to which you can use the filter continuously for many years to come.
Large Capacity
The mentioned carafe can provide you with up to 6 cups of freshly brewed coffee, more precisely, 47 fl. oz. or 1.4 L. Its coffee filter can fit up to 10 tablespoons of your favorite coffee grounds.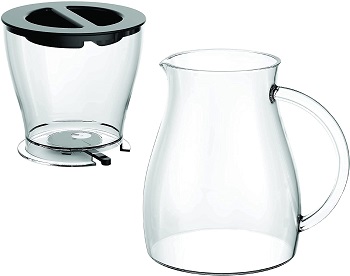 Quick Results
It is worth mentioning that this cold brew drip coffee maker provides very quick results. To use it properly, simply fill its coffee filter, add water and/or ice cubes, and adjust the preferred drip rate. Once all the coffee drips out, you can either serve it or refrigerator for later use.
Short Description:
suitable for both coffee and tea
premium-quality borosilicate glass design
laser cut food-grade stainless steel filter
10 tablespoon filter capacity
6 cup (47 fl. oz./1.4 L) carafe capacity
comes at the most affordable price
Best For Travel At-Home Cold Brew Maker
My Morning Portable Home Brewing Kit
Simple Performance
Due to its simple performance, this brewer is a great choice for home use. It comes in a compact size thanks to which it easily fits atop any countertop surface or table. Its keg design makes it convenient for use during parties.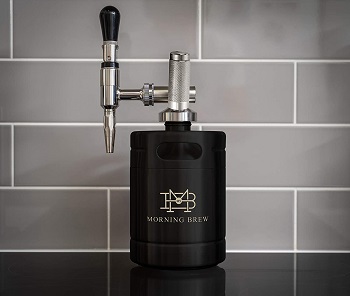 Nitrogen Infusion
This at-home cold brew maker uses a Nitrogen infusion that creates micro-bubbles in your brew. As a result, the brewed coffee has a bit more cascading, frothy texture, a velvety-smooth, sweet flavor, and creamy foam on the top.
Easy-Pour Tap
You won't have any trouble pouring yourself a cup of coffee using this cold brew coffee maker. It comes with an easy-pour tap you need to pull slightly towards yourself to let the brewed coffee pour through.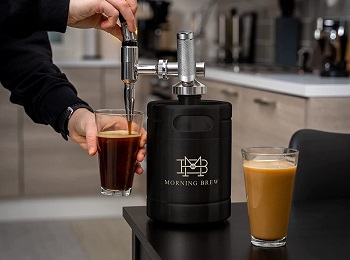 Complete Package
Note that this model comes equipped with all accessories you need. The package consists of a mini 64 oz steel keg, a stainless steel N2O cartridge holder, a stainless steel spear with a pressure relief valve, a stainless steel stout faucet, a black plastic tap handle, and easy-to-use manual and care instructions and cleaning brushes.
Short Description:
durable stainless steel design
provides very simple performance
comes with an easy-pour tap
a complete all-in-one kit
Best French Press At-Home Cold Brew Maker
Primula 2In1 French Press Coffee Maker
Innovative Design
This cold brew coffee press features an innovative design. It is made out of temperature-safe borosilicate glass, has fine mesh filters that keep the grounds away from your brew, a durable stainless steel holder with a side handle, and a non-slip silicone bottom base.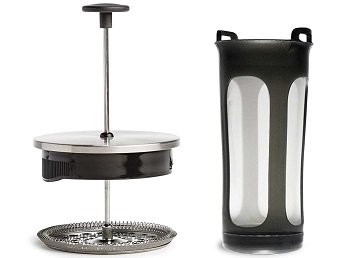 Cold Brew Insert Brewing System
The first way you can brew coffee using this machine is with its cold brew insert. Simply add coffee to the brew core and pour cold water over it. Once you do this, let the coffee brew for about 8 to 24 hours inside a refrigerator. Due to its size, it will perfectly fit into the standard-size refrigerator doors.
Plunger Insert Brewing System
The other way you can make a perfect brew is using the plunger insert. You need to add coffee grounds to the carafe, pour cold water over them, and let them steep for a while. After that, place the plunger onto the carafe and press it down to separate the brewed coffee from the leftover grounds.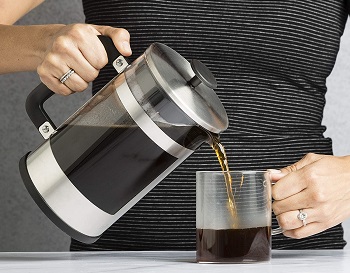 Easy To Clean
Make sure that you clean this cold brew home machine after every use. By doing so you can prolong its lifespan. Its lid and filter are both dishwasher-safe while its filter features a removable bottom to ensure that you can easily empty the used coffee grounds.
Short Description:
features a simple innovative design
durable borosilicate glass construction
stainless steel housing with a side handle
offers 2 different brewing systems
equipped with fine mesh filters
simple pour spout for a mess-free pour
Best Small Home Iced Coffee Maker
Mr. Coffee Iced Coffee Maker
Easy To Use
Its brewing system makes this machine very easy to use. Everything you need to do is measure the water using the graduated tumbler, add the desired amount of coffee grounds to the filter, fill up the tumbler with ice cubes, and start the machine.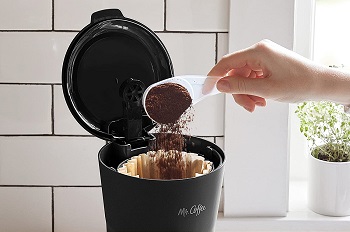 Quick Performance
This is another home iced coffee maker that provides a very quick and efficient performance. It will provide you with delicious results in less than 4 minutes. Due to its design, it is suitable both for home and on-the-road use.
Measuring Scoop
Included with the brewer comes an additional coffee measuring scoop. It is specially designed to ensure that you add the perfect amount of coffee with every use. As a result, your brew will have a rich taste and won't be watered down.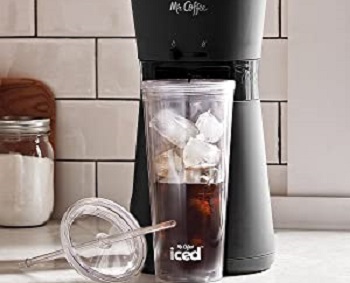 Drip-Stop Function
Another amazing feature of this compact coffee maker is its drip-stop function. Thanks to this feature the brewed coffee won't drip all over your countertops. This means that you get to enjoy a completely mess-free performance.
Short Description:
very simple and quick performance
a mess-free drip-stop function
comes equipped with a measuring scoop
double-wall insulated 22 oz tumbler
What To Consider About The Best At-Home Cold Brew Makers?
Have you found the best at-home iced coffee maker that provides amazing performance and fits your budget perfectly? If you are still having some trouble deciding which brewer you want to buy, check out my short buying guide.
Quality & Durability – It is very important that you find a home iced coffee maker that provides exceptional quality and durability. That is why stainless steel models and borosilicate glass ones are such amazing choices. They can easily withstand both high and low temperatures.
Brewer's Size – Another thing you need to think about is the size of the coffee machine you like. Small one-cup coffee makers take up very little space and are easy to store, but also provide a smaller brewing capacity. If you want to make a larger brew at once, consider buying a larger brewer.
Cold Brew Coffee Makers – At-home cold brew coffee makers use no heat during the brewing process. Coarse grounds are left to saturate in cold water for about 24 to 48 hours. As a result, you get a delicious, highly concentrated brew with a sweet concoction and a very low acidity level.
Iced Coffee Makers – Iced coffee machine for home use, on the other hand, make a regular hot brew that is cooled down by pouring the fresh brew over ice. As a result, you get a slightly brighter brew with a more lively taste.
Price Range – You need to know how much money you can afford to spend on a model you like. Brewers I reviewed above range from 20 to 1000 dollars. This means that you won't have any trouble finding an expensive or affordable coffee maker that meets your budget.